| | |
| --- | --- |
| | September 15-16: A Weekend on Lake Travis in Austin, TX |
| | May 18-19: A Weekend in Savannah |
| | Return to the Index for 1984 |
---
July 3-8, 1984
My Sister Judy Visits Chicago (and Muskegon)

During the time I have been living in Chicago, I have been over to see Aunt Marguerite a number of times. I started driving over when I worked at the Bank, and while I worked for Cullinane I drove over a number of times, too. Recently, I have usually flown, as my time has been limited. I thought it would be nice if Judy got to see Aunt Marguerite, too, as she hadn't seen her in many years.


I got my travel agent, Steve Goldberg, to research the airfares and get my sister a roundtrip ticket to Chicago, arriving on Tuesday, July 3rd.

I also got Steve to set up two round-trip tickets from Chicago over to Muskegon for my sister and I. I met Judy's flight into O'Hare, and together we went over to the gate for the flight to Muskegon (just a short hop over Lake Michigan- about 45 minutes.

I also arranged for a rental car at the small Muskegon airport, and when we arrived I picked it up and we drove first to our Aunt Marguerite's house in North Muskegon.


Judy and I have not been here in Muskegon together for longer than I can remember. We won't see anything we haven't seen before, but at least for Judy, it will have been twenty years and more since she has been here. Muskegon, my birthplace, is the largest populated city on the eastern shores of Lake Michigan. The city itself has a population of around 40,000, but when combined with North Muskegon, Muskegon Heights and some southern suburbs, the population of the immediate area is around 90,000.


Our first stop was at our Aunt Marguerite's house at 530 Plymouth Road in North Muskegon. North Muskegon and Muskegon Heights are the names given to the residential areas on the north side of Muskegon Harbor. We'll take a look at a couple of pictures I took there a bit later on this page. We had our first visit with Aunt Marguerite, and we spent the rest of the day with her, having dinner at her house as we had done so often in the many times we came here as children.

On the Fourth of July, the three of us went out to Muskegon State Park. There, we visited the Blockhouse, walked on the beach and walked out on the jetty on the north side of the Muskegon Ship Channel. Again, these were all things we had done frequently as children when we lived here and when we returned many summers for a visit.

Of course, our visit to Muskegon would not be complete if we didn't stop by the house where Judy and I lived as children. Judy wasn't born in Muskegon; she was born in Norwood, Massachusetts, but she and our parents moved back here to my grandmother's house when Judy was two years old. I was born just a short ways from my grandmother's house (at Hackley Memorial Hospital, if you are curious) a couple of months before my sister's third birthday. So I of course wanted to visit again the first house that I lived in.

On the last day of our three days here in Muskegon, our uncle Bud came over from his own house in a northern suburb of Detroit, and we were happy to get the change to see him as well.

At Muskegon State Park

On the Fourth, Aunt Marguerite, Judy and I drove out to Muskegon State Park. The park covers 1,233-acre along Lake Michigan and Muskegon Lake about four miles west of where our Aunt lives. The park has two miles of sand beach on Lake Michigan and one mile on Muskegon Lake. To get to the park, we drove west on Ruddiman Avenue; it eventually turns into Memorial Drive which dead-ends into the road that runs through the park along the lakeshore. We first turned north to visit The Blockhouse.


In military science, a blockhouse is a small fortification, usually consisting of one or more rooms with loopholes, allowing its defenders to fire in various directions. It usually refers to an isolated fort in the form of a single building, serving as a defensive strong point against any enemy that does not possess siege equipment or, in modern times, artillery.

(A fortification intended to resist these weapons is more likely to qualify as a fortress or a redoubt, or in modern times, be an underground bunker. However, a blockhouse may also refer to a room within a larger fortification, usually a battery or redoubt.)


The Blockhouse in Muskegon State Park was conceived as a make-work project in the depths of the Great Depression. The idea to build a replica of Fort Dearborn on the highest dune in the park dated to 1931; the project was approved for the CCC and CWA in 1933, and construction began in 1934.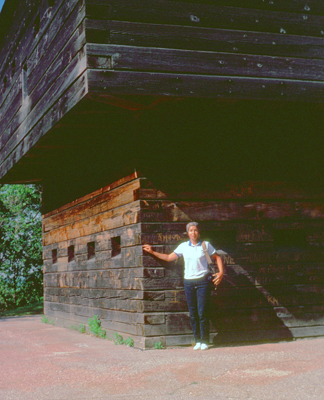 Judy at The Blockhouse


Construction began early in 1934 when weather-beaten timbers salvaged from the old Muskegon piers were hewed into shape and framed on a temporary site preparatory to being used in building the Blockhouse. On February 15, 1934, the Muskegon Chronicle said:
"It will be several weeks, before the concrete and stone foundation for the blockhouse can be laid; in the meantime the logs will have been matched and made ready for erection. Stone for the foundation was salvaged from the breakwater operations of several years ago. The stone will also be used to build a new bathhouse on the beach and a new permanent park building on the Scenic Highway.

About 300 men are working under Supt. Kingscott, grading the right-of-way for a concrete extension of the Scenic Highway to the Muskegon channel, clearing and improving foot paths and bridle trails, and doing landscaping and planting along the highway.

Appropriations aggregating nearly $80,000 have been approved by the local and state CWA boards. In addition, a large appropriation is anticipated through the highway department for paving the extension to the channel, thereby opening the state park beach to the public in a manner expected to make it as popular as other nearby Lake Michigan state parks."
The completed blockhouse stood at an elevation of more than 250 feet above Lake Michigan and appeared very old. I remember visiting the Blockhouse many, many times in the summer trips that we made back to Muskegon in the 1950s. Then, I did not visit it again until I began visiting Aunt Marguerite after my move to Chicago in 1971. But by then, the Blockhouse I visited in the 1950s had been replaced.


On Tuesday night, Sept. 4, 1962, a group of local youths set fire to the Blockhouse which burned to the ground. The only reason they gave for the arson was that they happened to be driving past and were bored. The six young men were convicted of arson in municipal court 11 days after the fire. Just how deeply the blockhouse had imbedded itself in Muskegon's psyche became very clear by the loud outcry when plans to rebuild the burned structure stalled in Lansing. Then Muskegon State Park manager Jack Butterfield led the campaign to find financing for the project and personally supervised the six convicted arsonists who helped rebuild the structure as part of their 5-year probation; work on rebuilding the burned blockhouse was well-underway by April 7, 1964 and by late spring, workers were putting the finishing touches to the new-new-old blockhouse, which would greet its first visitors that summer.


When we'd concluded our visit to the Blockhouse, the three of us got back in the car and drove south on the Scenic Highway through the park, past the intersection with Memorial Drive, and then further south to the main beach and the ship channel. We stopped in the beach parking area so Judy could get some pictures with her camera, and of course that's where I got this picture of her.

Muskegon State Park contains two seasonal campgrounds used from May through October, and one of them is open in the winter as well. Day users and campers use the scenic beach where we have stopped. The park has a boat launch at Snug Harbor that accommodates large boats, while fishing is available at the pier at Snug Harbor and the walkway on the Muskegon Lake Channel (where we will go next). There are 12 miles of marked trails, with five miles of them marked for cross-country skiing. The trails are a diverse series of loops that meander through a variety of landscapes, from flatland to bog, from lowland to the top of scenic dunes.

We used to come here a lot when I was little; I remember vividly the taste of the hot dogs you could buy at the beach concession; we all enjoyed the beach and Mom, Dad and my sister did quite a bit of fishing. We were never here in the winter, but the park offers cross-country skiing, ice skating, a luge run, and ice fishing.


In case you are wondering, the western coast of Michigan experiences pleasant summers with temperatures averaging 70 °F. In winter, temperatures plunge to 22 °F. Of the 40 inches of yearly precipitation, more than half of that is snow (and most of that snow is actually the water from Lake Michigan).


We drove on down to the southern end of the Scenic Highway through the park, and got out to walk down to the concrete walkway that lines part of the ship channel on the north side. That is where I got this picture of Judy and Aunt Marguerite. There are often lots of fishermen here, but today we had it to ourselves.


From our vantage point on the sunny walkway, we could look out the ship channel towards Lake Michigan. (I have noticed that in scanning some of my slides- almost all the pictures I took between 1969 and 1985 were in the form of slides- I reversed some of them. In the case of this picture, I note that it is reversed laterally; we were actually on the north side of the ship channel looking west; while the lighthouse was on the south side of the channel at its western end. The picture makes it look just the opposite.)

Since we were kids, there has been a lot of work done on the shipping facilities at Muskegon. The channel has been re-cut, and new breakwaters and walkways installed along the channel. It is now a nice place to stroll along or jog. The breakwater out into the Lake is still there, just as we remember it, and Judy and I spent some time going out to the end of it. Jumping from one huge block of stone to another has always been fun for me on a breakwater like this one, although at this time, in 1984, my experience in doing this enjoyable activity has been limited to Muskegon and Chicago. I did not know it at the time, but many years hence I would repeat the activity on Cape Cod near Provincetown. And in about ten years I will encounter this same kind of activity but this time on dry land- the Boulder Avalanche on Mt. Scott in the Wichita Mountains of Oklahoma. But I digress.

445 Houston Avenue (Pending National Historic Site)

Another trip that we made in the area was to head down into town for a visit to our childhood home- 445 Houston Avenue.


It has been so long since our visit this year that the resources available to me on the Internet are failing me in my efforts to show things as they were in 1984. This, I imagine, will occur more and more often as I work my way backwards through my photographs.

A good example is the aerial view at left. As you can see, 445 Houston Avenue (on the southeast side of the street) is helpfully marked on the Google Maps aerial view. But, also as you can see, the site is now, apparently, a vacant lot. Working around on street view, I can find a familiar house that used to be next door, but not the house I grew up in. When I discussed this with my sister Judy, she did some investigation, including emailing someone at the Muskegon City Hall to find out about our address. She reported to me that the city confirmed that the house had been demolished; apparently there will be a fire somewhere around 2005 that will damage the house beyond repair. Many other houses we remember are gone as well; we assume they simply got too old to maintain.


Both my sister and I have fond memories of the house we lived in from the end of World War II until we moved to Charlotte, North Carolina, in 1951, and we might have liked to look inside. Polite knocking on the door did not elicit a response, however, so we had to settle for pictures outside.

Both of us noticed a good many differences. For one thing, the house had siding now, and for another, the bay window around the left side of the structure seemed to have been taken off. And I distinctly remember the windows were all beveled glass panes, which caused little spectra to dance along the walls as the sun moved through the sky.


We walked around the right side of the house to the back door- which led through a mudroom into the kitchen. That is where I got this picture of our Aunt Marguerite.


Back around the front of the house, I got a really nice picture of my sister and my aunt in front of our childhood home. There used to be tall bushes in front of the house that blocked the first story windows; and the front door used to be a single wooden door flanked by windows. There were taller hedges around the right side of the house, but the stones along the sidewalk are new.

I was not actuually born in this house; that event occurred at Hackley Memorial Hospital about a half mile away. But this is the house I was brought home to from that hospital. Mom and Dad and Judy and I had the top floor, and Dad's Mother lived on the bottom floor. I don't remember much about growing up in the house, except the famous Winter story when I got my tongue stuck to the porch railing, but I do remember going back for Summer vacations through the Fifties. The entire street is a predominately black neighborhood, now. As is the case with any aging neighborhood, some of the houses are better kept up than others. Ours, and the house next to it where the Humes lived have been taken care of pretty well. Others have not.


On the way back to Aunt Marguerite's house, we took a detour over off US 31 by Black Creek, as both Judy and Aunt Marguerite remembered that there used to be a celery farm there, and they wanted to see if it was still in business. It was, so when Judy went out into the field, I had my camera at the ready.

The Salmon family is credited with being the first to "cut muck" along Ryerson Creek in 1882. The term refers to the fact that celery requires an immense amount of water; if irrigation is not available (and constant), celery has to be planted in low-lying wetlands. These wetlands are referred to with the term "muck", as the soil is halfway between moist soil and mud. By 1907 there were more than 30 small farms in the Muskegon area growing celery and by 1942 more than 100 growers had over 400 acres in production, enough to fill 10 Pere Marquette Railway boxcars each day during the season.

Adjusted for inflation, the value of Muskegon celery crop grew from $1.6-million in 1907 to $9.3-million in 1942. By 1984, the crop was valued at $15 million a year. By 1951, with a total of 700 acres of native wetlands converted into celery fields, Muskegon was Michigan's celery capital- although by then California had already eclipsed Michigan as the country's leading celery grower.

East Muskegon youth used to spend their summer vacations "pounding muck"; as a retired Muskegon Chronicle editor noted, "They were quickly recognizable in their muck-caked blue jeans and shoes that were always left by the back door at night. "These kids couldn't wait for school to let out in the summer so they could earn a little spending money."

"It was no picnic. The pay was low, the work was hard and 10- to 12-hour days were all part of the daily grind for this bunch of 14- to 16-year-olds. But it was a way to make a few dollars and there was always work available. The farms were located in a valley along Ryerson Creek starting from where the Muskegon Farmer's Market is now located, east to U.S. 31."

Indeed we found the celery fields still in operation just a stone's throw from the Farmers Market (which both Judy and I remembered vividly. (The both of us also remembered the fresh cherries we got in the summer, and how Aunt Marguerite had this little gizmo that pushed the pits out of them without smashing the cherries.)


At Aunt Marguerite's House in North Muskegon

When Judy and I first arrived in the Muskegon area, much had changed- more for her than for me, as I have been here a few times since I began living in Chicago. She found the new expressway east of town to be a big difference, and as we drove into and through town to get to the Causeway over to North Muskegon, we saw all the new franchises and businesses that we see everywhere- none of which even existed the last time we were here on a summer vacation. But things started to look familiar when we got to Ruddiman Avenue.


Judy was very emotional when she saw 530 Plymouth Road (Aunt Marguerite's house) again; I don't think she had been back to Muskegon in almost 20 years, and of course she was overjoyed to see Aunt Marguerite. The both of us have many fond memories of the times we have spent here with our Aunt, although I have had numerous chances to relive them since I moved to Chicago. Even when our father died in Detroit in 1974, and Judy flew up to that city, she never had a chance to get over to Muskegon.

It was a special treat for both of us when Uncle Bud decided to drive over to his sister's to see all of us. Judy had not seen Bud in quite some time, and it was another emotional reunion. I had seen him a couple of times in the Seventies, and also on a trip or two to Detroit. Bud has long since retired from General Motors, and continues to live in Farmingdale, Michigan, a suburb of Detroit. While he was here, I got two nice pictures of us with our Aunt and Uncle.
| | |
| --- | --- |
| Bud, Judy and Marguerite | Bud, me and Marguerite |
Judy and I thoroughly enjoyed our visit to Muskegon, but I wanted to also show Judy some of Chicago, so we reluctantly flew home after a few days.

Downtown Chicago

I wanted to take Judy down to Michigan Avenue so she could see some of the city, and the first stop we made was at the John Hancock Building- one of Chicago's (and the world's) iconic structures- what with its sloping sides and exterior steel supports. The observation deck on the 96th floor is one of my go-to spots for taking visitors, and I wanted Judy to see the views from there.


As you can see from the map, I live about a mile northwest of the John Hancock Building. That is one reason that I chose Eugenie Square (which changed its name to The Parkview some years ago) originally. I was then working at Continental Bank, and that was only a short bus ride down La Salle to the center of town; my 42-story apartment-then-condo building was also very convenient to the downtown campus of the University of Chicago evening campus, where I got my MBA. That campus was actually just across Delaware Street from the Hancock Building on the north.

When I went to grab an aerial view of the Hancock Building from Google Maps, I found that the view was not all that good, apparently having been taken in the early morning when it, and all the tall buildings downtown and around it were casting long shadows. This makes the building harder to see. But what makes it a little easier is the the fact that all four sides of the building slope inward as the building rises to the top; it is essentially a four-sided pyramid with the top cut off before it reaches a peak. (Contrast with the Transamerica Building in San Francisco, with does not have its peak cut off.)
| | |
| --- | --- |
| Transamerica Building | Hancock Center |

If you look at the 48-floor Transamerica Building at the far left, you will see that it is, like the Hancock Center, a four-sided pyramid. But the building is taller than 48-floors, although the peaked top of the building unoccupied and was peaked just for effect. The four sides of the pyramid are of equal length. (In case you are curious, the two "wings" that begin to protrude from the pyramid about halfway up are for elevators and fire stairs, which, of course, have to be vertical.)

In contrast, the 100-story John Hancock Center has two important differences. First, there is no peak, and the occupied floors go all the way to the top of the building (although the top two or three floors are mostly mechanical equipment). Second, the sides of the building are not of equal lengths; the north and south sides are about one and one-half times as long as the east and west faces. This gives it a very different look than other sloped-side buildings.


So I took Judy down to the Hancock Center so we could ascend, via a 90-second elevator ride, to the Observatory on the 95th floor. From here, the views in all directions are, to put it mildly, spectacular. Unlike the World Trade Center in New York and the Sears Tower about two miles away here in Chicago, the observation deck (now called "360° Chicago") is enclosed.
(Picture at left)
This view looks down from the Hancock Center to the intersection of Michigan Avenue and Oak Street. That is a new complex right below, called "One Magnificent Mile," and it is a combination of retail, office and residential space. From both above and from the ground, it is an impressive structure.

(Picture at right)
Here's Judy in the Hancock Center observation deck. I neglected to take into account the sunlight streaming in the window; I should learn to almost always use a flash for indoor pictures. The view looks Southwest towards the Sears Tower off in the distance.
Although the observation deck here is not open to the air, I think that your sense of how high you are is actually greater, since if you go right up to the windows (you can see there is only a ten-inch air vent at floor level and so it is easy to get your eyes right up to the glass) and look down, you are looking down the sloping side of the building; at the Sears Tower and the World Trade Center (I have been to both observation decks in those buildings), you cannot get close to the actual edge of the building. Both of them have automated exterior-cleaning mechanisms, and the tracks for these devices keep the actual observation platforms ten or more feet from the edge of the rooftop.


I have been up here a number of times before, and if I have already completed album pages for years before this one, you may have seen those pictures. But that's why I didn't take but these few pictures today.

Here is the view of the Chicago lakefront taken from the Hancock Center; the view looks southeast from the south wall of the observation deck. That is the Standard Oil building at the right, and Outer Drive East (condos) at the left. You can see Grant Harbor and Meigs field as well.

About the only remaining buildable land in downtown surrounds the Standard Oil Building. I can only imagine that in the near future, this land will become covered with the same kinds of skyscrapers that form the rest of the Chicago skyline. Already impressive, I expect it to become even much more so in the future. Indeed, since I moved to Chicago in 1971, both the Standard Oil Building and the Sears Tower were completed, becoming Chicago's third-tallest and tallest buildings, respectively. As you probably know, the Sears Tower was the world's tallest occupied structure only for a short time; only months after its completion, the twin towers of New York's World Trade Center were completed, becoming the world's tallest occupied structures. Other buildings eventually superseded them, but they were always tied for whatever place they might have held.


I think Judy enjoyed visiting the observation deck, although she seemed to have a bit of a nervousness about heights. It made me think of the time I brought Dad and Mom here in 1974; for all his experience with architects, my Dad would not even get close to one of the windows unless he was holding on to one of the vertical or slanted beams that criss-crossed the windows. Back down at street level, Judy and I continued walking through downtown- heading south to Grant Park.
(Picture at left)
A short ways south on Michigan Avenue, I showed Judy the Chicago Water Tower. Built in 1869, it was Chicago's main water tower- just like those we see today. The tower gained prominence after the Great Chicago Fire of 1871. It was the only public building in the burned zone to survive, and is one of just a few of the surviving structures still standing. In the years since the fire, the tower has become a symbol of old Chicago and of the city's recovery from the fire.

(Picture at right)
When we got down to Grant Park, I took Judy into the Museum of Natural History. This is the same museum that so fascinated Ted and Jennifer on their visit years ago, and Judy and I spent a lot of time there.
The Field Museum of Natural History is huge; named after its benefactor, Marshall Field (of department store fame), the museum has almost a half-million square feet of exhibit space, making it one of the largest museums in the world. The museum maintains its status as a premier natural history museum through the size and quality of its educational and scientific programs, as well as due to its extensive scientific specimen and artifact collections. The diverse, high quality permanent exhibitions,[7] which attract up to 2 million visitors annually, range from the earliest fossils to past and current cultures from around the world to interactive programming demonstrating today's urgent conservation needs. It is one of those museums that simply can't be taken in in one day, or even a few. My guess would be that to see every exhibit, and read about every object could take a week of eight-hour days.


From the top of the steps up to the north entrance of the Field Museum, this view looks almost directly north across downtown Chicago. Prominent in the center of the picture is the Standard Oil Building, and you can see the Hancock Center and many of the skyscrapers along Michigan Avenue as well. At right is Lake Pointe Tower, one of only a couple of residential buildings east of Lake Shore Drive. Lake Shore Drive begins about ten miles north of here at Hollywood Boulevard, and comes south through Lincoln Park past the residential areas on the North Side. At the south end of Lincoln Park it runs right in front of The Gold Coast, named for the row of exclusive high-rise residences that line the lakeshore.

At the north end of Michigan Avenue, Lake Shore Drive jogs to the east about two blocks, and then turns south again; you are looking straight up that section in the picture at left. Just in front of the Field Museum, it jogs west again, then turns south for a final time, continuing south along the shore of Lake Michigan for another six or eight miles until it ends at the access ramps to the Chicago Skyway that leads around the south end of Lake Michigan.

Lake Shore Drive (often referred to as simply "The Drive" or even "LSD") is one of the world's iconic roadways, and as a Chicago resident I have driven all of it many times; none of the three places I have lived here have been more than two blocks from it; indeed, I could see it from all three of those residences. I understand that plans are in the works to straighten out the "S-Curve" (the jogs that the highway makes as it comes across the Chicago River), but with all the buildings in the way, it is hard for me to see how this is going to be done.


I have been to a great many cities that are on water- either oceans or lake- but none of them- not even New York City- has a road that compares with Lake Shore Drive. It is simply an amazing stretch of highway.


It was not until I had been here for some years that I became familiar with the 1971 song "Lake Shore Drive" by Aliotta, Haynes, and Jeremiah; it is the only song written about a specific street or highway. (There are lots of songs written about highways in general, and even a few that mention or are titled with the name of a specific highway- such as "Route 66", originally the theme for the television show of the same name- but none that actually describe a highway.)

The song is pretty good, and I am proud enough of my city having such a beautiful stretch of highway that I thought you might want to listen to Aliotta, Haynes and Jeremiah do the song. (The song was written and performed long before music videos became commonplace, so the video is a montage of scenes of the highway and of the performers.) The player is at right.


I think Judy enjoyed seeing some of downtown Chicago; a city this large is a very infrequent encounter for her. I think she may have been in either downtown Detroit or maybe New York City or maybe even both, but that would have been years ago.

My Condo and Judy's Trip Home

Of course Judy spent time at my condo; I gave her the master bedroom for her stay. If you have been through previous album pages, you may have already seen pictures of the condominium I have in The Parkview; it is the southwest corner of the 36th floor, so it has downtown and western views (the sunsets are pretty amazing sometimes, and of course at night the city sparkles).


One nice feature of the condo is that it actually has a balcony; it's not very large, just room for a small table and chair, perhaps, and it is a little unnerving even for me, but Judy really didn't like being out there. I like it because I can get outside without having to go downstairs and out of the building. Of the 12 apartments on each floor, eight of them have balconies- two tiers on each side.

I did actually coax Judy out onto the balcony for a picture (this one looking east towards the lake), but she avoided looking at anything except the door back inside, and she kept a firm grip on the balcony railing. I just wish I'd used a flash, although I have tried to lighten the picture as much as I could.


That Saturday night, I took Judy to Christopher Street, one of my favorite hangouts on a Friday or Saturday night. We had an interesting time there; if you would like to know more about our evening there, and you have a password for the "private" portions of this photo album, you can click here.

Judy's visit was all too short, and it seemed like no time at all before I was taking her out to O'Hare for her flight home.
(Picture at left)
Judy left that Sunday to go back to Greensboro, and this is she at the boarding gate for her flight.

(Picture at right)
I wasn't traveling with Judy, but got on the plane with her to take a picture.
NOTE from 2017:
You can't do that any more; you can't even get to the gate with someone if you aren't actually ticketed yourself. Air travel died quite a bit when you couldn't go to the gate or onto the plane for a send-off.
You can use the links below to continue to another photo album page.

---
| | |
| --- | --- |
| | September 15-16: A Weekend on Lake Travis in Austin, TX |
| | May 18-19: A Weekend in Savannah |
| | Return to the Index for 1984 |