| | |
| --- | --- |
| | June 18, 1994: A Visit to the Dallas Arboretum |
| | May 9-11, 1994: A Trip to Washington, D.C. |
| | Return to the Index for 1994 |
---
May 12-15, 1994
A Weekend in North Carolina


My conference in Washington concluded on Thursday morning, May 12th, so I got an early afternoon flight and flew down to Charlotte to visit with my Mom. The two of us played bridge on Thursday night and twice on Friday. Ted and Jennifer came over on Friday, and the four of us had dinner together.


Before dinner I took this picture of Jennifer and Ted. Jennifer has carved out a niche for herself as a music reviewer- mostly of regional and indie groups that appeal to the younger crowd. Her reviews appear in a magazine put out by the chain of music stores where she works out in Cotswold. She has also gotten into arranging tours for some of the bands. Ted, of course, is now a full-fledged Charlotte policeman, doing just what he always wanted to do. He talks the language of the police, is very serious (hardly ever smiling), and carries his scanner equipment everywhere. We went out for dinner on Friday, and had an enjoyable time. They are both quite grown up now, although Jennifer is still following her own particular drummer.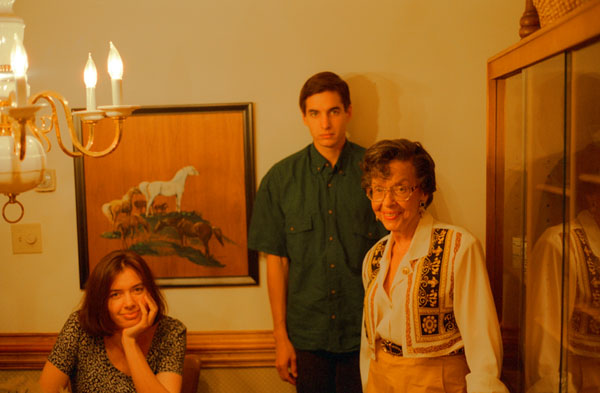 Above are Jennifer, Ted and my Mother. Compared to Ted, Jennifer is a wealth of different expressions and moods. Ted seems to have only one expression (which I might call "police line-up modern") and only one mood- serious. But that is just the way he is. My Mom has a sunny disposition, and not much seems to bother her a great deal, although like any older person, she can discourse at length on the little irritations of life. She has her own opinions on most everything, but that's certainly OK. She worries about her eyes, and the progression of the macular degeneration. I worry about it too, but there seems to be little that can be done. She can see sufficiently to get around, read and watch TV, and she can still play bridge. If things don't get much worse, she can count herself lucky, but only time will tell.


On Saturday, Mom and I went up to Judy's, as we usually do when I am in town. I had a rental car, of course, since my Mom no longer drives.

Getting to my sister's from Charlotte is a trip that I have made innumerable times. We did it quite a few times when my Dad was alive, and in the years since I have driven the route more times than I can count. There have been changes over the years as new highways have been built, but it is basically the same route.

My Mom and I left her house and headed south to Tyvola Road, and then west back to I-77, which we took north to the interchange with I-85. Then it's north on I-85 all the way to Greensboro. The road has been widened in sections over the years as the Piedmont cities have grown, and there is now a new bypass around Greensboro altogether. I-85 continues to I-40 just east of Greensboro; actually, I-40 terminates in I-85.


It is in the route to my sister's farm from I-85 that the biggest changes have come, although most of those occurred subsequent to our trip up here this time.


At this point in time, I follow the same route that I have followed since my sister first moved up here from Charlotte and first my Dad and then Mom and I have come up to visit.

We exit off I-85 at Huffman Mill Road, and then double back west on a local street to pick up Williamson Avenue, a street which does not have its own exit from I-85. This we take north through the town of Elon and right through the middle of Elon College (now Elon University) and out the north side of town.

This puts me on Elon-Ossippee Road that angles off to the northwest, and I follow that all the way to Lowe Road, the country road my sister is on. Turning left, I go about a half mile to her driveway.

Like most places, Elon has grown in the twenty years since 1995, to the point where there has been a lot of development near to I-85 (which is now six lanes rather than four) southwest of Elon proper. There has been so much growth in this area that a new road has been built to intersect with I-85; it is called University Drive.

Now I can get to Judy's without the convoluted route from Huffman Mill and without going through the University. This new road connects to a bypass that has been built around Elon, and it connects up directly with Elon-Ossippee Road. My guess is that this cuts fifteen minutes off the trip to see my sister.


You may not care very much what my sister's house looks like, but just to make my album more complete, and because I have access to it now, I want to include an aerial view here.


The pond belongs to the property next door, although her driveway runs quite close to it. She has the two barns, the house, and all the property to that tree line between her and the farm next door (where they grow cash crops). Judy has horses, and so her pastures are undeveloped.


When my Mom and I arrived, one of the first things Judy wanted to do was to show us some recent additions to the horse population.

One of Judy's new foals at her farm in Elon, N.C.

This is not the newest, but one of last year's foals (I'll freely admit that I have quite forgotten all of their names). Judy hopes that each new foal will be a champion show horse, and she starts training them early, as she is doing here.


One of Judy's Young Horses

Judy is, of course, off from her teaching for the Summer, and has plenty of time to devote to the horses.
Quite some years ago, I helped Judy finance her new barn, and it has plenty of space not only for her horses but for the one or two horses that she often boards for other folks- charging a fee, of course.


At left is Judy and two of the adult mares in her barn. The barn she built is probably the best thing she ever had; he loves it and it has made her horse hobby much more enjoyable. She is really in her element with the horses and other animals, although I think she tolerates the dogs because Bob likes them.


Here I am with one of the newest additions. We are down in the lower pasture near the road where he old barn is, and I was finally able to get the new foal still enough that I could approach it, although the calm moment didn't last long. One of the many wiener dogs that Bob has is also in the picture.


Here is the last of the pictures that I took today at Judy's. I am in Judy's lower pasture with one of this year's crop of new foals. This one was very hard to get close to, and this was about as good as I could do.

We spent a pleasant day at my sister's; it is always fun to go there as there is always something interesting going on. Judy fixed dinner, and we followed the normal evening barn-cleaning and horse-feeding routine before Mom and I headed back to Charlotte late that night.


You might be interested to know where my Mom lives in Charlotte. She is in what was once a far-out area near SouthPark Mall. Originally, we lived near Freedom Park, and when we moved there in the 1950s, our area was one of Charlotte's southernmost developments. The city essentially ended a mile or so south of us.

Over the years, of course, the city grew, and when it did, it grew more to the south than in any other direction. Park Road Shopping Center, two miles south of where we were, was the first open air shopping center in Charlotte, and the largest of any kind between Washington D.C. and Atlanta when it opened in 1956 with 32 stores. On opening day, while the adults were occupied trying to win one of three new Ford automobiles, a drawing was held to give away 25 girl's bikes and 25 boy's bikes. The stores had actually been open for some weeks, and with every purchase (or just if you asked for one) they'd give you an entry form for the drawing.

To maximize my chances, I went there every chance I could and didn't just pick up one form but a whole handful. I patiently filled them out at home, filed the stubs in a shoebox numerically and put the entries in the collection boxes throughout the center. When the drawing began, I was gratified that my many hours of filling out the forms paid off when mine was the second name called. It was also the fifth name called. And the seventh. After it had been called five times (only one bike, sadly) I was called up to the platform and asked how many forms I'd filled out- about 600 as it turned out. After the drawing, I recall going and looking inside the big wire drum where the entries were, and I could see mine sticking out all over the place.



Fourteen years later, one of Charlotte's first two enclosed mega-malls opened four miles further south- SouthPark Mall- and my Mom now lives near there. Of course, Charlotte kept growing, and even though SouthPark is still the city's most upscale Mall, more, larger ones have opened in the far south suburbs. Charlotte now goes all the way to Pineville- which used to be eighteen miles south of our first house!

Anyway, after her husband died in 1974, my Mom continued to live in that first house on Somerset Drive until one of her best friends from up the street sold her home and moved to a small, two-building condo development right off Park Road about three miles south. Mrs. Segrest liked it so much there that Mom thought it might be time to do the same thing.

So, in 1977, my Mom negotiated the sale of the little Cape Cod on Somerset Drive and moved into a two-bedroom, two-bath unit in the Cranford Drive Condominiums. She absolutely loved it- with everything new and modern, including central air-conditioning. She made the move, with my sister's help, while I was living in Chicago.

You can see an aerial view at left of the condo development. Of course, the aerial view is current, so I have had to mark some of the buildings that have been constructed since the visit this album page details. Mom doesn't drive anymore, but there is a grocery and drug store that she can walk to just a block north on Park Road.


It isn't essential to the photo album, but since this is something more, you might be interested to see a picture of my Mom's condo, and I have one- courtesy of Google Street View (not available in 1994).


My Mom's unit is on the first floor of the north building; each building has six units, two on each of three floors with an outside stairway and breezeway between each tier. The actual entrance to Mom's unit is on the far side of the building in this picture. The north half of the unit has the two bedrooms and two baths, and the other half has the kitchen in front by the parking area, the dining room, and then the living room with the bay window that you see here.


I spent the morning with my Mother ahead of my mid-afternoon flight back to Dallas. Before I left, I took a picture of my Mom and had her take one of me.

My Mom
(Picture at left)
Always the stylish lady, Mother is never caught out unless she looks all dolled up (this being why it takes her about two hours in the morning to get ready to do anything at all). Incidentally, they have very nice plantings all around the condos, and I understand that there is a lady who lives upstairs who takes care of it. She apparently enjoys it, and she is paid out of the dues for any plants or materials she needs. But the flowers and bushes always look very good when I am there, no matter what time of year it is.

(Picture at right)
I took this picture more to get a copy that I could send to Mother than anything else. After all, I know what I look like.


Me
The flight back to Dallas was uneventful. Fred had been at his own Mother's in DeLeon that weekend, so he stopped by on Sunday evening on his way back to Van Alstyne.
You can use the links below to continue to another photo album page.

---
| | |
| --- | --- |
| | June 18, 1994: A Visit to the Dallas Arboretum |
| | May 9-11, 1994: A Trip to Washington, D.C. |
| | Return to the Index for 1994 |