| | |
| --- | --- |
| | July 25, 1994: At a Rangers Baseball Game |
| | June 30 - July 4, 1994: A Trip to Arizona, Utah and Nevada |
| | Return to the Index for 1994 |
---
July 16-18, 1994
A Trip to San Antonio and Leakey


Fred and I have both taken this Monday off, and so we have planned a three-day weekend that will encompass a one-night stay in San Antonio followed by Sunday and Monday at Frank and Joe's place in Leakey, Texas.


At left I have put a map of the part of Texas we'll be visiting this weekend. I haven't bothered to go as far north as Dallas, for by now the route from Dallas down through Austin must be very familiar to you; it is basically just a straight shot on I-35.

This weekend, we'll continue through Austin down to San Antonio, where we will stay for Saturday night. On Saturday afternoon, we'll visit Crystal Cave with is north of San Antonio.

Early on Sunday, we will drive west from San Antonio and then a bit north to the little town of Leakey, and then head north outside of town to the ranch that Frank and Joe have. We will spend all day Sunday and Monday morning with them. Frank will have to head to work as a Park Ranger at Garner State Park on Monday morning, so we will visit with Joe until we leave about noontime.

Fred and I will head north through Fredericksburg and then further north towards Llano to find Enchanted Rock State Natural Area off the highway to our west. I have never been there, and Fred wants to show it to me, so we will hike around there until late afternoon. Then we will head north and east through Lampasas and Killeen to hook back up with I-35 and the trip back to Dallas.


We drove down to San Antonio in the morning, and checked into the La Quinta north of the city near the airport. On this page, I'll just have a section pretty much for each of the stops we made, beginning with our visit to Crystal Cave.

Cascade Caverns

The first thing we did after checking into our motel about noon was to drive out I-10 towards Boerne and the head off the highway to the northeast to Cascade Caverns.


Cascade Caverns was discovered by the Lipan Apache in the 1700s as evidenced by artifacts and a cave fireplace. Kendall County youth in the 1840s rediscovered the cave and carved their initials in stalactites in the Caverns' first room. Local stories about what was then called "Hester's Cave" after the owner, were adapted into a German language novel that was published in the 1870s and later translated into English. Although not commercially operated until the early 1930s, Cascade Caverns is the first of the seven Texas cave attractions to have been discovered and has been entertaining folks ever since.

Given that bit of information from the Cascade Caverns website (as of 2016), you might think that you'd have a special treat in store, on the order of, say, Carlsbad Caverns. Not so- at least not in 1994.

Cascade Caverns is off the highway a bit in a real rustic area. The cave is not large nor is it crowded- actually, nor is it very commercialized. Getting there took a bit of navigating, for while there are a couple of billboards around San Antonio (one of them is along I-35 and prompted us to seek out the cave), there is little else in the way of advertising. The cave is privately owned, and we were guided on our short trip inside by a kid about sixteen years old. The cave is not large, but to Fred, any cave is interesting.



I only have one picture from inside the cave; Fred took it with my camera. I don't know why we didn't take more pictures, but there must have been a reason. There is an artificial waterfall at the bottom of the cave, and I guess that impresses some people. Here I am by one of the larger formations. There was a lot of water, and parts of the cave are still alive. Here I am outside Cascade Caverns: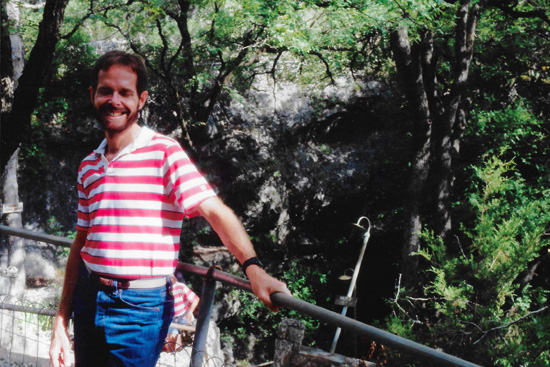 Probably the nicest thing about the cave was that it was very cool inside, but other than that it was not very impressive. It had also not been kept up well, and no effort had been made to hide the electrical wires, or anything like that. It was worth the four bucks, though. The entrance was neat, as it was basically just a large sinkhole. Stairs had been built many years ago down into it. But without being too snarky, I'd say that if you are looking for a cave experience that is enhanced by perhaps an experienced guide, huge rooms, beautiful formations and the like, then you should probably go elsewhere. But, I guess any cave is interesting and we enjoyed our short tour.

After cave, we went back to the hotel (stopping for some frozen yogurt on the way), got cleaned up, and then went downtown, intending to stop at The Alamo and then spend time on The River Walk.

At the Alamo

Both Fred and I have been to the Alamo before, and I am quite sure that the story of its importance in the Texas fight for independence from Mexico is well-known to you. We just wandered around the grounds for a little while, and Fred took one panoramic picture:

On the San Antonio River Walk

The River Walk is probably San Antonio's most famous tourist attraction; this was the second or third time I had been here. The San Antonio River Walk (also known as Paseo del Río) is a network of walkways along the banks of the San Antonio River, one story beneath the streets of downtown. Lined by bars, shops and restaurants, the River Walk is an important part of the city's urban fabric and a tourist attraction in its own right. The River Walk winds and loops under bridges as two parallel sidewalks, connecting the major tourist draws from the Alamo to Rivercenter Mall, to La Villita, and to HemisFair Park. During the annual springtime Fiesta San Antonio, the River Parade features flowery floats that float down the river.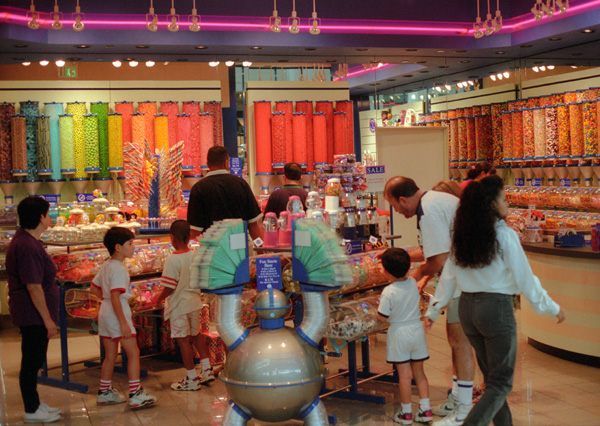 Inside a Rivercenter Mall Candy Store


We went over to the Alamo to see it again, and also took in a movie at the IMAX Theater. The movie was on Antarctica, and was extremely interesting. Coming out, we stopped by this candy store where Fred bought a gift for his mom. I thought all the colors of jelly beans and other candy made for a good picture, though I had to wait quite a while for a break in the passersby.

After a disastrous 1921 flood, plans were made to control the San Antonio River. Olmos Dam was built upstream, and the plans called for paving over the river in downtown to create a storm sewer and bypass channel. The Conservation Society protested the paved sewer option, and in 1929 architect Robert Hugman submitted his plans for what would become the River Walk. A bond issue in 1938 provided funds for the "San Antonio River Beautification Project", a WPA project, which began the evolution of the site into the present River Walk.

In addition to the bypass channel, flood gates were built to regulate the flow of the river, and so its level could be maintained. This enabled commercial development through the downtown stretch of the river. This project resulted in the initial construction of a network of some 17,000 feet of walkways, about twenty bridges, and extensive plantings including some of the bald cypress (others are several hundred years old) whose branches stretch up to ten stories and are visible from street level.

The flood control aspects of the project were tested in 1946, when another major flood threatened downtown San Antonio, but the Olmos Dam and bypass channel minimized the area damage. In that year, Casa Rio, a San Antonio institution, was the first River Walk restaurant to open. Through the following decades the network has been improved and extended, with the first major extension built in conjuction with HemisFair '68. The first River Walk hotel, the Hilton Palacio del Rio, opened that same year. In 1988, an artificial "branch" of the river was built, creating a lagoon at the new Rivercenter Mall and Marriott Rivercenter Hotel. Other restaurants and hotels followed quickly, many of them adding small parks and landscaping to enhance the appearance of what had become San Antonio's major attraction.

Today, many downtown buildings have separate street and River Walk entrances one level below. This separates the automotive service grid above and the pedestrian traffic below, that traffic following an intricate network of bridges, walkways, and old staircases. It is really quite a sight, and a lot of fun, and if you've never been, you should go.

We had dinner at one of the Mexican restaurants that line the Riverwalk, and we sat outside in the cooling evening. We followed that with a short bar tour, ending at a country/western bar we'd been to before.

At the San Antonio Botanical Garden

The next morning, Sunday, we slept in a bit, and then decided to go over to the San Antonio Botanical Garden, trying to get there as early as possible before the day got any hotter. Even so, the hot and very humid morning made our first half hour or so very uncomfortable, until a breeze came up about mid-morning.


The Botanical Garden is located in northeast San Antonio, east of Broadway Avenue, a major north-south street. The Garden is about a mile east of US Highway 281, the major route north out of the city (as opposed to Interstate 35 which goes northeast towards Austin and Dallas-Fort Worth).

Fred has been to the Botanical Garden a few times before, a couple of times with Prudence, his long-time friend.

Speaking of Prudence, you'll notice a star on the map, over north of San Pedro Park (the oldest park in the United States). This trip down to San Antonio was probably my third or fourth- I can't really recall. But in not too many years, you will start finding page after album page describing trips to San Antonio- probably four or five a year beginning around 2000. As you will discover, the reason that Fred and I will start coming down here so frequently will be that... Hold on a minute. For those of you going through my album from the beginning, I don't think I should spoil the events of 1999 and beyond. (Of course, you may already have visited some of the later album pages, so there may be no surprise.) Suffice it to say that San Antonio will become easily the most frequent destination for the trips that Fred and I will take together- even more than Fort Lauderdale. Keep going through the album and you will find out why.


Since it's available to me now as I am constructing this album page, I've put an aerial view of the Botanical Garden at right. On that view, I have marked some of the major features of the gardens, not all of which we visited today (and not all of which were actually constructed on our visit this year). But it will give you an idea of the extent of the gardens, and you can compare this aerial view to the one of the Dallas Arboretum that appears on the pages devoted to our visits there.

In any event, in many of the pictures we took during our visit today, you will see structures and scenes that you can pick out on the aerial view, which may enhance your enjoyment of the pictures in this section of this page.

The garden was first conceived in the 1940s by Mrs. R. R. Witt and Mrs. Joseph Murphy, who organized the San Antonio Garden Center. The two went on to develop a master plan for a city botanical center in the late 1960s. The site of the master plan was a former limestone quarry and waterworks area owned by the city. Voters approved $265,000 in bonds in 1970, which was the catalyst for funding the new gardens. Ground was broken for the new facilities on July 21, 1976 and the San Antonio Botanical Gardens officially opened to the public on May 3, 1980.


Our visit today will be relatively short; even with the breeze, it was quite hot. And, in any event, we wanted to be out in Leakey at Frank and Joe's by early afternoon, and that limited our time here. If you find this page interesting, though, you'll find many more pictures of the San Antonio Botanical Gardens taken on our frequent visits to it while on our frequent trips to San Antonio.


The gardens have had two major additions since opening. On February 29, 1988 the Emilio Ambasz designed Lucile Halsell Conservatory opened to the public and later that same year the historic Sullivan Carriage House was moved brick by brick to the botanical garden. Restoration of the building began in 1992, with formal dedication in 1995. The Conservatory is mostly a sub-level structure consisting of five climate specific greenhouses surrounding a central courtyard. Two tall and two shorter greenhouses rise above grade to accomodate tall plants and trees; inside the two taller ones there are spiral walkways that allow visitors to enter through the below-grade entrance and exit at the upper level.

Specimens housed in these structures include alpine plants, aquatic plants, cacti and succulents, carnivorous plants, epiphytes, ferns and aroids, tropical fruits, and palms and cycads. The building won several architectural design awards.

The photograph at left was actually taken outside one of the tall structures; outside that structure is a small artificial hill with a small observation area on top from which you can see quite a ways out across San Antonio, including this view of the other tall greenhouse.


Today the Botanical Garden consists of the Lucile Halsell Conservatory, formal and display gardens, native gardens, an overlook tower and the Sullivan Carriage House. The gardens host themed displays and exhibitions throughout the year. There are a number of sculptures in the Meditation Garden, which is adjacent to the Japanese Garden. This garden has many interesting plants and some pretty sculptures of birds and small animals. Fred liked these herons or egrets with the adult bird feeding a fish to the younger ones. Let's just take a look at the other pictures we took here today.

Blooms at the Botanical Garden

I am not sure what these flowers are, but Fred was interested enough in them to take the picture.


The Pond in the Native Texas Area

This area of the gardens are divided into sections representing the different climates of Texas. This area, which is supposed to represent east Texas, had a lot of interesting stuff, including this pond. Sprinkled throughout the gardens are some replica frontier homes from the same sections of the state.
Among the many little separate garden areas are the Garden for the Blind (where scents predominate), Gertie's Garden, the Herb Garden, the Formal Beds, Fountain Plaza, the Japanese garden "Kumamoto En", an Old Fashioned Garden, the Ornamental Grass Garden, a Rose Garden, the Sacred and Biblical gardens, the Shade Garden, the Watersaver Garden, and the Wisteria Arbor.
(Picture at left)
Here is Fred with part of the Lucile Halsell Conservatory in the background. As you can see, the greenhouses are not entirely conical, but actually of different shapes. It all looks very futuristic, and is extremely well kept up. Fred was in his element, seeing lots of plants he hasn't seen before.

(Picture at right)
I am kneeling beside a lily pond in the below-grade courtyard at the Halsell Conservatory. I had to lose the shirt quite early in the morning, although there was beginning to be a breeze by this time. This whole area between two of the greenhouses was built around this large lily pond, that had a number of different varieties of water lilies and other plants.
While we were wandering around the Halsell Conservatory, we went outside and just above the courtyard, where Fred got this panoramic picture of me with the Conservatory greenhouse buildings in the background:
The Sullivan Carriage House was designed by noted architect Alfred Giles for banker Daniel J. Sullivan, and was built in downtown San Antonio in 1896. In 1988 the structure was relocated, brick by brick, to the Botanical Gardens. The building was fully restored and dedicated in 1995 earlier this year. The structure now serves as the main entrance to the gardens and its former stables and carriage house contain a restaurant, gift shop, offices as well as event and meeting space.

Cacti Inside a Conservatory Greenhouse

Fred likes cactus a great deal (he has a large collection of it and we have gone hunting for new varieties on each of our trips), and I thought this collection of different kinds in the cactus greenhouse made an interesting picture, especially that cactus in the center, which looks like something that would grow in the ocean.


Fred in the Japanese Garden

I tried my best to get Fred exposed a bit more, but if I had the rest of the picture would have been washed out. I guess this is why professional photographers use a flash even when there is lots of light- it would have lit up Fred but not affected the rest of the picture.
After leaving the botanical gardens, Fred wanted to stop at a Mexican bakery downtown. The bakery is inside a restaurant which is inside a large Mexican shopping mall. It is an area where all kinds of stores sell stuff with a Mexican theme and is a great place to spend a Sunday afternoon, but we just bought a lot of pastry at the bakery to take out to Frank and Joe's and stopped for lunch at the Mexican restaurant next to it. Then we drove off west to Leakey and to Frank and Joe's farm.

At Frank and Joe's in Leakey, Texas

Late Sunday morning, we left San Antonio for Frank and Joe's farm out north of Leakey, Texas.


Getting out to Leakey from San Antonio isn't hard, although this was the first time I had been out here coming from San Antonio. On the previous trip, we'd come down from Dallas through Austin, Johnson City, Fredericksburg and Kerrville.

From San Antonio, we just took US Highway 90 west from the city, and at Sabinal, angled off northwest on Texas Highway 127 to Concan. There, just on the west side of the Frio River, we picked up US Highway 83 north to Leakey. On the way, we passed Garner State Park where Frank is a Park Ranger.

Frank and Joe actually live about three or four miles north of Leakey off a Texas farm road.


I learned that the landmark for finding Frank and Joe's house is to look for Bonner Road, and to turn into their private road just before getting to that intersection.


I've included an aerial view of the area where Frank and Joe live, since I am able to do so now. But, as has happened numerous times before in this album, the aerial view is circa 2015- almost twenty years after our visit. Because of that, you won't see the ranch house where Frank and Joe were living when we visited, nor will you see the barn and other small buildings they had then.


In the years following our visit, a number of Joe's family situations were one of the prompts that led them to fulfill their dream of building a new house on a nearby mountainside. That house does show up in the aerial view, and I have marked it.


But now, in 1994, they occupy an old ranch house owned by one of Joe's siblings, and they have a barn and other buildings where they keep various livestock and some dogs and cats. Their house is a traditional west Texas ranch house, and is cozy and comfortable inside. Now, in the summer, it is quite warm (although a lot cooler than in the city of San Antonio), but the ranch house was built to take maximum advantage of the winds that blow through the Hill Country.

On the way out to Frank and Joe's farm, I had intended to stop at a large supermarket and get fresh meats and stuff from the deli to make everyone dinner. We should have done that in San Antonio, because once we left the city, the only grocery store of any size that we passed didn't have a deli- just pre-packaged stuff. So we ended up buying some of that so we could make sandwiches for dinner.

We got to Frank and Joe's about three in the afternoon, and spent some time just relaxing and letting Fred catch up on things with Joe until Frank got home from his job at Garner State Park. Joe was doing well; he manages the Wells family farm that lies a few miles north of where his lives; his siblings have pretty much scattered and so he's the one that operates the farm for his parents.

Frank got home about six; he works most weekends during the summer and early Fall when the park is very busy (it is one of the most popular and heavily-used of all the Texas state parks. I am not unused to being at a place like Frank and Joe have, although I'll admit that having turkeys wandering around is different; my sister lives in a similar area of North Carolina, and has her own horses and other animals.


As one would expect, Frank needed to decompress for a little while after getting home from Garner State Park, so we just talked for a while before deciding to go up to Bonner Cave. Before visiting the cave Joe wanted to herd their flock of sheep from the barn area down to their lower pasture for grazing.

A Goose Doing the Work of a Sheepdog

While we were in the house, I heard the sound of a lot of bells, and looked out the front door to see that goose leading these sheep along the road. It is hard to believe, but the goose apparently knows when to take the sheep down to the lower pasture, and just does it, kind of like a sheep dog, which Frank and Joe don't have.


Through the Gate Down to the Pasture

I have absolutely no idea how the goose got trained to lead the sheep, or how the sheep got trained to follow the goose. Frank and Joe swear that they didn't do it, and I guess I am gullible enough to believe that. It was really pretty amazing, and worth a picture or two.
Once the sheep were taken care of, we piled into Frank's truck to drive up to the cave. Bonner Cave is in the hillside across the creek from the farm, so we got our flashlights and stuff, put on some insect spray, and headed off.

Me and Joe in the Back of Frank's Pickup Truck

There was a good deal of water in the river this time, but Frank knew just where to drive to make the crossing. We stopped on the other side at the land that Frank has bought, and he and Fred and I walked around it for a while, just like last time we were here. Then we headed off up the hillside to where we could park the truck.


Frank and Joe and Fred at the Trail to the Cave

We got to where we couldn't drive any further, and so we parked the truck and got ready to hike up to the cave. Before we set out, I got this picture of the three guys by the truck. We had been up in these hills before looking for cactus, but this time the cave was our objective.
We were just about to start hiking up the hill, when the dogs, who had come along, started yelping and chasing something. Joe saw quickly that it was a porcupine, but before he could get the dogs to come back to him, the porcupine had shot them all full of needles, mostly in their snouts and inside their mouths. They came yelping back and they were a very sorry sight. I thought it would be easy to pull the spines out, but it isn't. They are barbed and you have to be very careful and pull very hard. Joe and Frank were able to get a few of them out, but Joe thought that he should stay behind with the dogs and work on the rest of them, using a pair of pliers from the truck.
The entrance to the cave is very small and almost hidden, and I was a little apprehensive about going in such a small opening, but since Frank and Joe and Fred and their friends have all been in it many times, I knew it was safe and possible to negotiate. The cave turned out to be very, very neat.

Me and Frank Inside the Cave

The cave was much larger just inside, and I didn't have much of a problem. There are places you really have to squeeze through, but the scenery in the cave was worth it.


Frank and Fred in the Cave

We went all the way back into the cave to the last room that is big enough to get into, and just sat in the dark talking for a while.
There are large rooms and narrow passages, and the cave goes for maybe 200 feet back into the hillside. Fortunately, Fred brought his flash with him. That enabled us to take these pictures- like this one of me touching one of the formations. Some of the formations are still active, but most are not. Like all caves, it was very quiet and very dark when you turn your lights off. You do get pretty muddy because for a ways you have to pull yourself along on your stomach. Fred said he had brought Prudence here before and she had made it all the way in, too, which impressed me.

Inside Bonner Cave

You can see some of the larger columns on the left, and the smaller ones behind me and the tiny ones on the ceiling.


Frank Inside Bonner Cave

Frank is using his flashlight to point out some of the smaller columns that reach from floor to ceiling.
Back at the entrance to the cave, there were many broken stalagmites and stalactites littering the floor, so I picked up a couple of them to take home. I know that Ron Mathis, who collects rocks, will love one of them.


After a while, we left the cave and outside it was getting late. We walked back down to the truck and called for Joe; he had gotten many of the spines out, but not all of them, and he seemed to think that the rest of them would have to work themselves loose.

On the way back to the farmhouse, we stopped at the land up on the hillside where Frank and Joe eventually want to build their own house, and they showed us the lay of the land and how it came down to a 50-foot cliff above the branch of the Frio River that runs below. Fred had the three of us stand on the hillside while he clambered over to another point from which he could take a panoramic picture. This was a vertical picture, so for you to see all of it at reasonable size, I've had to put it in the scrollable window at left.

When we got back to the house, I laid out the dinner we had bought and made sandwiches for everybody. We spent some time that evening just talking and looking at the pictures Fred had brought along of our Bryce Canyon trip, and some others he had brought. Then we had dessert (pastry) and hit the sack.


The next morning, July 18th, we got up to have breakfast and do some stuff around the farm. One item was to check the dogs to see if any of the porcupine quills had worked themselves loose. Some of them had, but Joe had to go after the rest of them with the pliers. I couldn't do much but watch.

The turkeys that Frank and Joe have were very much in evidence this morning, and we got a couple of interesting pictures of them:

Why their skin grows like it does is a mystery to me. It seems to serve no useful purpose. A couple of the turkeys are very tame, and in fact like to be petted and picked up. It is easy to tell the ones that don't.

We spent a pleasant morning at the farm, but then had to get going on our way back to Dallas. Although I don't know them nearly as well as Fred does, I find Frank and Joe to be great guys, and I wish them well.

Enchanted Rock

We left Frank and Joe's farm about noontime, and drove north from Leakey towards I-10, jogging down to Kerrville and the highway up to Fredericksburg. There we stopped for a late lunch.


When we have been through here before, we have usually been going directly home from Frank and Joe's or perhaps from Fredericksburg; when we do, we head east and northeast from here to Austin by way of Johnson City.

But to get to the Enchanted Rock area, we head north out of Fredericksburg towards Llano; Enchanted Rock is about twenty miles north of Fredericksburg and a couple of miles west of the highway. Fred has been here a couple of times before, but this will be my first visit to this geological formation. We got there about three in the afternoon.


Enchanted Rock is an enormous pink granite pluton batholith located in the Llano Uplift. The 1,600-acre Enchanted Rock State Natural Area includes Enchanted Rock and surrounding land south of the Llano River. Enchanted Rock itself covers approximately 640 acres and rises approximately 425 feet above the surrounding terrain to elevation of 1,825 feet above sea level. It is the largest such pink granite monadnock in the United States, and was designated a Recorded Texas Historic Landmark in 1936.


Coming in from the highway, we found a large parking area for visitors to this scenic wonder, and right after we got out of the car we had good views of the rock itself. Of the two pictures we took from the parking area, the one with Fred at right was the best.

The prominent granite dome is visible for many miles in the surrounding basin of the Llano Uplift. The weathered dome, standing above the surrounding plain is known to geologists as a monadnock. The rock is actually the visible above-ground part of a segmented ridge, the surface expression of a large igneous batholith, called the Town Mountain Granite of middle Precambrian (1 billion years ago), material that intruded into earlier metamorphic schist, called the Packsaddle Schist. The intrusive granite of the rock mass, or pluton, was exposed by extensive erosion of the surrounding sedimentary rock, primarily the Cretaceous Edwards limestone, which is exposed a few miles to the south of Enchanted Rock.


Folklore of local Tonkawa, Apache and Comanche tribes ascribes magical and spiritual powers to the rock (hence the name). While attempting to hide from Anglo settlers in the area, the natives would hide on the top two tiers of the rock, where they were invisible from the ground below. The first European to visit the area was probably Álvar Núñez Cabeza de Vaca in 1536. The Tonkawa, who inhabited the area in the 16th century, believed that ghost fires flickered at the top of the dome. In particular they heard unexplained creaking and groaning, which geologists attribute to the rock's night-time contraction after being heated by the sun during the day. We followed one of many trails up the side of the rock and to the top- a half-hour trip. And we took lots of pictures.

Fred Near the Summit of Enchanted Rock

This is the view from the top, looking off to the west. In the background, you can see a small lake and a campground. There is also another campground nearer the entrance that we came in.


The West Side of Enchanted Rock.

The side of the rock slopes down for a ways, then drops pretty straight to the level of the surrounding countryside.
Enchanted Rock is essentially a very large boulder that sticks up from the surrounding Hill Country; it is a well-known geological feature of the Central Mineral Region of Texas. The pink granite which makes up this amazing feature is some of the oldest exposed rock in North America. It is bare on top and fairly easy to climb- just a little exhausting on a hot day.

Fred on the Southwest Side of Enchanted Rock.

I have no idea how these large rocks got to be situated here on the side of the larger mass that is Enchanted Rock. It doesn't appear that they rolled down from the top, or anything, so I have no idea how they got here.


My Attempt at a "Staged" Picture

I wanted it to look as if Fred were carrying the smaller boulder that you can see behind him, but I couldn't tell him how to hold his hands just right. Still and all, its a good shot of a good-looking guy.
Here is the first of the panoramic shots that Fred took this afternoon; it's me atop Enchanted Rock:

The hike up to the top, while short, was very neat, but the big surprise was a cave-like formation that Fred knew about- actually a deep crevice in the rock, and we spent some time exploring inside.


At left you can see me, inside the "cave" at the top of Enchanted Rock- just down from the crest of the batholith. Not really a cave, it is more of a fracture in the rock that is completely covered over for a hundred feet or so. There are no formations since there is no water, just a neat confined space to climb through. You are never quite in total darkness, although you do need a flashlight. Fred has been through here before, a couple of times.

To see a couple more pictures of us clambering through this fissure, just click on the thumbnail images below:

This is one of the features of geological interest, called Enchanted Rock Fissure, which developed under talus blocks along a sheeting joint. It is one of the largest known granite caves. Smaller structures called A-tent caves have also been formed by sections of exfoliated sheets.

You can see clearly in the pictures above that this is not a cave in the classic sense. I'm not sure how the rock came to be fractured, or how these boulders came to be arranged like they are. It didn't look as if the various faces of the boulders fitted together very neatly, so I am puzzled about exactly how the cave formed from the fissure. It's not difficult or dangerous to go through, you just have to be careful about your footing, and look before you step.


The rocks down in the cave seemed to be fairly smooth and somewhat weathered, although I can't see how that could have happened. Although Indians may have come to this area as early as 10,000 years ago, evidence for later occupations is more specific and abundant. Archaeological remains are common in the park area and indicate that the Enchanted Rock area was attractive to different groups of prehistoric peoples over a long period of time. Although the first well-documented explorations of this area began with the Spanish in the early 1700s, discovery of Enchanted Rock by Europeans is attributed to a group of Anglo-Texans led by Captain Henry S. Brown, who were pursuing a party of fleeing Indians.

Me in the Cave at Enchanted Rock
(Picture at left)
We spent a neat half hour or so going through the cave to the other end, which comes out lower on the west face of Enchanted Rock. At the western end, there are a couple of ways out. One way is too steep to try without a rope, but the other way is very easy, and comes out to a spot from which there are some good views. Going through the cave was fun. I always wonder who the first people were to find these things and go through them.

(Picture at right)
This view looks back into the cave as I am climbing my way out. Fred had climbed out of the cave and took this picture looking back at me as I was doing the same thing. You can see what I mean about the smoothness of the rock. I really don't know how it could have worn itself smooth like that.


Coming Up Out of the Cave
When we climbed out of the cave, Fred took two more panoramic pictures, both of me with my shirt off again on the west face of Enchanted Rock:
This was very easy as climbs go; for myself, I like the kind of climbing I can do in tennis shoes and without a rope. This is actually a bit north of the main part of the Texas hill country, but the landscape is pretty typical for the area. Large areas of apparently bare rock belie the variety and abundance of plant life at Enchanted Rock State Natural Area. Over 500 different species grow here, from colorful lichens on the rock surface to tall elms, pecans, and hickories along Sandy Creek. Typical plants include live oak, Texas persimmon, prickly pear, agarita, and mesquite in abundance; but the geology and soils of the area provide habitat for a distinctive association of plants and animals.

Fred Outside the Fissure Cave
(Picture at left)
The view behind him looks west. Exposures with the subject in shade and bright lights beyond will be the death of me. I don't think I ever get them right.

(Picture at right)
The rock was quite steep here, but there are plenty of places to step so you have lots of support. Weathering has produced a variety of features including small circular depressions with raised rims called rock doughnuts, shallow depressions from an inch up to 50 feet in length called gnammas or weather pits, and incised flutes and channels on the surface of the granite rock. The mushroom-shaped formations found throughout the park were formed by freeze-thaw weathering or by other processes related to chemical weathering in ancient soils which may have once covered these features.


Fred on the Southern Side of Enchanted Rock
Through the eons, overlying ancient metamorphic and younger sedimentary rocks have been stripped away by erosion, thus exposing an extensive igneous feature known as the Enchanted Rock batholith. Enchanted Rock proper is but one small exposed part of this ancient batholith and is called an exfoliation dome because of the way plates of rock break away (exfoliate) from the main dome along curved joints. Geologists also call Enchanted Rock an "inselberg"- an island mountain, for obvious reasons.

The Southwest Side of Enchanted Rock.

This shot is interesting because you can see that the face of the rock seems to have split off in a layer. Those pieces do seem to fit together pretty neatly. In the distance is the small lake and the second campground.


Fred and a Fracture Rock Layer at Enchanted Rock

Here you can see how a whole layer of rock has fractured off. I imagine the pieces are slowly sliding down the side of the rock, but they can't be doing so very fast, since there are little bushes and cacti growing up between the slabs. To give you an idea of the slope here, I asked Fred to stand as vertical as he could. You'll note how much he has to bend his right leg to be able to do that on this 45° slope.
Here are the final two pictures we took as we were coming down off Enchanted Rock:

Some Prickly Pear Cactus in Bloom

I thought that the prickly pear cactus pads with the fruit pods along the rim were interesting, so I tried to get them with Enchanted Rock and the western scenery in the background, and I think the picture turned out well. The cactus gives the picture a real Western look.


Me With Enchanted Rock in the Background

We hiked back down the rock and back to the truck. The hike and the cave were a lot of fun, and it might be nice to camp here for an evening some time. We got in the truck and headed further north. Just outside the entrance to the state park, we stopped, and Fred took this picture. I wish I hadn't been squinting so much.
Other plant species here at Enchanted Rock include post oak, blackjack oak, and black hickory; these are actually characteristic of east Texas; yet cat's-claw mimosa, beargrass, and soaptree yucca of Trans-Pecos Texas also occur here. One tropical fern, "blechnum occidentale," is found only at Enchanted Rock and isolated areas in tropical Florida in the United States. Two other plants make their home only in the granite region of Central Texas. They are the basin bellflower and the rock quillwort.
Before we left Enchanted Rock, I tried a picture with Fred's panoramic camera, but it did not turn out nearly so well as his:
We left Enchanted Rock to return to the highway, and then we headed further north, up through Llano and Burnet, up north to Lampasas, then east through Kileen. In Kileen, where Fort Hood is, we stopped to see if there was a Baskin-Robbins. There was, and I added another one to the list. Then we went on over to I-35 at Temple, and drove north through Waco, eating dinner at the Chinese buffet there, and on to Dallas reaching home about eleven that evening. This was another very enjoyable weekend trip.
You can use the links below to continue to another photo album page.

---
| | |
| --- | --- |
| | July 25, 1994: At a Rangers Baseball Game |
| | June 30 - July 4, 1994: A Trip to Arizona, Utah and Nevada |
| | Return to the Index for 1994 |