| | |
| --- | --- |
| | December 17-27, 1994: Christmas in North Carolina |
| | Return to the Index for 1994 |
---
December 28-29, 1994
Frank and Joe Visit Fred's House


Throughout the Fall, I had been going up to Fred's at least once each month, and helping him do some of the projects he has going. We wired speakers, weeded gardens, and put up shelves, including some that you'll see in a picture below. I like going to Fred's very much; it is like a little vacation just to get away from the city and into a different environment. I know Fred is always self-conscious about his house being messy, but I don't notice. I got to Fred's on Tuesday evening, having just arrived back in Dallas that morning from Charlotte. Frank and Joe, who had come up to Fort Worth to spend Christmas with Frank's family, had already arrived, and the four of us had dinner. Fred had to work on the 28th, and Frank and Joe would be leaving the next morning as well. I might have stayed that night, but since I also had to be at work Wednesday morning, I went back to the city late in the evening.


Before I left, though, I could a couple of pictures, such as the one at left of Frank and Joe inside Fred's greenhouse. I had to get back to the city, but I got this picture of Joe and Frank. Frank is holding Fred's new cat, Calcitinas, that Frank brought up for him from the farm. I think the name is Spanish for "white socks," or something like that. Here is another picture of them, this time in Fred's dining room looking towards the kitchen and the new shelves: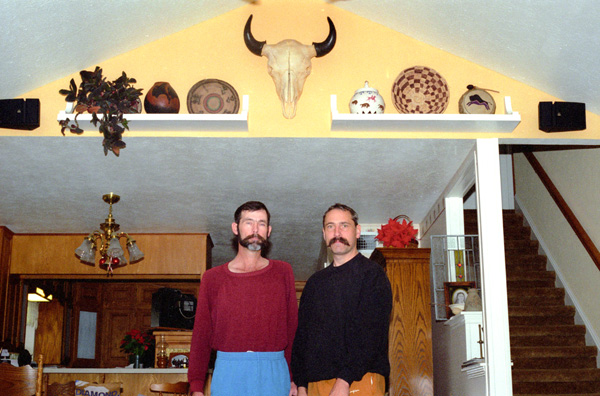 On Wednesday and Thursday, I was in the office packing stuff, the office being mostly deserted. Fred came down on Friday, and spent New Year's weekend with me. We went out to dinner with Larry on the 30th, and then all of us were out at Ron and Lowerys for a tame New Year's Eve. Fred and I left right after midnight, and stopped at the Brick Bar for a New Year's toast. Sunday was pretty calm; we saw Greg and did some bike riding, it being relatively warm. Monday it was back to the grind for both of us.
That brought 1994 to an end; certainly a year with some memorable trips!
You can use the links below to continue to another photo album page.

---
| | |
| --- | --- |
| | December 17-27, 1994: Christmas in North Carolina |
| | Return to the Index for 1994 |