| | |
| --- | --- |
| | September 1-4, 1995: Southern Decadence in New Orleans |
| | June 30 - July 5, 1995: Summer Trip to New Mexico and Colorado |
| | Return to the Index for 1995 |
---
August 19 - July 15, 1995
A Trip to North Carolina and Florida


I am going to take advantage of the fact that I am between jobs, having left E&Y on July 31st, to make a trip home to Charlotte to see my Mother, take a side trip up to Elon, North Carolina, to visit my sister, and then continue on down to Fort Lauderdale to spend some time at the condo there before returning to Dallas. While my time is my own for now, I will miss being away from Fred for almost a month.

Visiting My Mom in Charlotte

I started my trip home and to Florida at about five in the morning on Wednesday, July 19th. There was no particular reason why I couldn't have started out on Tuesday; I could have used Monday after Fred left for work to pack, but there were just a lot of things I wanted to do around the house before I left.


The route from Dallas to my Mom's house in Charlotte is an easy one, and I have driven it before. From my townhouse, I just cut across town to Central Expressway and take that south past downtown to where I can get on I-30 east. I really need to be on I-20, and there is a cutoff, US Highway 80, that takes me from the eastern outskirts of Dallas over to Terrell to pick it up.

From there, it is just a long slog- about 800 miles with virtually no turns- on I-20 all the way to Atlanta. I stopped in Monroe, Louisiana, to call mom and tell her I was on the way and would be home that evening. (This was way before I had a mobile phone and while payphones were still plentiful). There was a new Baskin-Robbins in Pecanland Mall east of Monroe since I had been through here last, so I stopped there. I also stopped in Birmingham, Alabama, to add two more new Baskin-Robbins stores to my list. In Atlanta, I take I-285 around the northwest side of the city to pick up I-85 northeast through South Carolina and into the Charlotte area. I tried to have some supper at a Taco Bell north of Atlanta, but their service was so bad I finally ate elsewhere before continuing on to Charlotte.


Once I reached the west side of Charlotte, I continued on I-85 northeast to its interchange with the relatively new I-77 that runs south down to Columbia, South Carolina.

You can see on the map at left about where in Charlotte I am headed, and you might wonder why I didn't take the I-495 beltway. Of course, the answer is that it wasn't built in 1995; that section of the beltway wouldn't open for another ten years or so.

Anyway, I got on I-77 south and drove to the Woodlawn Road exit.


At Woodlawn Road, I am in familiar territory, even though Charlotte has grown a great deal since I moved away. Woodlawn Road takes me east to where Park Road Shopping Center (once a far-out shopping mall but now a close-in strip center) sits at the intersection of Woodlawn Road and Park Road.


To get to my childhood home, I would turn north here, but to get to the condo that my Mom bought in 1977 I head south. Passing Selwyn Avenue and across Sugar Creek, I turn right on Cranford Drive into the complex where my Mom is now.

It isn't essential to the photo album, but since this is something more, you might be interested to see a picture of my Mom's condo, and I have one- courtesy of Google Street View (not available in 1995).


My Mom's unit is on the first floor of the north building; each building has six units, two on each of three floors with an outside stairway and breezeway between each tier. The actual entrance to Mom's unit is on the far side of the building in this picture. The north half of the unit has the two bedrooms and two baths, and the other half has the kitchen in front by the parking area, the dining room, and then the living room with the bay window that you see here.

I ended up arriving about midnight; it was certainly a long day, and I just slept in the next morning.

Mother and I played bridge Thursday afternoon, and we came in first. I think mother relaxes more when she plays with me, and doesn't make many mistakes (although I continue to make my share), and we were fortunate enough to win. That pleases mother no end, as all the other players are nice enough to mention it to her when they see the scores, either right then or sometime after. We played again Thursday night, and came in second that time- another good result for my mom.

As it turned out, there was a small tournament being held at the club that weekend, so we played both on Friday and Saturday, July 21st and 22nd, and we won one section and placed twice in others. Mother was accumulating red points for these outings, and she liked that. She was also getting enough points to go over 300 total. This is not enough to be a life master, unless you have the right colors, but they were enough to get her listed in a special section of the club newsletter where lots of people will note the achievement. I think this pleased her no end.

On Saturday evening, we were approached by a team of two gentlemen who had one their section about playing with them in the Swiss Team event on Sunday. Actually, I had planned on going up to Judy's on Sunday, but this opportunity was too good to miss, and I could tell that mom really wanted to play. So we started the event at ten o'clock the next morning. It's an all-day thing, ending about eight in the evening, and an early dinner is served about four in the afternoon. We started right out doing quite well, winning our matches, some of them by wide margins. Actually, quite a few times it was the good results obtained by mom and I that carried the team to victory in the round. By late afternoon, we were in third place, having only lost one match, and that one by only one point. At dinner we were hopeful of finishing in the money, and I think our partners were pleased.

After dinner, we continued to do well, actually moving up to second place, and it all came down to the last match of the night. We won this match, and were temporarily in first place, the team just behind us won their match by a slightly larger margin (something over which we have little control) and so they came in first. But our team was very happy with the second place finish, and I think that mom will garner a lot of status because of that.

On Friday and Saturday nights, I went out to the Brass Rail to play pool and see if any of the guys I have met before are still there. The only really familiar face was Scott, the owner of the bar, but there were a few people to talk to. Mostly, though, I played pool, and both nights I did quite well, usually holding the table until no one else wanted to play. This always gives me a good feeling of accomplishment.

A Visit With Judy and Bob in Elon

On Monday morning, I headed up to Judy's to spend three or four days. Everybody up in Burlington is the same as always. Judy has not started school as yet, so we had plenty of time to bum around and do stuff.


Getting to my sister's from Charlotte is a trip that I have made innumerable times. We did it quite a few times when my Dad was alive, and in the years since I have driven the route more times than I can count. There have been changes over the years as new highways have been built, but it is basically the same route.

I will simply leave my Mom's house and head south to Tyvola Road, and then go west back to I-77, which I take north to the interchange with I-85. I head north on I-85 and take it all the way to Greensboro. The road has been widened in sections over the years as the Piedmont cities have grown, and there is now a new bypass around Greensboro altogether. I-85 continues to I-40 just east of Greensboro; actually, I-40 terminates in I-85.

On the occasions where I have driven directly from my house to Judy's, it is easier to take I-40 all the way.


It is in the route to my sister's farm from I-85 that the biggest changes have come, although most of those occurred subsequent to my trip here this time.


At this point in time, I follow the same route that I have followed since my sister first moved up here from Charlotte and first my Dad and then Mom and I have come up to visit.

We exit off I-85 at Huffman Mill Road, and then double back west on a local street to pick up Williamson Avenue, a street which does not have its own exit from I-85. This we take north through the town of Elon and right through the middle of Elon College (now Elon University) and out the north side of town.

This puts me on Elon-Ossippee Road that angles off to the northwest, and I follow that all the way to Lowe Road, the country road my sister is on. Turning left, I go about a half mile to her driveway.

Like most places, Elon has grown in the twenty years since 1995, to the point where there has been a lot of development near to I-85 (which is now six lanes rather than four) southwest of Elon proper. There has been so much growth in this area that a new road has been built to intersect with I-85; it is called University Drive.

Now I can get to Judy's without the convoluted route from Huffman Mill and without going through the University. This new road connects to a bypass that has been built around Elon, and it connects up directly with Elon-Ossippee Road. My guess is that this cuts fifteen minutes off the trip to see my sister.


You may not care very much what my sister's house looks like, but just to make my album more complete, and because I have access to it now, I want to include an aerial view here.


The pond belongs to the property next door, although her driveway runs quite close to it. She has the two barns, the house, and all the property to that tree line between her and the farm next door (where they grow cash crops). Judy has horses, and so her pastures are undeveloped.

Judy has got a new computer, and wanted my help in loading lots of software which I brought along for the purpose. We spent a good deal of time doing that, and I took the opportunity to explain as much as I could of the programs to her. She is a quick study, and picked up a lot of what I was saying right away. She has Windows, Word, most of the other Microsoft products, a lot of games, and a new HP Bubble Jet printer. So she has quite a professional set-up.

The only drawback was her disk drive, which was an antiquated 40 MEG drive. I convinced her (actually, running completely out of space did that) that she should get a larger drive and also some more memory. Since she had the money (I helped out just a little), we took her machine to the local computer fix-it shop, and left it for them to add 4 MEG of memory and a new, 500 MEG disk drive. She now has space for all the programs she will ever need. And God knows that we loaded enough of them that week to keep her busy for years.

Of course, we did a lot around the barn and with the horses, but the other interesting thing we spent time on was canoeing. Judy had told me months ago that she and Bob had bought a small canoe and were spending time going around the local lakes and streams with it. Apparently, the security of working for Revco has enabled Bob to be a bit more adventuresome in many things, and this canoe is one of them. Judy also tells me that they actually go out now and everything, so I guess the new job is quite an improvement.

Anyway, on Monday afternoon, Judy and I took the canoe over to one of the local streams and dropped it in the water and headed upstream. Rowing along and looking at the scenery was neat, and it also gave us a chance to talk about a lot of things. Although the weather was quite hot and muggy, the rowing was not unpleasant. There were enough overhanging trees to provide a good deal of shade, and there were enough interesting things in and near the water to keep our attention. Actually, we were paying so much attention to what was below us that we neglected to watch out for what was above us. We did not notice that the clouds had been steadily massing for what turned out to be an afternoon downpour. When the rain started, we pulled the canoe over to one bank of the stream, under some overhanging trees, and sat with our life jackets over our heads trying to keep from becoming totally soaked. We were quite unsuccessful in that.


But it was interesting, and certainly cooled us off. When the rain finally tapered off, we went a bit further upstream, and then headed back down to where we had left the truck. There were some rapids and stuff in this stream, and Judy got a chance to show off her prowess as a canoe expert to get us through them. Not whitewater, but as close as you can get in this level part of North Carolina. When we reached the truck, the ground around it was very wet and muddy, and that was the worst part of the afternoon, just trying to manhandle the canoe through the mud and into the back of the truck. The air-conditioning in the cab certainly felt good on the way home.

The canoeing was a lot of fun, and since Bob had an afternoon off on Wednesday, the three of us decided to take it out again on a local lake/pond.

Here is a nice picture of Judy and Bob with their new canoe at one of the lakes near their house. We put the canoe in the truck and rode about ten miles to this lake (whose name I don't know), and got ready to head off for the afternoon. Both Judy and Bob look good, and I think both have lost some weight. Maybe the canoeing has something to do with that.

Anyway, we dumped the canoe in the water and then headed off across the length of the lake to the mouth of the stream that feeds it. Judy and Bob had been up this stream before, and thought it would be a good trip to make. I suppose it was two or three miles or so from where this picture was taken to the mouth of the stream. The rowing was easy but long, and the weather was quite warm, but all in all it was very, very nice.


It was great being along with Judy and Bob, and I think its also great that they've found an activity they both enjoy. I know that Bob helps Judy a great deal with the horses, but they aren't really his "thing"; he helps her with them just to be a good guy. I guess, though, that if Fred had horses, I'd certainly help him with them if I were at his house.
| | |
| --- | --- |
| When we got to the mouth of the small stream, we got into the same kind of area Judy and I had encountered Monday- lots of overhanging trees and a good deal of shade. Judy took this picture from the back of the boat where she wasn't doing much work anyway. | At one point, we got to a rocky area in the little stream and it was easy to get out of the canoe to walk around. I convinced Judy that she could jump from rock to rock and get out into the middle of the stream to join me so that Bob could take this picture. She did that handily. |

We rowed for quite a ways up the stream, but eventually you reach a point where there are too many rocks to enable you to go much further. Judy said that she and Bob had portaged around these rocks before and had continued upstream a ways, but that there wasn't much more to see, so we decided to make this our "turning around" place.

Judy and Bob and I all got out of the canoe at this point just to stretch our legs, and I got this picture of the two of them at this upper end of the navigable portion of the stream.

I suppose the only problem today was that there was not much breeze, so even though it was not oppressively hot, the stillness of the air made it seem so. There were some insects, although not many, so they weren't particularly bothersome.


We eventually got back to the lake and the return trip paddling across it; it was nice to be back out on the open water with a breeze. Over on the far side where we had left the truck, we could see the bridge we'd crossed to get to the put-in area, and I took a picture looking out ahead of the canoe at that bridge. The lake is pretty, though it is very unlike the West where Fred and I spend so much time. Everything is flat and green here, rather than rocky and brown. The three of us went out that night to a Chinese buffet restaurant that Judy and Bob found. The proprietress seemed to know them well, and the food was quite good.

Left-Hand Title
(Picture at left)
Here are some Cana lilies near the small greenhouse that Judy and Bob have built. I thought the lilies were quite pretty, although Judy says they are past their peak. She promises to send me some bulbs when the flowers go dormant later in the year and she can dig them up. There is a small greenhouse at the edge of the garden that she and Bob use for tomato starts and miscellaneous herbs and stuff.

(Picture at right)
Here is Judy, her barn, and Patrikk with his head stuck through window. You can see the wide variety of plants that Judy has started around the barn here. The landscaping actually looks very nice. As do the barn and the horses, of course.


Right-Hand Title
I took Judy and Bob out to Golden Corral twice that week, and both times they saw people they knew. Judy saw the school custodian, Robert, whom I had met at Christmas, and they saw Bob's brother, Joe Barbour, who is still mayor of Burlington. We messed around with the computer a good deal as well. I had a great visit with Judy and Bob, and left that evening to return to Charlotte to spend some more time with Mom, and Judy and Bob are planning to come down this coming weekend for a visit.

My Niece Jeffie Moves to Dallas

We played bridge some more on Friday and Saturday, and we won one of those sessions as well. I took Mom on a lot of her shopping trips, and we cooked some stuff for the two of us quite a few times. Mom seems happy when someone is around, and I certainly enjoy visiting her. I went out some more on Friday and Saturday, doing very well playing pool both nights- although there weren't many players on Saturday.

As they had promised, Judy and Bob came down on Sunday for dinner with Mom, and Ted and Jeffie were able to join us as well.


Judy and Bob came down on Sunday for a visit, and I did a repeat performance of the ham dinner that I had done at Christmas- although I didn't get such a good deal on the ham this time. I took a picture of all of us at dinner, and I used the flash, but I had the lens set on the wrong aperture. (When I get to Florida, I'm going to go by the camera store and get a lesson in how to use it.)

After dinner, I took Judy, Bob and Ted to see Waterworld, since Judy is such a Kevin Costner fan. The movie was OK, although I didn't think it was worth $170 million.

Judy and Bob, as usual, brought down a bunch of vegetables for mom, Ted and Jennifer (whom I have seen a few times since I have been here). I wanted it to look as if some poor farmers had dropped by selling vegetables out of their truck, but Judy and Bob and mom are too well-dressed, and the new Sentra wagon belies their status as farmers.


Mom and I played more bridge on Monday and Tuesday, and on Wednesday, August 2nd, my sister came down from Elon again to help Jeffie with her moving chores. More about that in a minute.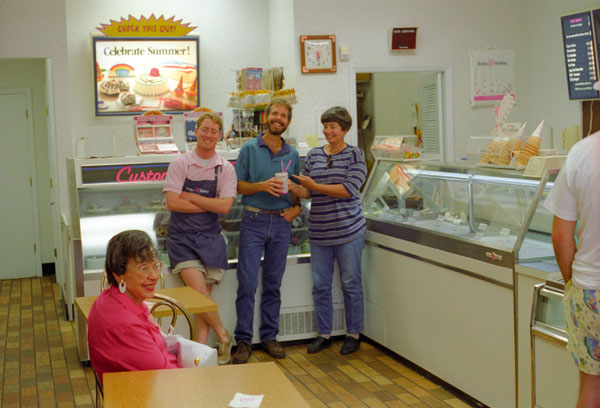 Mom, Paul, Myself and Judy in Baskin-Robbins


Mom and I got together with Jeffie and Judy on Wednesday morning when we met her at the place she has been working- the Record Exchange over in Cotswold Shopping Center. There is a Baskin-Robbins there, and Jeffie had been telling this guy Paul, who works in the Baskin-Robbins, about my unique status with the company, and she wanted to take me in to meet him. for some time, so she took me in to meet him.

I was supposed to get a free cone, but it didn't work out that way. What I did get was this actual picture of me in a new store. (For a long time, I thought I had been to this store, but it was actually not in my official list, so I was able to add it now.)

Today was Jeffie's last day at the Record Exchange because she is planning to move to Dallas. Yes, Dallas. She had called me about a month ago asking all about the city and everything, so I knew she was thinking about it, but just a couple of weeks ago she had made up her mind. She says that she has done about all she can do in Charlotte as far as the record industry is concerned, and that she wants to try her luck in a city that is larger.

She thought about Atlanta, but thinks that it is just an extension of Charlotte. So she has chosen Dallas since many of the record labels have offices here. We have talked a good deal, and she plans to move to coincide with my return from Florida. I have offered to let her stay with me until she gets settled, and she has accepted (which has removed quite load from Judy's mind, too.)


Jeffie has a few good leads on what she will do, and it seems as if she will either work for the distribution arm of Wal-Mart, placing CDs in their stores, or work for BMG Music, a record label, where she already knows quite a few people. Anyway, she is getting ready for her move out west.


Jeffie has been living in an apartment in an older building in the Dilworth section of Charlotte while she has been working at the Record Exchange, and this is a picture of Judy, Ted and Jennifer behind Jeffie's building.

Today, Judy has brought down her truck to take Jennifer and most of her belongings up to Burlington, where she will spend some time before she heads off for Dallas. We carried most of Jeffie's stuff down from her apartment, except that which she will carry in her car to Dallas, and a few things, including one of her favorite stuffed bears, that I will take with me through Florida and then home.

Ted came by to help us carry stuff down and load it in the truck. We've finished loading, and are just standing around chatting.

Judy is not entirely comfortable with Jeffie's move to Dallas, mostly because she will now be so far away that it will be difficult for Judy to ever see her, but I think the fact that I am there, and that Jeffie will be staying with me for a while is easing her concerns somewhat.

As I said, although Jeffie has some contacts to follow up on when she gets there, none of us, including Jeffie, are exactly sure what he next gig will be. I know she would prefer to get a job or at least an intern position with one of the record companies, and I guess she will be getting another job in retail to help pay the bills, but all of that is her concern as I don't know much about it. She seems quite positive that things will work out well, but I guess that is the optimism of the young. She's sad at being so far from Bob, Judy and Ted, but feels the change is one she just has to make.



Everything's all loaded, and Judy is getting ready to depart. Jeffie will stay a few more days in Charlotte, and then load the rest of her stuff and go to Burlington to stay until Monday, August 14th, when she will start out for Dallas. I will be leaving for Florida the day after tomorrow, and will leave there for Dallas also on the 14th. We should get to Dallas at about the same time.

Earlier today, I might record, Judy and Ted and I took mom to get fitted for a wig. She has had a problem with thinning hair for some time, so we went to a couple of places until we found a place that was willing to take the time to help her adequately. It was over off Woodlawn Road, and the girl that help mom was very attentive and knew what she was doing. Mom looked great in the wigs she tried on, and the styling added a lot to her appearance. She ended up ordering a wig in her color, and I am anxious to see what it will look like on her.


We said goodbye to Judy, who headed back to Elon, and Mom and I talked for a while with Ted and Jeffie, and then we, too, left to go back to Mom's condo.


It occurred to me, driving from Jeffie's back to mom's, that nowhere in my photo collection do I have a picture of the town I grew up in, so I asked Mom's indulgence as I stopped near the old Charlottetown Mall to take a picture. The view from there wasn't what I had hoped, so in the end we drove up on Morehead street near the YMCA to take this shot.

When we moved here in 1951, of course, the city looked nothing like this. In fact, very few of the downtown buildings that were here then are still standing. I can't point with assurance to any building in this picture, except possibly the low red and tan brick buildings at the left as being here then.

Charlotte is now a banking center, being the headquarters for NationsBank (NCNB) and Wachovia, and a lot of the new construction is due to that. But the city has certainly grown tremendously since we arrived (as I guess most places have in forty years).


I took Mom to dinner on this, my last night here, and we also played bridge one more time. We finished off all our playing with a second-place finish.

My Trip to Fort Lauderdale

I got up very early the next day, Thursday, August 3rd, woke Mom to say goodbye, and headed off for Fort Lauderdale. I wanted to allow as much time as possible in case I found a Baskin-Robbins or two on the way.


The trip down to Fort Lauderdale, thanks to the Interstates, is simple but boring. I simply hopped on I-77 south from Charlotte, and merged onto I-26 at Columbia, South Carolina. This took me down towards Charleston where I merged onto I-95 south all the way to Fort Lauderdale. I did stop in Jacksonville to search out three new Baskin-Robbins stores. to Hurricane Erin (which turned out to be a real bust) was supposed to blow through Ft. Lauderdale today, so I would just miss it. As it turned out, all it did was go up the coast offshore, with the result that I had lots of rain on my trip down.

Getting to the condo is also easy. I-95 takes me right to the exit at Broward Boulevard (an exit that there are plans to entirely reconstruct in the next few years). I took Broward east to the intersection with US 1/Federal Highway, crossed that and turned right on SE 8th Avenue. This takes me across Las Olas Boulevard and then it dead-ends in SE 4th Street. A left turn and another block brings me to Riverview Gardens.


I arrived at the condo in the early evening and called Ty and Scott. It was a bit late to have dinner with them, so I just did some grocery shopping and had dinner in the condo. It was nice to be here.

During this trip, I didn't take many pictures, and most of the ones I did take were of the condo, mostly because my Mom and some of my friends in Dallas have been curious as to what it looks like. Here they are, along with some other information about what I did while I was here:


This is the living room of the condo, and the view looks from the kitchen area at the north end of the room towards the front door that is in the southwest corner of the room. Grant did most of the renovation in 1989-1990, and purchased or brought from Dallas almost all the furnishings. I have brought my bike from home on this trip; I can fit it in the Honda and still close the trunk. I ride it here more than I ride it at home.

I got together with Ty and Scott a few times this trip, and visited them at their drapery workroom a couple of times. Their drapery business is doing quite well, actually better than they expected. They are grossing around three thousand dollars a month, which is enough to pay all the expenses and provide an income as well. Both of them were busy all the times I dropped by, and I was even pressed into service to do some ironing (no pun intended). I met some of the decorators who were dropping by to check on the status of their work. Actually, it seems that one of their problems is that Scott has a hard time saying "no" to an order, and consequently accepts more work that he can easily complete in the allotted time. I don't think it will be too long before they will have to hire someone to help out.


I have been doing my jogging each day, and riding my bike quite a bit. There was a lot of rain in the few days just after I got here, but it has quite for a while so I can do my jogging along Las Olas towards the beach (the street is all torn up for widening and repaving, so there is always a blocked-off lane that I can jog in), going about three miles round trip. It is quite warm and muggy with all the rain, but it feels good to get out and work up a sweat.


This is the alcove area. Years before we bought the unit, there used to be an outside breezeway where the alcove is now, a breezeway that led to an interior walkway that circled the courtyard at the second and third floors. This meant that each apartment had two ways in and out- one of which was access to the central courtyard. While the apartments had regular doors on the outside, most of them had sliding glass doors to this interior walkway.

This was, apparently, thought to be wasted space, and so sometime before we bought here, this walkway was closed off, and each apartment was able to take its section of the walkway and make a private balcony out of it. Most apartments put in large windows and so each living room and bedroom was increased in size and had a kind of sunroom added to it. The apartment owners took out the sliding glass doors and incorporated the new space into their rooms.

What they did with my condo and the one above me was to put an actual wall at either end of the former breezeway so that the space it originally took up became part of my apartment. Unlike the other apartments, however, I did not end up with any windows that look out onto the courtyard. In this picture, you can see the wall at the end of the alcove. The little window at left used to look out onto the breezeway. The wall at right used to be the outside wall of the apartment adjacent to me. My sliding glass doors had been taken out; they used to be in the archway that you could see in the previous picture.

The apartment below me does not have this same space, because the ground floor breezeway is still needed to provide access into the courtyard where the swimming pool is. So my apartment and the one above me, both one-bedroom units, are slightly larger than most of the others in the complex.

I have put a little futon in the alcove for the occasional guest, and have bought a little computer table that I put my new portable computer on. I used to have a desktop machine and monitor (you can see the monitor sitting on the futon), but no longer need either because I can now bring the portable one with me. This means that I don't have to worry about continually bringing two computers into synch each time I arrive. I bring the portable one with me because I have recently begun the big project of bringing the narrative for all my photographs up to date. (It is the narratives written back then that I am relying on now as I create an online photo album to replace the physical photo albums and narrative pages that I used to create.)


This picture was taken from the alcove area and looks back north to the other end of the living room/kitchen space. I have a big picture window at the left and the view outside looks directly up the New River and also towards downtown Fort Lauderdale. I can also look down to part of the parking lot and can see the space where my car is parked.

This is one of the great things about my unit and the one above me; we can sit in our living rooms and watch the boat traffic on the New River. We can also look directly down onto the place where the Water Taxi stops, and so there are always lots of tourists to watch as they get off the boats or wait to get on them. No other units in the entire complex have these kinds of views- except the apartments on the west side of the main building and those that actually front on the river. But the ones on the west side of the building have only their kitchen windows looking out onto the river; their living room windows look out onto the courtyard. The units along the river do have living room windows that look out onto it of course, but all they can see is the section of the river right in front of their windows as their view upriver is blocked. So my apartment and the one above me are unique.

The kitchen hasn't been changed much since we bought the unit; nor has the air conditioner for the apartment that you can see under the kitchen counter. When it is really warm, I have to run the air conditioner almost continually, particularly at night, and then I also have to put a box fan in the bedroom doorway to force more cold air into the bedroom since I like it cold when I sleep. I know that a number of unit owners have recently installed central air systems, and I have been thinking about doing the same thing. But I just haven't worried much about it since I have not, up to now, been down here all that frequently.

On Sunday, I was supposed to meet Ty and Scott at their place right off Fort Lauderdale Beach to go try to fly their kite and then go to the Everglades for happy hour, so I rode my bike over there. There was some miscommunication on my part, and they weren't home, so instead I just started riding my bike south along the beach. I crossed the 17th street bridge, and then got it in my head to ride to the gay beach at Dania state park. I rode all the way down Federal Highway, past the airport, through Dania, out to the beach, and into the park. It was quite a ride! I spent about a half an hour at the beach (there not being much scenery to see), and then pedaled back to town, stopping at a 7-11 for the biggest gulp they had. It felt good to be real tired, and I even went out jogging after I returned home.

There was a message from Ty and Scott that they had missed me (I bought an answering machine for the condo the previous Saturday), so I cleaned up and headed over to the Everglades where I finally hooked up with them for a while. We went to dinner from there.


This picture looks into the bedroom from the door between it and the living room. I really need to get some pictures or artwork for the walls, and perhaps do some painting, but Grant liked white as a wall color and hadn't gotten around to acquiring those kinds of accessories before he died. But the bedroom is quite functional, if a little short of closet space. Grant got a set of white put-together furniture, so there's a bed, two side tables and a dresser opposite.

We brought some lamps and other accessories here from Dallas, but there are some other things that I really should get if I am going to be down here a lot. Ty and Scott have given me a few accessories that they no longer use, but there are still quite a few things I need to complete the bedroom.

Ty and Scott and I have eaten at all our favorite restaurants since I have been here this time. We have been to Peter Pan and to the Acapulco Lindo, and Ty and Scott have had me over once already for dinner at their highrise condo over near the beach. I'm sure we will be eating at other places as well in the next week, and I plan to do a chicken dinner for them tonight.

Yesterday, I rode my bike to their shop (surprising them by that) and after I left them there (they had a dinner to go to), I rode my bike all the way up the beach to Huntington Inlet. This was another long ride, but it felt good, the weather was nice, and there was lots to look at. Most days, I at least ride the bike over to the beach and along the new walkways, sometimes across the Sunrise Boulevard bridge and back home, sometimes to their shop, and at least once over to Shirttail Charlie's at the marina for french fries.

One of my traditions when I come down here is to stop at Publix to get one of their key lime pies; I am very fond of them and Ty and Scott like them too. We've gone through one key lime pie already, and will finish another before I leave next Monday. Being down here is always a pleasure. I haven't done much, and that is the pleasurable thing about it. It's fun to just go with the flow, and do whatever comes to mind, although it would not be nearly so much fun were there not Ty and Scott to do things with.


Here is the last of the series of pictures of the condo. It was taken from the south side of the bedroom and looks at the north wall. You can see the door to the living room at the left, and then the next door is for the bedroom closet. It is fairly large, but most people would probably think it small.

The other door leads to the bathroom. For some reason, all the bathroom doors at Riverview Gardens are narrower than normal doors; perhaps this is because the bathrooms are fairly small. Riverview Gardens was built in 1959, long before homeowners began to want bathrooms with their own zip codes, bathrooms that doubled as retreats, bathrooms with jacuzzi tubs, separate showers, double sink vanities and all the rest. Those here are simple and functional as was the style for apartments in the late 1950s.

Ty and Scott have a nice pool at their highrise and, although I have one here, I've been over to join them at theirs a few times. I have also been out playing pool most evenings while I have been here. During the week, the bars are not crowded, but there are normally some guys to play against. I have done quite well most times. On a couple of occasions, I have held the table until the bar closed.

Now that the rain has stopped, Holiday Park has had a chance to dry out and I have gone up there to do my jogging. I haven't "gotten lucky" since I've been here, but that doesn't matter much to me. There really haven't been that many guys here that I'd want to get lucky with. It's not "season" here, so all the guys are local; I have talked to quite a few as I've played pool. Ty and Scott like to go to one bar or another every few days for happy hour. Their favorite seems to be the Eagle, so I have met them there on more than one occasion. I've been making frozen drinks for myself in the afternoon so sometimes I have a buzz on even before I get there.


I mentioned that I have been to visit Ty and Scott in their drapery workroom a few times this trip, and I thought you might like to see what it looks like. I have spent two afternoons keeping these guys company and actually helping out in the workroom. Ty has done all the forms they use on his computer (and I did a mailing list for him on mine), they have lots of samples in the room that weren't here when Fred and I were down here in February.

Ty and Scott are, generally, quite busy. Ty is the one who ferrets out new business, working with local interior designers and selling them on the high-end work that they do. Scott is the designer, and creates the window treatments themselves. Both of them actually work on constructing them. It is fun just to be with them, and plan what we're going to do that evening. They were, of course, the reason that Grant and I started coming down to Fort Lauderdale in the first place, and that is what led to our buying the little condo. It has been one of the best decisions we every made.

I've been over to their two-bedroom condo in The Birchcrest again for dinner, and they enjoyed the chicken dinner I did for them at the condo. I brought The Stand with me on video, since they like Stephen King, and we have watched most of that together. We'll be doing dinner tonight and be at their pool again tomorrow. I really think they are both pleased and gratified that business is as good as it is. Ty is a born salesman, and really brings in the business and handles that end of things, while Scott is the primary designer. This arrangement seems to work quite well.

Each day when I am here, I spend a fair amount of time working on those narrative pages; I will print them out and actually put them into albums when I return to Dallas. I also spend some time on the phone with Fred and checking my messages on my answering machine at home.

I have received a couple of good leads from the letters I have set out to people at EDS. Kathy Dailey gave me some names and I sent resumes to each of them. Both the training group and a group responsible for methodology deployment have called. I have returned their calls and will meet with at least the methodology group when I return to Dallas.

I brought one of Jeffie's bears with me (along with some other stuff that I'll be carrying on to Dallas) and I thought she would get a kick out of seeing it enjoying its stay in Florida:

Bear at the Pool
(Picture at left)
Here is the condo pool, and Jeffie's bear soaking up some rays. Ty and Scott and I have been together a lot this weekend, and we will be meeting at the Everglades in a couple of hours for drinks and then we will go to dinner on my last evening here in Ft. Lauderdale.

(Picture at right)
And here is what our dock by the New River looks like. The dock is one of the nicest features of Riverview Gardens. It's convenient if you have a boat, but it is also a wonderful place to sit and watch the boat traffic. I think that it attracted Grant to this particular place, and he certainly chose well. It looks like all the residents have their boats out at the moment- or perhaps upriver because of hurricane Erin. I have run into all our friends here at Riverview Gardens and brought them up-to-date on what's been going on with Fred and I. They are all nice people. I have not seen Mary Jane, but I think she is still in Wisconsin and will not be down until the Fall.


Bear at the Dock
There are not a lot of people from out of state here at this time of year, so things are pretty quiet around the condo. But a couple of people have asked me why I was taking pictures of the bear, and were amused when I explained.


On my way back into the condo from the dock, I had an idea to perch the bear in the Shefflera tree outside my unit. I guess bears really don't climb trees, but I thought it was cute anyway. I'll be heading off to the Everglades in a few minutes, and then to dinner at Ty and Scott's. Tomorrow I will head back to Dallas. It has been a great visit, and I actually hope that I don't go back to work right away because I would like to come back down here and do all of this again.

On Monday morning, I packed the car and went by the shop to say goodbye to Ty and Scott, and then headed out for home.

I usually do the trip home in a single day, but this time I would take a more leisurely route- mostly because I wanted to add some Baskin-Robbins stores to my list. So this time I drove down US 1 towards the airport to pick up I-595 out to I-75 which would take me across Florida to Naples, where I added two stores to my list. Then I worked my way up US 41 to Ft. Myers, adding another along the way. Then I got back out on I-75 and headed up the coast. By now it was early afternoon, and I stopped again in Gainesville and Ocala to see if there were new stores, and there were. I didn't try to search through Tampa, though. It's a big, spread out city, and that would have taken more time than I had.

I continued up I-75 to I-10, and then headed west. Now I have about 300 miles to go before I can get out of the state of Florida, which I did about 8PM. About nine o'clock I stopped to have dinner and check in with Judy to see whether Jeffie had left on time and where she was staying for the night, which turned out to be Vicksburg, Mississippi.


I continued west on I-10 through Alabama and Mississippi, entered Louisiana and took I-12 across the state to bypass New Orleans. I stayed the night in Hammond, Louisiana, about 50 miles east of Baton Rouge.

The next morning, I drove through Baton Rouge and across the Mississippi River Bridge. Still on I-10, I crossed the 20-mile Atchafalaya Bridge across Henderson Swamp and at Layfayette, Louisiana, turned north on I-49 towards Shreveport. I-49 is not yet open around Alexandria, Louisiana; I am told that this is because city merchants do not wish to lose the traffic that would no longer go right through town to a bypass. The freeway is actually complete, and has been for two or three years, but the city has continually delayed its opening. So I had to go through Alexandria and all of its traffic lights; this easily adds a half-hour to the trip. (Years later, I might note, the bypass was opened, but the city imposed a 60MPH speed limit on the stretch, perhaps to encourage travelers to get off the freeway and patronize local businesses.

At Shreveport, there is a bypass around the city that I can take; although it is not an interstate highway, it is faster than going through the center of town where the freeway interchange is still under construction. I hooked up with I-20 on the west side of Shreveport about one in the afternoon. The bear and I entered Texas shortly thereafter.


The bear and I reached home about three-thirty. I then spent the rest of the afternoon unloading the car and cleaning the guest room for Jeffie, who arrived right on schedule about six. She got settled in and then she, Larry Marshall and I went for dinner out in Irving at Furr's.

You can use the links below to continue to another photo album page.

---
| | |
| --- | --- |
| | September 1-4, 1995: Southern Decadence in New Orleans |
| | June 30 - July 5, 1995: Summer Trip to New Mexico and Colorado |
| | Return to the Index for 1995 |