| | |
| --- | --- |
| | October 1, 1995: A Bike Ride to the Arboretum |
| | September 24, 1995: The Dallas Gay Pride Parade |
| | Return to the Index for 1995 |
---
September 24-26, 1995
Jeffie's Dad Visits Dallas


This album page overlaps the previous one for the Dallas Gay Pride Parade, for my brother-in-law, Bob Barbour, arrived in Dallas to visit his daughter on the same afternoon that the Pride parade was held.

Bob Arrives in Dallas

For some time, Bob Barbour, my brother-in-law and Jeffie's Dad, has been planning a visit to Dallas. Some time ago, I sent him detailed directions, and he followed them easily, leaving Elon on September 23, staying overnight in Vicksburg, Mississippi, and arriving at my house on the afternoon of the 24th.

On Friday, September 22, I went up to spend the night at Fred's house since it was his weekend to work at the greenhouses. We did our normal routine- working around Fred's house on Saturday and spending Saturday night with Chris and Ron. Since Bob had made plans to come out to Dallas and bring some of Jeffie's belongings, now that she has moved to the apartment on San Jacinto Street that she will share with Tom Page, and since those plans involved his arriving on Sunday afternoon, I returned from Fred's about 11 o'clock in the morning to clean my own house up. Bob actually arrived about one o'clock in the afternoon (before I was entirely ready for him), but Jeffie came over right away and spent the afternoon with him while I attended the Pride Parade.

When I returned from the Parade, Bob and Jeffie were back from taking some stuff to her apartment, and we planned to go to dinner together. Dale, my cat, was acting very strange that evening, and I ended up having Jeffie take him and me up to the vet, who took him in on an emergency basis. It was not until the next day that I heard from the doctor that he had a urinary blockage that would have to be surgically fixed. It was certainly fortunate that Jeffie encouraged me to take him in, and that I was not away on a trip. In that event, Dale might well have become irreparably damaged. As it was, I would not pick Dale up until the following Tuesday.

Bob, Jeffie, and I met Greg at Fresh Choice for dinner, and enjoyed ourselves. I think Bob was already having a good time here in Dallas, and in fact he extended his stay until Tuesday morning. We made plans that evening to do a number of things on Monday.

An Outing to Fort Worth and the Llama Farm in Grand Prairie

On Monday, I took Bob and Jeffie over to Fort Worth, and we went to the IMAX theater there at the Science Museum. We saw the movie about the astronauts in space and the space shuttle. We stopped at TCBY on the way back, near Prudence's house, and then went over near Lowery's house to see the llamas that reside nearby.

In 1990, there was an article in the Chicago Tribune about an ostrich farmer named Bill Strong. Rather than summarize the article for you, here it is:

As it turned out, Strong moved to Grand Prairie in the early 1990s after selling his ostrich operation in Rock Falls, Illinois, and buying some land and populating it with llamas. Texas is noted for its many farms and ranches specializing in "exotic" game, but over the years almost all of these have gone out of business when it became apparent that the public would never warm to having ostrich or llama next to the beef, chicken, lamb and pork in their supermarkets.


We drove up the drive of the house where they are kept, and I called out to ask if we could get out and see them. A woman came out of the house and after I explained that we just wanted to look at the llamas, and after she saw Bob and Jeffie's obvious interest, she gave us a full tour.

At left you can see Jeffie with some of the many llamas at the breeding farm near Lowery's house. I estimate that there were upwards of thirty llamas of various sizes and colors here. We heard a lot about the breeding activities that are carried on here, and the woman told us that there were llama farms in all fifty states, and one right close to Bob and Judy.

This farm was a popular place locally, and hosted various groups (mostly kids) to come and see them. What Strong was trying to do was to be the supplier of breeding pairs of llamas for other farmers that wanted to start their own farms. I suppose if the public was actually demanding llama meat, or the textile industry could have figured out something to do with the wool that the animals produce, this might have been a lucrative business to be in.

But no uses were ever developed for the animal here in the United States save for the few specialty restaurants that might sell a few llama steaks a week, and so the folks who bought the llamas and tried to start their own operations didn't fare well.


Notably, exactly the same thing happened with ostrich ranching in Texas; Fred actually knew a couple that tried their hand at it out near Snyder, but ended up closing the farm and moving back to the city.
| | |
| --- | --- |
| Some of the llamas on the llama farm. | Note how many colors tthere are. |
I guess we spent the better part of an hour wandering around the property; Jeffie and Bob certainly seemed interested.


Llamas weren't the only occupants here at the Strong farm; the other common one was the pot-bellied pig. I understand that they have become popular in some circles as pets, but to me they are amazingly unattractive and hardly a lap animal.

But Bob and Jeffie were quite taken with them, and Mrs. Strong spoke of them with affection as well.

Here are Bob and Jeffie examining one of the pot-bellied pig. The swimming pools simply hold water for the pigs and the llamas to drink. We saw a couple of baby llamas that were only days old.


The tour was very informative, and Bob and Jeffie enjoyed it a lot. Next, I decided to take the two of them over to Las Colinas to see the Mustangs at Williams Center.

The Mustang Sculptures at Williams Center

"Mustangs at Las Colinas" is a bronze sculpture by Robert Glen, that decorates Williams Square in Las Colinas out in Irving. It is said to be the largest equestrian sculpture in the world.

The sculpture commemorates the wild mustangs that were historically important inhabitants of much of Texas. It portrays a group at 1.5 times life size, running through a watercourse, with fountains giving the effect of water splashed by the animals' hooves. The horses are intended to represent the drive, initiative and unfettered lifestyle that were fundamental to the state in its pioneer days.

The work was commissioned in 1976 and installed in 1984. A shallow watercourse extending 400 feet from northeast to southwest across Williams Square and a gently sloping granite-paved open space about 300 feet square were created for the installation. The plaza setting for the sculpture won a National Honor Award from the American Society of Landscape Architects.


At left are Bob and Jeffie with one of the mustangs in Williams Center; here you see better how large the sculptures are. Both Bob and Jeffie had see pictures of these sculptures from Judy's visit with Grant and I years ago, but this was the first time for both of them (obviously for Bob) to see them for real.




The buildings around the square rise 26 floors on the north and 14 floors on the east and west sides, with the south side open to O'Connor Boulevard. The sculpture is substantial, but the scale of the surrounding structures keeps it from dominating the space. The Mustangs of Las Colinas Museum is located adjacent to the sculpture, in the East Tower at Williams Square Plaza. The museum features exhibits and a film about the work's creation, as well as additional sculptures by Robert Glen.

Other Activities During Bob's Visit

Bob was not here in Dallas to visit me, but rather to catch fully up on what Jeffie was doing, but I did spend a fair amount of time with them between the times that they were off by themselves.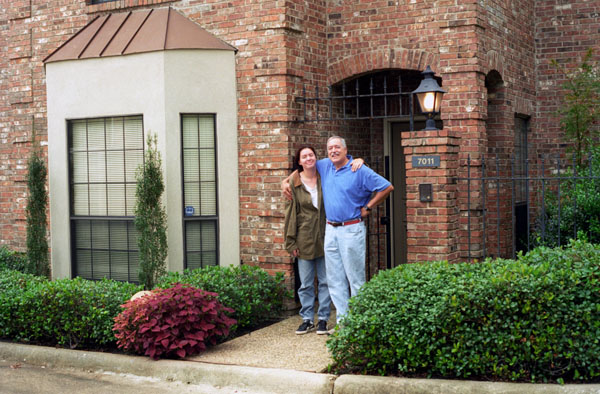 Bob and Jeffie in Front of My House


Bob was having a good visit, I think. Earlier on Monday, we had also gone down to Deep Ellum to the coffee shop run by Tom Page, Jeffie's friend, and there, Bob and Jeffie had some lunch.

We went over to The Arrangement, the store nearby that sells Southwest stuff, and I found a beautiful buffalo drum for Fred. I put it on layaway for approval, intending to bring Fred by and surreptitiously find out if he liked it enough for me to spend $400 on it for Christmas. (I might report that I have finally been able to get Fred by there to see it. I had the salesperson put it in the window with a "sold" sign on it, and Fred and I went by one evening after the store had closed. When he saw it, he allowed as it was too big for any space he might have. So as not to make him feel awkward, I went back and cancelled the sale but the salesperson said that the same artist did smaller pieces, and I may investigate one of them.)

I took Bob and Jeffie to the Szechwan Buffet over near White Rock Lake for dinner, and they enjoyed that.


I had Jeffie stay with me on Monday night; I gave Bob the master bedroom and Jeffie the guest room and I slept on the couch in the family room. On Tuesday morning we went to get some breakfast and then Bob got ready to leave. Judy had wanted a picture of the townhouse, so I sent her a copy of this one.

Bob's visit was very enjoyable, and now it will be Judy's turn to come out here again.

You can use the links below to continue to another photo album page.

---
| | |
| --- | --- |
| | October 1, 1995: A Bike Ride to the Arboretum |
| | September 24, 1995: The Dallas Gay Pride Parade |
| | Return to the Index for 1995 |