| | |
| --- | --- |
| | May 31 - June 4, 1996: A Summer Trip to New Mexico |
| | April 2-12, 1996: A Visit Home to North Carolina |
| | Return to the Index for 1996 |
---
May 18-19, 1996
A Trip to Austin, Texas


On Friday the 17th, Fred and I drove down to Austin to meet Frank and Joe for a visit. Fred made reservations at the Super Eight just south of town, and we were lucky to get that. We ate at El Chico on the way down, checked into the hotel, and then went over to Sixth Street Station (C&W Bar) to wait for Frank and Joe. They showed up fairly late. We spent some time at the bar, dropped by the Chain Drive, and then went back to the Hotel.

The Ladybird Johnson Wildflower Center

The main purpose of our visit to Austin this weekend, other than to see Frank and Joe, is to visit the new location of the Ladybird Johnson Wildflower Center. Last year, it moved to its new location just southwest of downtown Austin, and we want to go out and see the new facilities.

Frank and Joe were staying at the same place we were, so we rode together to go get some breakfast at Threadgills before we drove down to the Wildflower center.


As I said above, the new Center just opened last year (1995) on this site.

The Lady Bird Johnson Wildflower Center is a public botanical garden dedicated to creating a more sustainable earth through research and education. Situated just on the edge of the distinctive Texas hill country, the 279-acre Wildflower Center attracts many thousands of visitors each year. It is a self-supporting research unit of The University of Texas at Austin devoted entirely to native plants, with more than 700 species native to central Texas, and the environmental benefits of native-plant landscaping.


The Wildflower Center also hosts changing exhibits of visual art and photography and features outdoor sculptures, walking trails, formal and research plantings, educational exhibits, and an annual sale of native plants. When we were here in this year, not all the buildings that appear in the aerial views from 2014 were in place, but you'll be able to pick out where on the property most of the pictures on this page were taken.


The first picture we took (see left) was taken at the entrance, where there is a lily pond with native Texas water plants.

The Center is an evolution of the National Wildflower Research Center, founded in 1982 by former first lady Lady Bird Johnson and actress Helen Hayes. The mission of the center was to protect and preserve North America's native plants and natural landscapes. Officially renamed Lady Bird Johnson Wildflower Center in 1995, the center focuses on Mrs. Johnson's interest in sustainable use and conservation of native wildflowers, plants and landscapes. The inscription on the Presidential Medal of Freedom award presented to Lady Bird Johnson in 1977 by President Gerald Ford concludes with the words "Her leadership transformed the American landscape and preserved its natural beauty as a national treasure."


I liked the way the buildings were done; they looked very much a part of the local landscape. And the multi-level water feature at the entrance was really well-done. I could tell that Fred was wishing he had something like it. Fred wanted to get a better picture of how the pool was constructed, as I think that eventually he'd love to have something like this at his house, so he took a picture of it from the back. Too bad that getting Disney to do his whole eleven acres isn't possible!


In the central courtyard, there is a pool has been built to simulate a spring, and it works very well. and the sheet metal roofs- all reminiscent of rural Texas. That's part of what makes the place fit in to the surroundings so well.

With its focus on native plants, research, and education, the Wildflower Center has gained national recognition as a leader in plant conservation and environmental sustainability. In partnership with the U.S. Botanic Garden and American Society of Landscape Architects, the Center is a leader in the Sustainable Sites Initiative, a program that has established performance benchmarks for sustainable land design.



At left are Fred and Frank inside the Ladybird Johnson Wildflower Center. In back of them there is a large exhibit hall, full of stuff about Texas flora (mostly) and fauna (a little bit). It was very interesting and we spent about an hour inside. It was fairly warm today, and the exhibit hall was a good deal cooler than outside.

To the left of the hall there is a turret-like tower. It serves a dual purpose. It has an observation deck on top so you can look out across the Center (I imagine the view will be better when more of the land is developed in to gardens). It is also a cistern that holds the rainwater that falls; that water, of course, is used for irrigation.

To the left in that picture there is a little snack bar.


In case you want to visit the Center, you should know that in 2006 a plan was announced that would incorporate the Wildflower Center into The University of Texas at Austin. And in 2010, funds were donated to establish a 16-acre arboretum. Opened in 2010, it displays all 53 species of oak trees that are native to Texas. Also in 2012, Luci Baines Johnson and her husband donated the funds to create a family garden that will be named for their family. The 4.5-acre native plant garden has been designed to include a wading creek, a maze of 3-foot-tall native hedges, and a walk-in grotto, and was scheduled to be completed in 2014.


The tower has an outside stone stairway, and we thought we'd head up to the top to see what we could see. You can compare our view from the top of the tower, shown at right, with the aerial view above on this page. You'll be able to see that there has been some construction since we were here.

This view is from the top of the tower, looking towards a wildflower garden at the back of the complex. This is a working research and cataloging station, so many of the buildings are used for that purpose. They harvest seeds here, too, and have programs to spread wildflowers and grasses to areas from which they have disappeared. It was named for Mrs. Johnson, of course, for her work with beautification of the nation's highways and byways. The tower was neat, and you could see quite a long way.


From the base of the tower there was a tunnel that went under one of the research buildings, and out to an open area that has a couple of self-guiding nature tours, so we went through there and out to the open area to walk around for a while. We took a couple of pictures just outside that tunnel:

We ended up doing a couple of nature trails, although I understand there are more of them that have been developed.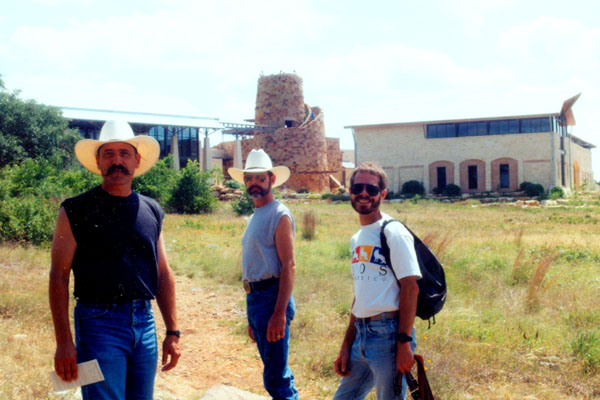 The Savanna Meadow Trail


When European settlers first arrived in Central Texas, much of the Hill Country was a savanna- a softly undulating expanse of grass punctuated with oaks and junipers. Because of fire suppression and overgrazing, few of these savannas remain today. The Wildflower Center works to restore the savanna to its original character.

The Savanna Meadow trail system was divided into two connecting trails: the Savanna Meadow Trail (1/2 mile) and the Woodland Trail (1/4 mile). The entrance to both trails was right between the Library and the Administration Building.

The Savanna Meadow Trail took us through several wildflower meadows and featured an authentic Texas Windmill. We took a side trip to the cave, where, over thousands of years, the soluble limestone has slowly eroded. Water flowing through the cave filters into the Edwards Aquifer, a major source of water for the region. (There was a sign saying "For your safety, do not enter the cave" which seemed superfluous since the cave entrance was blocked off.)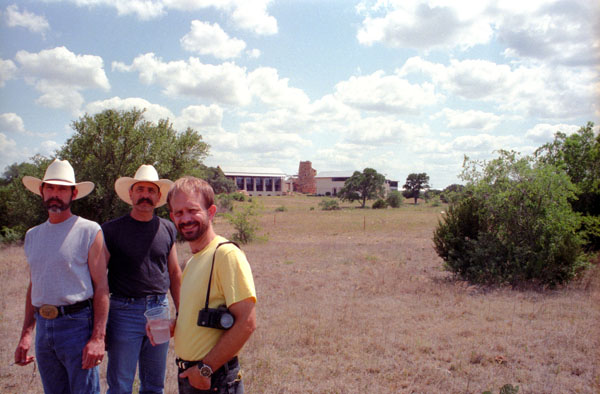 The Restoration Research Trail


The Hill Country trail system is divided into two connecting trails: the John Barr Trail (1/4 mile) and the Restoration Research Trail (1 mile). The Hill Country trails featured the Center's outdoor classrooms: Persimmon, Elbow-bush, Agarita and Cedar Elm.

We walked the Restoration Research Trail and were presented with an interpreted look at the landscape restoration research being conducted by the center. We learned how fire, grazing and mowing affect the growth of native grasses. There was a green roof research plot, where various mini-roofs planted with native species transmit real-time data on temperature and stormwater runoff.

The picture at left was taken just at the start of this trail, which is further out than the Savanna Meadow Trail.


We spent most of the afternoon here, then did some antique shopping and returned to the hotel. For dinner, we drove up to North Austin to El Torito, which is one of Frank and Joe's favorite places. Of course, Fred and I can eat Mexican anytime.

On Sunday, we ate at Threadgills again, and then went out to Hippie Hollow. We also hit the cactus farm on the south side of town. That filled up the day for us, as Frank and Joe had to go off to have dinner with his sister. Fred and I stopped by a couple of nurseries on our way out of town, and then headed back to Ft. Worth. Fred had promised Prudence we'd check on the cats while she was in New York City, so we did that, and then went over to Spaghetti Warehouse in Euless for dinner. Fred spent the night as usual, and was off to work the next morning.

You can use the links below to continue to another photo album page.

---
| | |
| --- | --- |
| | May 31 - June 4, 1996: A Summer Trip to New Mexico |
| | April 2-12, 1996: A Visit Home to North Carolina |
| | Return to the Index for 1996 |