| | |
| --- | --- |
| | August 30 - September 1, 1997: Southern Decadence in New Orleans |
| | July 15-20, 1997: Our Summer Trip to Yellowstone and the Tetons |
| | Return to the Index for 1997 |
---
August 9-10, 1997
A Weekend Trip to Austin


On the second weekend in August, Fred and I planned a short trip down to Austin. We were going to do some sightseeing, and also meet up with Frank Roberts who was performing at a festival at McKinney Falls State Park.


On Friday evening, Fred came down to my house after work and we set off for Austin. Our plan was to stay overnight somewhere downtown, and then do a few things on Saturday morning before meeting up with Frank in the afternoon. The 3-hour trip down to Austin was uneventful.

We got off I-35 in downtown Austin; the La Quinta hotel was just a few blocks west on 11th Street.

Hamilton Pool

The main purpose of our trip down to Austin was to take the opportunity to visit with Frank Roberts; his partner, Joe Well, would not be with him this time. They actually live another two hours away near Leakey, in the Texas Hill Country. While we have been to their house before, we wanted to take advantage of the fact that they would be two hours closer this weekend. They will be performing at McKinney State Park outside Austin on Saturday afternoon, and wouldn't arrive until two o'clock or so. That meant we had our morning free, so Fred took me to a place I had never been- the Hamilton Pool Preserve southwest of downtown Austin.


The preserve is about twenty miles from downtown, but fairly easy to get to. From downtown, we took I-35 south to US Highway 290 west. This is the highway that we would take if were going to Frank and Joe's house in Leakey, or to the LBJ Ranch or to Fredericksburg. A few miles west, we head northwest on Texas Highway 71, and finally on County Road 3228 to the Preserve.

Hamilton Pool Preserve is a natural pool that was created when the dome of an underground river collapsed due to massive erosion thousands of years ago. Since the 1960s, Hamilton Pool has been a popular summer swimming spot for Austin visitors and residents. Hamilton Pool Preserve consists of 232 acres of protected natural habitat featuring a jade green pool into which a 50-foot waterfall flows.


Prior to the 19th century, the Tonkawa and Lipan Apaches lived in the area. In the mid-1860s, Morgan C. Hamilton owned the property; his brother, Andrew Jackson Hamilton, evidently visited the grotto while serving as Texas governor (1865–66). In the 1880s, the Reimers' family, immigrants from Germany, bought the property to raise sheep and cattle. Legend says that their eight-year-old son discovered the collapsed grotto.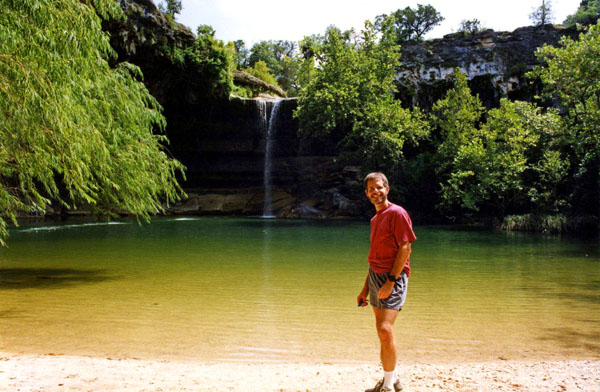 Me at Hamilton Pool


Although ranchers might have considered the grotto a safety hazard for their livestock, the Reimers soon realized its value as a recreational area and opened the property for public use. Around the turn of the 20th century, the site did not attract many visitors, but by the 1960s, and on into the 1980s, Hamilton Pool's popularity had increased. The land suffered from sheer numbers and few restrictions.

In addition to impact from the visiting public, cattle, sheep and goats grazed the delicate ecosystem for several decades, resulting in changes to the native vegetation. In 1980, the Texas Parks and Wildlife Department cited Hamilton Pool as the most significant natural area in rural Travis County. In 1985, Travis County purchased 232 acres (0.94 km2) from the Reimers family and implemented an aggressive land management plan to restore Hamilton Pool. Now, as a result of the restoration plan, the ecosystems of Hamilton Pool are recovering.


Ongoing land management practices at Hamilton Pool Preserve include prescribed burns, prairie restoration, endangered species surveys, biological inventories and water quality monitoring.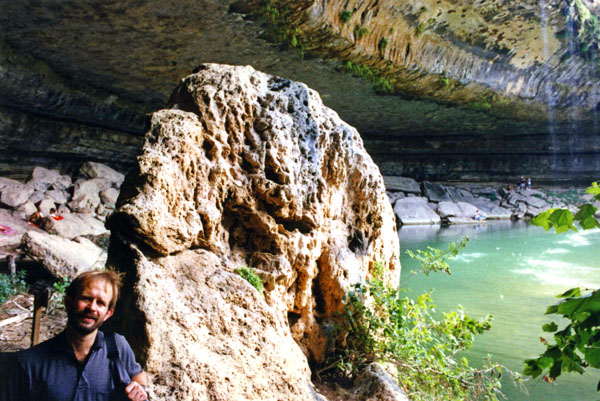 The Overhang at Hamilton Pool


As you get underneath the rock overhang, the trail has been improved to keep people from climbing willy-nilly over the rocks and vegetation. There were lots of ferns in this damp, dark area, and it was almost like being in a cave. I imagine that the underground river had for centuries made a turn here, and slowly carved out the dome. When just enough rock had been worn away so that the dome couldn't be supported, the central part of it fell, opening the grotto to the sky. Since that time, the underground river has either changed course or disappeared, leaving only this evidence of erosion. This was a really neat environment.

Here are clickable thumbnails for some additional pictures we took here at the pool:




The pool is surrounded by these large slabs of limestone that rest by the water's edge; large stalactites grow from the ceiling high above. The ceiling and surrounding cliffs of the grotto are home to moss, maidenhair fern and cliff swallows. The Ashe juniper uplands of uplands of the preserve are home to the endangered golden-cheeked warbler.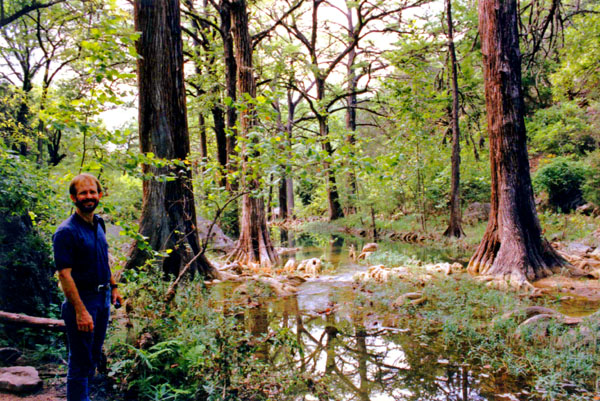 On the Short Trail to Hamilton Pool


We took a couple of panoramic shots while we were here today; one was a picture I took of him underneath the overhang. You will have to use the scrollable window below to see the entire picture:

The other panoramic picture was this one that Fred took of me beside the pool and underneath the rock overhang:

Outside the grotto, at the far end of the pool, the creek continues flowing towards the Pedernales River. This is a real swampy area, with lots of cypress trees all around- evidence of the continual supply of water. We walked around for a while, and I took another picture of Fred by Hamilton Pool.

The natural pool and creek are not chemically treated, so water quality is monitored regularly and swimming is occasionally restricted. Hamilton Pool is part of the Balcones Canyonlands Preserve and is a protected environment.


We headed back to the city around lunchtime, stopped at the hotel, had something to eat, and then headed out to McKinney State Park to meet up with Frank.

Frank and Joe at McKinney State Park

We stopped at a small restaurant on Sixth Street to have a bite to eat, and then drove out to McKinney Falls State Park.


The park is located at the southeastern edge of Austin, at the confluence of Onion and Williamson Creeks and is administered by the Texas Parks and Wildlife Department. The park opened on April 15, 1976 and is named after Thomas F. McKinney, a businessman, race horse breeder and rancher, who owned and lived on the land in the mid-to-late 19th century. Getting there is pretty straightforward, as you can see from the map at left.

The land that the park occupies was originally part of a 49,000-acre grant that Mexican land speculator Santiago del Valle purchased from the government of Mexico. Samuel May Williams acquired 44,000 acres of the grant from del Valle and sold the land to Michael B. Menard who in turn sold about 40,000 acres to Thomas F. McKinney in 1839. McKinney did not move to his land until 1850 and took two years to build a stone house, barns and a gristmill. The mill was destroyed by a flood in 1869 and the house by a fire in the late 1940s. McKinney lived on the land ranching and raising thoroughbred horses until his death in 1873. McKinney's wife, Anna, sold small parcels of land to relatives, and in 1885 she sold most of the rest of the land to James W. Smith.


In 1971, the grandson of James Smith donated 682 acres of the ranch to the State of Texas for a park. The gift was worth by then more than $700,000; the state received a matching federal grant to develop the park. After archaeological digs and surveys were completed, the park was developed and then dedicated and opened to the public in 1976.


The Texas Legislature also approved funds for the Texas Parks and Wildlife Department to construct new state offices on a bluff on the northern edge of the donated land. The offices are outside the park boundaries and only accessible by a separate road.

The function that Frank was performing at (which, almost 20 years later, escapes my memory) was being held in the large open area at the north end of the park, right near the park's signature feature- McKinney Falls.

During the Cretaceous Period, much of Texas was covered by a shallow sea. The sediments deposited during this period lithified into the limestone rock underneath the park's soil and was exposed by erosion around the creek bed. Aquatic reptiles swam in the sea as evidenced by a complete skeleton of a mosasaur found in the rocks of Onion Creek not far from the park.

A volcano, now long extinct and called "Pilot Knob," spewed debris into the surrounding sea. The streams of soft volcanic debris eroded faster than the hard limestone. The removal of the softer layers and undercutting of the limestone by the water led the falls to be formed over millions of years.


There is evidence that hunter-gatherers occupied the land that is now McKinney Falls State Park at least five thousand years ago, maybe more. The tribes found water in the creek and protection among the rock shelters created by the same undercutting action that created the falls.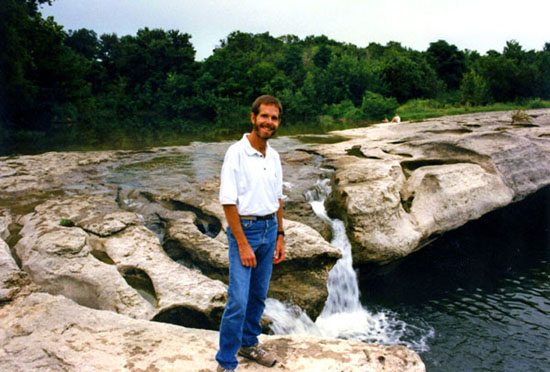 Me at McKinney Falls


The falls are actually this interesting rock formation, with a creek that has cut through the shelf of rock as you can see behind me. There are actual a couple of different channels, and some of the water goes under the rock altogether. The pool itself is pretty deep, and there is swimming and stuff.

Here is an aerial view of the spot on which I am standing:

Of course, the main reason why we chose to come down to Austin this weekend was to see Frank, and his performance at the festival was a good opportunity to do so.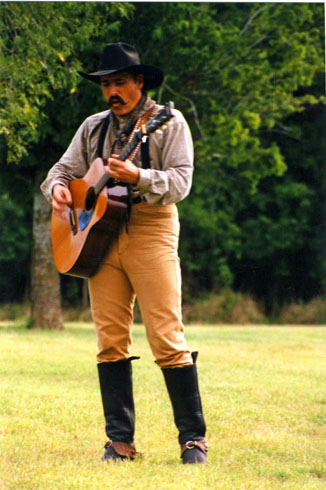 Frank Roberts Performing
at McKinney Falls State Park


Frank, as you may already know, does cowboy songs, notably Michael Martin Murphey, John Denver, and also authentic old ballads. He also tells stories between songs and to introduce and end them. He is quite a crowd-pleaser, and I can see why he has become popular in the State Park system. This particular festival, I do remember, was under the auspices of the Texas State Parks. He performed, along with numerous others, in the amphitheater.

Frank dresses in an authentic costume, which is not much different that what he wears around his ranch in Leakey normally. Fred tells me that Frank has been singing as an amateur for many years; with so much practice he has gotten to be quite good, and he is very entertaining.

Below are clickable thumbnails for a couple other pictures we took of Frank while he was performing:




As it turned out, Frank wasn't the only person I got to see here at the Festival; I got to see Fred's stepmother and her husband.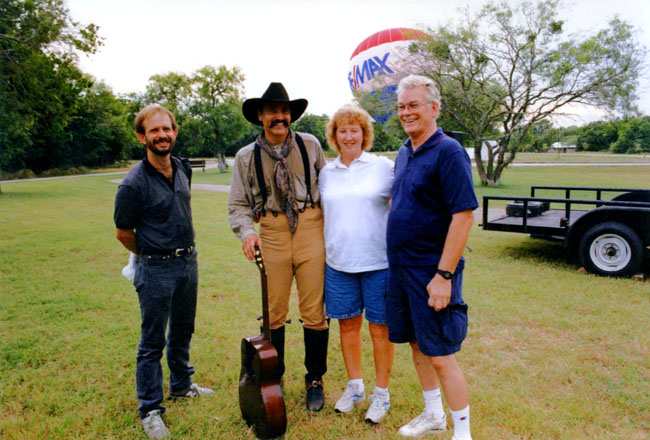 Fred, Frank, Nina and Phillip


Fred had mentioned some time ago to his stepmother that Frank was going to be performing here in Austin this weekend. Since Nina knew Frank well from when he and Fred were growing up, she and her current husband Phillip decided they would make the trip down here to see him. While Frank's mother lives over in Fort Worth, and while he does come up to see her regularly, his schedule is such that he, or he and Joe, can't really spend a lot of time during any one visit, so Nina hadn't seen him in some time.

Nina married Fred's father in the 1980s, after his father and mother were divorced. (His mother, Tommye, lives in DeLeon, Texas.) Some time after Fred's father died in 1992, she married Phil. Nina works for the Postal Service and Phil is a "double-dipper," retired military who works for the government again.

I had heard a lot of these two, but had never met them. They are (supposedly) unaware of my relationship with Fred, so I was just a friend of his and Frank's who happened to be there with them. The five of us ended up having dinner together at a Mexican place that Frank likes in Austin, so I had a chance to talk to both of them.

My guess is they have Fred figured out, and could deduce our relationship as partners. Both were very nice, and I understand that they have since told Fred that he is welcome to bring me when he comes out to visit them in Fort Worth.


Fred and I and Frank stayed the night in Austin; Fred and I would do some walking around the next day before returning home, and the State Parks Office put Frank up for the night there as well. It was a short but nice trip to Austin, it is always good to see Frank and it was particularly nice to meet one of Fred's family- the first I have met in our five years as a partnership.

You can use the links below to continue to another photo album page.

---
| | |
| --- | --- |
| | August 30 - September 1, 1997: Southern Decadence in New Orleans |
| | July 15-20, 1997: Our Summer Trip to Yellowstone and the Tetons |
| | Return to the Index for 1997 |