| | |
| --- | --- |
| | October 11, 1997: My Nephew Ted Barbour Visits Dallas |
| | August 30 - September 1, 1997: Southern Decadence in New Orleans |
| | Return to the Index for 1997 |
---
October 4, 1997
At the Dallas Gay Pride Parade


This page is pretty short and sweet. On Saturday, October 4th, the Dallas gay community held its annual Gay Pride parade. Lowery and Ron came in from Hackberry Creek to my house, and we went down to Cedar Springs together to have a look.


The route of the parade is pretty much the same every year. It runs from the intersection of Cedar Springs and Douglas Avenue, right by the Kroger, southeast along Cedar Springs and right through the heart of such a gay neighborhood as Dallas has. It ends on the southeast side of Oak Lawn boulevard.

The Melrose Hotel is on the corner of Oak Lawn and Cedar Springs, and we took up a position in the shade alongside the hotel, near the end of the parade route. It was very, very warm for October, so we were thankful for the shade.


We did not know it ahead of time, but our friend Mike Racke was also there with his camera taking pictures. He had come into town from the house out in Irving that he shares with his Mom.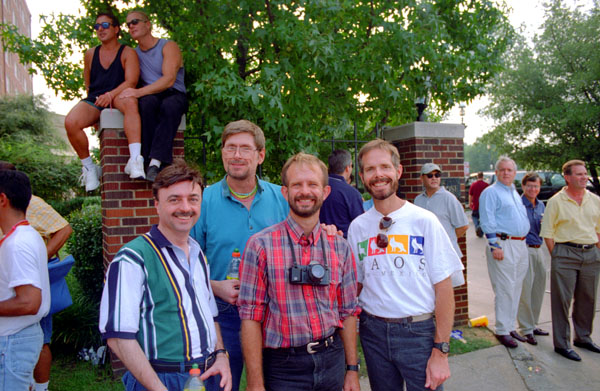 Ron, Lowery, Fred and Myself at Gay Pride


When we ran into Mike, we had the perfect opportunity to get a shot of the four of us together.

(NOTE: I am creating this album page in 2015, and I cannot help but comment on the odd feelings I have when I see pictures of Mike. We always considered him a very, very good friend, which made the events of September 11, 2001 all the more tragic.)

Ron and Lowery have been best friends of ours since Grant and I met Lowery in 1987; Lowery and Ron got together a few years after Grant died. We visit them in Hackberry Creek frequently, and it is rare that a week goes by without my seeing them. (NOTE: From the vantage point of 2015, a lot was to happen with Ron and Lowery, too, although we had no inkling at the time that they would first leave Dallas in 1998 and that Lowery would subsequently follow Grant in 2000.)


The rest of the pictures we took here this afternoon were candid shots of the parade, and there are clickable thumbnails below for these pictures:

Watching the parade was enjoyable, and I expect we will do it again sometime.

You can use the links below to continue to another photo album page.

---
| | |
| --- | --- |
| | October 11, 1997: My Nephew Ted Barbour Visits Dallas |
| | August 30 - September 1, 1997: Southern Decadence in New Orleans |
| | Return to the Index for 1997 |