| | |
| --- | --- |
| | Return to the Index for 1997 |
---
Miscellaneous Pictures for 1997


On this page, I am including all those pictures from 1997 that did not involve a trip or some other major event. Each different group of pictures will have its own heading.

Snow! (January 8)


Since I moved to Dallas from Chicago, snow has become an unusual, rather than common, occurrence in the winter. So when it happens, I am usually out with my camera to capture the event.

This time, though, Fred got snow at his house and I got rain at mine; after all, we are sixty miles apart so this is not especially noteworthy. But Fred took his own camera out, set up his tripod, and took the picture at left.

It always cooler up where Fred lives than it is in the city, what with all our concrete to hold in the heat and the concentration of people and buildings generating more of it. This particular snowfall made driving to work tricky for him for a couple of days.


Spring! (February 25)

From snow in January to temperatures pushing 70 at the end of February, winter has been partiularly short this year- but only by a few weeks, as we are usually into the 70s by mid-March.


It was getting warmer in the city as well, of course, but the landscaping around my house is mostly greenery. Fred, being a horticulturist and working with bedding, flowering plants, at work continues to do that at home, planting various flowers and trees all around his house and property.

So he always has nice Spring pictures, whether they be early daffodils, ornamental pears or other plants. He also gets nice early morning pictures and pictures of his pond (which at this time of year is usually full). He has brought me some pictures he took on this particular day, and you can click on the thumbnail images below to have a look at them:




At Crump's Garden (March 10)

Fred has brought a couple more pictures that he took at Crump's Garden- the greenhouse operation where he works.


One picture he took inside one of the greenhouses that he is responsible for. He grows a number of different bedding plants; although some are seasonal he grows others the year-round. One of the year-round plants are bougainvillea; he grows these in hanging pots and they are sold through florists and at the Crump Gardens shop at the bottom of the hill.

Another plant that grows continually is kalanchoe (properly pronounced "kal-an-clo-ee" but more usually prounced, in Texas anyway, as "ka-lan-cho").

(I might note that I would have grabbed an aerial view of Crump's Garden for this page, but I am writing it in 2015 and the greenhouses went out of business two years ago and most of the buildings have been demolished. Fred was lucky to have retired before that happened.)

Fred also brought me an "artistic" shot of some of the greenhouse machinery that automatically opens and closes some of the older greenhouses. This is the gear drive for the vents on old greenhouses 1 and 2.


At Downhill Run Acres (July 5)

I have forgotten what we did for the 4th of July this year, although I think we were with Lowery and Ron, but on the weekend of the 5th and 6th, I was up at Fred's house, and I had the opportunity to take some pictures.


In the past couple of weeks, I have been concerned with working and with dealing with the insurance company about the break-in that I had while my sister was visiting last month. I had to do a lot of running around to find prices and such for the things that were taken, and prepare the inventory for the insurance. The toughest thing was to find a replacement camera for my Canon that was taken. I had to go to a number of places, and finally found a used camera at KLH Camera up on Forest Lane. I have brought that camera up here to Fred's house this weekend.

Fred has been busy building raised gardens around his house using the Windsor Stone that you see here to make walls that are level for the plantings behind them. He is also fond of garden statuary, and had taken a plain statue of St. Francis that we found near Weatherford, and painted and stained it for the garden. That's him at left, sitting on one of the low walls he has built. Way behind him down the hill you can see the pond and dock. In that picture, Fred is about to release some new catfish into the pond. This is a good view showing the expanse of Fred's property, and looks west. You can see the extent of the pasture and the greenhouse addition at the left of the house and the gazebo up on the hill just south of the house.


The fact that Fred's 11-acre tract slopes down a hill from his house to the pond he had built at the east end of his property is the reason that Fred jokingly refers to his property as "Downhill Run Acres". It's a neat name and very appropriate.


The view at right looks east across Fred's property. The house is behind me and the pond is in the background. The water level in the pond has begun to decline as we are heading into the dry, hot months of summer. This seems to be normal for the year, as each year the pond almost dries up before refilling in the Fall. Fred tries to keep the pond stocked with catfish, and in an earlier picture you saw him on the dock with some plastic bags containing young fish that he released into the water. Sadly, it seems to have gotten progressively drier each summer here, and by the end of the summer the pond is almost dry and the fish don't survive. I suspect that he will give up on them sometime soon. Fred has just installed the weathervane that he ordered. All around is the pasture that I usually help him mow in the summer.

In the new gardens he's constructed, Fred has been able to get a lot of plants out of the greenhouse and planted permanently outside. The gardens are a hell of a lot of work to construct, but are beginning to look very, very nice.


Fred has planted a number of water plants near the pond, and quite a few cypress trees as well. At the highest, the water level usually comes to just below the dock platform, so you can see that the water level has already begun to decline for the Summer. Fred has also had some berms built in front of the pond in an effort to channel more water into it. This has been somewhat successful.

A Bike Ride at White Rock Lake (July 12)


Jeffie is usually very busy with either work or her horses, so it is always a treat to get to do something with her.

This Saturday, a beautiful (if warm) day in the city, we biked all the way around White Rock Lake- about 12 miles altogether. It takes about two hours and we know the route well.


All three of us have bicycles. Jeffie keeps hers in the storage room at her apartment, while I keep mine and Fred's in my garage.


Fred and I have two favorite places to ride. We can reach the beginning of both of these trails by putting the bikes in Fred's truck or on my bike carrier and taking them across town to White Rock Lake.

There, we can park in one of the parking areas and unload the bikes, then deciding which of the trails we prefer for that day. One of them follows the paved walkways that entirely encircle White Rock Lake; some of these walkways are shared with pedestrians, but they are wide enough so that this isn't a problem. We usually go counter-clockwise around the lake, crossing the dam at the southern end before heading back up the east side of the lake between the Arboretum and the water. At the north end, we have to cross the Mockingbird Lane bridge, but there is a dedicated bike lane on it so this isn't a problem.

The other trail, also paved, begins at the same parking area and heads north following one of the small creeks that feed the lake. (When it rains heavily, this particular creek floods extensively, and so that is why there is a greenbelt all the way north; the water doesn't do much damage to sidewalks and the few athletic fields that are sprinkled along the route. The trail goes under most of the major streets, although you have to dismount and walk across Greenville Avenue. (Note: In recent years this has been made unnecessary with the construction of a bike tunnel under that particular street.)

This northern trail even goes under Interstate 635 and then another half mile north to end at a little park at the corner of Alpha Road and Hillcrest. This trail is neat because it is right in the middle of town yet separated from automobile traffic.

In 1997, there were plans to create another bike trail nearer to downtown using the right-of-way of the old KATY railroad tracks (long since torn up). I can report from 2015 that this has been done; now the KATY Trail runs from the American Airlines Center south of downtown (not constructed for another four years) north along the railroad right-of-way to end near the intersection of Mockingbird Lane and Central Expressway. As of 2015, there are plans to build a bicycle/pedestrian bridge over the expressway at that point and then dedicated bike lanes all the way to White Rock Lake. We look forward to the completion of that project. A round-trip from the American Airlines Center to White Rock Lake, around the Lake and then north to the terminus at Alpha Road and Hillcrest will be somewhat over 40 miles!.


Fred's Cat Tanner (July 13)

As you may know, the reason I have Chip is two-fold. First, I have always liked cats, but found it inconvenient to have one in the Army or while I was in Chicago- mostly because I traveled so much- or before Grant died, since he was allergic.


Fred has had a succession of cats- the Manx Suzy (whom he got from Frank and Joe), Calcitinas (who came from his mother's house in DeLeon and now Tanner. (Suzy has died and is buried down by Fred's pond).

Tanner just showed up one day at Fred's house. He stayed in the bushes by the front porch and while Fred could feed him, he couldn't get close. Not until he brought Calcitinas out on the porch; at which point Tanner came up to sniff at her and rub noses, at which point Fred could latch onto him. He brought Tanner in, fed him and let him play with Calcitinas, and that was about all it took to domesticate him. Tanner is growing into a wonderful cat. He is extremely friendly and active, usually giving Calcitinas fits. He also likes to get out, and can often be found perched up on the chimney.


Diary Note (August 28-31)

I've said before that this photo album is also something of a diary, and so I want to take a moment to record the fact that my brother-in-law Bob, Judy's husband, passed away unexpectedly of a heart attack on July 28th. Jeffie and I flew to North Carolina on the 29th, and I stayed through the services on the 31st. I would have stayed longer, but Judy had both Ted and Jeffie with her, and all of Bob's family as well, so I came back to Dallas for the planned birthday party for Fred and Ron. The services were very nice, and I think Bob would have approved.

Birthdays for Fred and Ron (August 2)

Our friend Ron has his birthday on August 1, and Fred's is August 6, so we usually celebrate them together, and this time we are doing it with a small party up at Ron's house in Plano.


Ron and his partner Chris Young moved up to Plano a few years ago, and they have a really nice house that is well suited for parties. For this particular gathering Fred and I and Ron were there of course, but also Mike Racke and Prudence Lucas. You can see Fred, Mike, Ron and Prudence in the picture at left.

Prudence's friend Ron Ruckman was there as well (totally confusing the issue as there were now three guys named Ron in a group of only about ten people), along with Chris, our friends Lynne and Barbara and a few others.

I took the picture at left as we were getting the cake set up after dinner. I should have taken another group picture of everyone who was there; when these events are at my house, either Fred or I remembers to do that, but this time we both forgot or couldn't find the right moment.


Some Pictures from Fred House (August 16)

I was up at Fred's house for the weekend in mid-August, and I took a few pictures while I was there. I usually go up to his house on the weekends he has to open and close the greenhouses, and we have dinner on Friday night, I do some mowing or something else while he is at the greenhouses on Saturday morning, and then we often go down and see Ron and Chris on Saturday night. We come back up to his house, and I usually go on home to check on Mom when he leaves for the greenhouses on Sunday morning. Then the routine is for him to come down into town to spend Sunday evening with me.


You'd think Fred would get enough of plants with his work, but he spends a lot of time working on plantings and gardens at his house, too. He's been talking about building a water garden for some time, and for the last few months has been working on one behind his back porch. It is coming along nicely. He cleared the patch of lawn, defined the garden with Windsor Stone, built a raised Windsor Stone "hill" in the center, sunk a pre-fabricated pool beside it, and is in the process of installing an upper pool and pump that will recirculate water from the lower pool to the upper. There is a small waterfall from the upper pool into the lower one. He's tested the arrangement and it seems to work fine, so he's putting the final touches on the mechanism before he begins putting some of the many plants he has in the defined area of the garden.

In the picture at left that I took from up on the porch at the back of the house, you can see that he has run an electric line from the house to power the pump. Eventually, this line will be buried so that he can mow over it outside the garden. One of the things that I like about Fred is that projects like this don't faze him at all. I'd be overwhelmed.

NOTE:
Twenty years later, you wouldn't recognize the little area, everything has grown up so much. You can hardly see the pools or the Windsor Stone, although you can hear the nice sound the waterfall makes.


In addition to that picture, we took some of Tanner and Calcitinas. Fred took one that shows them both up on the roof (they have become fast friends and usually go out and come in together) and I took two more of Calcitinas snuggled into my duffel bag up in his master bedroom. There are clickable thumbnails below for these three pictures:

A Saturday Bike Ride (August 23)

I've been on the DRT GlobalAdvantage project for over a year now, and am enjoying it very much. We have quite a contingent of people from England over here at the moment, and one week I suggested that we do a bike ride at White Rock Lake.


The Brits are from Praxis, an English consulting firm that is a subsidiary of Deloitte & Touche. They keep to themselves mostly, but thought that the suggestion of a bike ride, with the chance to get out of their hotel rooms on a weekend afternoon was a good one. There is a bike rental place right near the lake, so I helped them arrange for two rental bikes. In the morning, Jeffie and I rode with Colin and Peter, who are ahead of me in this picture Jeffie took. Peter had brought shorts with him, but Colin hadn't. The morning was pretty warm, and I know that Colin was uncomfortable.

In the afternoon, two of the girls on the team- Jenny and Carol- rode with Jeffie and I around the lake, stopping at one point so Carol could take a picture of the other three of us on the dam at the south end of the lake; you can see that picture at left. It was a beautiful afternoon, but quite hot. Both of the girls had brought summer clothes, so they were prepared, and everyone but Jeffie and I had a rented helmet on. We had a longer ride with the two girls as we also rode part of the trail that goes north.

I really couldn't take pictures as we rode, but I did have my camera in my bike bag, and I stopped at one point to take a picture of some of the sailboats on White Rock Lake.


Landscape Problems (August 23)

When we got back from the bike ride, I had a few additional exposures on the roll of film in the camera. I wanted to get the roll developed, so I took a few pictures around the outside of my townhouse, documenting two problems I've had recently.

For the last year, I've been having a problem with the new garbage trucks that the city has bought. We now have bins on rollers, and this new, larger truck simply picks them up and dumps them into its open top, unlike the men on the smaller truck that picked up our trash that we had to bag. This more efficient and less time-consuming for everyone, but the larger truck has trouble making the turn at the southwest corner behind my house. It can be done if the driver takes his time and backs up a bit once, but instead, the driver has been running over part of the island back there. The problem got progressively worse, even after I called the city and a supervisor came out to show the driver how to make the turn.


When the truck started to push the crepe myrtle over, I took action; I had a 3/4 ton boulder delivered and placed on the island in the path of the truck. It was just placed the other day, and this afternoon I have spaded up the area that has been trampled, and now, I hope, the truck will stop running over the island and the ground cover will have a chance to regenerate. You can see my new traffic control device in the picture at left.

(NOTE: I am happy to report that after one or two scrapes, another visit from the city supervisor, and my neighbor and I putting our bins a ways down towards the street, the truck now takes its time at the corner, swinging out after picking up our bins so that it can make the turn more easily without running over the island or running into our fence.)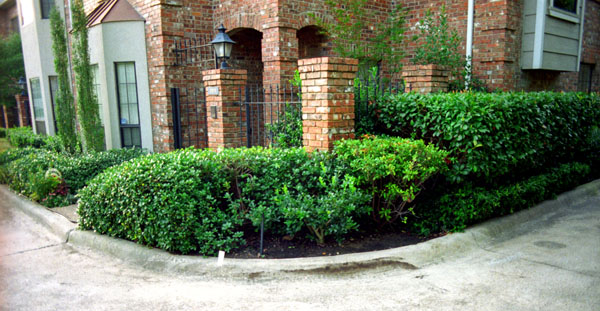 Damage to My Front Bushes

The other problem was a one-time thing (well, I say that now, but from my vantage point in 2015, it just happened again this year). I recently had a new washing machine delivered, and the truck first came to my front door. I directed them to go back out to the street and come in the back driveway so we could take the washer in through the garage. I thought they understood, so I went back in walk through the house and open the garage door when I heard a crash outside. Instead of driving back out to the street and around back, the driver pulled forward and then tried to turn left to alongside my unit and thus to the back. Predictably, he was too close to the curb when he turned and the truck climbed the curb and ran over some of the big bushes at my front corner.

(NOTE: Again, I am happy to report that after some haggling with the delivery company, they paid to replace the holly bushes they destroyed. The new bushes have just been planted, but it will be a while until the bushes grow to the height of the others.)

To finish the roll, I took one more picture on Sunday evening of the driveway behind our middle building, looking north from the front corner of my townhouse. Tomorrow is a trash pickup day, and some of the residents have already wheeled out their bins so they can be picked up.

Come Fall or High Water (November 24)


Fred is kind enough to give me copies of the pictures he takes around his house and at other times we are not together. Here, he has recorded a late Fall shot of his pond which, at this time of year, is usually full, as you can see from the fact that the dock is almost under water.


Company For Chip? (November 26)

For my birthday, one of the gifts I got (a gag gift from Jeffie) was a stuffed cat that looked surprisingly like her own cat Loudmouth. I thought I would introduce Chip to it to see what he would do.


Chip knew the cat wasn't real, but didn't mind snuggling up to it anyway:

Here are some clickable thumbnails for more pictures of Chip and the fake Loudmouth:

Thanksgiving at Lowery and Ron's House (November 27)

On Thanksgiving, Lowery and Ron invited us out to their house to share the day. This would be one of the few years since I have been out on my own after college and the Army that I did not prepare a Thanksgiving turkey myself.


In our circle of friends, we have a number of traditions. One, of course, is that we celebrate most of our birthdays at one person's house or another. We always celebrate Lowery's, both Ron M. and Ron Drew's, Fred's and mine together, but may have smaller gatherings for some other of our friends. Thanksgiving is usually either at my house or Lowery's, as it is this year. Christmas is the wildcard, and it depends on who has gone home to whose family.

Invited for the day were Fred, who took the picture at left, and, around the table beginning with my niece Jeffie, in blue: Jeffie, myself, my Mom, Lowery, Barry Skiba, Ron Drew, Brad, and Sherman Carter. I should have immediately gotten Fred's camera from him and taken a picture with him in it, but I neglected to. My bad.

Some of us contributed dishes to the effort and Lowery laid everything out in the kitchen of their house in Hackberry Creek and we served ourselves- buffet style. Fred took one other good picture of Jeffie, myself and my Mom.


The GlobalAdvantage Christmas Party (December 12)

After leaving Ernst and Young in 1995, I took the better part of a year off and then joined a company called DRT Systems, Inc. DRT was the acronym for Deloitte, Ross and Thomatsu, a small consulting firm allied with Deloitte and Touche, the big accounting firm. We were, in effect, one of the technology arms of the accounting firm.


Our main contract was with Deloitte and Touche itself, helping them develop a software package called GlobalAdvantage. The software was to be used to help companies deal with the complexities involving expatriate personnel. Deloitte wanted to use the availability of the software to help them gain the accounting business for these same companies, and we were helping create the software by supplying a good many technical folks to the project.

I was with the project about two years, and one December, at the height of the project's activity, Deloitte and Touche held a Christmas party for the folks on the project. We each got copies of any of the pictures the photographer took that included us; this is the first of mine. At this writing, I cannot remember the names of more than a few of the people I worked with. In the picture at left, I do remember Alan (4th from the left in the back row); he was the project manager for Deloitte and Touche and an accounting expert providing input into product functionality. And I remember Madhu (right end of the bottom row), one of the programming supervisors.

I was hired by the project manager, Adrian Soyza, another DRT consultant, and became the Data Administrator for the project. We were, initially, housed in the keyhole building downtown, in the same suite of offices as Deloitte and Touche.


Being a major accounting firm it was "button-down" and suits all the way. After so many years of a more casual work environment, it was a bit tough getting used to, but I did. I also had to get used to a daily commute downtown, but from where I live that wasn't much of a problem. Fortunately, working for Ernst and Young had eased my transition from the "on-stage" environment of teaching to the more traditional office environment.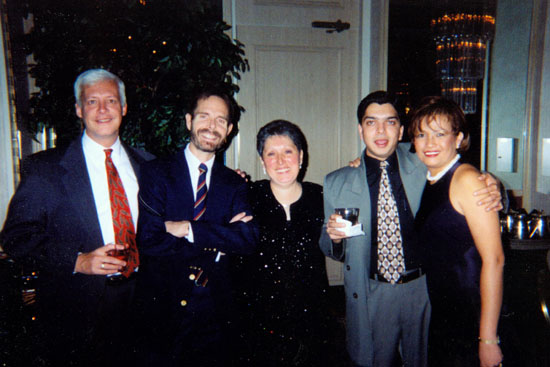 At the GlobalAdvantage Christmas Party


About three months after I began downtown, we outgrew the space that Deloitte could give us, and we moved the project to a building at Hillcrest and LBJ up north of me. This had a number of advantages. The commute was about the same, but the parking was open and free. The office was quite near my Mom, who I had moved to Dallas this same year. Actually, she moved here after we moved the office out of downtown, so proximity to the office and to my own house were two of the factors involved in locating her where I did at Meadow and Central Expressway.

In the second of the pictures I was in (right) the fellow at the left (on my right) worked for Deloitte and while we did not work very closely together, I did find out that he, too, was in a same-sex partnership. He was one of the persons supplying expertise as regards some of the administrative requirements for handling expatriate affairs. The lady on the other side of me was one of the employees who took care of project administration, and she was also a Deloitte employee. Madhu and his wife were the other two people in the picture; Madhu worked for DRT as I did.


In the new office, we all had either individual cubicles or group work areas, and we all switched back and forth occasionally as space needs dictated. Finally, since we were no longer so visible to the accounting firm's clients, we went to business casual Monday through Thursday and blue jean casual on Fridays. This was a lot more comfortable, and by this time a great many workplaces- other than the law, major accounting firms and a few others- were jettisoning coats and ties in favor of Dockers and dress shirts (at least at levels below the executive suite).


DRT itself, which had its Southwest region headquarters in Houston, had also grown somewhat and opened a small office in Dallas- in the same building so as to be close to their major project account. DRT had about 30 people here in Dallas, about two-thirds of them working on the GlobalAdvantage account, but they were expanding and getting other business as well.

So I was able to drop down one floor to visit the DRT office whenever necessary, as they were actually the firm I worked for. Other people on the project worked either for Deloitte and Touche (the ones providing the accounting expertise that was being included in the product) or for other consulting firms allied with Deloitte and Touche (other technical help and some project management).


Sometimes it was hard to tell who worked for whom, particularly as the cast of characters kept changing rather frequently. I could go into a lot of detail about what it was like to work on the project and in this particular office, but it was certainly a very good experience.


Both the project and DRT had special events throughout the year. DRT had one every month so that all of us working on the project could stay in touch with the other DRT employees working elsewhere. These were usually held in hotels or restaurants or places like Dave and Buster's where we could have a meeting and socialize. DRT grew pretty continuously while I was associated with them.

GlobalAdvantage would have its own functions, although not nearly so frequently. Mostly, they were functions held in the office, but the Christmas party was the one main function held outside the office. The 1997 edition was held at a hotel up the Tollway above LBJ. Fred did not accompany me to the GlobalAdvantage parties, although I did convince him to go with me to a couple of the ones held by DRT (mostly because the atmosphere for our situation was more conducive at DRT than at GlobalAdvantage). So I was at this Christmas party by myself.


Both the project and DRT employed a large proportion of Indian citizens. Some were in the country semi-permanently, some just on loan But all were very interesting and it was fun to get to know something of their culture.

The Christmas Celebration at the Dallas Symphony (December 20)

A couple of years ago, Ron Drew, using his contacts from being Public Affairs Director for GTE, helped Fred and I get a season subscription to the Dallas Symphony. In the mid-1990s, it was hard to get a subscription; the Symphony, performing in the new Myerson Symphony Center, was one of the town's "hot tickets".


But he did get us in, although our seats for our first year were not very good. But once we were in the door, so to speak, we had priority access to better seats that might open up, and for our second and subsequent years, we moved up into the Grand Tier. We were quite high up there in the hall (we joked that our seats came with supplemental oxygen), but we had expansive views of the entire orchestra as well as great sound, since our seats were right in the middle.

Beginning with our third year, we got four seats for each of the 7 performances in our subscription, and we began the practice of taking a couple of friends with us and then eating out after the Friday performance. We rotated the "honor" among all our friends, and it was nice to be able to show them a good evening.

This year, I'd been wondering what to get many of our friends for Christmas, and Fred and I decided that getting each of them a ticket to the annual Christmas Celebration performance (which included sing-alongs, classical pieces, Christmas songs and a visit from Santa Claus) would be just the ticket (no pun intended). So we will be meeting eight of our friends downtown this evening at the Symphony Center for their Christmas "gift".

Fred and I have dressed for the occasion, and took the picture at left before we headed downtown.


Well, that's all the miscellaneous pictures for this year. You can use the link below to return to the index for 1997.
---
| | |
| --- | --- |
| | Return to the Index for 1997 |