| | |
| --- | --- |
| | Return to the Index for 1998 |
---
Miscellaneous Pictures for 1998


On this page I want to put the pictures that should be in my photo album but which were not connected with a particular trip we took (like a trip to Santa Fe) or event that occurred (like a visit from my sister). Some of the sections below may actually for some event, but in most of the cases few pictures might have been taken, so that a separate album page isn't needed.

Greg's Lake House (February 14)

Early this year, a group of guys led by Greg began building a communal lake house at Lake Cypress Springs, about 100 miles east of Dallas, and today, Greg, Fred, a friend of Greg's and I drove out to see the progress. It is going to be a two-building affair, with one housing kitchen, living room and other communal spaces, and the other housing, if I recall correctly, five or six bedroom spaces. The intention was to allow for more than one group of the "owners" to use the place at the same time without running into each other too much.

Here are two pictures I took of the buildings in progress:

As it turned out, people's involvement fell off, and the group eventually sold the half-completed structures.

Lowery's 45th Birthday (March 7)

This evening, Ron and Lowery have had all their friends come out to their house in Hackberry Creek for Lowery's birthday party.
| | | |
| --- | --- | --- |
| Lowery and Ron | | My Mom Having Dinner |

Lowery and Ron fixed us all a nice informal supper of hamburgers, hot dogs and the fixings, and everyone who was there (Ron and Chris, Fred and I and my Mom, Prudence and Mike Racke) enjoyed it.

At the end of the meal, Lowery blew out the two candles on his cake and we all joined him in having some. (You can watch Lowery making his wish here.)


This birthday was just another in a long succession of birthdays for the members of our circle of friends. With minor alterations from time to time, we can usually count on the same group of friends to show up and help celebrate these milestones.

At Downhill Run Acres (April 25)

Sometimes I like to include pictures that Fred took here in this album; almost always, they will be from his house in Van Alstyne.


Just below Fred's back porch he has had, for a long time, a copse of native plants and two small trees; the copse is generally ovoid in shape, covering an area of about six by ten feet. Recently, he has installed a lily pond that is visible from the porch. It was constructed of two plastic forms- an upper and a lower- with the upper form having a spout that allows water to fall into the lower pool. He has a submerged pump, of course, that returns water to the upper pool.

The result is a set of two little lily ponds and a tinkling waterfall between them. The sound of that falling water can be heard throughout the east side of the house when the windows are open.

He has purchased some water lilies for the ponds, and they are currently blooming. He took this close-up of one of the lily flowers.

NOTE:
In July, Fred brought me another picture of the water lilies in bloom. Rather than put it on its own page, I am going to include it here- even though it was taken on a different day. You can have a look at the profusion of flower here.


Fred (and I) have also been hard at work creating a raised rose garden south of his house. There are pictures of this effort elsewhere in this album.

At Prudence's House in Arlington (June 20)

Today, Fred and I have gone out to Prudence's house in Arlington for a visit with her and her friend Ron. I am helping Prudence get her new computer set up, and that was another reason for the visit.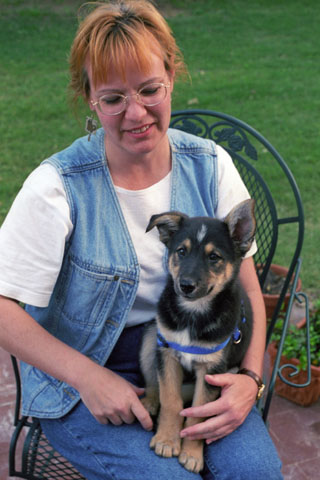 Prudence and Max


Ron Ruckman and Prudence have gotten very close since they first met over a year ago, so much so that Ron spends a good deal of time at Prudence's house. Prudence has had a cat for quite some time; currently she has a black and white cat named Callie and a tortoiseshell named Misty. Ron, though, is more of a dog person, and he has been an influence on Prudence in that direction. Again, he has been so much of an influence that they now have two dogs- a golden Labrador named Cassie and, most recently, a German Shepherd mix named Max.

Prudence has gotten quickly attached to both of the dogs, so now they have two dogs and two cats. This is the first time that Fred and I have seen the newest addition. Prudence also had two friends of hers over at the same time, and Fred and I took a couple of additional pictures before we went to dinner. You can click on the thumbnail images below to have a look at these other pictures:




We had a good time this afternoon, visiting with Prudence, Ron and their friends.

With Mike at Lake Texoma (July 3)

The day before the 4th of July, Mike Racke asked us up to his house north of Fred to go with him to Lake Texoma to spend some time on his motorboat. It is small enough that he can trailer it and large enough that it can hold a number of his friends- although today it was just the three of us. We only took two pictures today, and they are below:
| | |
| --- | --- |
| | |
A DRT Outing at the Ballpark in Arlington (August 13)

As you may already know, I am currently working for DRT Systems (Deloitte-Ross-Tomatsu); this consulting firm is associated with but a separate company from Deloitte and Touche, one of the original "Big 8" accounting firms. One of the traditions at DRT is a monthly company meeting and company outing. Our office is in the same building in North Dallas where I work assigned to the Global Advantage project being run by Deloitte and Touche. A couple of the other twenty or so employees of DRT in Dallas work on that same project; others work on other projects for other companies.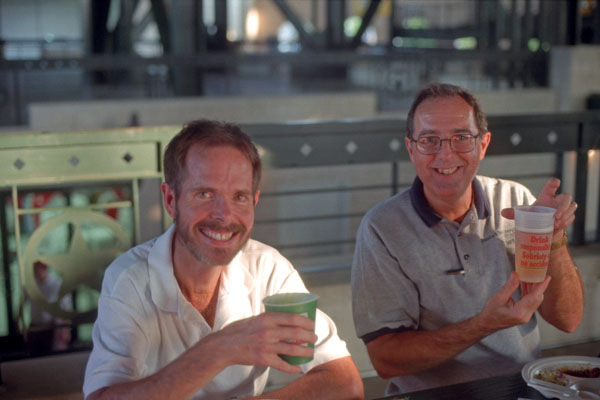 Myself and Walter Matich at the Ballpark in Arlington


Once a month we get together for an outing like this one; if we didn't some of us would hardly ever see each other. Walter is the "office manager" for DRT in Dallas, and organizes these events.

Today, at the Ballpark, I had someone use my camera to take the picture at left, and I took three others. You can click on the thumbnail images below to have a look at them:
| | |
| --- | --- |
| | Some DRT employees at our outing at the Ballpark in Arlington. I wasn't interested in the game, but went to put in an appearance. There were burgers, hot dogs and fixings, and it was real casual. |
| | Jeff Milne, Tom Cody and some other DRT folks at the Ballpark in Arlington. Both Jeff and Tom used to be on the GlobalAdvantage project with me. Jeff worked to support one of the project's major clients and Tom did documentation and online help. |
| | The Rangers playing Cleveland at the Ballpark in Arlington. |



A Ride in Brad's Plane (August 23)


Just one picture from an outing today. Brad asked Lowery and Ron, Mike Racke and myself to come down to Redbird airport to go up with him in his twin-engine plane. Brad is a pilot for American, so having his own plane is more like a busman's holiday than anything else.

I took the picture at left and then Brad took us up for an hour or so, as we flew lazily over the countryside south of Dallas. This wasn't my first time up in a plane this size by any means, but it was very enjoyable and Brad was very nice to invite us.


A Visit to the Dallas Arboretum (October 17)

This Saturday, Fred and I made a short visit over to the Dallas Arboretum. On other, longer visits, I have made separate album pages, and on those I've had maps and aerial views of the Arboretum. But on a visit this short, we'll dispense with that and just include the pictures we took.
| | | |
| --- | --- | --- |
| A Garden Statue | In the Woman's Garden | At the Infinity Pool |

And there weren't many of those, as we have been here so many times before. We did take the three pictures at left, and one more, back in the Lay Family Garden of some bronze armadillos.


If you would like to see more pictures from the Arboretum, or learn more about where it is and how it is laid out, visit any one of the separate album pages devoted to a visit to those beautiful gardens.

Ron Drew's Birthday Party (October 18)

On Sunday, Lowery Evans held a small birthday celebration for Ron Drew, and Fred and I were invited.


In addition to Lowery and Ron and Fred and I, Lowery also invited our friend Larry Marshall (the tall guy in the back) and also our friend Brad (the airline pilot) and his parents, who happened to be in town from Florida visiting their son. All of these folks (except for me, since I did not have a tripod) are in the picture at left.

We did take a couple of other pictures, and you can click on the thumbnail images below to have a look at them:




We had a good time, having dinner with Lowery and Ron and then presenting Ron with his cake.

Alan Leaves Global Advantage (November 6)

I took my camera to work this Friday just to take a few pictures of the Global Advantage office up in North Dallas. I've been an employee of DRT Consulting for a couple of years now, and am on semi-permanent assignment to Deloitte & Touche to work as the Data Administrator for their Global Advantage software product (which will be sold to Deloitte and Touche clients and others). The software will manage all aspects of overseas employment- everything from taxes to relocation services. I began with them when they were downtown in the skyscraper across from Symphony Hall, but now our department has moved to an office park at the corner of Hillcrest and LBJ Freeway (I-635).


We are located in a sixteen-storey office tower in the middle of a whole development of three-storey office buildings. My current doctor, for example, has his office in one of the buildings across the street from us, and my Mom's condo is about two miles south just east of Hillcrest Road.

Getting here each day is a lot easier than getting downtown. While downtown is closer, parking is a hassle there. Still, getting here in the morning is only a fifteen-minute ride. When we were downtown, we were just one floor up from the offices of Deloitte and Touche, one of the "Big-8" accounting firms, and so its button-down conservative dress code applied to us as well. Now that we are up here, the Global Advantage project has gone to "business casual" during the week and jeans on Fridays.


Finally, the company I actually work for, DRT Consulting, has its own Dallas office just two floors down from the Global Advantage office, so it is much easier for me to check in there when necessary.


We also have a lot more space here than downtown; office space is a lot cheaper up here. So I now have my own cubicle with lots of light and a nice view. That's it in the picture at right.

Today is the going away party for Alan Thompson, the assistant project manager for functionality and an employee of Deloitte and Touche. Alan has been with the project for quite a while; as a partner in the accounting firm, he has been responsible for ensuring that the Global Advantage software has the functionality it needs. He is moving to a different city, and we will be getting the rest of our specifications from Deloitte's New York office. The project is quite far along now, and there is no need for someone here full-time.a new project manager will be coming in to take his place. The other pictures I took today were of the little party we had for him in the break room this morning. There are clickable thumbnails below for these photos:





From Fred (November 7)

Fred brought me some pictures today that he took inside the Crump's Garden greenhouses where he works. One of the plants he is responsible for raising are kalanchoes, and today's pictures are of some of his current crop. Click on the thumbnail images below to have a look:

Lowery's at Thanksgiving (November 26)

In a departure from my usual tradition of cooking a Thanksgiving turkey at my house, Lowery, Ron, Fred and I have decided to have a cooperative dinner at his house. My Mom and some other folks were invited as well.


My Mom came in an outfit I hadn't seen before- kind of a shiny, vinyl-like fabric. It almost looked as if she had been covered in the same stuff that people put on their furniture cushions.

Anyway, I took one picture of her and had Fred take another. They are at left.


A Christmas Visit in Van Alstyne (December 20)

To close this year's miscellaneous pictures, here are some from a visit that Mike Racke, his friend Dale and I made up to Fred at his house in Van Alstyne. Dale is Canadian, has known Mike for some time, and lives part of the year in Arizona.


While we were there for dinner, we wandered inside and out, so Fred could show Dale some of what he has done with his plants and flowers around his house, and so both of them could meet Tanner and Bobbie Lee Maxine, his two cats.

Here are clickable thumbnails for some of the pictures we took this evening:




That completes the miscellaneous pictures for 1998. It was another good year with Fred- the end of our 7th.

You can use the links below to continue to another photo album page.

---
| | |
| --- | --- |
| | Return to the Index for 1998 |