| | |
| --- | --- |
| | Return to the Index for 2000 |
---
Miscellaneous Pictures for 2000


As I've done before in this album, I've created a special page for those odd pictures we took during the year that weren't in conjunction with a particular trip or event. They'll be organized by date.

Ron and Lowery Visit Dallas (01/02)

The day after New Year's, Ron and Lowery came to North Texas from Florida for a visit.


Ron and Lowery had come to Texas to visit both their families, as well as their friends here in Dallas. Ron's family is here and in Lawton, Oklahoma. Lowery has family down towards Houston.

The two of them were able to spend a few days with us here in Dallas before heading on to their other destinations. These two pictures were taken after we'd had breakfast on of the morning they were here.


We always enjoy seeing Lowery and Ron; it is a shame that they had to move so far away.

An Ice Storm at Downhill Run Acres (1/13)

We had some light rain followed by a hard freeze on January 12th, and when Fred woke up he found most everything on his property covered in a thin layer of ice.


Fred thought he would take his camera out around his house and take some other pictures of some of the plants and trees that had been exposed to the ice accumulation. Click on the thumbnail images below to see some of his pictures:




I might mention that on that same day, down here in town, we did not get the ice accumulation that Fred did. There was a bit of frozen rain around town, but nothing that caused any major damage. I got a bit of very light sleet.

Spring at Downhill Run Acres (3/12 & 3/18)

Two months after the ice storm, and after we'd returned from our trip to Florida, Spring was breaking out all over up at Fred's house, and the pictures in this section are all about that reawakening.


Fred took some pictures of the spring blooms on his fruit trees, as well as pictures of his house from down in the pasture. He also got a nice picture of the north end of his house, where he has been building a terraced area for shrubs and other plants. (He is fond of the nice look of Windsor Stone, and I'll admit it is a great way to terrace areas.)

Click on the thumbnail images below to see some of the pictures that Fred took around his house during these days of Spring:




It's nice to live on acerage, but it takes a lot of taking care of, and we're moving into the season where that will keep Fred (and me when I go up there), busy indeed.

Some Pictures from DeLeon (4/8)

Fred makes a trip to see his mother about once a month, and early in April he made one of those trips.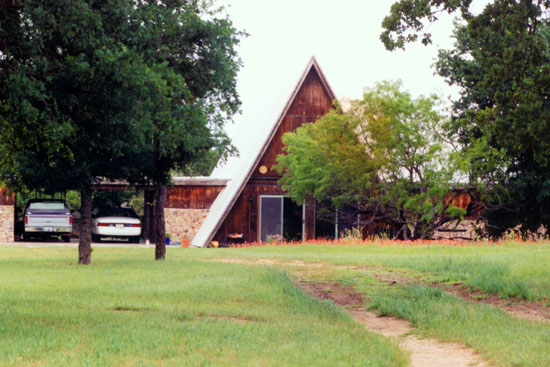 Fred's Mother's House


Fred sometimes takes a few pictures when he is down in DeLeon; he has been there so often, though, that there needs to be some particular reason, and this trip it seems to have been the bluebonnets in bloom.

He took a few other nice pictures this time, including a good view of his mother's house down there (which is way, way out in the country on acerage that has been in the family for a long time). Click on the thumbnail images below to see some of these pictures:




I have never had the opportunity to accompany Fred on one of his trips down to DeLeon, although I understand why that is. I still hope that one of these days, even if I don't get the chance to meet his mother in person, I can at least get to see what that typical little Texas town is like.

A Pool Party at Brad's (5/27)

Our friend Brad, the pilot, lives out in the mid-cities (quite a ways from us) and so we don't see him as often as we might like. He has a nice suburban house with a wonderful pool, and occasionally he has friends over to enjoy it with him.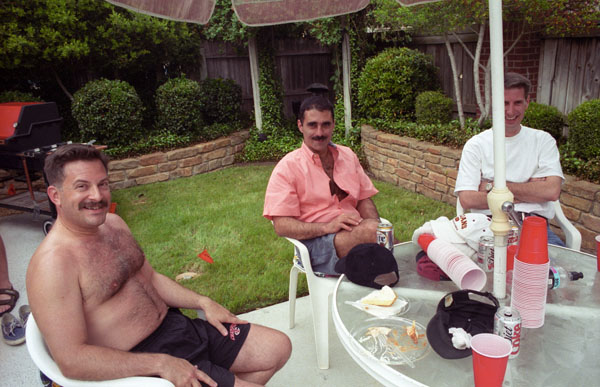 At Brad's Pool Party


On this last Saturday in May, Brad has invited most all of his friends over for an early summer party. Fred left for a visit to his Mom this morning, so I thought I would go on out to Brad's house.

Usually, I know just a few of the people there, since Brad's social circle doesn't overlap with mine all that much. Our friend Lou (the person at left in the picture at left) was there, as was my first doctor in Dallas- Rich Olsen. He is standing at right in the picture shown here. Brad himself was so busy getting food ready or greeting new arrivals or talking with friends that I had an impossible time getting a good picture of him. The best I did was this picture of him standing by the pool.

Click on the thumbnail images below to see the other two pictures that I took at Brad's this afternoon:




I had a really good time at Brad's; he does great parties and really takes care of everyone. I was sorry that Fred had been gone, for I think he would have enjoyed it too.

At Downhill Run Acres (7/5 & 8/24)

Fred has brought a few more pictures from his house that I want to include here.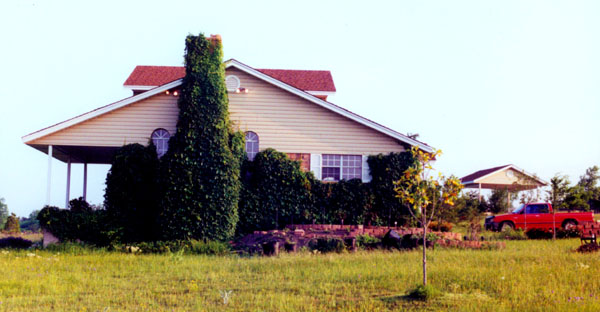 The Main House at Downhill Run Acres


One of the pictures that Fred brought me didn't seem special when I first saw it- just a close-up picture of the front of his house. But then he asked me to look closely at the top of his chimney. Take a look and see if you can spot his cat Tanner.

He also brought a couple more pictures of some of the late-summer, early-fall blooms, and you can click on the thumbnail images below to have a look at them:




It's always nice to get pictures from the country!

Garage Sale (9/16)

These pictures are not particularly interesting to anyone but me, since I took them for a specific purpose (to document that one of the residents here at Greenway Villas was conducting a business out of their garage. Feel free to skip this section.




Dinner at Brad's (11/4)

This Saturday, Fred and I went out to Grand Prairie to have dinner with Brad and Lou. We took a couple of pictures, and I want to include them here:
| | |
| --- | --- |
| Brad, Myself, Lou and Fred | Myself, Brad, Lou and Fred |



Boxing Day at Lynne Richardson's (12/26)

On December 26th, Lynne Richardson invited Fred and I to her house for her annual Boxing Day party, and we were happy to attend.


All of her expat friends were there, including Martin and Ulrike- the only two we know well.

An English holiday, Boxing Day is traditionally the day following Christmas Day, when servants and tradesmen would receive gifts, known as a "Christmas box", from their bosses or employers.It is observed in the United Kingdom, Canada, Hong Kong, Australia, New Zealand, Kenya, South Africa, Guyana, Trinidad and Tobago and other Commonwealth nations, as well as Norway, France and Sweden.

The exact etymology of the term "boxing day" is unclear. There are several competing theories, none of which is definitive. The European tradition, which has long included giving money and other gifts to those who were needy and in service positions, has been dated to the Middle Ages, but the exact origin is unknown. It is believed to be in reference to the Alms Box placed in places of worship to collect donations to the poor. Also, it may come from a custom in the late Roman/early Christian era, wherein metal boxes placed outside churches were used to collect special offerings tied to the Feast of Saint Stephen, which in the Western Church falls on the same day as Boxing Day.

The British tradition (the "Christmas boxes" of money or presents given to tradesmen and employees for good service throughout the year) is mentioned in Samuel Pepys' diary entry for 19 December 1663. This custom is linked to an older English tradition: since they would have to wait on their masters on Christmas Day, the servants of the wealthy were allowed the next day to visit their families. The employers would give each servant a box to take home containing gifts and bonuses, and maybe sometimes leftover food.

Regardless of its origin, it is now an excellent time for Brits to hold parties, and Lynne does so each year.

You can use the link below to return to the index for 2000.

---
| | |
| --- | --- |
| | Return to the Index for 2000 |