| | |
| --- | --- |
| | June 8-10, 2001: A Visit to San Antonio |
| | April 13-15, 2001: A Visit with Ron and Prudence |
| | Return to the Index for 2001 |
---
April 28, 2001
My Mom Moves to The Bentley



I brought my Mom to Texas just under five years ago. When she arrived, we bought a condo in High Hollows over on Meadow Road. You have undoubtedly seen pictures of it if you have looked at some of the photo album pages from the last five years. When she first arrived, she was doing fine on her own, with me checking in my phone frequently and stopping by every few days or whenever she needed something in particular.

In December of this year, my Mom will turn 90 and while she is in excellent health for that age, both she and I can tell that it has been getting more and more difficult for her to be by herself- cooking and shopping and cleaning and going to the doctor and so on. Although I'm happy to do whatever she needs me to do, she got to the point a few months ago where she raised the issue of moving to some sort of retirement place and into a smaller apartment. I began looking around right away, looking for a place at least as near to me as she is now.

I surveyed five or six different places in North Dallas, preferring to say inside the Beltway. One or two were quite close to me, but both of those were much more expensive than my Mom desired. Others I didn't think had been kept up enough, or were too old, or had too little staff. There were a few good choices though, and after considerable discussion, Mom and I decided on The Bentley.


The Bentley is up on Forest Lane, about four miles north and two miles west of my house. I won't bother with a map, as it won't add much to the pictures. It will actually be easier to get to Mom's place when she is there as opposed to where she is now. But ease of visiting aside, a lot of the effort that it used to take her to be by herself- notably cooking and cleaning- will now be done by the staff as part of her rental fee. There will always be other residents to do things with, and of course always a staff member trained in emergencies just a pull-cord away. One staff member checks on each resident daily, and if someone doesn't show up for a usual meal or activity, this is noticed and checked on. So I feel better about being away on business or vacation, knowing that someone is always checking on Mom.

I've already taken her over there for a couple of visits and a meal or two, and she has already met some congenial ladies to eat with, so now it is just a matter of moving. My good friend Barbara has been looking for a place to move to from her small apartment down by Swiss Avenue, and she wants to rent Mom's condo to be closer to her family, so she is going to move in when Mom is gone. Anyway, we've set everything up so that Mom will be moving at the end of April, and today is the day.


For the last week or so we have been packing up the things that Mom wants to take to her new apartment, and this weekend Fred will bring his truck down and we will haul stuff over in multiple trips.


We've moved what Mom wants to take slowly into the living room to make it easier to get it out to the truck. Moving my Mom won't be nearly so hard since she won't be taking much of her furniture, save for a couple of chairs, a bed and dresser and a couple of other pieces. She'll have no need for her dining room furniture nor her big desk nor the guest room furniture nor the huge living room sectional. Nor will she need much of her kitchen stuff; all she'll have in the new apartment is a small fridge and a microwave, so just a few dishes, some glassware and some silverware will be all she'll need.

I have to thank Barbara for her idea regarding Mom's furniture. It was she who noticed that it was all Heywood-Wakefield Danish Modern (which was all the rage in the early 1950s when it was purchased), and it was her idea to see if there was a market for it now that it is officially "retro." She found a catalog and brought it over earlier this month and with her help we identified the various pieces that Mom had- a couple of which were now quite hard to find. And with her help, I was able to find an "antique" store down in Deep Ellum that dealt in just this type of retro furniture. They gave Mom a bid on all the pieces she wanted to sell, and it was surprisingly high (over three times what my Mom and Dad paid for it all back in 1951), and much more than I might have gotten trying to sell it piecemeal. With the deal done, the store came a day or two ago and picked up most of it; they'll be returning for the rest today or tomorrow. In our negotiations with the furniture store, and for use if we had to try to sell stuff on Ebay, I took a number of pictures of the individual pieces and some accessories. I won't include them here, but if you want to see them, they will be on the Miscellaneous Pictures Page for 2001.

So everything is all set, and Fred and I have begun moving Mom's stuff over to the Bentley. We did some yesterday and will do the rest today; this afternoon, Mom will be officially moved in.


Mom's First Day at the Bentley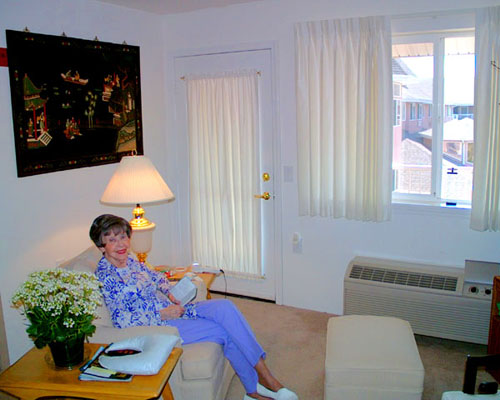 Mom in Her Living Room at the Bentley


By Sunday afternoon, Mom was all situated at the Bentley, and Fred and I took a series of pictures of her new place. There is a kitchenette just inside the door and a table for Mom's mail and stuff. There is a living area and a door out to a balcony; Mom is on the front of the building and her view overlooks the main entrance. There's a large wall-length closet in the living room. Through a doorway is the bedroom, and behind that more closets and a bath. Below are clickable thumbnails for the pictures that we took:




It was a successful move, but while there is more still to do to clear out the rest of Mom's stuff that Barbara doesn't want to use, I can do that on my own in the coming week.

You can use the links below to continue to another photo album page.

---
| | |
| --- | --- |
| | June 8-10, 2001: A Visit to San Antonio |
| | April 13-15, 2001: A Visit with Ron and Prudence |
| | Return to the Index for 2001 |