| | |
| --- | --- |
| | August 15-31, 2001: I Make a Trip to Florida |
| | July 27-29, 2001: A Visit to San Antonio |
| | Return to the Index for 2001 |
---
August 4, 2001
The August Birthdays

It's the first Saturday in August, so it's time for the combined birthday celebration for Ron Mathis, whose birthday is the first of the month, and Fred, whose birthday is on the sixth. We seem to alternate between having the gathering at Ron and Chris's house up in Plano, or my house here in Dallas, and this year it is me.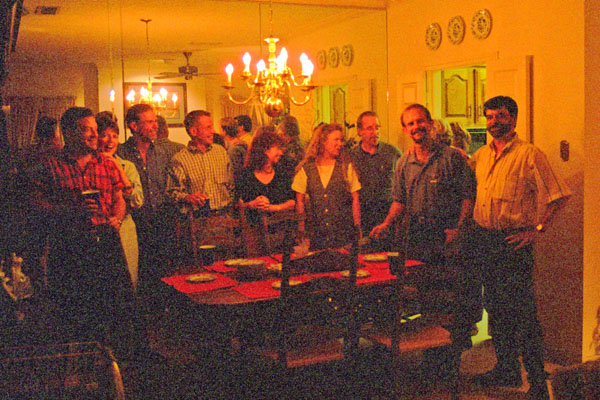 Some of our Attendees


We had quite a few people this year. Among them were (first, refer to the picture at left, going left to right) Lou, Lynne, Chris, a friend of Trish whose name I have forgotten, Trish, Nancy, Karl, Fred, Barbara (just behind Fred) and Ron Mathis.

In addition, there was my Mom, and our good friends Ron and Prudence, and a friend of Ron's from his security company.

Below are three clickable thumbnails for some of the party guests having dinner:




These gatherings are always a lot of fun, not for the least reason that it enables all our friends to catch up with one another, as it seems that Fred and I are the focal point for the intersecting acquaintance of most of them.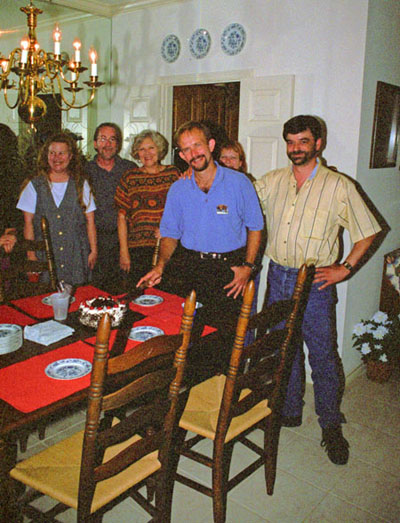 Cutting the Cake


After dinner, we had the tradition cake-cutting, and our staged picture for that event is at right. Left to right in that picture are Nancy, Karl, Barbara, Fred, Prudence and Ron Mathis.

We had dessert and then moved to the also traditional card-opening, and we took a few candid pictures during that time. There are clickable thumbnails for some of these below:

(You can use the captions underneath the previous series of pictures to see who's who in the pictures above.)

I think everyone really had a good time; for some of the attendees, this was their first time to meet both Karl and Ron Ruckman, so aquaintance circles got expanded.


As usual, Chip was much in evidence; he has become quite gregarious since his brother, Dale, died; he used to be the standoffish one. Now he likes to be close to everything that is going on. But I guess the evening took a toll on him; towards the end of the evening, he crashed on the living room carpet:

You can use the links below to continue to another photo album page.

---
| | |
| --- | --- |
| | August 15-31, 2001: I Make a Trip to Florida |
| | July 27-29, 2001: A Visit to San Antonio |
| | Return to the Index for 2001 |