| | |
| --- | --- |
| | May 29-31, 2006: A Visit With Ron and Prudence |
| | April 7-10: My Sister Judy Visits Dallas |
| | Return to Index for 2006 |
---
April 27 - May 5, 2006
A Trip to Florida
Traveling to Florida
As I've been in the habit of doing, I asked my friend Larry if he would drop me off at DFW on Thursday afternoon for my flight to Fort Lauderdale. He is usually free during the day, so he arrived right on time and I arrived at the airport in plenty of time for my flight. I tried something new, this time. Instead of renting a car on arrival, I took the city bus from the airport to the condo, and then rented a car at one of the local places for a full week the next day. I got the bus schedule off the Internet, and it showed up right on time, about fifteeen minutes after I landed, and dropped me about five blocks from the condo. I'll certainly do that again when I am in FTL for a partial week.
I had a late supper at the Floridian, a short walk from the condo and open 24 hours. On Friday, Jack Fontaine took me to Sunshine Auto Rental and I picked up my car and laid in some supplies on the way home. That evening, I went to Bill's and then met Ty and Scott at the Alibi for a while. I basically just relaxed all weekend, having dinner with Ron Drew once and Ty and Scott once. I spent some time at the beach on short jaunts on the bike and just enjoyed the excellent weather.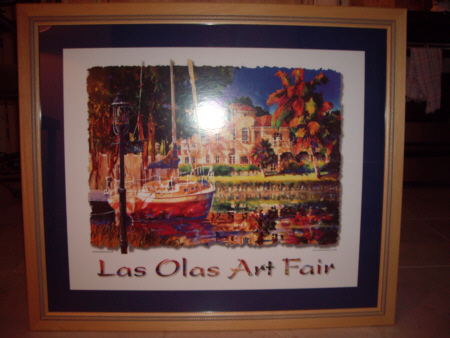 When Fred and I were here last, the Las Olas Art Fair was going on, and you may already have seen the pictures taken then. I had bought one of the two official posters that they do each year for the fair, and last time I was here I took it by Pearl Art and Craft to have it framed. On Monday, I picked it up, and this is the result. I haven't quite decided where to hang it, but the colors are all complementary to those in the artwork I already have.




Biking to the Beach


Monday afternoon, I rode over to the beach on my bike and found that the preparations had begun for the Air and Sea Show that would occur over the coming weekend. The Fort Lauderdale Air and Sea Show is, with the twice-yearly Boat Shows, one of the biggest events in town. I have never actually been here while it has been on, and this is even the first time I've been here the week before, and I was surprised at how big the event is.

Usually, when I go for a short bike ride in the afternoon, I ride right along the ocean in the bike lane. But now, the entire stretch of Ocean Boulevard north of Sunrise has already been closed and fencing has been put up (probably to enclose bleachers, vendors and such so that observers can be charged admission to get a good view). Bike riders are funneled over to the west side of the street, and this continues north to the end of the ocean walk at the tall buildings you can see in the distance. You can probably get a better idea of what it's like to ride along here by watching the movie that I made. Use the player at right.




A Record-Setting Bike Ride

On Wednesday, the weather was just beautiful, so I got the idea that I would go for a long bike ride. To me, a really good ride takes me to the Inlet at Boca Raton- about 20 miles. And a really long bike ride is basically anything north of that. So I packed a bunch of stuff in my bike basket and off I went. I didn't take any pictures until I reached Boca Raton, since I have taken lots of them along the route up to there before. Let me use a series of maps to show you the route.


The first five-mile section begins at the condo, of course, and takes me a short way down SE 4th Street to its intersection with Las Olas Boulevard. Then it is straight east to the beach, crossing the Intracoastal Waterway just before reaching it. Next, I turn north and ride along the beach. Just south of Sunrise Boulevard, I pass the Bonnet House, pictures of which you may already have seen. Just north of Sunrise I go past the Hugh Taylor Birch State Park. Today, I am having to go around the fenced area for the Air and Sea Show. Five miles finds me on A1A just south of Oakland Park Blvd.





Just past Oakland Park Blvd., I can get off A1A for a while and bike through the Galt Ocean Mile- a stretch of high-rise condos on a shady, less-traveled side street. Then it is back to A1A for just a little ways until I can cut towards the beach again to go through Lauderdale By-the-Sea (where Commercial Avenue meets the beach). Then I have to get back on busy A1A again for about two miles, but there is a good bike lane so it is a nice ride. Just inside Pompano, I can cut over to the beach again and ride north through Pompano Beach, reaching 10 miles just after Atlantic Avenue.





For the next five mile section, I rejoin A1A just north of Pompano Beach and continue north for about two miles to the Hillsboro Inlet. You can see from the maps so far that the Intracoastal Waterway has been paralleling my ride to the west. From Daytona Beach to Miami, the Intracoastal Waterway is pretty much a straight shot along the coast, and this barrier island that I am on is also pretty continuous. Every so often, though, there has to be an exit to let all the thousands of boats that ply the Intracoastal and the canals through the communities along it to have access to the sea. Heading north as I am doing now, the Hillsboro Inlet is the first of these outlets that I cross.

Once over the Hillsboro Bridge (a drawbridge, of course), I am in the exclusive town of Hillsboro Beach. The island is just wide enough for the road and a row of very large, very expensive homes between it and the beach. At a couple of places, the island widens a bit and there are some condominium complexes, but it is single homes for the most part until you reach Deerfield Beach. The 15-mile mark is reached just after one crosses into Deerfield Beach.





Both Fred and I have ridden to Deerfield Beach quite a few times; it's a good place to stop and have lunch. From there, it is just another two miles up A1A to the next inlet- the Boca Raton Inlet. Here, there is another drawbridge across the inlet. On the water side, there is a widening of the inlet as it leads out to the ocean. The inlet actually runs almost north to south here, so, standing on the Boca Raton Inlet Bridge, you can look across the inlet waterway towards the ocean but still see some land. At the southern end of the next island I am about to go onto is the Boca Raton Inlet Resort.

Back on the bike and heading further north, I reached and passed the Gumbo Limbo Natural Area (pictures of which are elsewhere in this album) and very shortly reached the 20-mile mark in this particular ride.





Passing the 20-mile mark, I rode by Spanish River State Park. This park marks the furthest that I have ever come on my bike before; Fred and I both rode to this point a year or so ago. From here, it was all new as I entered Highland Beach.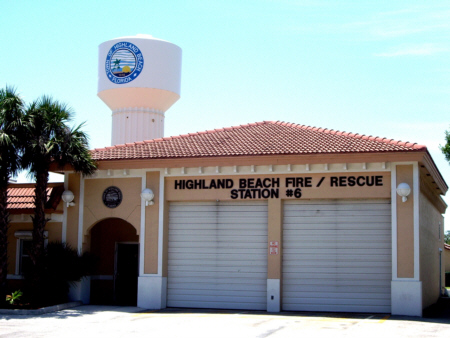 Highland Beach looked much like Boca Raton as I biked along, although it was slightly less upscale- if I can use that comparison. The buildings and condos were not quite so new or so architecturally striking, and the private homes were smaller and less imposing. But the area was still very, very nice. Many of the buildings in Highland Beach of striking water features out front. This particular building had an extremely nice water garden in front; it was so pleasant that I could not resist taking a movie of it. Use the left-hand player below to watch it. And just a bit further up the road, I encountered another large water feature and garden. This one was a large waterfall; you can also see a movie of it by using the right-hand player below:


I continued through and out of Highland Beach, reaching the 25-mile mark just on the northern edge of Highland Beach.





I am in new territory now, and entering Delray Beach for the first time.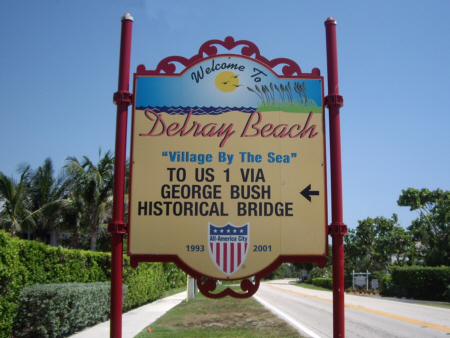 If you're wondering how I got a picture of myself next to this sign, I happened to run across a repairman from FPL working on some street lights and we got into conversation when I asked about places to get a drink as I headed up the road. I happened to mention that I was from Texas where we certainly knew about the Bush family, but that I was somewhat surprised to find a bridge named for one of them here- considering that their summers were taken in Massachusetts. The repairman told me he thought the bridge was named for the elder George Bush, and then added that he certainly hoped so because he had absolutely no use for the son.
That gave us something to talk about and we chatted for a few minutes and I got some answers to where I could stop as I headed up the road. After pedaling for another mile or so, A1A widened out and I was in the town of Delray Beach proper. When the road widened, I was at the oceanside again. The city had taken quite stretch of oceanfront as a city park, giving everyone access to the beach. This frontage was about two miles long, and shortly after it ended and the road narrowed again, I found myself entering the town of Gulf Stream, Florida.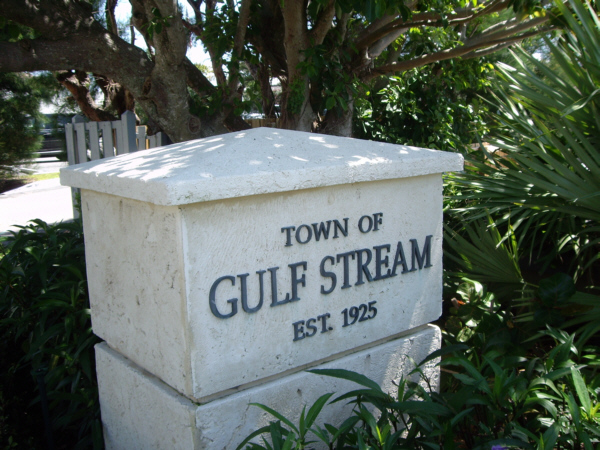 Gulf Stream was a very pleasant community. You could tell that the community had been here for a while, and you could also tell that the residents had made an effort to keep what must have been its original charm. The houses weren't new and opulent, and what condo buildings there were reminded me more of my own 40-year-old building than the new ones in downtown Fort Lauderdale, or Boca Raton or Highland Beach. There were very few businesses along A1A here (all of that being along US-1 on the other side of the Intracoastal), so it made for a very pleasant ride.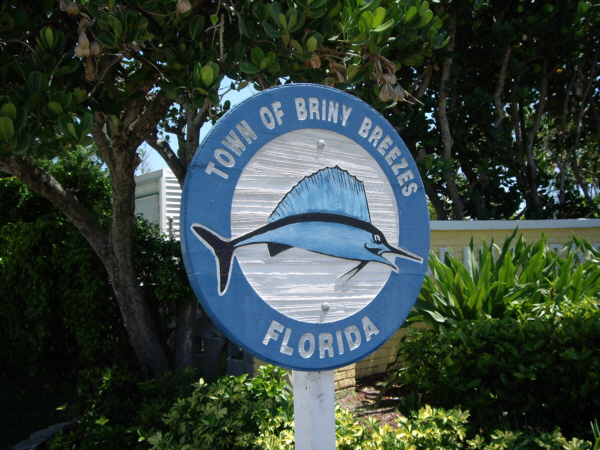 Briny Breezes, the next town I went through, was one of the most interesting on the entire bike ride. It was quite unlike any coastal town I had been through. There were no condos at all and, even more surprisingly, no single-family homes, either. The entire town, which was about a half mile long, was composed of trailers! I'll admit that they seemed like spacious, well-kept-up trailers, and that the streets they were parked on were palm-shaded and as well-kept as any residential street anywhere, but, nonetheless, Briny Breezes was a gigantic trailer park. My guesstimate would be that there were 500 trailers here, on both sides of the road- some on the ocean and some on the Intracoastal. Although there was no one I felt like stopping and asking, I could only assume that the monthly fee for a space here must be a good deal higher than your typical mobile home park. It also looked as if almost none of these homes had been moved in recent memory.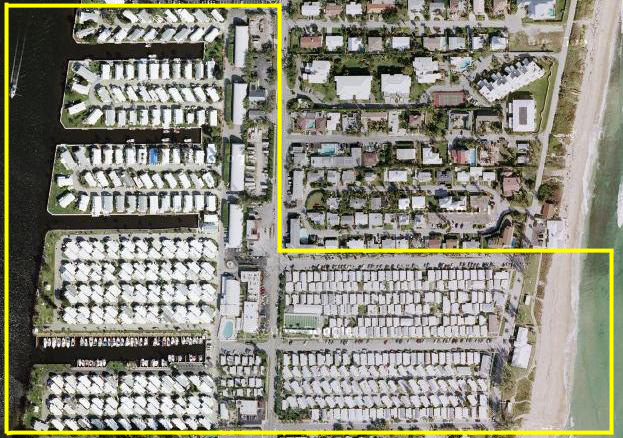 Here is an aerial view of Briny Breezes. The actual town of Briny Breezes is outlined in yellow; the part to the north that is not outlined is actually part of Boynton Beach. You can clearly see that the entire town is composed of trailers.

NOTE:
Oddly enough, just the day before writing this, I was listening to KERA Public Radio streaming over the Internet, and they had a piece on All Things Considered about the same town- Briny Breezes. Apparently, the town was founded in 1913, and has always been an area that welcomed older folks and their trailers. The piece talked about the fact that few places in Florida have retained their original feel, but that Briny Breezes was one of them. The average age of residents is over 71, and there are, indeed, close to 500 trailer homes here.

But what makes the story interesting is that this year, a developer sent letters to all the individual space owners in the town, offering the entire town $450 million to sell itself! This works out to about $1 million per space/resident. Initially, the residents were reluctant to sell, since most were old and didn't want to move (and what could they buy for that amount of money on the beach or Intracoastal here in Palm Beach County? Absolutely nothing. But the piece went on to say that the residents have had second thoughts, and have now decided that if one developer is willing to pay $450 million, maybe another is willing to pay more, and the town has now invited bids from other developers. As a result, there is now a bid of $500 million on the table, and the town residents will be meeting soon to decide whether to accept it. Hearing the interviews with some of the residents, it seems that the sentiment is that the deal is too good to pass up, since the trailer spaces are only worth a million dollars each when ALL of them are sold as a parcel. So it will, apparently, soon be "sayonara" to another piece of "old Florida."

Well, just north of Briny Breezes I came to the major street leading west across the Intracoastal to the city of Boynton Beach. I'd been told by the FPL repairman that I would find all kinds of stuff along US-1, and he was right. From the bridge across the Intracoastal Waterway at Boynton Beach, here is a view looking south along the Intracoastal Waterway. Briny Breezes is on the left, and Boynton Beach is on the right. Here is a view looking north with Boynton Beach on both sides of the Intracoastal. Boynton Beach goes for a few miles up the Intracoastal.

Biking over to US-1, I found a corner convenience store where I stopped for a large, cold drink and sat in a little patio area to watch the traffic go by and just rest. Thirty miles is a long ride, and I decided that now would be a good time to turn around and head back. I thought that since I had already ridden along A1A, and since I could see that US-1 had a bike lane, that I would take US-1 back at least to Delray Beach before going over to the beach and retracing my route.

So, after I relaxed a while, I headed off down US-1 about four miles until I got to the center of Delray Beach. Here, there is another major street that has a bridge over the Intracoastal. There is a view looking south from the Delray Beach Bridge here.

From here, I simply retraced my route back through Highland Beach, Boca Raton, Deerfield Beach, Hillsboro Beach, Pompano Beach and Fort Lauderdale. At the Boca Raton Inlet, since I was coming at it from the north this time, I noticed a good view to the south from the Boca Raton Inlet Bridge.

When I got back to the Fort Lauderdale Beach, the air show preparations were still going on; even in the few hours I'd been gone, more tents and stalls had been put up, and it was even more congested than it had been in the morning. As I crossed the Las Olas Bridge over the Intracoastal to head back to the condo, I took a couple of pictures. The first one looks back towards the beach from the bridge and shows some of the new beachfront condos and hotels on Fort Lauderdale Beach. The other picture is just a view of the Intracoastal Waterway looking north from the bridge.

I felt really good when I got back to the condo. Of course I was tired, but I had a sense of accomplishment for going so far in such a short time. Add that to the fact that the trip was a real pleasure, and it made for a great day.




Air and Sea Show Preparations


I had to leave on Friday evening, so on Friday morning, hearing the jets and planes practicing their maneuvers, I went over to the beach to see how far along the preparations were. (Jack tells me that he usually goes up to Palm Beach on Air and Sea Show Weekend because he doesn't like to noise!) As I was biking along Fort Lauderdale Beach, I saw lots of planes of different types practicing. First off, though, I made a movie of the beach activity as the air show preparations and practice were underway. You can watch the movie with the player at left.


Standing in the same spot, I could hear the jets behind me long before I could see them, and I made a movie of the jets flying overhead, which you can watch with the left-hand player, below. I rode north along the beach, and when I got opposite Bonnet House the barricades were up, funneling traffic to one lane in each direction so that the various food stands and stuff could be set up- and there were certainly a lot of them. At Sunrise Blvd., all traffic was forced to turn left and A1A was blocked off at Sunrise.

This next view looks south along A1A past Bonnet House, and you can see the extent of some of the preparations. Here, alongside Bonnet House, you can see some of the many food and refreshment stands that have been set up in the southbound lanes of A1A. Finally, back down towards Las Olas, I made a movie of some jets in formation, practicing for tomorrow. You can watch that movie with the right-hand player, below:





The Trip Home

As usual, my visit to Florida was all too short, but I had a 7pm flight home to Dallas. Fred met me at the airport and we had some Mexican food on the way home.



---
| | |
| --- | --- |
| | May 29-31, 2006: A Visit With Ron and Prudence |
| | April 7-10: My Sister Judy Visits Dallas |
| | Return to Index for 2006 |