| | |
| --- | --- |
| | October 21, 2006: A Trip to the Arboretum |
| | October 8, 2006: The State Fair of Texas |
| | Return to Index for 2006 |
---
October 8, 2006
Greg's New Condo
Greg had been talking with me on the phone for some time about his desire to sell his Palm Springs house and move somewhere else. While part of his dissatisfaction with Palm Springs had nothing to do with his house but rather the high taxes that residents of that state pay, he was still considering San Francisco as a place for one of his residences- but only a rental. He was pretty adamant about changing his legal residence to a low-income-tax state, and there are relatively few that fit the bill.
Texas, of course, is one of them, and Greg was seriously considering moving back to Austin, a city he has always liked and one where one of his latest friends was now living. Both Fred and I thought that this was where Greg would end up next, so we were pretty much surprised when, on the way to the Fair, he asked us if we could leave the Fair a bit early so we could go by the new condo he was considering buying. This was the first I'd heard about Greg's seriously considering Dallas, but when he explained his reasons it became obvious that almost all of his friends were actually here, not in Austin. Greg would make a welcome addition to our circle of friends, so we were quick to say that we'd like very much to see the condo.
The Drexel Highlander is a brand-new, very upscale condo building on Prescott Avenue, just at the north end of Oak Lawn Avenue (just before it becomes Preston Road at the south end of Highland Park). Take a look at the map below where I've marked the location of Greg's prospective condo as well as my own townhouse on Inwood Road and you can get an idea how far apart we would be: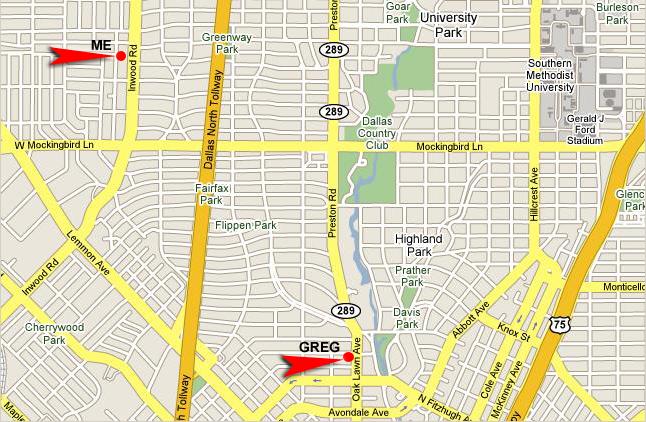 NOTE:
While I was grabbing the map above from Google Maps, I noticed that they also offered pure aerial images as well as a "hybrid" view where street names are superimposed on the aerial image. So I decided to clip a portion of the aerial image of this same area and show you the actual condo building. Unfortunately, I hadn't realized how new Greg's building actually was: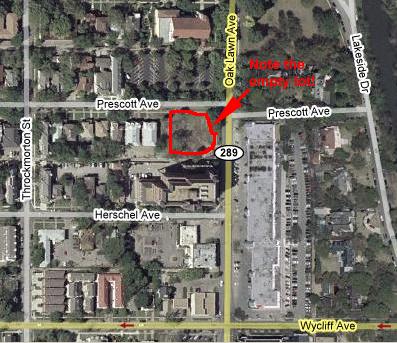 So while I'd like to show you (and Greg) his building from the air, I'll have to wait until someone decides to take new pictures! But this got me thinking about my house and Fred's, so I went back to the Google Maps site and clipped out portions of the aerial views that cover my home on Inwood and Fred's property in Van Alstyne:
| | |
| --- | --- |
| | |
| My Townhouse on Inwood | Fred's Property in Van Alstyne |



The building Greg is looking at is eight stories tall with a mansard roof and small balconies for each unit. The balconies are not large enough to do much more than stand out on, but they do offer an access to the outdoors for each unit. We got a couple of good views from the balconies in the unit that Greg is considering, one from the living room looking south along the side of the building (Greg's unit is a corner unit) and down Oak Lawn towards downtown, and one from the master bedroom looking south and east across Oak Lawn and back towards Fair Park. Depending on which unit one has, you may also be able to look north into Highland Park.

Inside, as one would expect, the units are very nicely finished out. As an example, you can see the marble floors, crown moulding, fireplace treatment and French doors here in this picture where Greg, his Realtor and the sales associate for the building are talking at the doorway from the living room to the kitchen/family room (where there is, incidentally, another fireplace).

When we toured the unit, we were impressed with the features of the unit. Marble bathrooms with frameless showers, large closets, lots of windows, marble floors but carpeted bedrooms, a very nice kitchen with granite counters and top-of-the-line appliances, a formal dining or media room and a large laundry. The building also offers many amenities, including pool, gym, concierge and activity room. The arrangement of the units is also interesting. There seem to be six units per floor arranged in three tiers. Each tier has its own elevator, and each elevator has a single door for each unit in each tier. Thus, when someone is let in to visit you, they will take one of three elevators and simply press the button for your unit. Only one elevator door will open, and it will open right into your own private vestibule. There's room for a table and a chair or two- much like an entry hall- and then there's your actual front door. Very secure.


There is also another, separate elevator that is only used for service. It allows service personnel access to the units through hallways and doors into the laundry rooms (the interior doors to which are quite secure). So the concierge can leave packages and mail for you, and other services you may have contracted for can also have access. Each unit also has a sophisticated alarm system and multiple-function panel mounted on the wall (and you can take it down and carry it around the unit with you). It controls most unit systems, can contact the concierge and can call outside as well.

All in all, we were impressed with the unit. I'm not sure if Greg was looking for confirmation of his pretty-much-made decision to buy the unit, but he went ahead nevertheless. We spent some time in the model unit while Greg and his Realtor negotiated with the developer's representative, and Greg ended up putting down a contract on the unit. If you are of a mind to watch, you can see some of these negotiations using the movie player at right.

It will be nice to have Greg back in Dallas. He used to live right down Inwood from me about six blocks, but that was before he was in a position to buy such a nice place. In any event, I hope the sale closes and that Greg is happy with his purchase.



---
| | |
| --- | --- |
| | October 21, 2006: A Trip to the Arboretum |
| | October 8, 2006: The State Fair of Texas |
| | Return to Index for 2006 |