| | |
| --- | --- |
| | Return to Index for 2006 |
---
The Park Ridge Pointe Condominiums
Winston-Salem, NC
Background
Park Ridge Point Condominiums grew out of an idea shared in part by Patrick Kinney, my sister Judy's significant other, and his friend and co-worker, Jim. Jim had a background in development, and Patrick a background in residential construction. Together, they saw a market for new townhome-type construction in fast-growing Winston-Salem, and were fortunate to find a first piece of land suitable for such development. They formed Green Pointe Properties, obtained financing and bought that first parcel of land.
They brought in an architect to draw up plans and blueprints for their vision, and also brought in my sister for her expertise in landscaping and layout (as well as for a woman's view when it came time for the decorative arts). Another few trips to the bank with the completed blueprints and a business plan, and in a short time obtained financing for the actual construction. This was the result: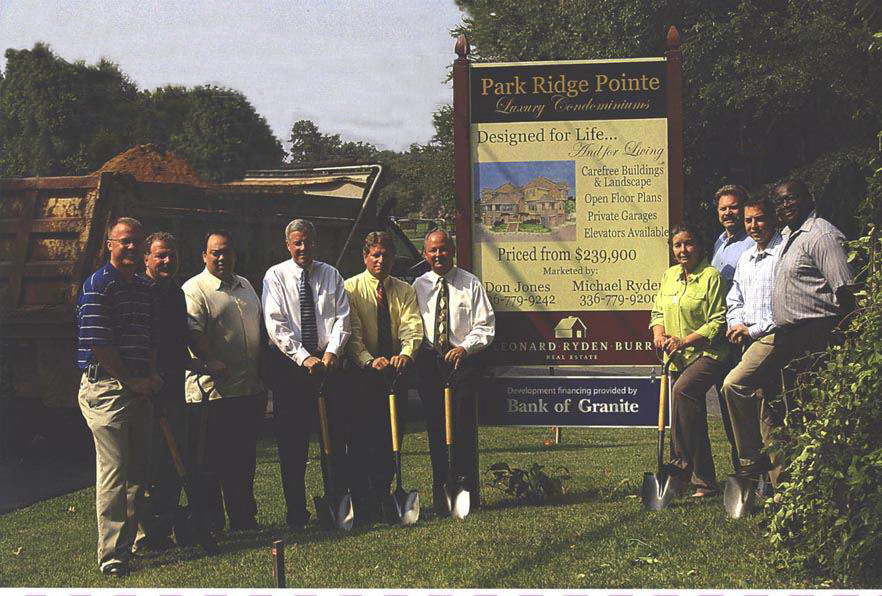 Site Preparation
The site itself is in southwest Winston-Salem, about five miles from downtown, and north of Business I-40. (This highway used to be the main Interstate Highway, but a new bypass was built some years ago as the downtown traffic bottlenecked all the through traffic going east and west. Here is a map showing the location of the parcel on which Park Ridge Pointe Condominiums sits: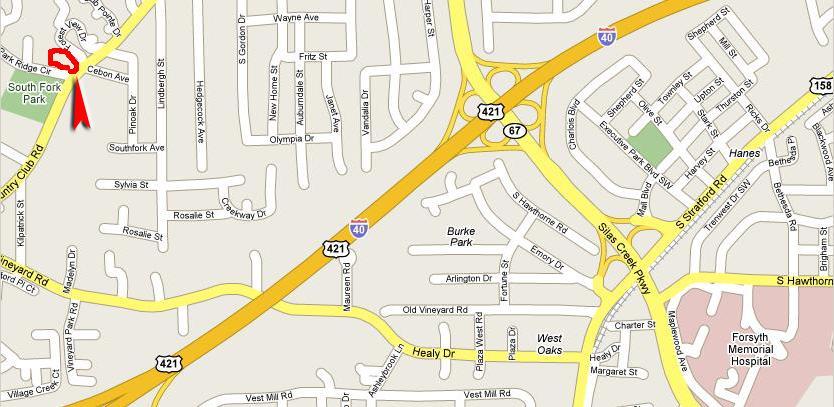 When I visited my sister on August 2, 2006 (to lend my support in her helping Patrick deal with the aftermath of his intestinal surgery, an event described in my main photo album), we stopped by the Park Ridge Pointe site to see what progress had been made thus far. We found that site preparation was well underway.
You can also see some other views of the site-clearing progress here, here and here.
One of the problems that the new firm encountered at the site was at the back of the property, where the land slopes down into a small stand of woods. The land was not stable enough to support the weight of the townhome construction, so Jim and Patrick had to find a solution. An innovative, interlocking wall system turned out to be just the ticket. First, the earth at the back of the property had to be pulled back so that a concrete base could be poured. Then, this interlocking wall could be constructed. The way the concrete-block sections fit together, shown here, is ingenious. Not only do the concrete forms interlock (much like "Windsor Stone"), but there are metal rods that fit down through channels (two in each block) so that the entire height of the wall is made secure. Finally, the interior of the blocks is filled with alternating levels of cement and gravel. The cement gives stability, and the layers of gravel allow any moisture that seeps below the foundations to have an outlet through the wall, rather than having to run along a solid concrete wall to seep out at the ends of the wall or underneath it. Either of these situations would lead, eventually, to a weakening of the wall either at its ends or at its own foundation. When the earth that had been removed for wall construction was put back, this was the result: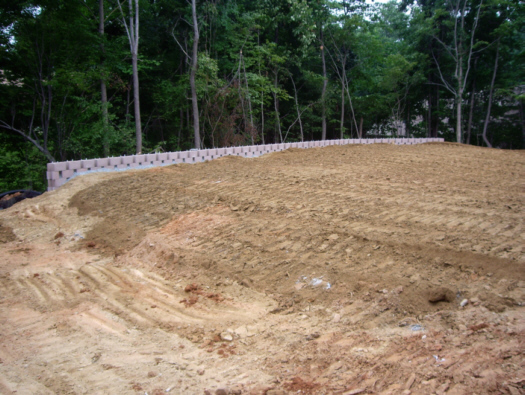 On this particular day, visit to the site, my nephew Ted, a policeman in Charlotte, NC, happened to have a day off, and drove up to join us to visit Patrick and the building site. Here are Ted and Judy inspecting the wall and standing in front of it.


Finally, here is a movie that will give you a panoramic view of the status of the Park Ridge Pointe Condominiums on August 3, 2006.




I'll continue this page as more pictures are sent by my sister.

NOTE:
As events turned out, the partners involved in this project- my sister, her friend Patrick and Jim- had a falling out. This was due to a number of factors, mostly that Jim wasn't being completely honest about what he was doing and how he was doing it. By the beginning of 2007, my sister's involvement had ended, and so there will be no more additions to this page.
---
| | |
| --- | --- |
| | Return to Index for 2006 |