| | |
| --- | --- |
| | May 29 - June 5, 2007: A Trip to Fort Lauderdale |
| | April 24-26, 2007: A Visit to Ruckman Haus |
| | Return to Index for 2007 |
---
May 1-9, 2007
A Trip to Fort Lauderdale
The Changing Fort Lauderdale Beachfront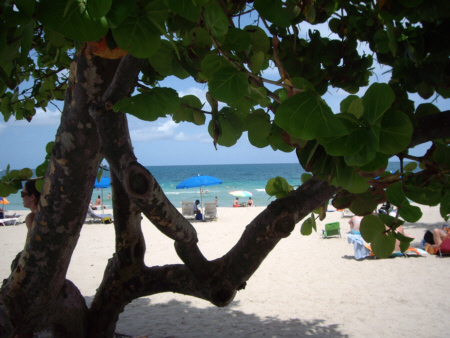 Fort Lauderdale Beach


It seems as if every month when I come down here, there is some new building going up, but I know that's not really so. On previous trip pages, I've shown you many of the newly-completed buildings that are radically changing the appearance of Fort Lauderdale Beach. Most of that construction has been south of Sebastian Street, but now there has been an explosion of construction between the Sheraton Yankee Trader (a hotel that's been there for a long time) and the Bonnet House south of Sunrise Boulevard.

I've put thumbnails for four of the new buildings going up or almost completed along this stretch of beach- among them something called Fort Lauderdale Residences, a Hilton resort and a building that the Trump Organization is putting up. To look at the full-size images of these new buildings, just click on the thumbnails below:




A Friday Bike Ride

I learned on Wednesday that the Air and Sea Show would be this coming weekend. If you've looked at the previous pages in this album, you've noted that last year, when I was down here about this time, I took some pictures of the preparations for the show. I showed you how most of A1A is all blocked off, and the various stands, vendors and things that are brought in for the event. I even took a couple of movies of some of the practice flights.

This will be the first time that I have actually been here DURING the show (last year I left the Friday before it began). So this afternoon I have ridden over to Fort Lauderdale Beach to watch some of the practice flights. The beach was crowded today, but I assume that tomorrow it will be a zoo.
While I was out, I thought I would go back a different way- by going south on A1A to Seventeenth Street and then across the Intracoastal Waterway on the 17th Street Bridge. Here is a view of the Intracoastal from the 17th St Bridge, and you can watch a movie of the view from the bridge using the player below:
Since I was already down by 17th Street, and since I had wanted to scope out the route that I might take if I wanted to ride my bike out to Markham Park sometime, I took Seventeenth Street west to Federal Highway, then went up Federal to Davie Boulevard, and then headed west. I knew that Davie Boulevard was the route to take west over the New River and over I-95, and I knew that it would connect up with Peters Road out to where the IHOP was that I saw on my last trip here.
So, I went far enough along Davie so I could see where Peters came into it; the rest of the way to University and the bike path to the park would be a straight shot. As I returned along Davie, I stopped on the bridge above the New River and took a picture from each side of the bridge. You can view those pictures here and here.
I turned north on SW 12th Avenue, following my nose northeast towards the Riverwalk. I knew it would be nicer biking through these neighborhoods rather than along Davie, and I did find a route that took me over the New River again at SW 4th Street. The bridge over the New River there is the one that is right next to the new Symphony Condominiums, and I could pick up the Riverwalk at that point and take it all the way back to my own condo.
So now I know the route, should I ever wish to use it.
The Air and Sea Show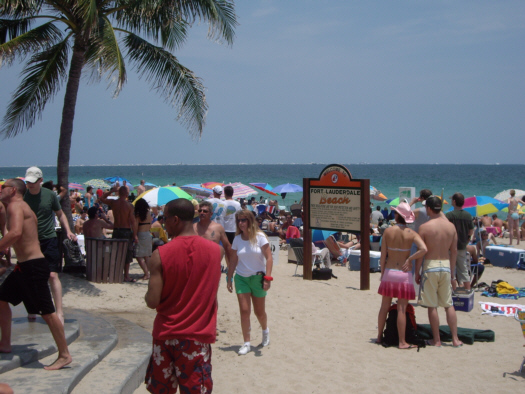 Crowd Scene at Fort Lauderdale Beach


Well, this is the first time I've actually seen part of the Air and Sea Show. On Saturday, about noontime, I rode my bike down Las Olas to the beach, and made my first stop right across A1A at the Las Olas intersection. As you can see in the picture at left, the beach was very crowded with people watching the show. Down here by Las Olas, people were just milling about or lying on the beach watching the show. I made a movie of the scene that you can watch with the player below:

But the main part of the show, or rather the focus of the flybys and other events, was up by Bonnet House and north of Sunrise. That is where all the bleachers and vendor stands had been set up in the previous couple of days. So even though it seemed crowded here, this was not the main body of spectators by any means.



While standing here at the Las Olas corner, I happened to catch one of the jets performing a flyby with a movie that you can watch with the player at right. After a bit, I walked my bike a little further north along the beach boulevard. There were signs indicating that the beach road would be closed between here and Sebastian Street, and so there were not many cars that went north from here; most of them turned onto Las Olas heading west. But a little further north, I got close to the beach wall so you could see more of the crowds on the beach.



Right up by the Sebastian Street beach A1A was closed off and so, looking north you can see that the beach road has been turned into a pedestrian mall. It was fairly easy to bike north in the middle of the roadway; it was so wide that even though there were lots more people walking along than usual, there was still a lot of open space to weave through. I stopped at Terramar Street to take a movie of the Air and Sea Show spectators (you can watch it with the player at left) and then continued on north up towards Sunrise.



Just a little further north I stopped in the median of A1A to take a picture of some planes in formation, and then a movie of a tanker refueling two helicopters in mid-air (which you can watch with the player at right).



But when I got to the corner of Bayview and A1A, the last street before the beginning of the grounds of Bonnet House (which goes all the way to Sunrise), I found that the street had been totally blocked to everything but pedestrians- you couldn't even walk a bike or a stroller or anything like that. So unless I wanted to park and lock my bike, which I didn't, I couldn't go any further. Right here at the intersection were some Fire/Rescue people cooling off the spectators, an Army recruitment booth, a big television and some other stuff. You can see the movie I made of the activity at this intersection that you can watch with the player at left.



Although it would have been interesting to continue on, since I couldn't take my bike, there wasn't much point. So I turned back south, and took a few pictures of the spectators as I went, as well as a movie of some aerial acrobatics and the crowd scene (that you can watch with the player at right). When the crowds thinned out a bit, I was able to ride back down to Las Olas, where even more spectators than before seem to have gathered.

So that was about it for the Air and Sea Show. I really wasn't too interested in staying to watch the planes and stuff; I had seen many of them practicing on Thursday and Friday anyway. Plus I had to be out at Ron and Jay's house for dinner rather early. So I just biked back to the condo, futzed around a bit and had my frozen drink at the dock, and then headed out to Ron and Jay's for a really excellent dinner.


Bike Riding North from Palm Beach
Miles 50-75 From My Fort Lauderdale Condo

Well, it's Sunday, and the Air and Sea Show is still going on, judging from the noise overhead. Since I've already spent some time at the show, I've decided to continue my bike trip up the Florida East Coast. Last year, I set off from my condo with a backpack and what I would need to stay overnight, intending to go 50-70 miles up the coast, stay the night, and then return the next day. As you may already know, if you've been going through this album chronologically, I got just past 50 miles when I discovered that my camera card was full and that more pictures would be impossible.

Not wanting to come so far without some visual record, I turned around (I was at the midpoint of the Thomas Bridge at the time) and biked all the way back home the same day. I was as exhausted as I have ever been by the time I reached home.

Today, I wanted to continue the trip north, but I didn't want to cover, again, the same first 50 miles that I'd done before. So I decided to put the bike carrier on the car and take the bike to approximately the point where I left off before, and then bike another 25 miles or so up the coast to see what I could see. The actual 50-mile point had occurred in the middle of the Buie Bridge, about a mile south of Blue Heron Blvd. on US-1, but since I had come a bit north of that before, I decided to pick up the trip on Blue Heron Blvd. itself.


Getting to Palm Beach


So I'm going to put the bike on the car carrier and drive up to the point where I left off last year- just over 50 miles from here. But it won't take me 5-6 hours to get there- just about 50 minutes. I just jumped on I-95 and headed north, exiting on the north side of Palm Beach on Blue Heron Boulevard.

You may remember, if you've seen the pictures of that historic trip, that 50 miles from the condo, following the route I took, brought me to the top of the Buie Bridge on US 1 north of Palm Beach. This point was just about a mile south of Blue Heron Boulevard. I continued on for about two miles to the top of the Jerry Thomas Memorial Bridge, which takes Blue Heron Boulevard over the Intracoastal and out to A1A north. It was there that I realized my camera memory was full, and it was there that I turned around and headed back home.

Today, though, I have found a dive shop that is open and I've asked them if I can park my car for the afternoon while I go bike riding. That's OK with them, so I've done so. The shop is on the south side of Blue Heron just before the Thomas Bridge- a point I've marked on the large scale map with a small red star. From this point, my plan is to ride as far as Hobe Sound- about 27 miles north of here, following the route I've marked on the map.

I won't try to mark off the miles with pictures, like I did before, but will just photograph what seems interesting along the way. I will supplement the pictures and narrative with maps and aerial views taken from Google; many of them are extremely interesting once you've seen things from the surface.


Car Park to MacArthur Park
My Starting Point on Blue Heron Boulevard


So I've parked the car at the location of the red star, and have biked out onto Blue Heron Blvd. I stopped at Point 1 to take a movie to record the start of my ride. Then I biked up onto the Jerry Thomas Bridge and stopped at Point 2 to take some more pictures and a movie of the panoramic view from the bridge. You can watch both these movies using the players below:

| | | |
| --- | --- | --- |
| Point 1: My Ride Begins | | Point 2: The Jerry Thomas Bridge View |
Then, to supplement the movies, I took a few more pictures. I thought that the new condominium that's been built on the northwest side of the bridge was extremely colorful; I wouldn't mind if Riverview Gardens had a similar color scheme. In this next picture, looking south, you can see the Intracoastal and Palm Beach. The island in the center of the Intracoastal is called Peanut Island.

Finally, here is a picture looking northeast from the bridge showing the new condo developments of Palm Beach Shores. Also, in the distance, you can see the green, undeveloped area that is MacArthur Park.





Map of the Five Miles
from Blue Heron Blvd
to MacArthur State Park

The first five miles of the ride took me across the Thomas Bridge and into the area called Palm Beach Shores. Here, A1A turns north to follow the ocean. I biked past the long row of new condominiums that I marked on the map; many of them were not there when the Google aerial views were last taken.

When I began my ride, I did not know about MacArthur Park. All I could see was the the condos eventually stopped and there was open land. As A1A crossed a bridge over what appeared to be a lagoon off the Intracoastal, I stopped on the bridge at Point 3 on the map to take a picture of the lagoon looking northeast. I could see fishermen wading in the lagoon, so obviously it wasn't very deep. And, off in the distance, I could see what appeared to be a long wooden bridge. But at the moment, I had no idea what it was.




John D. MacArthur Beach State Park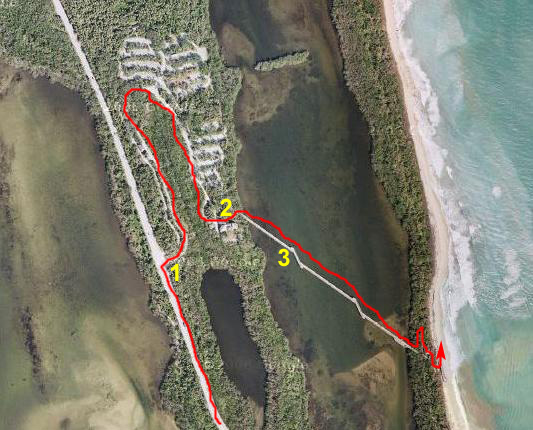 Aerial View of MacArthur State Park


Once I passed the last of the condo developments, I was actually in the John D. MacArthur Beach State Park, but I didn't know that until I had gotten about a mile up the road and reached the park entrance (Point #1 on the aerial view).

Just who was John T. MacArthur? While he has a connection with the 1970's movie "Airport," that is not is real claim to fame. Listeners to Public Radio and watchers of Public Television have undoubtedly heard his name. In 1935, MacArthur, born in 1897 as the impoverished son of an itinerant preacher, put his life savings of $2500 into the purchase of Bankers Life and Casualty Company, it having come near bankruptcy during the Great Depression. In subsequent years, he built up a business empire through the continual acquisition of many small insurance companies.

On his death in 1978, the John D. and Catherine T. MacArthur Foundation was created, and his entire insurance and business empire was sold to fund it. Although he amassed billions in the insurance business, his second fortune was made through the lucrative purchase and sale of Florida real estate- beginning in the late 1940s. At one time, he owned the entire peninsula north of the Thomas Bridge and south of the town of Juno. The southern end was sold off for development in the 1970s, but his foundation later donated the northern end for the creation of this state park.

MacArthur, as it turns out, had many interesting personal connections. In the 1950s, his insurance company signed a little-known radio personality as its spokesperson, and for the next 30 years, Paul Harvey became a household name. Currently, the spokesperson role has been assumed by Dick Van Dyke. MacArthur has connections to the theatre, as well. His brother, Charles MacArthur, was the author of the play "The Front Page," which, of course was also made into a movie.

But what was his connection to the movie "Airport?" MacArthur's sister-in-law was the esteemed actress Helen Hayes- one of the stars of that classic movie.

But for local residents, this park is MacArthur's legacy; you can learn a lot more about it by visiting their website. I paid the $1 entrance fee for a cyclist, and then rode through the park, following the boundary road. There are lots of activities here, including a really great nature center and all kinds of typical park activities. When I reached the nature center, I had a look at the activities board nearby (Point #2 on the aerial view), and I found out what the wooden bridge I'd seen earlier was all about. The central feature of the park is its lagoon, which supports fishing and kayaking and other activities. The bridge is actually a wide, wooden causeway that leads across the lagoon to the beach itself; you can see the entrance to the causeway in this picture.

Of course, I wanted to go over to the beach, and it looked as if I could ride my bike across, but there was a sign indicating that no bicycles were allowed. The problem was solved when, at that moment, two park rangers came off the causeway in their little golf cart, saw me looking at the sign, and told me that it was OK to ride my bike across- but just to be careful and walk it if I encountered a lot of people.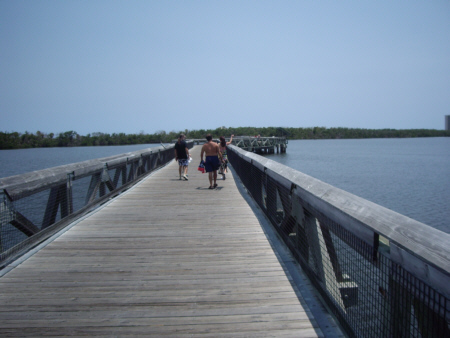 MacArthur SP Lagoon Causeway


So I started out across the causeway on my bike, riding slowly even though there were very few people. Just a short ways out, I could see all across the lagoon and ahead to the barrier island along the beach. To my right, I could see the A1A bridge I'd crossed and the northern part of the condo area of Palm Beach Shores. Just below me, in the water, a kayaker was going underneath the bridge and saw me taking the picture. His comment was that the buildings really ruined the scenery, although I didn't think it was that bad. I learned later that there had been a tremendous controversy about more new development south of the park, but that the MacArthur Foundation had restricted the land use so that no more condos would be built.

Just then, a likely young couple came by and I took the opportunity to have one of them take a picture of me on the MacArthur SP causeway (Point 3 on the aerial view above).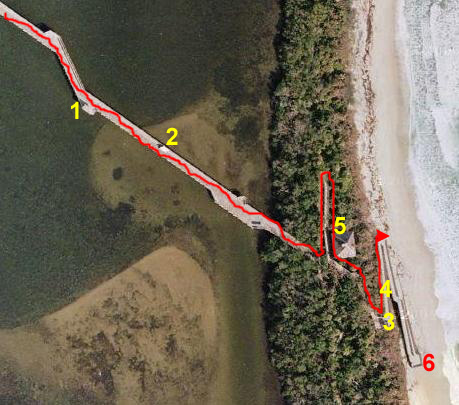 Aerial View of MacArthur State Park
Lagoon and Beach Causeway


I continued on my bike across the causeway. Every so often, as you can see in the aerial view at Point 1, for example, the causeway zigs or zags, and at these points little shelters with seats have been built. I wondered why, for the causeway wasn't all THAT long, but later I learned that they were little tram stops (also used as picnic tables by some folks). Just by happenstance, you can actually SEE one of the little trams in this aerial view at Point #2!

When I reached the end of the causeway across the lagoon, I found that it continued onto a long ramp to my left, although there were also stairs right in front of me. Obviously, the ramp is for handicapped access; it was not wide enough to be negotiated by the little trams. At the top of the ramp and the stairs, at Point #5 on the aerial view, was a beach house with all the facilities. Then the wooden ramp continued through the trees until it came out at the beach.



Here, there was another system of three long ramps that took you down to the beach itself. At the very top of these ramps, Point #3 on the aerial view, there was a seating area with tremendous views. I made a movie here and you can watch it with the player at left. The view was amazing and the beach, although at the moment cluttered with some debris washed up by the storms a couple of nights ago, was wide and inviting. There was a young lady at the top of the ramp (you saw her in the movie), and I got her to take a picture looking north of my bike and I at MacArthur SP Beach (I was standing at Point #4).

Then, I coasted down the first two of the three long ramps to Point #6 on the aerial view, from which I could get a great view of the ramps leading up and down. I spent a little while here at the beach just enjoying the view before heading back up the ramps to the top, and then back along the wooden causeway to the lagoon. Just past the facilities building, I took a picture of the ramps through the trees; a lot of effort has gone into this causeway/ramp system, and I was very appreciative of that effort.

I biked back across the lagoon and then back through the park itself. By now, there were a lot more people here than there had been earlier, and when I got back to the entrance station there was a line of cars waiting to get in. I'd like to come back here, and I would certainly bring Fred; he would enjoy it. When I exited the park, I turned right to continue north along A1A.




Palm Beach Shores and Juno Beach
| | |
| --- | --- |
| | |
| Palm Beach Shores Aerial View | South Juno Beach Aerial |

When I left MacArthur Beach State Park, I continued north along A1A. The road goes through park property for about a mile and a half, and then reaches the town of Palm Beach Shores. Here, it gets residential and then, once again, joins up with US-1 (Federal Highway down in Fort Lauderdale). Following my nose, I turned right and rode along the sidewalks along US-1 and after about another mile or so reached the town of Juno Beach (the sign located at about Point #1 on the aerial view of Palm Beach Shores).

Right at this point, the highways divided again, with A1A hugging the shoreline and US-1 staying some blocks inland. I, of course, followed A1A, and that road wound through an area of beachfront homes and not-so-tall condominiums and apartments.

As I continued riding though, the development ended for a while and I was biking through an undeveloped natural shoreline. I stopped at about Point #2 on the aerial view of South Juno Beach and took a picture of the natural shoreline.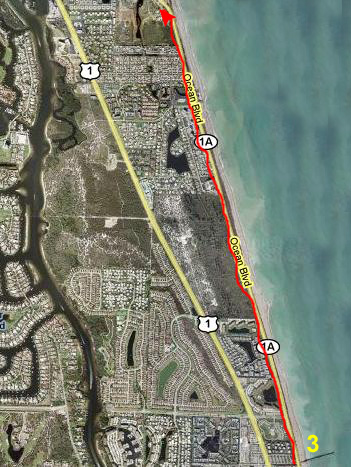 Juno Beach Aerial View


About three miles after entering Juno Beach, the development started up again and I found myself at the Juno Beach Pier (Point #3 on the aerial view at right). There was a fair-sized parking area and nice sidewalks here; the pier itself reminded me of the pier at Lauderdale-by-the-Sea, except that this one looked newer. I couldn't take my bike out on the pier, and I didn't want to go to the hassle of locking it up, so I settled for this picture and also a picture of Juno Beach at Juno Beach Pier.

Then, as you can see by the traced route on the aerial view at left, I continued up A1A through Juno Beach. It was a really nice area, and there were bike lanes all the way to the next intersection with US-1.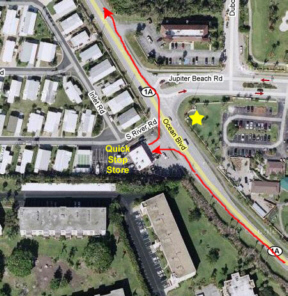 Stopping For a Drink


Just as I was about to reach US-1 again and leave Juno Beach, I found what I'd been looking for for the last hour- a convenience store. A large drink of some kind was just what I needed. So I stopped in at the Quick Stop store, bought my 32-ounce drink, and went across A1A to a small park to sit down and relax (the yellow star on the aerial view).

When my drink was finished, I got back on the bike and continued up A1A. The signs told me that an intersection with US-1 (again) was just ahead.




Jupiter Inlet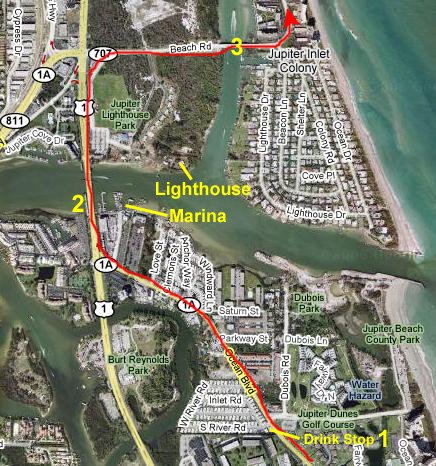 Jupiter Inlet Aerial View


At right is a map of the next small section of my ride. After stopping for my drink (right at the border of Juno Beach and Jupiter), I continued north along Ocean Blvd. (A1A) for a short ways (on sidewalks, this time, for apparently Jupiter doesn't put the emphasis on bike lanes that Juno does), and came to another intersection with US-1 (which, of course, has been paralleling A1A all the way north). From the map you can see why A1A has to connect up with US-1 here; there is no way to bridge the barrier islands without taking up a huge amount of prime beachfront property. Plus, since this is a major inlet, the bridge would have to be either very high or another drawbridge; it was easier and cheaper to have just one bridge rather than two.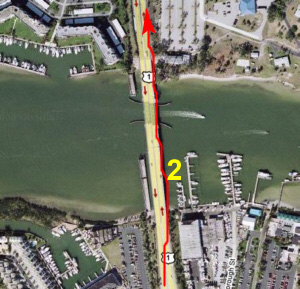 Jupiter Inlet Marina

I stopped on the bridge (at Point #2 on the large map and the smaller inset map) and took a picture of the small marina that is nestled on the ocean side of the bridge. I think it is immensely interesting that you can match up my picture of the marina with the maps quite precisely; it almost appears to me that the same boats are in the same slips, although it is highly unlikely that this is actually the case.

From the same position, I was able to get a good view of the Jupiter Inlet Lighthouse. When I circled around Lighthouse Park a few minutes later, I discovered it is in the center of a large picnic and camping area; there are also tours of the lighthouse.

I continued north along US-1 for less than a quarter mile north of the bridge and then saw the turnoff for A1A again- here called Beach Road. As I made the turn, the town of Tequesta was on my left. I had a bike lane again, and Beach Road sloped up to the drawbridge over the Intracoastal Waterway. I stopped in the middle of the bridge to Jupiter Inlet Colony and took this picture of the Intracoastal Waterway looking north. I could see some people in a small boat a bit north of the bridge, but I couldn't quite tell if they were swimming or standing, so I took this closeup of the boaters and learned that, at least away from the middle of the channel, the Intracoastal Waterway is not very deep here!

Ten-Mile Ride to Hobe Sound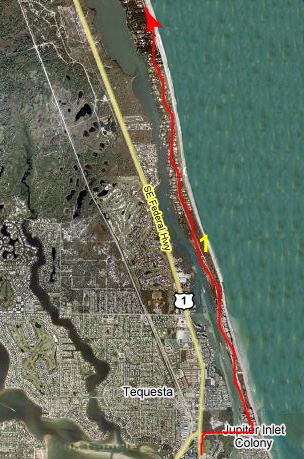 Route to Hobe Sound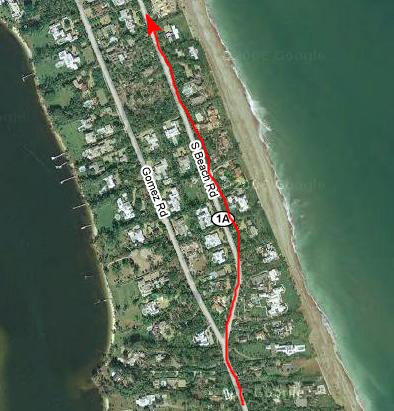 Entering Hobe Sound


The route north from here was easy; the only road to follow is A1A, locally known as Beach Road.

Just as I was finishing taking my pictures from the bridge to Jupiter Inlet Colony, I ran into a cyclist coming south across the bridge. Although he looked a lot more professional than I (in Spandex and with one of those racing helmets with a really nice bike), he, too, stopped to admire the view up and down the Intracoastal.

I asked him whether the road across the bridge was actually A1A, and whether it would continue up the coast or dead-end. He told me that it would be about nine or ten miles from this point up the road and I would come to Hobe Sound. There, even though the road would seem to continue straight on, I would have to turn left, go back across the Intracoastal, north and over another inlet and then back out to the beach highway.

It sounds as if much of A1A is like this. Down closer to Fort Lauderdale, A1A seems to have its own bridges across inlets, such as at Hillsboro and Boca Raton. But, then again, at Palm Beach I had to get to the west side of the Intracoastal to ride north to the Thomas Bridge I'd crossed earlier, which got me back out to the ocean. These oddities make it interesting, but there should be clear signs for someone (in a car or on a bike) who wants to follow A1A continually. I have seen them but they are easy to miss, and you can end up at a dead-end (sometimes, as I might have in Palm Beach, after riding for a few miles out of your way).

I thanked him for the information and I set out. The left hand hybrid map covers about eight miles. I eventually ran out of development when I left Tequesta (the town, I found out later, has its boundaries extend directly across the Intracoastal to take in the portion along the ocean; Jupiter Inlet Colony is actually south of Tequesta) and came to another stretch of unspoiled natural oceanfront.

I continued north, and eventually came into a long, long stretch of houses again, on both sides of the shady highway. I assumed I was entering Hobe Sound, because from the first house I came to the house numbers were counting down (from about 600). After a few miles of one lovely house after another (the ones on the west side of the highway having large front yards, presumably so the house itself can back up to the Intracoastal), the road divided, as you can see in the right hand view.

Pretty obviously, the barrier island was getting wider and wider, and was now so wide that it didn't make any sense to have just two rows of houses; the ones on the west side would have had three- and four-acre front yards! I stayed close to the beach (although as it turned out I returned via the other street- Gomez Road.

Hobe Sound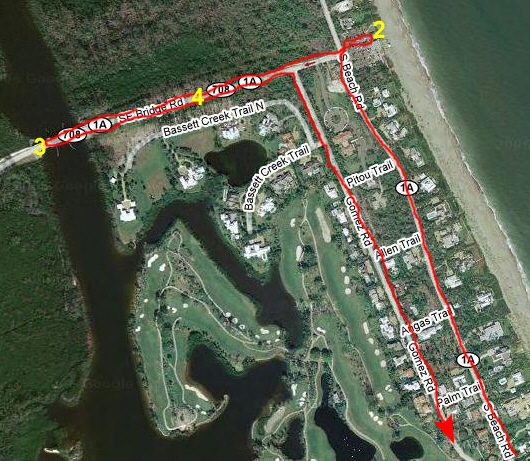 Hobe Sound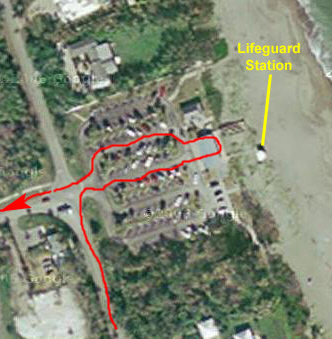 Hobe Sound Park


I continued to bike along, enjoying the afternoon, and watching the house numbers slowly wind their way down to zero. And, sure enough, when they did, I found myself at Hobe Sound Beach. It wasn't a big affair, just a parking area, covered picnic and seating area, and the beach.

I turned into the parking lot and biked to where I could see Hobe Sound Beach and the lifeguard station overlooking it. The aerial views weren't really necessary, but the right-hand view shows my way through the parking lot and also points out the lifeguard station that you can see in my picture. In the more expansive view at left, I am at about Point #2.

I just sat at the beach for a while, enjoying the afternoon, and then got up and thought I would go see where the road that dead ended into the beach crossed the Intracoastal. I only had to ride about a half mile along a beautiful, tree-lined road (Point #4 on the view) before I came to the bridge over the Intracoastal. You can see the road sloping up to it in the picture you just looked at. Here is another view of the tree-lined road looking towards the beach.

When I got to the bridge, I found that, as expected, it was a drawbridge; it was fairly low, and that would be the only way to allow any traffic at all along this portion of the waterway. I stopped on the other side of the bridge (Point #3 on the view) and took a picture of the Intracoastal at Hobe Sound (looking south). Oddly enough, I expected to find US-1 just on the other side of the bridge, but I couldn't really see any development at all. I should go back to the aerial views on the Internet and see how far it actually was to the main highway.

My Return

Well, according to my odometer, I've come about 26 miles from my starting point on the north side of Palm Beach, and this seems like a good place to turn around. Maybe next time I'm down here, I can bring the bike and car to Hobe Sound Beach and then continue my ride up the Florida East Coast.

Getting home was no problem. I just retraced my route back through the beautiful homes of Hobe Sound, through Tequesta and back across the Intracoastal to US-1, down the highway and over the Jupiter Inlet to A1A again, and then down A1A through Juno Beach and into Palm Beach Shores. There, I followed US-1 a ways until A1A turned off again, and I biked through MacArthur Beach Park, back through the development north of Palm Beach, over the Taylor Bridge and to my car, reaching it just as the weather turned a bit threatening. I even stopped for another soda at the same convenience store on the way back.

I thanked the people in the dive shop for letting me park my car in their lot, loaded everything up and headed back out to I-95 for the one hour trip home. It was a very satisfying ride, and for once I wasn't totally exhausted.

A Windy Day at the Fort Lauderdale Beach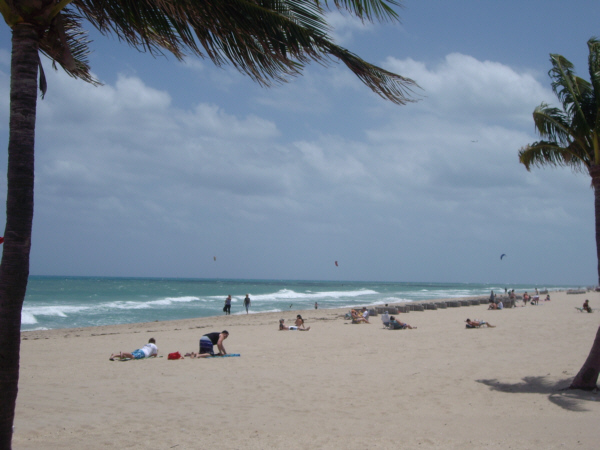 Fort Lauderdale Beach


On Monday, I took a bike ride down to the beach just to see how it had fared now that the Air and Sea Show was over. It had been clear and very windy when I got up, and when I got to the beach I found that the surf was as active as I have ever seen it. I took a still picture of Monday morning at the beach- quite a change from Saturday and, I presume, yesterday.



I made a movie so you could see and hear the big waves at the beach, and you can watch it using the player at right.

I did ride up to the end of the beach; almost everything had been taken down up as far as Sunrise, although they were still clearing away some stuff north of that. But it was still pretty amazing; it had taken them three days to put everything up before Saturday, and by Monday noontime it was almost all gone.


New Framed Watercolor


A trip or two ago, Larry French gave me a couple of the Chinese watercolors done by the artist he wants to represent, and asked me to take them to Fort Lauderdale to see how they might sell there- since they are so colorful and all.

I had done that and reported back to him that almost everyone I showed them to liked them, and he turned around and gave me my pick of the two pictures. On my last trip down here, I took it over to Pearl to have it framed, and on this trip I have picked it up. Here is a full-size image of the framed watercolor. I haven't hung it yet, but I will on my next trip back.




Meeting Some New Friends

Going to Florida has almost become routine, but every once in a while, something new happens, or Fred and I find some new place to see or something to do. On this trip, I made a couple of new friends.

I was waiting for my flight to Fort Lauderdale on Tuesday when I noticed a very attractive guy come down the Dallas concourse and pass in front of the waiting area where I was sitting. I didn't think much of it, but when they made some sort of announcement about the short delay on my flight, and I glanced over to the podium, he was behind it using one of the display screens.

That meant that he worked for the airline, and from his age and demeanor, I assumed he was a pilot, perhaps deadheading somewhere, since he wasn't in uniform. I went over to the podium to ask my flight's gate agent a question I already knew the answer to just so I could get a better look; I was rewarded with a nod and a smile from him. But when he was through with the terminal, he went on down the concourse and out of sight.

A half-hour later, my flight boarded. I got my usual aisle seat- 21D in the second emergency exit row- and let a nice young lady in to take the window seat. The flight wasn't full, and no one else showed up to claim the center. But to my surprise, the pilot did show up and took the aisle seat right in front of me. Another nod and another smile.

When the doors closed, and no one had taken the other two seats in his row, I got my bag and moved up a row, asking him if he'd mind if I took the window. He didn't, and I did.

Shortly after the plane got in the air, we began conversing. It's not necessary that I relate all the chit-chat, but suffice it to say that Joe Palmer turned out not to be a pilot but rather a fairly senior flight attendant for American. (I know it seems odd that I have a picture, but Fred is always wanting me to provide more details about people than I seem to remember, so my excuse to Joe was exactly that- that a picture would be worth a thousand words to my partner.

We talked about quite a bit. He's been with American for almost 30 of his 57 years, and currently flies a Miami-Madrid-Chicago route. He originally lived in New York City, but has also lived in Fort Lauderdale and Dallas (down in Cleburne, as it turns out). He is on his second long-term relationship, this one of sixteen years, and moved with that fellow to Palm Springs (again a coincidence, living just eight or ten blocks from where Greg used to be). He deadheads from Palm Springs to Fort Lauderdale, where he has left a car at a friend's house, stays with him a night, and then drives to Miami International to pick up his flight. Five days later he reverses the process.


Unfortunately, Joe's partner just recently told him that he "wasn't happy" and wanted to split up, and so they are in the midst of that after sixteen years together. I can only imagine how I'd feel if the same thing happened to Fred and I. We swapped stories of our experiences with coming out, relationships and work. Joe was very easy to talk to and, as I said earlier, very attractive. I was upfront about wanting to take a picture, and I think he was flattered. He had a few drinks, too, and after that didn't object when I asked if I could film a short movie; you can watch it with the player at left.

He just seemed to be a thoroughly nice individual- open, talkative, and interesting. I did discover that he was thinking of leaving Palm Springs when he and his partner could work out the details of unloading the house they've only had for a few years. He indicated that while he wouldn't be moving for a year or two (allowing his equity in the house to rise with the cost of housing in Palm Springs), that when he did, he was considering Dallas, again, and Fort Lauderdale, again. Of course I spoke for Fred when I told him that if he chose Dallas again, we'd be pleased to be two of his first friends there.

The flight passed very quickly, and soon we were coming in to Fort Lauderdale-Hollywood Airport. I'd told him where my condo was and that I usually took the city bus downtown and then walked a few blocks. He said that his usual practice was that his friend, Lew Balaban, picked him up and they went to dinner right away. Lew, apparently, likes to eat early, and we were already 45 minutes later than our scheduled 6:30 arrival. But he did volunteer to drop me at my condo; Lew lives about ten blocks diagonally from me on the other side of the New River and dropping me was certainly, he said, not a problem.

So that's what happened. Before getting off the plane, Joe gave me his phone numbers, and we went outside to wait for Lew. When Lew showed up, he proved to be another nice, easygoing guy. He originally met Joe in New York City, but lost touch with him when he moved to Fort Lauderdale to help his parents. Twenty years later, Lew asked another American flight attendant to see if he could track Joe down. He did, and they reconnected some years ago. Theirs is a fast friendship; Lew has also been in a long-term relationship but is now single again.

They dropped me at my condo; had I gotten an invitation to join them for dinner I would have, but I didn't. I think Joe wanted me to join them, but I also don't think he wanted to spring something on Lew that he wasn't up for. But, as it turned out, I got a call from Joe the next day from Miami asking me if I would reserve the next Monday night for dinner with them on his way back through Fort Lauderdale to Palm Springs. Of course, I said, I'd be happy to.

When Monday rolled around, he and Lew showed up right at 6:30. I suggested having a drink out at the dock, but both were hungry, so we walked over to The Cheesecake Factory- one of Lew's favorite places. We had a really nice dinner, and I learned quite a bit about Lew as well. Since Lew lives in Fort Lauderdale, I wanted to make a good impression, so I'd have another friend to bum around with when I am here. Lew is a court reporter by profession, but also does signing for the deaf (a connection with Guy). In yet another coincidence, he had just finished signing the two weekend performances of The Lion King at the Fort Lauderdale Performing Arts Center.

I found both guys very easy to talk to and get along with, and I hope they felt the same. After dinner, we walked outside and I got a photo of Joe and Lew sitting on one of the planters outside the restaurant, so I wouldn't have to wrack my brain trying to describe Lew to Fred. I also had Lew take a picture of Joe and I- not my best picture, but good enough.

They came back to the condo for a while; I wanted Lew to know where it was in the building so if he ever wants to come over he'll be able to find it easily. Joe had given me his email address, but it actually had his ex-partner's name on it, so we helped Joe set up his own account at Google Gmail- an address we've used a couple of times since then to correspond.

I look forward to seeing both of them again. It's more likely that I'll see Lew, but I could easily run across Joe as well. As a matter of fact, I have since found out that his next trip is on May 29th, the same day I am returning for my next sojourn. So I guess it's possible we could be on the same plane again, or at least the three of us might have another meal or two together at the end of the month.

My Visit Ends

My last two days here were pretty routine; bike riding, frozen drinks...the usual. The flight home was very pleasant; for once, I got upgraded. Greg was in Austin, so since it was midweek, I took SuperShuttle home from the airport- something I haven't done in quite a while.
---
| | |
| --- | --- |
| | May 29 - June 5, 2007: A Trip to Fort Lauderdale |
| | April 24-26, 2007: A Visit to Ruckman Haus |
| | Return to Index for 2007 |