| | |
| --- | --- |
| | May 12-15, 2009: A Visit to Ruckman Haus |
| | April 25, 2009: At the Dallas World Aquarium |
| | Return to Index for 2009 |
---
April 29 - May 11, 2009
A Trip to Florida

On the 29th, Fred and I left in my car for another trip to Florida. If you have visited the "Pets" page for this year already, you know that we have a new kitten- Buster. He was too young to leave in the care of Steve and Mario, so we have taken him with us on the trip. If you have not visited that page (accessible from the index for 2009), and you would like to see pictures of the kitten on the trip and in Florida, that is where you will find them. The narrative and pictures on this particular page will focus on our trip and what we did.

Getting to Fort Lauderdale

When we returned from Florida last time, we followed the directions given by the GPS that Ron Drew and Jay had given us. It sent us diagonally across Mississippi rather than up through Louisiana. Today, we've decided to follow the GPS again and retrace that route: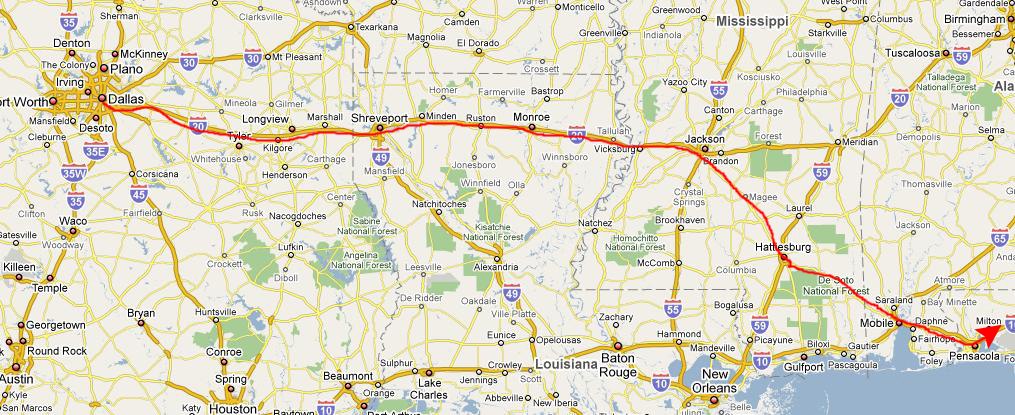 As it turned out, the driving was pretty good, and we found that the route was certainly shorter distancewise. I supposed it will become a regular route from now on. We passed around downtown Mobile about 5PM, and by six we were crossing the causeway at Pensacola.


We stayed overnight at a Super 8 Motel in Madison, Florida, just a short distance north of I-10. We didn't tell the motel about Buster, and it turned out that he had a great time in the room, bouncing off the walls until he got tired. He was quite fastidious and I doubt that anyone would ever know that a pet had been in the room. He was actually a pleasure to have along.

On the 30th, we followed our familiar route across I-10 past Tallahassee to I-75, then south to Florida's Turnpike. We took that down to Fort Pierce where we got on I-95 for the last run into Fort Lauderdale. We went straight to the condo to unload and get Buster situated, and had a frozen drink and then dinner at the Floridian Restaurant.


Friday, May 1

Today was a day to sleep in, relax, play with Buster, toy around on the computers, watch a little television, play frisbee, have a frozen drink and then go out to Ron Drew's to have dinner with him and Jay Silbert. (I might mention here that Jay cooked three times for us during our stay here; he has become much like Jay Enriquez, taking pleasure in putting together a good meal. Jay, however, is still on the Atkins Diet, and most times did not eat what he had cooked for us, but something else that was high in protein and very low in carbs. Towards the end of our ten days here, we were feeling a little awkward about that, but all we could do was to take them out a couple of times as payback.)

About the only pictures we took today were at the dock while we were sipping on our drinks. But there weren't many boats to speak of, and the sky was a little hazy, so since you've seen lots of pictures taken from the dock already, I'll not include any of today's pictures and wait for some better ones.

Saturday, May 2


On Saturday, we planned to take Ron and Jay out do dinner, and we did- to the Fort Lauderdale Ale House- which is a favorite of their's. During the day, we did our usual, having a bit of lunch at the Floridian. On the way back, we stopped at the Las Olas Bakery to get a loaf of artisan bread, and this provided a late-afternoon snack. We had our usual drinks down by the dock, and this evening there was some river traffic, and so I've included a few of Fred's pictures here. Just click on the thumbnail images at left to see these pictures. We had a good dinner with Ron and Jay, and spent a bit of time at their house afterwards watching TV.

On Sunday, Ron and Jay planned a pool party and there were six of us there- Fred and I, Ron and Jay and John Molina and his friend Ron Smith. Jay cooked a great meal, as usual- ribs. We had a lot of fun and spent the entire evening out there.

Monday-Friday, May 4-8

The middle of the week was very relaxing, very enjoyable and very routine. We had dinner a couple of times with Ron and Jay, we walked the Riverwalk, we played Frisbee and we lounged around the condo. About the only NEW think we did was to have dinner on Las Olas at a place called Smith & Jones, which Fred had been wanting to try. It was a little pricey, but the food was quite good. We even tried alligator fritters; they had an interesting taste but we both thought that the best thing about them was that now we could say we had eaten alligator.

Almost every evening, we sat down on the dock and had a frozen drink; I never get tired of doing that, no matter what the season is. Fred usually takes his camera, and each day takes a picture or two. Below are thumbnail images for six of the pictures he took during the week; click on them to see the full-size images:




At the Riverview Gardens Dock

On one of the evening while we were at the dock, Fred made a movie when a particularly large, particularly nice boat came by. It was being towed up the river.


On Friday, we decided to go see a movie- "X-Men Origins: Wolverine"- which was playing at the Riverfront Cinema. We decided to have lunch at the Briny Irish Pub on the way over.

As usual, we walked from the condo along SE 4th Street to SE 8th Avenue and then up to Las Olas Boulevard. For many years, there has been a row of stores and restaurants along the south side of Las Olas between SE 8th Avenue and the Riverside Hotel. Cheeburger, Cheeburger was always a great place for a burger and fries, although it closed some time ago. In the last year, it seemed as if many of the stores either closed or moved, and Ron told us that it was because the Riverside Hotel had either bought the rest of the block or already owned it, and wanted to expand the hotel into it.

So, as leases came due, they were not renewed, and gradually all the stores and shops were emptied out. The last time we were here, demolition had begun on the entire row of storefronts, and we expected that we would see signs of the hotel expansion that Ron had told us about.

You can imagine our surprise when we drove in on Thursday to see no signs of construction at all. As a matter of fact, all the debris from the buildings had been cleared away and a lawn planted in their place! We have not had the opportunity to walk by the area until now, and we are just amazed. The turf is quite nice, the area has been fenced off with a tasteful chain, a nice hotel sign has been put at the southeast corner of the plot, and people are walking on the grass or kids are playing on it. I assume that this has been done because the economy is such that the expansion has been delayed. Whatever the reason, this must be one of the most expensive lawns in the country- given the price of real estate along Las Olas!

World's Most Expensive Lawn

Here's a movie that will show you what the area around the new Riverside Hotel Lawn looks like. We continue to be amazed that no construction is underway.


We walked our familiar route along the Riverwalk to the Andrews Avenue bridge; the Briny Irish Pub is just beyond that. We got a table right by the edge of the dining area so we could look out on the river and the pedestrians going along the Riverwalk. Click on the thumbnail images at right to see some pictures of us at lunch.

As I said, one of the attractions of eating here is watching the boat traffic and the pedestrian traffic go by, and the two movies below will show you what I mean:


We went and saw the movie, which was pretty good, and then walked back down Las Olas towards the condo. Just before SE 9th Avenue, there is an alley with some seahorse fountains that we walk through fairly often. We had checked out the times for the music on weekend evenings, and have decided that when Ron and Jay come over tomorrow night, that's where we will take them for dinner.

Saturday, May 9

After a normal day of normal activities, we have asked Ron and Jay to come over to the condo and let us take them to dinner at the Briny Irish Pub on the Riverwalk. We asked Jay to look at their menu online, and he assures us that there will be stuff that he can eat on his Atkins diet. Just to be sure, I picked up a bag of roasted peanuts; I know he is fond of them as a snack. They came over about seven, and we sat by the dock and had something to drink before heading off on our walk to the Briny Pub.

Below are thumbnail images for some pictures we took at the dock and along the Riverwalk; click on them to see the pictures:




At the Briny Irish Pub

One of the reasons why we wanted to come here for dinner was that we understood that there was live music on the weekends, and indeed there was. Our meal was good, and we could listen to the music all the while. After dinner, I made this film of the musical performers and of the restaurant itself.

After dinner, we walked around Riverfront Center for a while, and then headed back towards the condo along Las Olas. Just across Andrews Avenue, we stopped at the Wayne Huizinga Fountain, named for the former Blockbuster founder who donated the land and the money for the park and fountain. We always like to stop by the fountain if we are out walking at night; it is very pretty when it is all lit up. Pictures, though, don't really do it justice, so you might want to watch the two movies I made of the fountain this evening:
| | | |
| --- | --- | --- |
| The Vermont State Capitol from State Street | | The Capitol Grounds from the Portico |
We had a really nice evening, and sat by the dock a bit longer after we returned to the condo. I think that Ron and Jay enjoyed it.

The Rest of Our Time in Fort Lauderdale

Originally, we had planned to leave Fort Lauderdale for Prudence's house in San Antonio on Sunday. But she had called midweek and told us that she, Ron and Guy (would arrive there on Sunday) would be driving up to Fort Worth to have dinner with her mother in honor of Mother's Day. They would drive back down to San Antonio on Tuesday. So we simply altered our plans by one day, and left Fort Lauderdale on Monday morning. By this time, we had our traveling kitten stuff down to a science as we began the trip to San Antonio.


You can return to the top of this page or use the links below to go to another album page.
---
| | |
| --- | --- |
| | May 12-15, 2009: A Visit to Ruckman Haus |
| | April 25, 2009: At the Dallas World Aquarium |
| | Return to Index for 2009 |