| | |
| --- | --- |
| | July 14-27, 2009: A Trip to Florida |
| | June 26-28, 2009: A Trip to Oklahoma City |
| | Return to Index for 2009 |
---
July 6, 2009
The Paul Potts Concert in Dallas

My friend Mario is going to review the Paul Potts concert at the Nokia Theatre out in Grand Prairie this evening and, since Steve is working, he has asked me to go with him. (Knowing Mario has benefits in addition to a great friendship; he often has extra tickets to shows and concerts he is reviewing. It was his efforts that got us into most of the shows that we attended in Las Vegas earlier in the year.) I think he asked me also because he knew I was struck by Potts's "Cinderella Story," having shown him all the YouTube videos of his performances in "Britain's Got Talent" last year. (If you haven't already seen some of those videos, do yourself a favor and take a look at his first audition video; just click here and I will pop it up in a new window for you.)
The Nokia Theatre Venue in Grand Prairie
The Theatre


The Nokia Theatre Venue in Grand Prairie, Texas


(Please note: the self-serving text below was taken from the web site of the Nokia Theatre)

One of the most flexible and advanced indoor performance spaces in the United States, NOKIA Theatre is the first venue of its kind. Many touring artists have already called NOKIA Theatre at Grand Prairie "the theater of the future."

Featuring comfortable, spacious seating, elite luxury suites with private entrances, upscale catering, corporate hospitality areas and convenient parking, NOKIA Theatre sets a new standard in the concert and theatrical touring industry.

With its 6,350-indoor seating capacity, this venue was conceived and designed to accommodate a wide range of stage productions, including pop, rock, country, comedy, magic, Broadway and family shows. Since its February 2002 opening, the facility has hosted everything from the Eagles to Jeff Foxworthy to the Radio City Rockettes.

Getting There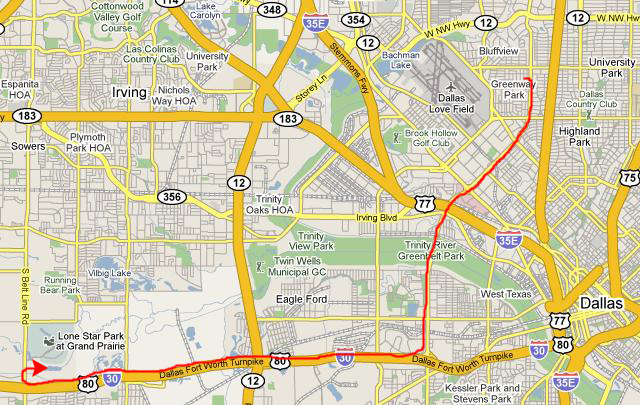 From My House to the Nokia Theatre


Getting to Nokia is pretty easy. Although I went over to Mario's house and we went from there (he had to go back to the newspaper after the concert to write his review), I've marked the route to Nokia from my own house. Since my own house appears more often in this album, it may give you a better idea of where the theatre is in the Metroplex.

It is right next to Lone Star Park, and you may have seen pictures of my sister, my niece and I there at the races on an earlier page.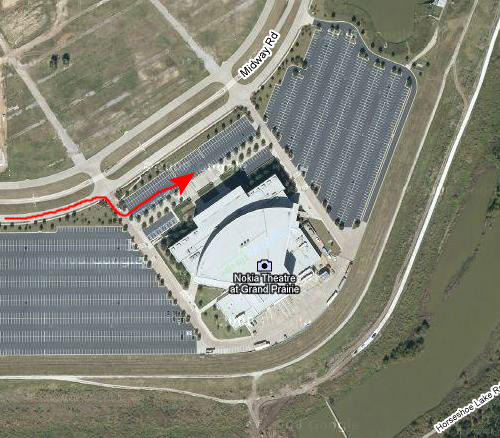 Aerial View of the Nokia Theatre


We got to the theatre in plenty of time for the concert, and Mario got a priority parking space right in front (as he usually does). We met the photographer from the Dallas Morning News, and he and Mario discussed the photos he would need, and then we went on into the theatre.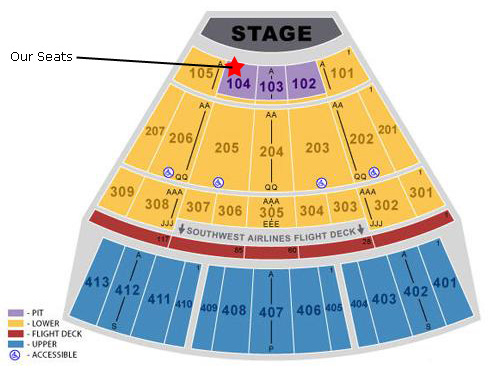 We got excellent seats at the lightly-attended concert, and were in place well before the start time.


The Concert


It was a shame that the there were so few people at the concert. I would estimate that there were about 750 people there, well below the six or eight thousand that the theatre can hold. I think that Paul and his two accompanying vocalists could easily see that the crowd was small, and I give all of them even more credit for putting on a good program.

There is really not much that I can say about the concert itself, except that Paul Potts looked and sounded exactly as he did on "Britain's Got Talent" and on his first CD, which I have. The winner of the American version of that show that did a short set, although I didn't think he was very good. And there was a female vocalist from Nashville who did a couple of solo performances and also sang twice with Paul Potts.

As far as pictures go, the lighting and our vantage point didn't allow for many good ones, but you can see an acceptable view of Paul Potts here.


As Mario said in his review, the staging was minimalist and the program was carried by Paul Potts' voice and his Cinderella story. I took movies of three of his songs, including the two that won him the competition in Britain. You can watch these movies by clicking on video players below:
| | | |
| --- | --- | --- |
| Paul Potts performs "Music of the Night" | | Paul Potts performs "Time to Say Goodbye" |
Paul Potts performs "Nessun Dorma"
All in all, I thought it was a very nice evening, and I thought that Paul Potts did a great job. When the performance was over, Mario and I drove downtown to the Dallas Morning News building where I hung out for a while while Mario wrote his review.
You can use the links below to go to another album page.

---
| | |
| --- | --- |
| | July 14-27, 2009: A Trip to Florida |
| | June 26-28, 2009: A Trip to Oklahoma City |
| | Return to Index for 2009 |