| | |
| --- | --- |
| | April 3, 2010: A Visit to the Dallas Arboretum |
| | March 10-24, 2010: A Visit to Fort Lauderdale |
| | Return to Index for 2010 |
---
March 27, 2010
The Josh Turner Concert
at Billy Bob's Texas




Getting to Billy Bob's Texas



It's March 27th, a Saturday, and Mario is taking Fred and I and Steve to Fort Worth to Billy Bob's Texas to watch Josh Turner- a country singer whom we all like. We've been looking forward to this for months, especially since Mario has arranged for the four of us to meet him backstage before the concert. Mario will be writing a review of the concert for his paper, the Dallas Morning News.

Since the huge Gilley's closed in Houston some years ago, Billy Bob's bills itself as the largest such venue in the world, and is able to attract many top Country/Western acts.

Fred and I drove over to Mario's house, and he, Steve and I headed over to Fort Worth. We planned to stop and eat at one of the few Don Pablo's restaurants still operating over in the mid-cities. I haven't traced the entire route; that's really unimportant. But we went down US 75 to Stemmons Freeway, and then onto the airport freeway and over into the mid-cities. After we stopped to eat, we continued on the airport freeway over to Fort Worth, to I-820 and I-35 to the stockyards area.




Billy Bob's Texas



Billy Bob's (actually something like the combination of a large bar, an arcade, a small rodeo, a large dance floor and a performance stage) is located at the north end of what used to be one of the largest stockyard operations in the country.

The Fort Worth Stockyards roared into high gear about the turn of the century when it became apparent that the southwest needed a cattle/pork sales and processing operation to supplement the other major ones in Kansas City and Chicago. As it turned out, Fort Worth was more centrally-located for much of the stock that was raised in the country, and for a long while it eclipsed both other stockyards in size and activity. Armour and Company and Hormel opened large plants right adjacent to the stockyards themselves, with the result that meat on the hoof came in one end and processed or cut meats left at the other.

After World War II, meat packing became more decentralized, and the huge operations in Chicago, Kansas City and Fort Worth declined. By the late 1960s, both meat packing plants in Fort Worth had closed, and activity at the stockyards fell off.

With the help of the city of Fort Worth, the Stockyards were able to reinvent themselves as a tourist venue. One of the packing plants is now a museum, and there are shops, festivals and, of course, Billy Bob's. I've been to the Stockyards a couple of times before, but this trip to Billy Bob's was a new one for me.





I know that the aerial view really doesn't help you understand the layout of the Stockyards much, but I thought it was interesting nevertheless. As you can see by comparing it to the size of some of the parking lots, Billy Bob's Texas is the size of a Wal-Mart Supercenter.

In the northeast corner of the building, there is a structure that houses a small rodeo arena, and they actually conduct small rodeos there. Admission to the honky-tonk doesn't include entry to the rodeo venue, though; the two seem to be separate. While we were wandering around before the show, we went up to the interior entrance and there was a show of some kind going on.

There are a couple of restaurants and small bar areas at the north end of the building. The arcade is next as you move south- games, mechanical bulls and about ten pool tables. Then there is a large central bar area, with the dance floor south of that.




Before the Show


As I said, Mario was here officially to write a review of the Turner concert. As is often the case, he gets a lot of special treatment as a member of the press; I would imagine that all performance acts try to maintain cordial relationships with reviewers like Mario.

Mario, Steve and I all had VIP tickets and backstage passes. One of the entitlements that came along with the arrangements was a "meet and greet" with Josh Turner before the concert. I wasn't familiar with this ritual, but Mario explained that it gives the reviewer a chance to meet the artist personally, and perhaps gain some perspectives that would be hard to get just by being in the audience. Other candidates to attend these pre-concert meetings are local artist fan club members and other, similar people who have more than a passing interest in the artist.

Mario's arrangements got us in to see Josh Turner as part of this pre-show ritual (held in a kind of "green room" behind the performance stage). So after waiting around for a little while in the bar, we were met by one of Josh Turner's managers and invited back to a short line of folks that would also be meeting Turner and perhaps having their pictures taken with him. When we reached the actual "green room," we could see Turner, some of his entourage and some folks associated with Billy Bob's, and they were queuing up the folks so they could meet Turner one at a time.


Josh Turner Meets His Fans

When we were next in line to meet Josh Turner, I filmed the procedure for the person ahead of us. I wouldn't be able to film our own meeting, of course. But our meeting was the same- the manager brought us forward and introduced Mario. We introduced ourselves and then I had Turner's assistant take our picture with my camera. (I apologize for the blue cast to this film; I still had it set on "daylight.")


The picture taken of us turned out very well: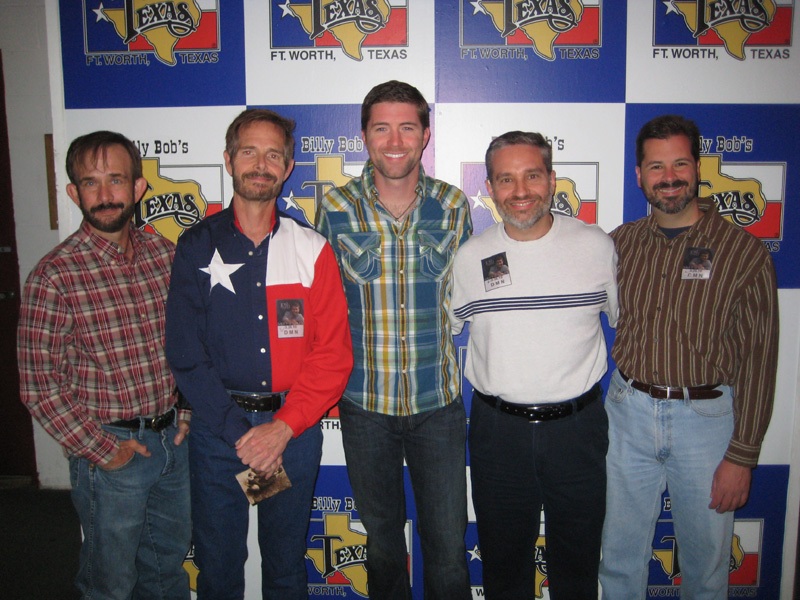 The Concert


After meeting Turner, we headed out to the performance stage to find our seats. As usual, Mario was given perhaps not the very best seats but certainly very good ones. I assume performers want him to be able to see and hear well so he can write an honest (and hopefully favorable) review. It's not an auditorium but rather an area filled with long narrow tables with chairs on both sides. We were about three tables from the most central one, with Steve and Mario sitting across from Fred and I. They were facing the stage; we had our backs to it and had to swivel around when the show started. I suppose the reason for this seating arrangement is to encourage people to order drinks before the show, which a good many people were doing.

When the show started, I realized right away that I wasn't going to be able to get good movies; we were too close to some of the speakers for that (except on quiet selections). But, more than that, there were monitors coming around and telling people who were obviously filming that this practice was not allowed. (My camera is small enough so that I could have taken films without being noticed, but I would not have been able to hold the camera up to get good ones.

So I contented myself with flash pictures, and I have included many of them here. They are somewhat repetitive, so click on as many of the thumbnails below as you wish to have a look at these pictures:


Josh Turner Sings "Long Black Train"

This song, which Turner did as an encore, was his first hit, and the first song I saw him do in a music video on Country Music Television. He has an amazingly deep voice for someone so young, and I began to watch for his videos whenever I watched CMT. As I said, my camera is unobtrusive and I got through the entire song without notice. This is a long clip, so I'll understand if you don't watch it all.


We really enjoyed the concert, and we thank Mario very much for getting us in to see it.

You can use the links below to continue to the album page for different day.

---
| | |
| --- | --- |
| | April 3, 2010: A Visit to the Dallas Arboretum |
| | March 10-24, 2010: A Visit to Fort Lauderdale |
| | Return to Index for 2010 |