| | |
| --- | --- |
| | September 4, 2010: Steve Friedman's Birthday Party |
| | July 5-8, 2010: A Visit to Ruckman Haus |
| | Return to Index for 2010 |
---
August 13, 2010
The August Birthday Party
Rudolf Lowenstein Visits from England





On August 11th, Rudolf Lowenstein arrived for his biennial visit. Because of his visit, and because he would be leaving on Saturday morning, August 14th, we postponed the August birthday celebration for Ron Mathis, Fred and Mario until Rudolf was here. That meant that the only feasible day was Friday the 13th!

Rudolf hadn't changed much at all since we'd seen him last but we did have a fair amount of catching up to do. The only thing we did before the party where pictures were taken was to go with Rudolf to the Arboretum; he and Fred share an interest in plants and cats both. So we spent most of Thursday afternoon over there, wandering all around. Fred took only one picture of Rudolf, and you can see it at left.


The Birthday Party

Almost every year since the mid-1990s, we have celebrated Ron Mathis' birthday (August 1) and Fred's birthday (August 6) with a combined party. Many times it was at Ron's house in Plano; at other times it was at my house here. Once we had met Mario and Steve, Mario's birthday (August 8) was logically celebrated at the same party.

At almost all the parties, we've had the same cast of characters, except that Lynne Richardson and Barbara Reynolds often brought escorts or other friends of theirs; we've met some interesting people this way. This year, we had a pretty good turnout, especially considering that Mario had a local performer to review this evening and could only stay until about six o'clock, when he and Steve had to depart. Fortunately, the performance was not a "late night" concert and he and Steve were able to return about nine o'clock to have some birthday cake with the people who were still here.

First, here is the "official" "Birthdays, 2010" picture, organized and taken by Fred: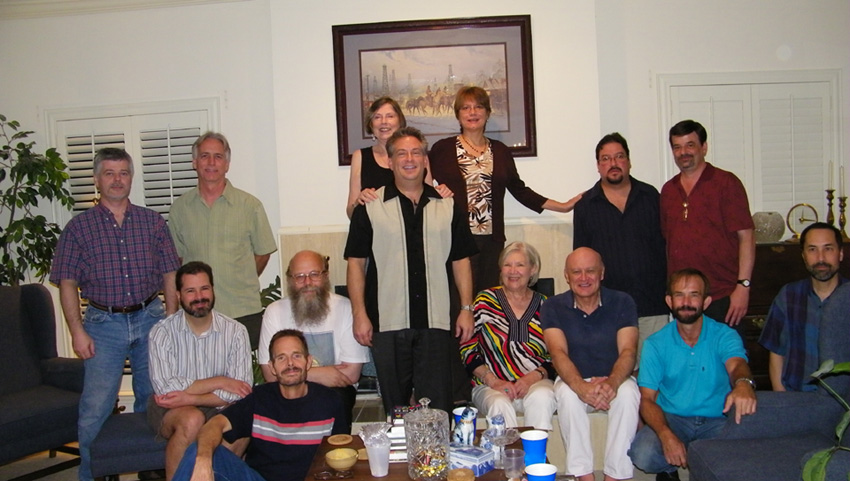 From left to right are: John Evans, Steve Friedman, Lynne's friend Doug, me, Rudolf, Lynne Richardson,
Lou Acevedo, Barbara's friend Patricia, Barbara Reynolds, Greg Grosh, Jay Enriquez, Fred,
Ron Mathis and Tom Harris

We do the same kind of birthday cake most years, and now that we have three birthdays, a big sheet cake is about all we can do. Here's the cake with the honorees' names and ages: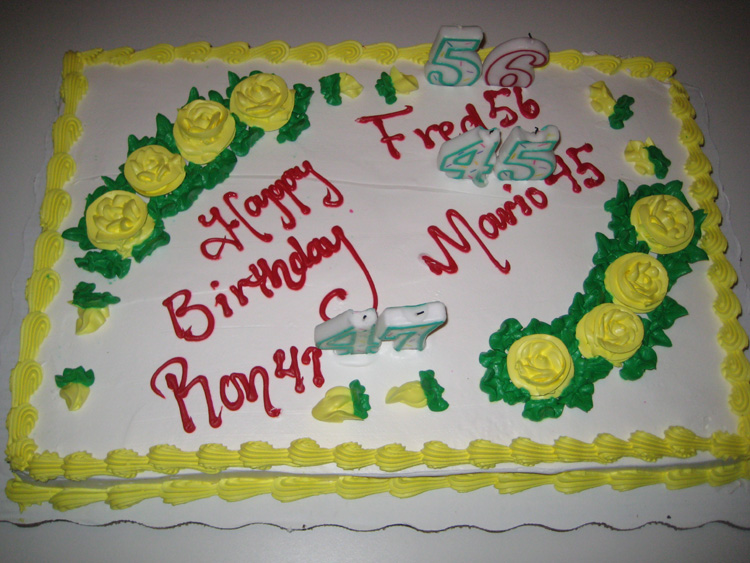 And now for the candid shots:

Fred took way more pictures than I did, mostly because I was usually occupied making sure everyone had something to drink, serving the sandwiches and chips for dinner and generally acting as host. I did take a few pictures, and you can see them if you click on the thumbnail images at right. I won't go so far as to name everybody underneath each picture; you can use the group photo above if you are curious as to who's who.


If you want to look at some of the really good pictures that Fred took, just click on any or all of the thumbnails below:

And finally, for the movies:
At the Birthday Party

Fred made a movie of all the guests as they were talking and chatting with each other before dinner.

Singing "Happy Birthday"

Here's your standard movie of everyone singing the birthday song, and Ron Mathis and Fred blowing out the candles.
As usual, the birthday party was a great success; I certainly hope all the guests enjoyed it.
You can use the links below to continue to the album page for different day.

---
| | |
| --- | --- |
| | September 4, 2010: Steve Friedman's Birthday Party |
| | July 5-8, 2010: A Visit to Ruckman Haus |
| | Return to Index for 2010 |