| | |
| --- | --- |
| | January 26, 2011: Frank and Joe Perform at the Fort Worth Stock Show |
| | Return to the Index for 2011 |
---
December 29, 2010
through
January 12, 2011
A Trip to Florida
Fred and I have never been in Florida over either Christmas or New Year's. We would always prefer to spend Christmas at home, and would usually spend New Year's at home as well, often with Ron and Jay at their house. But Jay has had a lot of back problems this year, and recently had surgery, so they had already told us they wouldn't be up to entertaining this time. So Fred and I decided to go on down to Florida and see what New Year's was like there.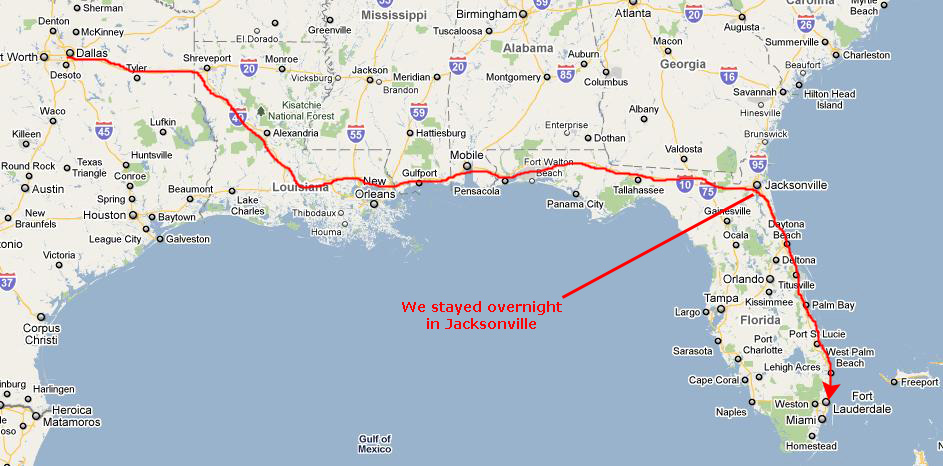 We followed our usual route down to Florida this time. I've driven the route so many times that I could almost do it blindfolded. I-20 to Shreveport, I-49 to Lafayette, I-10 to the Mississippi River Bridge at Baton Rouge and on to Jacksonville (where we spent the night) and then I-95 to Fort Lauderdale. I used to head south on I-75 after Tallahassee and then take Florida's Turnpike, but it only saves 25 miles or so and costs ten bucks in tolls. Plus there is always congestion through Orlando, and so given all these things the route we take now is better.
You can return to today's index or continue with the next section below.

---
New Year's Eve at Ron and Jay's

On our first night in Fort Lauderdale, we did what we usually do, which is go to the Floridian for dinner after we've gotten in and gotten settled. But on New Year's Eve, which was Friday this year, we were invited over to Ron and Jay's house in northwest Fort Lauderdale for dinner. Also attending were John Molina, their roommate/renter, and Ron Smith, John's partner. Finally, Nancy, a friend of John's was also invited.

Jay fixed a nice supper and then we hung out watching some of the televised festivities. It was a calm, quite affair; going out on New Year's has become more trouble than it is worth, so this was a welcome alternative. Fred took most of the pictures during the evening, and I have selected seven of them to include here. To have a look at them, just click on the thumbnail images below:

You can return to today's index or continue with the next section below.

---
New Year's Day at the Las Olas Art Fair

One of the reasons why we decided to come down to Florida over New Year's was that one of the three occurrences of the Las Olas Art Fair that are held each year is held on the first weekend in January, and this time that meant Saturday, New Year's Day, and Sunday. We slept a bit late on Saturday, but by noontime were out on Las Olas walking through the many, many booths that the individual artists set up. We always enjoy seeing the variety of artwork (painting, sculpture, jewelry, crafts and the like) that is always present, and on occasion we find something special.

We took quite a few pictures while we were walking around, especially of a series of whimsical animal sculptures made of painted iron that were along the walkway east of the Riverside Hotel. You will see lots of those animals in the pictures we took. To see as many of these pictures as you wish, just click on the thumbnail images below:

You can return to today's index or continue with the next section below.

---
A Lazy Sunday Afternoon

Today we didn't do much except revel in the 80-degree weather on January 2, when it was only 45 back in Dallas. Just after lunch we went down to sit at the dock in the sunshine and watch the river traffic.

Sunday Afternoon River Traffic
(Mouseover Image Above for Video Controls)


While we were sitting down here, I made yet another movie looking up and down the river at the boat traffic, people on our own dock, and the folks waiting for the Water Taxi.

About three o'clock, we headed back upstairs. Fred stopped to take a couple of pictures before we went back into the condo. The first was of a boat going upriver and the second was a view looking upriver, with me and two Water Taxis stopped at their dock behind me. We got cleaned up and went out to Ron and Jay's house. Ron's friend Leroy and his friend Rick were coming down from Okeechobee to visit them and have some supper in the big city, and they wanted to see us as well. We were happy to oblige, and while we were visiting, Jay snapped a picture of Ron, Fred, Rick, myself and Leroy. We went and had dinner at Catfish Dewey's, a particular favorite of Rick and Leroy.


You can return to today's index or continue with the next section below.

---

On this particular day, we had it all to ourselves. As we were relaxing and working on our laptops in the morning, we were constantly looking out the window at the big boats plying the river- some being towed, some under their own power- and every once in a while we walked outside to get a better look. Click on the thumbnails below to see some of these boats:

In the afternoon, we went to the gym, played frisbee, and rode our bikes over to the beach. Before going to dinner, made our usual frozen drinks and went down to the dock. It was a very pleasant evening, about 70 degrees, and there was a sliver of a moon above the AutoNation building upriver from the condo (see picture at left).

While we were relaxing, Fred took a picture of the Christmas decorations at Riverview Gardens. He also took a couple of pictures of me sipping my drink, but I didn't like either of them. I borrowed his camera to take a couple of snapshots of him, and they turned out much better. You can have a look at them here and here.


You can return to today's index or continue with the next section below.

---
Returning to Dallas

We had yet another very pleasant trip this time, and we were actually not looking forward to leaving on the 11th and heading home, but we did. Retracing our route, we drove up to Jacksonville, across to Lafayette (LA) where we spent the night, up to Shreveport and then over to Dallas.

You can return to today's index or use the links below to continue to the album page for different day.

---
| | |
| --- | --- |
| | January 26, 2011: Frank and Joe Perform at the Fort Worth Stock Show |
| | Return to the Index for 2011 |