| | |
| --- | --- |
| | December 12, 2011: Michael Martin Murphey's "Cowboy Christmas" |
| | Return to the Index for 2011 |
---
December 25, 2011
Christmas at Home

This year, once again, we will be spending Christmas at home here in Dallas. Also once again, we look forward to a visit from Mario's sister, Marta, from Miami. In addition, our friends Lou, Greg and Paul will also join us, so it will be a nice big group.

The Christmas Symphony

On Friday, December 16th, Fred and I took Steve and Mario to the Christmas Symphony performance at the Myerson Symphony Center. While Fred and I have been to that event numerous times, we have not been since getting to know Mario and Steve, and so I thought it would be a nice thing to do to attend. One thing that I knew Steve would like is the fact that the Christmas Symphony makes extensive use of the Lay Family Organ at the Center, and Steve has only heard it played once before (at a regular classical Symphony performance earlier in the fall.

So we spent a pleasant evening at the performance, which is different every year, but which always has sing-a-longs, a mixture of secular and religious Christmas music, the Dallas Symphony Chorus and a visit from Santa. It is designed to be enjoyable for adults and kids as well, and there were two small child choruses performing.

I didn't take my camera, although in previous album years I have, so if you are interested in what the performance looks like, just check one of the previous years. In any event, we had a really good time.

Decorating the Tree

I set aside Sunday, December 18th, and Monday, December 19th, to get out all the Christmas decorations and set them up. Actually, all we got done on Sunday was to get the tree set up in the living room and the various decorations set up around the house.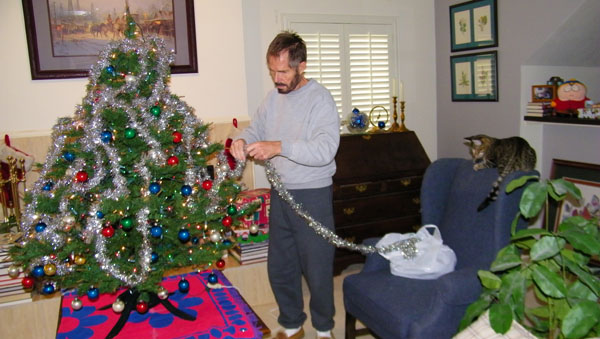 Tyger Helps Us Decorate the Tree


Tyger was fascinated with the tree; it was his first. But all three cats were in the living room watching and playing with the balls and tinsel and just about everything. Below are thumbnails for some candid shots Fred took; click on them to view the full-size pictures:

As I was finishing up the tree with the tinsel, Fred caught Bobbie Lee watching from her perch on the back of the couch, and also Tyger eying the tinsel from his own perch on the back of one of the wing chairs.

We got the tree all done and the little Christmas houses set up in the front stairway, and we hung the inside wreaths as well. It was a little chilly to do the outside lights, and I needed to get a hanger for the outside front door wreath. So I postponed both of those tasks for Monday, when it was to be a bit warmer. Fred would be at his Mom's tomorrow and Tuesday and then back here Wednesday through Friday. He'll be going over to Nina's house for Christmas Eve with his brother and his family, and then back here late that night- ready to help with the cooking and baking on Christmas Day.


Christmas Day

My own tradition is to cook a turkey for Thanksgiving and a ham for Christmas, and this year was no exception. The ham is a lot easier than the turkey 'cause it doesn't have to be stuffed. I got up fairly early to get the ham fixed with the pineapple rings and cloves on the outside and get it into the oven. Meanwhile, Fred was baking another pie; he'd already baked a cake and a pie the day before, so we had three desserts just from his cooking. Then Fred and I did some cleaning up before folks started to arrive.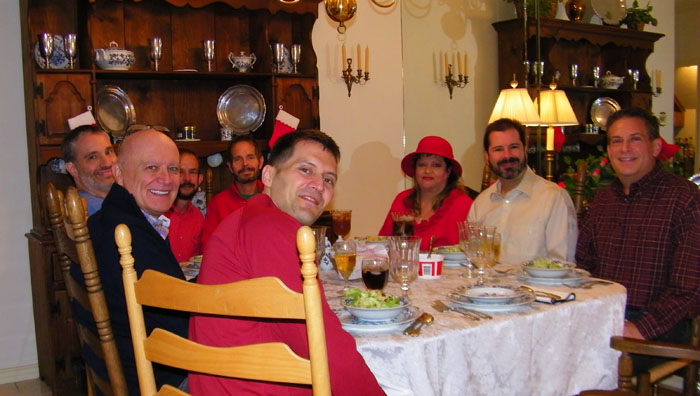 At Christmas Dinner


The first to arrive were Mario, Marta and Steve. It is always a pleasure to see Marta here from Miami, and we usually try to do at least a couple of things with her while she is here. Lou arrived next, bringing homemade Christmas cookies. He also brought a dozen eggs from the chickens that he keeps in his back yard down in Oak Cliff.

Paul and Greg were the last to arrive, and we all had a chance to relax and visit before we got the ham out of the oven and sliced. Mario brought a vegetable casserole, and we had baked apples, mashed potatoes, rolls and salad as well. We just set everything up in the kitchen and let everyone serve themselves.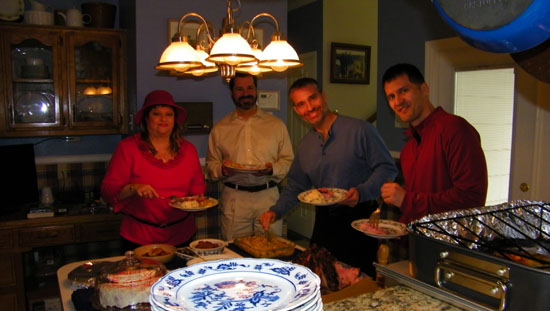 Marta, Steve, Mario and Paul at the Buffet


We had a really nice dinner, and it was also nice that we could all sit around the same table (which is why the serving pieces were set up in the kitchen). After dinner we adjourned to the living room where those folks who wanted to exchange gifts did so. Fred took some good candid shots during the afternoon, and you can click on the thumbnails below to have a look at them:





Our Christmas together was very, very enjoyable, and it was a nice compliment that folks stayed fairly late, just talking and sharing the day. And this Christmas was also a milestone: it was the twentieth Christmas that Fred and I have spent together.

You can use the links below to either continue to another photo album page.

---
| | |
| --- | --- |
| | December 12, 2011: Michael Martin Murphey's "Cowboy Christmas" |
| | Return to the Index for 2011 |