| | |
| --- | --- |
| | Return to Index for 2011 |
---



Miscellaneous Pictures
2011




This page contains pictures that don't involve a trip or something similar. It will include pictures taken around my house or Fred's, and the occasional event that did not result in much picture-taking. You can use the page index at the top of this page to go directly to any one of the sections.

January 14: Ed Shuping Passes Through Dallas


When I was at Davidson College in the mid-1960s, I spent a lot of time with four other guys that I met when I arrived my first year. You have already seen pictures of three of them. Peter Guerrant works for the National Guard as a civilian employee in Washington, DC. He has never visited here in Dallas, but I have seen him two or three times in Washington.

Steve Lee is a Methodist minister in a small town near Davidson itself; he has been at a number of churches since graduating from SMU with a degree in Sacred Music. Steve has been to visit us here in Dallas a couple of times when he has returned for SMU functions.

The third member of our group was Art Abplanalp, from Charleston, WV. He had Peter and I come visit him one Spring Break, and his parents made a big impression on me. Since college, however, I lost track of him, but a few years ago we corresponded a few times by email. He is a lawyer in Colorado.

Finally, there was Ed Shuping. Of the five of us, Ed was the least conventional, eschewing your standard four college years to drop out of Davidson and follow his interests, in school and out. So far as I know, he never felt the need to complete a degree at any particular institution, but not all paths through life are the same by any means. When I lived in Chicago, Ed was my roommate for a short while while he was working for the Health, Education and Welfare Department; he traveled through Wisconsin and Minnesota. That lasted six months or so and he was off on another adventure. I reconnected with him when I was on a business trip to Denver, and I drove up to Fort Collins where Ed was working at a RE/MAX office there. We spent an evening together before I had to return to the city. I found that, like all of us, Ed had changed- but only physically. He was still the same omnivorous consumer of ideas and experiences he had always been. He was New Age before New Age was cool.

In any event, Ed called me a day or to ago to tell me that he would be coming through Dallas on the bus on his way to live in Mexico for a year, staying with someone he'd met. He had plans to learn the language, get a job and consume new ideas and experiences. On the morning he arrived, Fred and I drove down to the bus station and picked him up. We spent the day together, having lunch and dinner and showing him as much of Dallas as we could. The visit was all too brief; there is so much to Ed that it is hard to absorb it all in such a short time. Just before we left to return him to the station to catch his bus to Mexico, Fred took one more picture of Ed and I in my study.

You can return to the page index or continue on to the next section.

---
March 5: Fred's Bread Baking

For some time now, Fred has been trying to duplicate the kind of super-sourdough bread that I've been buying at Tom Thumb. He did a lot of Internet research on how to get a sourdough starter going, and he has been putting a lot of effort into it. The results are getting better and better. Today, he's baked a loaf of sourdough bread as well as a sourdough dessert that has a coconut glaze on it. He took quite a few pictures of his efforts today, and if you will click on the thumbnail images below, you can see three of the best of these pictures:

You can return to the page index or continue on to the next section.

---
May 14: The Bread Experiments Continue

Fred is continuing to work to perfect the sourdough starter. He gets a lot of information from the Internet about how to "feed" it and manage it. Today, he has used some of the starter to bake a couple of round loaves of bread, which turned out quite good. Click on the thumbnails below to see the process from start to finish:

You can return to the page index or continue on to the next section.

---
May 14: Greg's New House

This month, Greg has moved (again). Some people like change; Greg certainly does. I, on the other hand, shy away from it, and have, of course, lived where I am now since January of 1985. During that time, Greg has lived four places in Dallas, three places in Austin and in Palm Springs (although I am probably missing one or two).


We have already visited Greg's last place (The Drexel Highlander) in this photo album; it was just off Oak Lawn Avenue right where it turns into Preston Road at the south end of Highland Park. He liked the unit a great deal when he bought it, and continued to like it up until he moved. But the machinations of the unscrupulous developer and the intrigue and difficulty of dealing with the homeowner's association Board (of which Greg was the Tenant President) led him to a great deal of anxiety, and he finally decided to put his place on the market. But he only did that after he saw the place he has just moved to. It was enticing enough to get him to make the move.

On the map at left, I've shown you where my house, the Drexel Highlander and Greg's new place are in relation to each other. Getting to the new place is only slightly longer than getting to the old, so for me to visit it is six of one and half dozen of the other.



The new place is very unlike the old; it is modern and light, whereas the Drexel Highlander unit was much more traditional. The Drexel Highlander unit was on the 7th floor of a highrise; this one is a building by itself (although it is still a condo) and it is three-stories with a rooftop. There are many other differences, and when you look at today's pictures, you can compare them with those earlier in the album if you care to. One very nice thing about the new place is that it is right on the Katy Trail, a multi-use trail that goes from the American Airlines Center downtown all the way north to Mockingbird Lane, and there are plans to connect it to other trails to White Rock Lake and much further north. On most afternoons, the Katy Trail is rife with joggers, walkers, bikers, rollerbladers and people with pets. Greg has only to walk out his front door, go around the side of his unit and up two or three steps to the Trail.

Today, I have taken Fred over to get his first look at the new place. Greg has not yet moved in, because he has not yet actually sold his unit in the Drexel Highlander. But he is confident it will sell and, in any case, is so fed up with the situation there that he is willing to carry two places for a short while. (I can report as of this writing in July that Greg has, indeed, sold the old place and moved into the new.)

Let't take a look at the new place.



The complex has five units. Two of them are like Greg's- completely detached. The other three, at the rear, are in the same structure and those are the ones whose back balconies front on the Katy Trail. The picture at left looks at the southeast corner of the unit. The entry and garage (as well as a bedroom and bath) are on the first floor. The windows above the entry are the corner windows of the large living space on the second floor, and the windows above those the corner windows of the master bedroom on the third floor. The high windows on the third floor are in the master bath, and the small window at the left(back) on the third level is for the third bedroom. You can just barely see the landing on the southwest corner that is at the top of the stairs that lead up to the roof from a door at the northwest corner of the third floor. The drain and pipe, all copper, is for the rooftop, which is basically flat.

At the northeast corner of the building you can see the frosted glass windows that provide light for the stairs up from ground level and from the second floor to the third. While we are around by this corner, you can see a picture of Greg and I looking at the column of glass blocks that provide light for the ground floor bedroom, which is actually situated between the garage and the stairs up to the second floor. My only complaint about that bedroom is that it has no natural light other than what comes through the glass block, and while it makes sense from a security standpoint not to have a regular window there, for me the light isn't enough. Paul, the physical therapist who is Greg's roommate doesn't mind, though, and it will be he occupying the bedroom behind the glass blocks I am gesturing towards. (I was actually suggesting that the top half of the glass block column be replaced by clear glass.

Greg and I looked at the front of the building for a bit as he was describing its construction, and then we went around to the front door.



Entering the front door, a hall leads to the left off the small vestibule towards the ground floor bedroom and bath and the door to the garage. In front of us are the stairs up to the second floor. The stairs are all of bamboo, as is all the flooring on the second and third floors. (On the first floor, it is stained concrete.) You go up one flight to a landing, turn, and come back up the second flight (towards the front door). At the top of these stairs, you come out into the living area, shown also in the picture at right. The living space is one long room, with windows in the southeast corner and sliding glass doors to two separate balconies- on on the south side of the building and sheltered by a trellis-like affair, and another on the west side of the building, from which you can look past the back building to the Katy Trail.

The northwest corner of the second floor is the kitchen and island- all high-tech and very modern. In the kitchen picture you can also see the glass doors leading to the west balcony. To the right in that kitchen picture are the utility room and pantry, A/C equipment and, accessed through a door next to the stairs, the powder room.

Fred took a picture standing in the northwest corner of the room and looking across it to the southeast corner, and you can see that picture here.



To get to the third floor, we go back to the stairs and continue up. The risers in this flight are open, but they become closed as you get to the corner landing by the frosted glass windows, turn 90 degrees, and continue up the last flight of stairs to the third floor. This brings you to the beginning of a hall that leads all the way to the door at the end for the outside stairs on the west side of the building that lead to the rooftop. Immediately to your left is the door to the master bedroom. The bedroom is quite large, and its best feature is the corner windows that provide views east and south towards downtown. It's a great view and a great place for a seating area for reading or just relaxing. The corner of the bedroom that borders the stairwell has frosted and clear glass on top of a half wall, so you can place furniture there but still get lots of light coming from the stairwell and the frosted glass windows on the building's northeast corner.

The master bedroom has a great master bath with great tilework. There are dual sinks and a jacuzzi tub, a separate shower and entry to a huge master closet with a middle island.

If you go back out of the master bedroom and continue down the hall, you pass the alcove where the washer/dryer and some A/C equipment are and then, again to your left, is the door into the small third bedroom. This bedroom is small, suitable for only a twin bed (or a Murphy bed or something like that), but it does have its own complete bath.

We did go through the door at the end of the hall and up to the rooftop, but Fred didn't take any pictures there. Next time I am over, I can take a couple and add them here. Suffice it to say that from the roof, Greg can see in all directions with almost no obstructions nearby. The roof was planned and constructed for the addition of a rooftop garden.

Greg's new place is really nice, and when he gets all moved in, we'll look forward to his housewarming.

You can return to the page index or continue on to the next section.

---
May 16: My Patio Gets a Fountain


Fred and I have been talking about a fountain for the patio for a long time, but we put our investigation on hold while the patio was being renovated early this year. We made a number of trips to Jackson Garden and Pottery and also to Northhaven Gardens looking at them. We found one that would work at Northhaven, but it was incredibly heavy, and would have to have been delivered and set up by a crew. This made it too costly. We finally decided on a resin fountain. They are very light and can be ordered over the Internet. Although concrete lasts almost forever, the resin fountain actually looks better and will last long enough to be worthwhile. In addition, one person can move it easily.

So we ordered a nice one with a very large reservoir (so I don't have to fill it so often) and it was delivered to Fred's house the second week in May. He brought it down and assembled it; he's done two or three fountains at his own place, so he knew just how to set it up. We had already buried new electric cable when the patio was redone, so we could put the fountain anywhere. We decided on putting it by the west wall, flanked by two planter pots. To make it a little higher, we made a triangle of paving blocks and set the fountain on them. You can see the finished result here.

We took a few more random pictures and you can have a look at them by clicking on the thumbnail images below (the leftmost picture was taken from the master bedroom window above the patio):

The fountain is a great addition to the patio, and before the weather got so hot in late June, I kept the windows to the patio open to allow the gentle sound of the fountain to permeate the ground floor. I can hear it upstairs even through the closed window, and that is nice, too.


You can return to the page index or continue on to the next section.

---
August 18: The Drought at Downhill Run Acres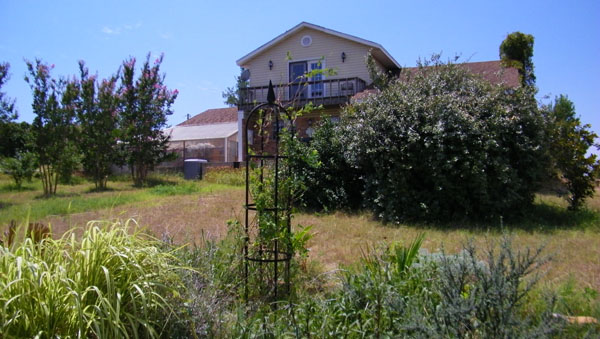 Fred's House
The only green areas are where he has watered


Since June of this year, almost all of Texas has seen record temperatures and no rain at all. Here it is in mid-August, and it has not rained in Dallas or Van Alstyne for 45 days. We have had about that many days in a row with high temperatures over 100 degrees. This drought and the accompanying high temperatures have taken their toll- mostly on vegetation all around North Texas. Farmers, of course, are in extremis, and many crops have failed. Cattlemen have begun selling off their herds, as they cannot find the hay to feed them. And all over the area, gardeners and homeowners have seen their lawns brown and crisp, and it has been a struggle to keep other plants, trees and shrubs alive. Many of the formerly lush plantings along Central Expressway and in public areas around town are now crispy critters.

Fred's house and grounds have suffered as well. His grass is a lost cause, and only through dint of a heavy watering schedule has he been able to keep many of his treasured plants and shrubs from croaking. While we were gone in Florida last month, he was not able to water, of course, and lost a few plants he had bought and nurtured for quite a while. Fred tells me that it takes him two days to thoroughly water all the plantings around his house. He also has told me before that the ground all around his property is cracked from the drought, but until he brought the pictures below, I had no idea how big the cracks actually are. Below are thumbnails for a few photos he has taken of them; click on the thumbnails to view:

In a couple of the pictures, Fred has intentionally inserted his foot so you can get an idea of how wide the cracks really are.


Fred also brought a couple of pictures jujube tree and the fruit it has set. (Click on the thumbnails at left to view.) Jujubes are a very old tree, and Fred got a start for his trees from his friend Frank Roberts, and by now they are fifteen years old, and so fairly well established. (I am including these two pictures because Fred reported to me a month later, when the drought was continuing, that some animal(s) had completely stripped the tree of all its fruit, and that this happened literally overnight. Fred thinks it might have been the bobcat that he has seen on his property, an animal that had already stripped his pear tree of the huge amount of fruit that it normally sets. So not only are humans in trouble with the drought, but animals are suffering too, eating things they wouldn't otherwise eat. Fred has never before lost all the fruit from these trees, which should tell you how severe the drought has become.)

You can return to the page index or continue on to the next section.

---
August 27 - September 16: Fred's Triple-Bypass and Recovery

If you have already looked at the photo album page for Prudence's birthday in San Antonio (August 24-27), then you have read about what happened to Fred on the last day of our stay with her and Ron. Hours before we were to fly home to Dallas, Fred complained (and that tells you how much discomfort he was probably in if he complained at all) of some chest tightness and a headache. Having already had one heart attack (that one two years ago on our way home from another stay here), I knew not to fool around: I borrowed Prudence's car and took him over to the Methodist Hospital emergency room.

We spent the afternoon there, as they did various tests and tried to get Fred's blood pressure, which had been dangerously high when I brought him in, down to a manageable level. They were also looking for certain heart enzymes to determine the condition of his heart- and whether he'd had another attack. That night, they did a CT scan and, based on the results of that, scheduled a heart catheterization for Sunday morning. The objective was to open the three heart arteries that were closed or partially closed.

Sunday morning I went with Fred to the cath lab, and was told the procedure would take an hour or more, and so I sat down to wait. Only fifteen or twenty minutes later the doctor emerged to tell me that angioplasty or stents were not advisable, and that Fred actually needed a bypass operation to replace all or sections of three, possibly four arteries. When we found out what was involved, we knew that doing the surgery in San Antonio wasn't a good choice. We had animals to take care of in Dallas, we needed to visit Fred's house to water his plants, his current cardiologist was there and so was his entire support system of friends and family. Not that Prudence and Ron wouldn't do all they could to help, but we couldn't impose on them to that extent.

So our objective became getting Fred stable enough to travel home. Karl and Nancy postponed their return to Dallas until Sunday, thinking that we could get Fred released then and that we could ride home with them. This did not come to pass; Fred developed a mild infection and fever, and that had to be brought down before he could be released. Also, his blood pressure had to be brought down. These objectives weren't attained until Monday afternoon. I'd been able to contact Fred's Dallas cardiologist on both Sunday and Monday to make sure that our actions were not going to endanger Fred's health. He gave us the OK to drive home on Monday and meet with him on Tuesday morning. Since Nancy and Karl had already returned to Dallas, I was going to rent a car and drive Fred home (flying was not advised), but Prudence and Ron wouldn't hear of it. She was planning on driving up to Dallas on Thursday in any event to see Nancy, so she gave us her car to drive home. She would fly and then drive it back the following weekend. So on Monday afternoon, we left the bed and breakfast and headed home.

We drove to Nancy and Karl's house to drop off Prudence's car, and Karl drove us over to the airport where we had left Fred's vehicle. We took that home. We found all in order at home; Steve and Mario had been in to take care of the cats since we left them longer than we had intended. So we had lots of people to thank for helping us get back home.

Tuesday morning we were in Dr. Rosenthal's office; I brought with us all the films and lab results from San Antonio, and we waited while he took a look at them. Then, in our conversations, he confirmed that there were at least three arteries that had to be repaired. His own suggestion was three more stents; that is what he does, and they may well have worked. The surgery is not very invasive, and recovery is short. But we had learned that Fred's two-year-old stent had already closed, and so we asked about the bypass option. Dr. Rosenthal did not do that kind of surgery, but in an hour he had a colleague in his practice, a Dr. Brinkman, in to talk to us. Bypass surgery is Dr. Brinkman's specialty, and he also took a look at all the material from San Antonio. His opinion, of course, was that bypass surgery would offer the best long-term outcome. The two doctors were both very professional in their assessments. We were swayed towards the bypass solution because, even though it would be more invasive, more expensive and require longer recovery, all the evidence was that it would indeed offer the best chance of a good, long-term outcome. This evidence included the surprising discovery that four or five individuals among the families of our own families and friends had gone through such surgery and all of them had excellent outcomes. One had been a 78-year old who had quadruple bypass, and was now going strong ten years later.

So that was it; we scheduled the surgery for Friday, September 2. When we left Dr. Rosenthal's office, we drove on up to Fred's house where he directed me as I did as much watering as we could for the rest of the day. Fred watered his greenhouse, but that only involves a short length of hose. Watering outside requires hauling around 400 feet of hose- something his surgeon forbade him to do. So I did that while Fred directed. Wednesday and Thursday we spent in preparations for the surgery- including all the advance directives and such. Friday morning the two of us showed up at Medical City Dallas at 6AM.

I won't go into all the details of surgery day. I should mention that our friend Steve spent most of the day in the waiting room with me, and Mario came by as well. Greg was there, and Fred's brother Troy came to represent Fred's family. Fred had been vociferous in his objections to having visitors, but they came anyway- even though they didn't get to see him for but a few minutes after he'd been brought up to the cardiac ICU (CVICU). On Saturday, I spent most of the day in Fred's room, and Steve came by again in the morning to keep us company for a while. The first day after surgery has lots of goals, I found out, and Fred met all of them, and by Sunday he was totally out of the woods and on his way to recovery, although he would remain in the ICU room until Tuesday.


On Sunday, I brought my camera over to the hospital to take just a few pictures to record this major event in Fred's life. I took a few random pictures, and made a movie. For the pictures, you can look at them by clicking on the thumbnails at left.



Fred in the ICU

This movie begins just outside the CVICU waiting room and travels down the hall to the CIVCU, through the automatic doors and then into Fred's room to have a look around.

I did take some other miscellaneous pictures during Fred's recovery. He asked me to take a picture of his Aunt Charlotte's flowers that she sent after he'd been moved to a less-intensive room. He also took (and had me take) various pictures of the incisions, scars and other aspects of his surgery. Most of those pictures are a bit graphic for a photograph album, but I picked the least graphic of them just to record the fact that they were taken. You can see this rather mild picture here.

Finally, we had a visit from Denny Milne shortly after Fred returned to my house. Denny works for the American Heart Association, and he brought Fred a number of cookbooks that they distribute as well as a lot of useful information for him to peruse during his recovery period. And, in a burst of helpfulness, he also cooked one of the recipes- a vegetable casserole- and brought it by for us to eat. It was quite good. I might note that some folks have suggested that bypass patients ought to go totally vegetarian, but after conferring with a couple of nutritionists and Fred's doctors, the consensus is that this is not necessary. Although, they all pointed out, the standard American diet ought to be modified after such surgery to include less fried food and fat, and more vegetables and fruits. Actually, one doesn't need to be a bypass patient to heed this advice; after all, the standard American diet is the primary reason that standard Americans are so non-standard in their weight and physical conditioning! In any event, ever since the surgery, both Fred and I have made excellent strides in making our diet more heart-friendly.

You can return to the page index or continue on to the next section.

---
September 1: Nancy's Birthday Party in Grapevine


You may already have looked at the previous section covering Fred's bypass operation, which resulted from his hospitalization in San Antonio on August 27th. You may be wondering how he could be attending the birthday party that Karl Gleim and Prudence gave for Karl's wife (and Prudence's sister) Nancy on Thursday, September 1. As it turned out, when we returned to Dallas in the vehicle that Prudence planned to drive home from the party, we found there would be a delay until Friday in getting Fred's surgery, so that left us free to drive out to Grapevine to help Prudence and Nancy celebrate.

Ron Ruckman stayed in San Antonio to cover the B&B, so it was just Karl and Nancy, Fred and I, Prudence and Vickie and Dan Pier, very good friends of Prudence and Nancy. We had a nice dinner at a restaurant in Grapevine, and then returned to the Gleim house for cake and coffee.


I didn't bring my camera, but Karl took some pictures and gave me copies of them, and these are the ones you can look at if you click on the thumbnails below:

You can return to the page index or continue on to the next section.

---
September 15: Dinner with Justin and Gary


You have met Justin Normand and Gary Cathey before in these album pages, I am sure. They are the owners of Soldini House in Natchitoches, Louisiana, where we have visited twice now. In Dallas, they work for Daryan Display Co., specializing in corporate holiday decorations. For quite some time, they have been in Natchitoches just about every weekend, and so it has been tough for the four of us to get together.

But since Fred has been recuperating at my house since his surgery, he is here during the week, and so we were able to arrange a dinner for them at my house on a Monday night.

The guys surprised us greatly when they arrived with a huge bouquet of the largest red roses that I have ever seen! We got the biggest vase I could find, and even it was almost overwhelmed by these long-stemmed beauties. I thought it would be a nice idea to take them into the living room, and get Gary and Justin to pose behind them for a photo, and you can see the result at left.

Fred took a few nice pictures of us before, during and after dinner, and if you will click on the thumbnails below you can have a look at them:





After Dinner Conversation

I made one movie after dinner while Gary was regaling us with stories about Louisiana politics. I also took a still picture while we were talking.


You can return to the page index or continue on to the next section.

---
November 10: A New Patio Sculpture


On our way back from San Antonio last week, we stopped at "Dirty Birds," a place that sells all manner of concrete sculpture. Fred bought a sculpture of St. Thomas Aquinas, and it is taking the place of my fountain that we have put away for the winter.

If you'll click on the thumbnails at left, you can see some views of this new addition.


Since Fred brought the stylized St. Thomas Aquinas statue to my patio, he had had a chance to stain it. He does this with all the statuary he buys; it protects the statue and makes it much prettier. So I want to include some pictures here of the statue after it was stained and placed on a pedestal.


You can see the stained statue in its final place on the patio in the picture at right.

Below are some thumbnail images for additional pictures Fred took of the statue. You can have a look at them by clicking on the images:




You can return to the page index or continue on to the next section.

---
December 1: Christine Caffey' Departure


Some things in life are the same for so long that it is something of a shock when they change. An excellent example is the event that I record today- the departure for Oklahoma of one of Greenway Villas' (my townhome complex) longest residents and the secretary/treasurer of our Board of Directors for more than fifteen years- Christine Caffey.

Christine moved into the complex a couple of years after I did, in 1987, and so she is one of our longest residents. When our first secretary/treasurer, Marge Calahan, became unable to fulfill those duties in the early 1990s, Christine joined the Board and took them over, and she has done a consistently excellent job since. So much so that many folks in the complex had no idea how much work she actually did. It seemed as if she would continue in her position indefinitely, but a frustrating job search here in Dallas coupled with family needs in Oklahoma influenced her decision to sell her unit and move back with her family. (I might record here that in the interim, I've taken over her duties, and I can assure you that they do involve quite a bit of time.)

In any event, on December 1st, about a week before she departed, the current Board gathered at Al Hirschler's house to give her an appropriate thank you and give all of us who have worked with her a chance to say goodbye. To record the event, I've included the picture here which shows, left to right, Al Hirschler, myself, Christine, Jack Rayome and Kevin Dahlberg- the current Board of Directors for our townhome association. We all wished Christine the best of good fortune.


That's the last of the miscellaneous pictures for this year, but I am sure there will be more next year!

You can return to the page index or use the link below to return to the index for 2011.

---
| | |
| --- | --- |
| | Return to Index for 2011 |