| | |
| --- | --- |
| | Return to Index for 2012 |
---
Pets: 2012




Well, there will be quite a few changes this year in the pet department. We began the year with three cats- Bobbie Lee Maxine, Lucky and our new addition, Tyger. We ended the year with three cats as well, but they weren't the same cats. So it was a year that saw us bid goodbye to one of the trio, and welcome to a new arrival. As I have done in past years, I'm going to put most of the pet pictures onto this page, regardless of when they were taken or whether or not they were in conjunction with some other event or trip.

January 26: Best Buds

Tyger and Lucky took to each other pretty quickly last year. Lucky had tried chasing Bobbie Lee around, but she has gotten a bit too old and slow-moving to play much. So we think he's happy to have someone younger to play with.

Loading the player...

Tyger and Lucky Relaxing Together


Mostly we see Tyger and Lucky playing together and sleeping separately, but today they seem content to snuggle up together. The movie I made captures them in one of their more tender moments; you can use the player at left to watch it.

I also took a few pictures of them this morning in the same chair, and there are clickable thumbnails below for the best of these:




February 12: Show Me the Tummy!


Just one picture today. We've mentioned before the interesting markings that Tyger has, but this morning he has graciously decided to pose for us so we can get a good look at them. He was actually sleeping in that position before I woke him up.


March 3: All Three (for a change)

Today, we have something unusual on the kitty front: Bobbie Lee is actually sitting still for a picture or two!


As you can see, Bobbie Lee is being friendly this morning; she is nestled on the back of the sofa where I usually sit at night when I am reading. I can usually count on her to get up on the couch with me and she usually sits beside me. That is about the only time she voluntarily gets close; it is something of a ritual.

This morning, she and her adoptive brother Lucky are sharing a space on the couch- with Lucky in my spot. Actually, when it is just me here, or just Fred and me, Bobbie Lee is relatively friendly, and although she does tend to be off by herself about half the time, she is with us the other half.

A little later on in the morning, Fred and I were listening to Ed Wallace in the study, and all the cats made an appearance. Bobbie Lee took up residence under one of the chairs, and Lucky got in my lap for a while, which is where he was when Fred took a picture of the two of us. Soon after that, Lucky and Tyger went off to chase each other, but Tyger eventually returned for his own stretch of lap time with me.


April 14: Behold, the Power of Yogurt

As is our practice on Saturdays, we are listening to "Wheels" with Ed Wallace. It is broadcast on radio, but we listen to it via the Internet.


As he sometimes does, Fred is having some yogurt, and yogurt happens to be one of Lucky and Tyger's favorite things. The have both been hovering like vultures, knowing that Fred always saves them a bit at the end, which they are happy to lick off the spoon. Hard to get anything done on the computer with them in the way like that.

I took a few additional pictures of the cats while Fred was holding their attention with the yogurt, and I even got one of Bobbie Lee sitting on the floor nearby. You can use the clickable thumbnails below to have a look at some of these:




August 11: I'm Ready for my Closeup, Mr. Nabors

The pictures in this section were taken at Fred's house and at mind in the few days before he returned to San Antonio towards the end of my housesitting gig (which you can read about on the main page for it).


During the time between Fred's trips down to San Antonio, he took Tyger home with him, leaving Lucky and Bobbie Lee at my house. Neither one of the latter cats travels well, so it's usually Tyger that gets the road trips. While at his house, Fred snapped a good picture of Tyger sitting on his bathroom counter, and that is the picture at left.

When he got to my house, he had a few good opportunities to snap some additional pictures of Lucky and Tyger, and there are clickable thumbnails for these pictures below:




September 13: Hail and Farewell

This Fall has been a time of transition with the Inwood cat population. Two events have occurred.

Farewell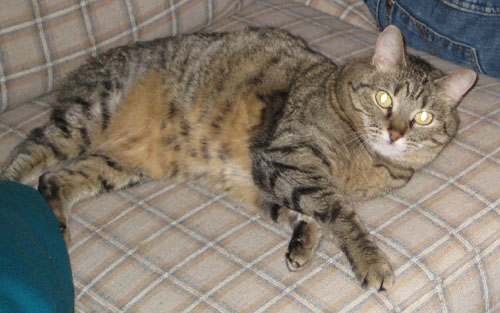 In Memoriam: Bobbie Lee Maxine


In September, Fred and I reluctantly bade farewall to Bobbie Lee Maxine, our little tailless cat. She had always been painfully shy and reclusive, but this year had begun to have a number of problems. Lately, she had not been able to keep food down, and seemed to be getting weaker and weaker. We made the decision not to try to put her through an operation, even if the vet could figure out what the problem was, because with her age and temperament, it simply wouldn't have been helpful or helpful for very long. Our vet was considerate and caring and agreed with our decision to put her to sleep.

Bobbie Lee was a nice cat for many years, living first at Downhill Run Acres and then moving down here two years ago. She was very skittish around strangers, but fairly social around just Fred and me. We are sorry to see her go, but then with the problems she was beginning to have, it was best to say goodbye.


Hail

The house seemed a bit emptier without Bobbie Lee, and so, quite naturally, we began to think about adding a third one again.


A few days ago, Fred and I were looking at kittens online, wondering whether we should get a cat to replace Bobbie Lee. Actually, we'd been tossing that idea around for a while now. We'd been chatting about it in the study, looking on the Internet at the local shelters. I guess that Tyger and Lucky heard us, but if they did, they seemed totally unconcerned. Last Wednesday, we happened to see a little orange tabby being given away by a shelter in Mesquite. They'd rescued the kitten and its littermates from a kill shelter in East Texas and were looking for homes for them. Fred had an orange/tan cat a while back, and we were intrigued by having another one. On impulse, while Fred was at his Mother's, I drove out to Mesquite, gave the shelter a donation, and picked up the kitten. It was at home when Fred returned.

Needless to say, the little male kitten was very cute, and it didn't take but a day for Lucky, at least to get used to him, start playing with him and take him under his wing. You can use the clickable thumbnails below to see some of the pictures I took today of Lucky and the kitten (as yet unnamed) together:




It didn't take long for the kitten to worm its way into the household, and it was certainly fun (again, as all kittens are). The only problem for me is that the kitten is going to be a longhair cat, and I am just not sure that I want to deal with another one. But we shall see.


The kitten wanted to always be where we and the other cats were, and quickly developed a habit of accompanying me at the laptop as I worked on my photoalbum. Very cute.

Below are clickable thumbnails for some more pictures of the kitten helping me do my photoalbum thing:




Of course, this entry wouldn't be complete without a few movies of the present and future cat members of our household. I took three good ones this morning, and you can watch them with the players below:

Loading the player...

The Cats of Inwood Road
Loading the player...

Computer Work is Exhausting

Loading the player...

Lucky and the Kitten
November 5-10: Lucky and Tyger Welcome Zack

As I may have mentioned above, the little orange kitty I'd gotten in Mesquite turned out to be a longhair. Fred and I had a chance to play with it for a while, and Lucky and Tyger seemed OK with him, but having another longhair didn't seem like a good idea, so in the end we took the kitten back, letting the shelter keep the donation fee I'd given them.

In early October, Fred and I accompanied our neighbor, Cynthia, when she went to look for a companion for her cat, Sadie. We ended up at Dog and Kitty City, a no-kill shelter just a mile or so from here. There, Cynthia found a female kitten she liked, and of course we found all kinds of cats that we liked.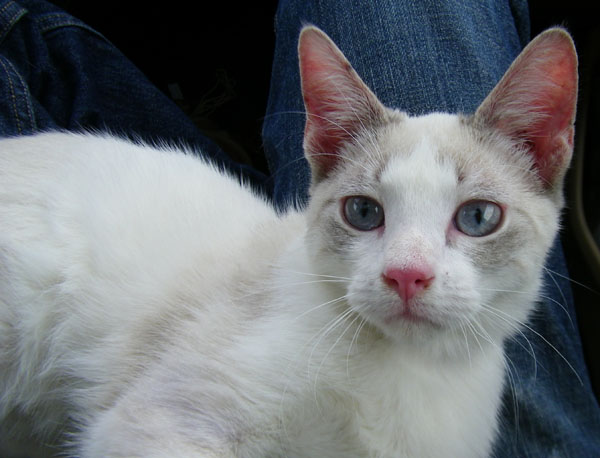 Zack


There was one, especially, an off-white/gray Siamese mix named Zac that had come to the shelter with his three siblings. Apparently, the four kittens had been left at an East Texas shelter that had a policy of euthansia if a cat is not adopted out. Someone brought them to Dog and Kitty City where we saw one of the little males. He was very cute and very affectionate and also fairly small.

We went home to think about it for a while, and then decided that we would allow the kitten to adopt us.

We made arrangements with the shelter for the adoption, intending to bring the kitten home, let it bond with Lucky and Tyger, and then take it on our planned trip to Florida on October 16th. As it turned out, the four Siamese all had some kind of respiratory infection, and the shelter had already started them on medication. Instead of bringing Zac home and having to confine him for ten days, we decided to simply pick him up on our way to Florida. That way, we could complete the antibiotic treatment before introducing him to Lucky and Tyger on our return.


I am going to duplicate below the pictures of Zack that we took on our trip to Florida.

Traveling Kitty

I must say that of the three cats we've taken to Florida, Zack (we have added the "k") is by far the best traveler. He doesn't particularly like staying in the carrier, although sometimes he will curl up in it and take a snooze. When we let him out of the carrier on the road, he does a fair amount of exploring, but more often than not, he just curls up in one of our laps and sleeps. Even when we put him back in the carrier when we have to get out of the car, he rarely protests; he is just an excellent traveler.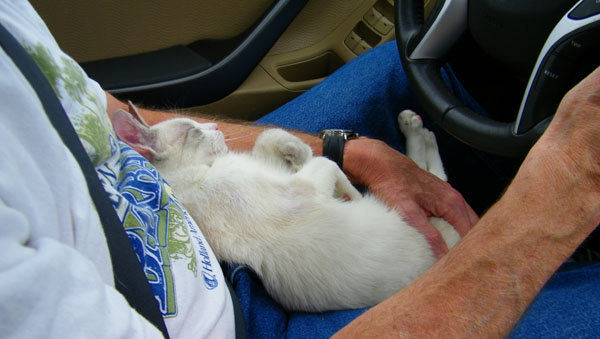 Zac in Traveling Mode


Of course, since I do most of the driving (I'm not complaining; I prefer to do that), I can't pay too much attention to Zack as he crawls here and there around the car. Often, he will get in my lap and sleep, sometimes he sleeps on the floor at my feet and sometimes he is just climbing around on me (or on Fred).

As the driver, I have to be pretty much unconcerned with where he is (although when he is asleep I can cradle him in a free hand if I have one at the time). There are clickable thumbnails below for some of the pictures Fred took of Zack and I while I was driving.




I don't know why, but Zack seemed to prefer my lap to sleep in, although he spent a fair amount of time with Fred as well. Fred made sure that Zack had his food and water available, although I must say that Zack did not seem to be much interested in eating and drinking while we were on the road; he would wait until we stopped for the night or got where we were going to eat or drink much. That meant he didn't have to use the litter box much, which was fine, of course.

As I said, Zack was a pleasure to travel with. Fred got lots of pictures of Zack and I, and even a few of himself. Many are quite endearing, and I've selected the best of Fred's pictures to include here. You probably won't want to look at all of these, but in case you never tire of cat pictures, there are clickable thumbnails for quite a few of them below:

Zack seemingly enjoyed being in Florida, but then I am undoubtedly anthropomorphizing when I say that. He had a place to run around, people to play with, toys to play with, food and water to eat and nice places to nap- so what's not to enjoy?

Internet Kitty

Zack likes to keep us company when we are sitting at the living room table using our laptops, so we took quite a few pictures there.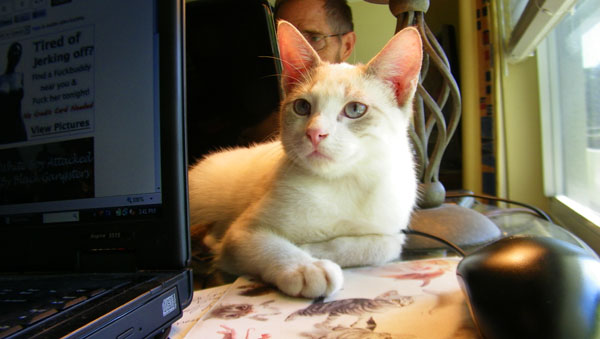 "You Done With That Mouse?"


Below are some of the many pictures Fred took of Zack helping us with our Internet surfing and other computer work:




Faucet Kitty

One off the idiosyncracies that Tyger and Lucky have is that they both like to drink water directly from a slowly-running faucet. Perhaps its the movement of the water, or perhaps its because it is as fresh as we can get it, but anytime the faucet's on in the bathroom, one or both of them will be there asking for a turn.

Loading the player...

Zack Learns the "Faucet Principle"


I don't know what it is about running water from faucets that the cats all seem to find so interesting, but it turned out that Zack was to be no exception. Just about the first time Fred was at the bathroom sink, Zack got up onto the counter and started nosing around the running faucet. So Fred cleared the counter to give him easier access, and then made a movie that you can watch with the player at left.

He also took a few still pictures, and you can use the clickable thumbnails below to have a look at them:




Leisure Kitty

Of course, one thing that cats do a lot of is lounging around and sleeping.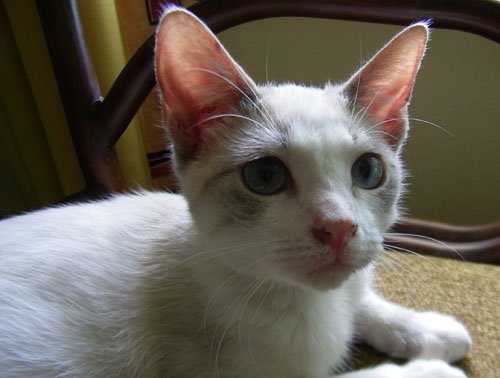 Zack on a Living Room Chair


We took quite a few pictures of Zack around the condo (although we should have taken more movies of him playing, which was always a hoot). There are clickable thumbnails below for some of these pictures:




Clean Kitty

Something else we try to do with all new cats is get them used to having a bath. This has more or less worked with Tyger and Lucky (more with Lucky and less with Tyger); at least neither of them have front claws. Zack, however, does, so it was with some trepidation that we approached his first shower.

Loading the player...

Zack's First Shower


As it turned out, it wasn't nearly as bad as it could have been. Just as Zack was a wonderful traveler in the car, he seemed to be a gentle and compliant cat in the shower, as my short movie (which you can watch with the player at left) shows.

I also took a few still pictures, but they were so similar that I just selected one; it is below:




When we returned from Florida, we were pleased to find that Lucky took to Zack pretty much right away, while Tyger only spewed and was standoffish for a couple of hours. It was not long at all before all three were comfortable with each other, and they had even started running and playing with each other. During these few days, we took some random pictures and a movie, and I want to include those here.

Loading the player...

Sleepy Time at the Cat Ranch


One day when Fred had gone home, all three cats were sleeping in the study with me, so I made a movie of them; you can watch it with the player at left.

We also took a few random pictures of the cats around the house; use the clickable thumbnails below to have a look at them:

I took two other pictures of Zack when he was able to get from the desk up to the second of the bookshelves- a trick that all three cats seem to have mastered. (I have not actually seen any of the cats do this; it would seem impossible to me.) I think Zack was trying to get to the stuffed turtle that is way out of his reach. But he gave it a good try, and then allowed me to get a picture of him on the second shelf. You can see that picture here.


November 25: Cats at Home

This weekend after Thanksgiving, we have just been hanging out with all three cats in the study. They seem to all have become quite used to each other.


As you can see, Tyger and Zack have bonded; Zack is an equal-opportunity player, and chases both of the other cats around the house. That's good for them. Most of the time, though, they are sleeping. You can use the clickable thumbnails below to see some of the candid pictures I took this weekend:




Christmas: A Final Picture

I'll end the year with a single picture we took around Christmastime when we went upstairs to find all three cats sleeping on separate piles of clothes- I suppose they are drawn to the scents. By the time we'd got a camera, all three had awakened and Zack had gotten off the little pile he'd been using. That picture is below:


That was the last entry for the pet pictures for this year, but I am sure there will be more next year. For now, you can use the link below to return to the photo album index for 2012.

---
You can use the link below to return to this year's index.

---
| | |
| --- | --- |
| | Return to Index for 2012 |