| | |
| --- | --- |
| | September 9-27, 2013: A Trip to England, Scotland and Ireland |
| | July 11-13, 2013: A Visit to San Antonio |
| | Return to the Index for 2013 |
---
August 3, 2013
The Birthday Party for Fred, Ron and Mario
As we do every year, sometime in early August we have a combined birthday party for three friends who have birthdays within eight days of each other- Ron, on the 1st, Fred, on the 6th, and Mario on the 8th. This year, it will be at my house.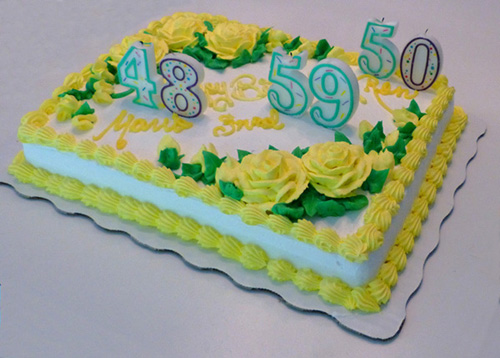 The Cake


As I try to do every year, I take a picture of the cake itself; that way, I can record everyone's ages- in case I forget when I am buying the digits for the next year. And Fred always likes to take a group photo at gatherings like this; this year's is below: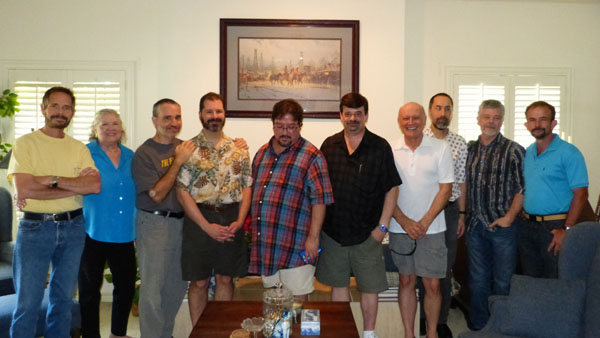 Me, Barbara, Mario, Steve, Jay, Ron, Greg, Tom, John and Fred
We'd set the arrival time for noon, and by shortly after that, everyone had arrived.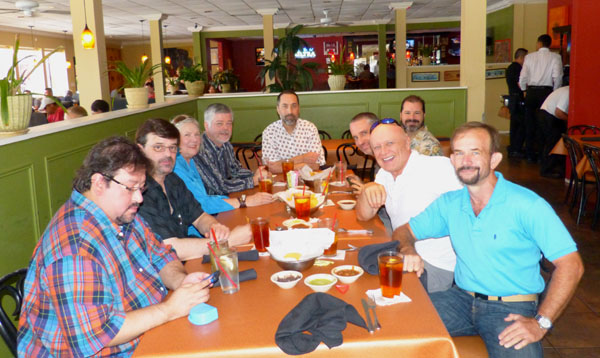 The Group at Mario's Restaurant


Below are clickable thumbnails for some of the pictures we took before we headed off for lunch:

We chatted for a while, just catching up, and then we all went to lunch at Mario's Salvadoran Restaurant down on Lemmon Avenue. In years past, I or someone else has usually prepared dinner, but lately, most of our circle has been more available at lunchtime, so today's was a mid-day event.

I took the group picture at left, and then Fred and I switched off and he took the group picture that you can see here.

The food was good, as usual, but the service was very disappointing- extremely slow even though the restaurant wasn't nearly full.


We returned to my house for cake, which the birthday boys cut and served.


Cake and Conversation


Below are clickable thumbnails for some additional pictures taken this afternoon:




We had a nice lunch and a nice afternoon, but truth be told I miss doing the dinner parties, even though its harder for about half the group. But it is good for everyone to get together.



---
| | |
| --- | --- |
| | September 9-27, 2013: A Trip to England, Scotland and Ireland |
| | July 11-13, 2013: A Visit to San Antonio |
| | Return to the Index for 2013 |