| | |
| --- | --- |
| | July 26-30, 2014: Rudolf Lowenstein Visits Dallas |
| | July 1-6, 2014: Guy Blair Moves to San Antonio |
| | Return to the Index for 2014 |
---
July 6-7, 2014
A Visit to Frank and Joe




We left Prudence's house on the 6th to drive out to the Hill Country for a visit with Frank and Joe. They've invited us to stay the night with them and we will do that, heading back to Dallas on Monday morning.


Once you find your way to US 90 West from Prudence's house, the remaining route to Frank and Joe's spread is pretty easy. North of Leakey, we take ranch road 336 to the intersection with Bonner Road. We go east on Bonner Road, across a low-water crossing, up the hill, and then to our left a short distance to Frank and Joe's house.

We arrived at Frank and Joe's house in early afternoon; Frank is retired now, so he is at home usually, and Joe didn't have any responsibilities on his family farm that afternoon. (We did not take any pictures of their house on this trip, but you have probably seen it before on other album pages anyway.)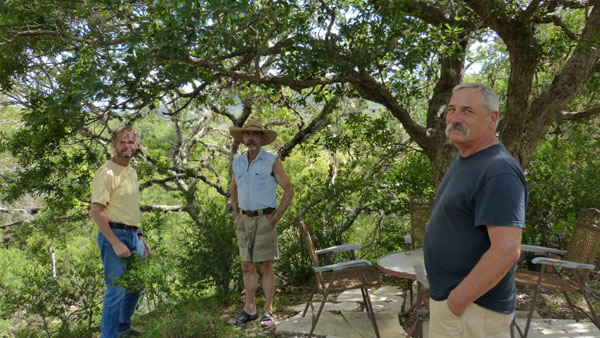 Myself, Joe and Frank


It was a nice afternoon, although quite warm, and we spent some time sitting on the patio, talking and having something to drink.

As usual, Fred took a few pictures of some of the plants that Frank and Joe cultivate, like this vine on their house. Fred snapped pictures of a couple of their trees, and you can click on the thumbnail images below to see them:




On this trip, one of the neatest things was the fact that their cat had presented them with a litter of kittens, and the kittens were altogether different. There was one orange cat, a black cat with white feet and two tortoiseshell cats. Here are my portraits of those four cats:

Like all kittens, these were terminally cute. (I can't help but think that evolution has selected for cuteness in kittens and puppies, since over the generations humans have been more apt to take care of baby animals that have that trait, and so it gets reinforced and passed on.) I took a few more pictures of the little kitties around the living room, and you can click on the thumbnail images below to have a look at them:

Of course, I simply could not resist making a couple of movies of the little cats. I actually took six of them, but have chosen only the two best to include here. You can use the players below to watch them:
| | |
| --- | --- |
| Loading the player... | Loading the player... |
We had a nice overnight visit with Frank and Joe, having dinner down in Concan at Neal's Restaurant, a popular local place overlooking a branch of the Frio River. The next morning, we had breakfast with them and played with the kitties a bit more before heading on back to Dallas in the early afternoon.
You can use the links below to continue to another photo album page.

---
| | |
| --- | --- |
| | July 26-30, 2014: Rudolf Lowenstein Visits Dallas |
| | July 1-6, 2014: Guy Blair Moves to San Antonio |
| | Return to the Index for 2014 |