| | |
| --- | --- |
| | July 12, 2015: A Visit to the Bird Sanctuary at Parkland Hospital |
| | July 2-3, 2015: A Weekend in Comanche, Texas |
| | Return to the Index for 2015 |
---
July 3-6, 2015
Fourth of July with Prudence in San Antonio




Since we will be heading down to San Antonio today from DeLeon, not from Dallas, we will be traveling different roads than we normally do. We plan on spending two or three days with the Ruckmans- including their 4th of July cookout.

Getting to San Antonio from DeLeon

Since we've not traveled this route before, I'll include a couple of maps to show it to you.


I checked out of the Best Western and drove Fred's RAV4 back up towards DeLeon and then off to the east to his mother's house to pick him up, and from there we went back out to Highway 16 to head back south to Comanche.

At the square in Comanche, we went straight through town, still on Highway 16, and followed that highway south to Priddy, Texas, a town much smaller than Comanche. We went through Priddy and followed the highway down towards Goldthwaite, merging there onto US Highway 183 towards Lampasas.

At Lampasas, Highway 183 heads on southeast to Austin, becoming Research Blvd. when it gets there (and merging into I-35). We, instead, headed due south, now on US Highway 281. (You may remember that Debbie Crawford lived north of I-20 and just off this same highway near Mineral Wells.).

We stayed on Highway 183 all the way into San Antonio, going through Burnet and Blanco on the way. At times, there was a lot of traffic; this is one of those highways that really should be a limited-access highway of some kind, particularly on the north side of San Antonio. It does become an expressway about ten miles north of town, but it needs to go much further than that, so much development has occurred on the north side of the city.


We continued south past the airport and The Quarry to the exit at Mulberry.

Getting to Ruckman Haus

I suppose I should stop calling it "Ruckman Haus" now, since Ron and Prudence's "bed and breakfast days" have ended, but old habits die hard. You'll figure out, I think, that I actually mean the house where Prudence and Ron live.


When we drive to San Antonio from Dallas, we come into San Antonio from the northeast on I-35, and the most direct route to get to Prudence and Ron's house is to take I-13 south, get off at San Pedro, and then take San Pedro north past San Pedro Park to French Place, going west one block to Ruckman Haus.

Coming south on Highway 281, the route is different, and you can see it at right.

I've learned the best ways around northeast San Antonio by riding with Ron and Prudence so often. We get off Highway 281 at Mulberry, and take that west to McCullough. There, we turn south for a few blocks, and then head further west on Woodlawn. I could go down to French, but it is a narrower street and has more stop signs. Woodlawn has a couple of lights, but one usually makes them, and it also has a light at San Pedro, which is a busy street and hard to cross without one.


At Breeden, we head south again to come along the west side of Ruckman Haus.


Ruckman Haus is on the northeast corner of French Place and Breeden, just one block north of San Pedro Park- the second oldest public park in the country. At left, you can see one of the many views of Ruckman Haus that I have in this photo album (we have been down there so many times) and you can also see an aerial view of the home.

We got to the house about two in the afternoon, and found Ron, Prudence and Guy there. Nancy and Karl were also in town, but they didn't get to the house until later.


We also found that Stan Crawford and his wife were at Ruckman Haus; we had just seen them last month at the retirement party they threw for Stan's mom; that party at their house out north of Mineral Wells.

Jessica, Bruce, Kelly

The New Sunroom at Ruckman Haus

Prudence's project for the last year has been the addition onto the east side of the house a new sunroom, encompassing the old patio as well as a new area under roof.


In the picture at left, the area in the foreground, about one-third of the room, used to be the east patio, which was reached via a set of French doors from the living room. That one-third of this area was under roof (the roof being the Sunroom Suite on the home's second floor), but open otherwise to the outdoors. Extending to the north was a patio, not under roof, that extended about halfway along the outside of the dining room. Prudence's vision was to extend this area to the back of the house, replace the two windows that looked out from the dining room onto it with French doors and put the entire area previously open to the sky under a glass-paned roof. The panes would slope upward to a peak, from which Prudence planned to hang a chandelier.

Here are clickable thumbnails for some of the pictures we took this trip in the new sunroom:




The construction of this room has taken quite some time- mostly due to the fact that the firm Prudence hired to design and build the room dragged their feet (as seems to be endemic with construction firms in Texas). She was specific about what she wanted and was open to spending what it would take, but even then she couldn't get the workers or their company to stay focused and get the job done. There are still details that are not finished, but we hope that it will not be too long before someone will step up and complete the task.

Although it has nothing to do with the new sunroom, we were impressed with what Guy has done with the balcony of the garage apartment; it looks like something out of the Hanging Gardens of Babylon. The apartment used to be Prudence and Ron's, of course, but they have now completed work on combining the former English Room and Sun Room into their master suite.

The Weekend Cast of Characters

We spent three days here at Ruckman Haus, and while we are often here with Guy, Ron and Prudence, there were other people around this time, including Nancy and Karl, Stan and his wife Kelly, Prudence's guest Jessica and Ron's friend Bruce.


I tried my best to take one good picture of each of the eleven people who were here (except for myself, of course) and got fairly good pictures of all of them. Here are clickable thumbnails for those pictures:




Oh, there were two other guests as well, although I guess we might have considered them as Jax's guests; they were the Crawfords' two dogs.

An Outing to the Farmers' Market at the Pearl Brewery

On Saturday mornings in the summer, there is something of a small farmers' market at the Pearl Brewery (no longer an actual brewery, of course, but an "urban development"), and so on Saturday morning (the 4th) we took the dogs (all three of them) over there to walk around and have some breakfast at one of the stands.


We didn't take a whole lot of pictures; we were only at the market for an hour or so. I did have Fred take a couple of pictures of me beside an interesting wall sculpture that we passed on the way in from the parking area. Here are clickable thumbnails for three other pictures we took while walking around with the dogs:

I am sure that if I had seen someone at the market with a cat, I would have gone over to admire it (since I am, of course, a "cat person"). Many people do the same thing when they come across someone's dog, as this lady did when she came across Jax.


After we'd spent a bit of time at the market, we headed on back to the house to start preparing for the cookout late this afternoon. Before we left, though, I took a nice picture of Nancy.

The Cookout at Ruckman Haus

When we got back to the house, Fred and I went with Ron to pick up some things that he would need for the dinner he and Prudence had planned, and then Fred and I went to throw the Frisbee around for a while. We were back and showered in plenty of time to help Prudence and Ron get everything set up.


Everyone pitched in to help get things ready, although as usual Prudence and Ron did the lion's share of the work. Ron, Guy and Stan oversaw the grilling outside; I think Guy was watching the timing on his phone, since Ron knew how long he wanted to cook things. Prudence and Nancy did the slicing and dicing and plating in the kitchen, and I took it as my task to bring everything into the dining room and lay it out on the buffet table. Since it was Prudence's doing, I thought that in addition to the picture Fred took of me with the buffet, I should call Prudence in to take a picture of her alongside her handiwork. You can see that picture here.

Finally, just before Ron and Guy brought in the grilled meats, I took one more photo of the table. As everyone started to fix their plates and take them into the new sunroom, I embarked on one of my "film auteur" moments and wandered through the area making a movie. You can use the player at right to watch it.


Then it was time for everyone to sit down together. Once they had, Fred and I switched off taking a picture of the rest of the group (not having thought to bring a tripod).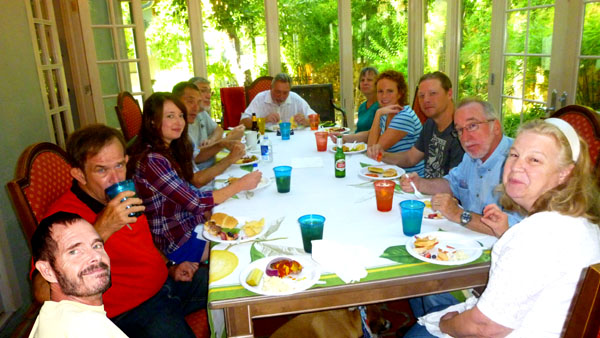 All of Us at Dinner


Of course, neither of the pictures showed all of us; either Fred or I were missing. I used Photoshop to remedy that little problem, and you can see the resulting group portrait at right.

While Ron was grilling and Prudence was preparing and folks were filling their plates, Fred and I took a large number of candid shots of various members of the group. I have picked the best of these to include here, and you can click on the thumbnail images below to have a look at them:




The meal was really wonderful, as was the company, and we all enjoyed ourselves immensely. But there would be another event still to come this evening.

A Ruckman Haus Musical Event

Stan Crawford happens to be a professional country singer (check out his website); we had last seen him perform (along with much of his family) at his mother's retirement party just a couple of weeks ago. He was good then and we enjoyed seeing him again now as after dinner he picked up his guitar and did a few of his favorite songs for us. He performed out in the sunroom, where we all learned quickly that the acoustics were really good.

First off, you can use the media players below to watch two movies of Stan performing, the first one taken by Fred and the second by me:
| | |
| --- | --- |
| Loading the player... | Loading the player... |
It was enjoyable watching and listening to Stan perform; it was very reminiscent of the times when Frank Roberts has sung here in this same house (although the last time was quite some years ago).


Stan wasn't the only one who got into the act; other folks sang along on occasion, and even Jessica got out her own guitar and strummed along for a while. There was one time when I came back into the room and Karl was doing a little singing as well (where the lyrics came from I have no idea) but you can use the player at right to watch a bit of that performance.

Fred took some candid shots while the various performances were going on, and you can click on the thumbnail images below to see some of them:




We had a really great visit with Ron and Prudence, including a visit to the San Antonio Museum of Art on Sunday. Once again, we thank Prudence and Ron very much for their hospitality!

You can use the links below to continue to another photo album page.



---
| | |
| --- | --- |
| | July 12, 2015: A Visit to the Bird Sanctuary at Parkland Hospital |
| | July 2-3, 2015: A Weekend in Comanche, Texas |
| | Return to the Index for 2015 |