| | |
| --- | --- |
| | Return to Index for 2015 |
---
Other Pictures: 2015




This page contains pictures that don't involve a either a trip or some event or our cats (pictures of which are on a separate page). It will include pictures taken around my house or Fred's, and the occasional event that did not result in much picture-taking. Just scroll down the page to get from one section to another.

February 13: Dinner With Nancy and Karl

This evening, Nancy and Karl have invited Fred and I to Grapevine to have dinner with them at Animea's, a Tex-Mex restaurant near Nancy's house of which she is very fond. We appreciated the invitation, and the chance to visit with these good people. I happened to have my phone with me, and took a few pictures. We had to wait a few minutes for our table, so Fred and I each took a picture:

Dividing the bar from the restaurant is a large mural of three spanish dancers, and I thought I would try creating a panoramic view of them. This was the result:

February 27 and March 5: Snow!

Writing this page in early June, I can look back on the late winter and spring as exciting times weatherwise. Having snow around here is always unusual, and during May, the state of Texas (and our area) had the third highest amount of rainfall for the month ever. In fact, there was, apparently, enough rain across the state to cover the entire state to a depth of eight inches!


Anyway, in late February we had what I thought might be our only snowfall of the season, and on the morning of the 27th, I opened the front door and used my phone to take a photo of the light snowfall. Unbeknownst to me until I got his pictures, Fred had used his phone to take a picture of my patio in the light snowfall.

But the surprise came a week later, in early March, when we had what for here is a heavy, 2-3" snowfall all across the city. And it was pretty cold, so it stayed around for a couple of days. At left, you can see my photo of the front of my house, taken about nine in the morning after a few residents had already driven out on errands or to work. On my walk, however, were only my footprints, although in the driveways out front and behind our center building, there were lots of tire tracks. Click on the thumbnails below to see some of the pictures I took out front:




Moving around to my patio, I took some pictures out there as well. I'd left the fountain on overnight, but turned it off when I ame out here. That's why it hadn't frozen over. There was a lot of snow on the Carolina jasmine, though, and it was quite pretty.


Out back, the situation was more pristine. No one had, apparently, driven around the side of my house or down the back driveway. I took some other pictures back there, and I also took a picture out my bedroom window of the back yards along Robin Road behine me- which were also undisturbed. You can click on the thumbnails below to see these pictures that I took of our late season snowfall:




April 20-22: Spring at Downhill Run Acres

As he does frequently, Fred has brought me some pictures that he took this week of the various plants and flowers in bloom up at his place in Van Alstyne. While I supposed these would be better a part of his own photo album, since he doesn't have one I thought I would include some of them in my own.


You can click on the thumbnails below to see some of the many pictures Fred brought to me this week:




Having all of the beautiful blooms around his house, Fred thought he might share the wealth, and he brought down a selection of them to my house.


He put a selection of them in a vase, and they are currently adorning the desk in the study. That's the picture at right.

But back to Fred's house. Below are clickable thumbnails for more of the pictures Fred took today of his plants and flowers in his gardens:




May 2: Flora at Downhill Run Acres

Today, Fred took some more pictures of the flowers and plants he works so hard on, and I want to include some of them here.


One such picture is the very pretty rose that Fred has cultivated; you can see that rose at left.

Below are clickable thumbnails for some of the other pictures he brought from today:




May 3: Wimpy's Birthday

I have probably not mentioned a nice lady named Wimpy so far; she is a close friend of Fred's stepmother Nina, and I first met her out at Nina's house earlier this year for an afternoon of a card game they both like. We have seen her a few times since then, the most recent being her 85th birthday party held at Abuela's out in Hurst.


Wimply is the lady in the picture at left standing to thank her family and friends for attending the gathering. To Wimpy's left is one of her daughters and then Fred's stepmother Nina.

Fred and I sat next to Nina, although I spent much of my time wandering about the room taking candid pictures of the attendees. Below are clickable thumbnails for some of these pictures:




The gathering began about 4:30, and started with everyone having a chance to meet one another. Of course, neither Fred nor I knew any of Wimpy's family or her friends other than Nina. Wimpy has two or three children, and it was they and their families who put on the party for her.


When Wimpy arose to say some words to her children and to her friends in attendance, I got up to make a movie of some of her remarks. You can use the player at right to watch that movie.

And to complete this section, there are clickable thumbnails below for the rest of the candid shots I took of many of the folks that were there. I have no idea who almost all of them are, but perhaps they or Wimpy will eventually come across this page and will know who they are:




May 6: Pictures From Fred's House


Today, Fred took some more pictures up at his house, one to record that with all the rain we've been having, his pond is as full as it ever gets. You can see that at left. And the rain has also done wonders for his plants and flowers. You can see a couple of really nice pictures of his luscious blooms here and here. And below there are clickable thumbnails below for some of the other pictures he took today:




May 23: Water Disaster (Part 7)

You may already have come across some photos in the "Miscellaneous" album pages for one year or another that have detailed the various "water-related catastrophes" I have had here in Dallas. The first one occurred back in the late 1980s while Grant and I were in North Carolina and my friend Greg was house-sitting for us. There was a freeze followed by a burst pipe over the washer/dryer. There were five others over the years, and there were photos for some of them. Today, I became aware of the most recent.


Fred and I were in Florida on Saturday, May 23, and had planned to leave for Washington on Monday to meet up with Prudence and the crew for a five-day visit there and some hiking in the Shenandoah. We were parked at an auto parts store when we got a call from Lynne, our pet sitter. When she had come into my house just then, she'd found the damage she photographed at left!

She had been there just a few days earlier and not noticed anything. With all the rain Dallas has had recently, at first I thought it might be roof leak. I thought she needed some help right away, so I called our neighbor, Al, and he and his wife came right over to join her. Talking with them on the phone, we ruled out a roof leak and I asked Al to go upstairs to the master bath, which is right over the damaged area to see what he could see. With him on the phone, he located the problem.

It turned out that the water supply line servicing the master bath commode had sprung a leak, which was coming a a moderately-fast drip. Al was able to turn off the stop valve, and, fortunately, we discovered that the problem was not in the house plumbing, for the leak stopped. When Lynne sent me some photos she took with her phone (and all the photos in this section are photos she took) I could see that the water came out into the bathroom from the commode alcove (as seen here) and, apparently, found some way down into the crawlspace below and eventually to the dining room ceiling.


Talking with Al on the phone, we deduced that the drip must have begun some time previously, since it would have taken a good deal of time to accumulate upstairs, find a way down into the crawlspace, soak the insulation and sheetrock of the downstairs ceiling and finally accumulate enough weight to cause the ceiling to come down. Our guess was that the leak may even have started soon after Fred and left for Florida twelve days earlier.


In any event, with Al's help we got the leak stopped, and he helped much further by bringing over some fans to help dry things out while he, his wife and Lynne did an amazing job of cleaning up as much of the mess as they could. Here are clickable thumbnails for some additional pictures of that mess that Lynne took and emailed to me:

I knew the condo was in good hands, but still, I couldn't imagine continuing with our trip up to Washington while my house was in such as state, so Fred and I decided to begin driving back to Dallas on Sunday morning.

So we called Prudence and told her what we were facing and then cancelled all our reservations in Washington. We headed home on Sunday, arriving, as usual, a day later in the afternoon.


I might point out that it was good that we came home, for when I went upstairs on Monday afternoon, and entered the master bedroom closet (off the bath) I found that the carpet was soaking, and it was actually below the closet where the water had worked its way down. I was able to get everything out of the closet and remove the carpet, drying it out downstairs where ServPro eventually came to set up industrial fans and de-humidifiers. It was salvageable, and eventually got put back in the closet- with new padding of course.


I didn't take any pictures during the reconstruction of my ceiling; that work began when everything was dry, about ten days after we got back. The work was performed by the same crew that had just completed the renovation of Marge Calahan's unit (she died last year, and her home was purchased by someone who wanted to update it and resell it). The work went smoothly, although taking down the popcorn from the ceiling was a real mess. I did take some pictures to send to my insurance company, and some of these are at left. Most everything got repaired, except for the brass candle shade holders; these were too bent to repair properly. As it turned out, USAA engaged a furniture restoration company to take the dining room table and two of the chairs for refinishing and repair. When I got them back, they looked even better than before the disaster. By the last week of June, all the work was done, everything was back in place and I had begun a thorough cleaning of the entire downstairs of the house.

Although it isn't part of the disaster, I did happen to take one other picture the day after we returned- a particularly pretty day lily blossom out by my patio fence.

May 26: Some Pictures From Fred's House

Since we had just returned from Florida, Fred stayed with me for a day, helping get things cleaned up, and then headed up to his house to check on things. We had a lot of rain around here while we were in Florida, and Fred was anxious to see what his own place was like. His pond was full to overflowing, and a normally dry area at the north end of his pond was a wetland. Below are clickable thumbnails for some of the other pictures he took around his house today:

June 5: Around the House

Today and yesterday, I took a few miscellaneous pictures around the house, and I want to put a few of them in this section. First, I have a few pictures of the new roses we planted, some flowers on the patio, and the daylily outside the gate:

I have been playing a game, off and on, that I originally heard about from Fred's stepmother Nina. It's called "Bookworm", and the objective is to make words (as long as you can) from the letters that drop into a grid. You get points for each word, depending on whether you use bonus tiles, how long it it, and how many unusual letters it contains- kind of like Scrabble. Making one of the bonus words gets you, surprise surprise, a bonus. Occasionally, "flaming letters" drop down, and if one of them gets all the way to the bottom before being used, your game is over.

When I got the game, Nina had the high score- somewhere around 16,000 as I recall. The first time I played, I got up to 100,000. But then I had the hang of it, and pretty soon my high score was something over 7.9 million. I put it away for a while, but a few months ago I started another game. I have blown past my previous high score, and now that I am about to pass through 10 million, I have started taking the occasional picture of the screen to record my progress as I move from rank to rank. I took three of those on June 5th, June 8th, and June 10th, and those three pictures are below:

June 14: Some Pictures from Downhill Run Acres

Fred has brought some more pictures that he took today around his house; all the work he has put in over the years on his rose garden and his other plants has certainly resulted in a yard full of pretty blooms. Below are clickable thumbnails for some of the many neat pictures that Fred brought with him today:

June 24: Cats and Bookworm

A couple of pictures for today. Tyger seems to like to sleep in enclosing spaces, like the basket in the master bath. He's found another favorite spot- on a living room tray table by the window, which is just the right size for him. The other picture is my latest rank in Bookworm (see above).

I have one more picture from June, although it wasn't taken today but a few days later. Fred and I call it "sleepy time at the cat ranch":

July 7: From Downhill Run Acres

I haven't been to Fred's house in years, but he often brings down some pictures that he's taken around his property- mostly the plants, flowers and statuary that he has been cultivating and accumulating. He has brought some more pictures today, and there are clickable thumbnails below for some of them:

July 14: Selling My Tape Deck

You have already read about the water disaster I had at home last month, and the pictures today are connected with that, in a way. As part of my final clean up after the repairs, I decided at long last to get rid of a lot of stuff I either could no longer wear or use or things I just knew I wouldn't use again. I went through closets and drawers to find all this stuff, and made quite a few trips to the Goodwill to drop off still usable items.


One of the closets I went through was the one where I have, for many years, stored the Sansui tape deck that I got while I was in Korea in 1970. That made it a little over 45 years old. My first thought was to sell it on Ebay, so I took it to the living room so I could take some pictures for the online listing. At left, you can see the deck, its dust cover and the remote control accessory that I had bought for it in Japan. The thing was very heavy, and I wasn't looking forward to packing and shipping it, so I thought I would first look and see if there were any places locally that might want to buy it.

I also took a couple of additional closeups, and there are clickable thumbnails for these pictures below:

A little online investigation led me to the same place in North Dallas where I had taken a huge number of CDs to sell (after ripping them all to my computer). This place bought and sold turntables, vinyl records, videotapes and vintage audio equipment. When I called, I discovered I could get $125 for it (I recall that it cost me somewhere around $200 when I bought it)- if it was working. So I hauled out some of the reel tapes that I made on it while in Korea and in the few years following. I found that not only did the deck work perfectly, but all the tapes I had made were also still playable.


So that's where it ended up. I would have kept it just out of nostalgia, but why bother? All the music on the tapes I also had either on CD or in MP3 files, and there was just no need for it. The end of an era- as it was the last piece of audio equipment that I still had from my time in the Far East.

July 29: Landscape Damage

This entry is more of a diary record, and you can skip it if you wish. This morning, I was working in the study when I noticed that Cynthia next door was having something picked up in a large white truck. I thought nothing of it, and the truck must have driven off while I was elsewhere in the house.


Late in the afternoon, my doorbell rang, and my neighbor across the way asked me what had happened to my shrubbery out front. When I came out to look, the shrubs at my front corner were all torn up, as you can see at left, and the sprinkler head that sits at that corner was pulled out of the ground, bent and broken.

Here are clickable thumbnails for some additional pictures of the damage:

The only culprit I could think of was the truck, so I went next door to Cynthia's to find out where it had been from. That the truck did the damage was pretty much confirmed when Cynthia told me that she had told the truck driver that since he was pointed west in the drive, that he would have to turn right and go behind our middle building to get back to Inwood; he truck was too long to make the corner to the south- my corner- easily. Apparently, he had ignored her advice.

With Cynthia's help, we contacted IKEA, got the name of the delivery service they'd used and called that company. I spoke with the dispatcher, explained the problem, and she promised to call me back after the driver had returned and they could find out from him what had happened.

I fully expected to hear back that the driver had claimed no knowledge of the shrub damage, but to my surprise I got a call the next afternoon that the delivery company wanted me to send a picture of the damage and an estimate for fixing everything to their home office. I did that, and pretty quickly got a check back. Our landscape guy repaired the sprinkler head, and we will be replacing the holly bushes in the Fall.

August 1: Fred's New Car

For some time, Fred has been investigating new vehicles. His RAV4 is over ten years old and has more than 150,000 miles on it, and little things are starting to go wrong fairly regularly. Plus, gas mileage has improved a great deal in that time, and the technology has advanced greatly. So he has been looking around at three small crossovers- a Mazda, a Ford and a Hyundai. All three would work nicely, but he had found a totally tricked-out Hyundai Elantra GT at a dealership in Terrell. Before going further, though, since all these cars were a bit lower to the ground that his RAV4, he took my Elantra to his mother's last time he was there to verify that he could negotiate the rough driveway to her house- which he could.


The Hyundai was a 2014 model, but new, that had been at the dealer for some time, and consequently the $26K car had been reduced to a bit over $19K. It had everything on it, so we went out there this morning to have a look at it. It didn't take Fred long to decide that it was the vehicle he wanted, so we began the lengthy process of getting his RAV4 trade-in value settled (he got about as much for it as we had expected) and all the paperwork for it done. While this was going on, I made a movie of the car inside the showroom, and you can use the player at left to watch it. I also took a couple of still pictures, and there are clickable thumbnails for them below:




It took us a couple of hours to get everything completed, and Fred drove his new car home about three in the afternoon. I have to admit it is a great little car, and the navigation and audio package is outstanding. Fred is already planning on taking it to Florida the first time we head down there in the Fall.

August 9: Mario's Birthday

It seems that in the last couple of years, our tradition of having a party to celebrate the birthdays of our friend Ron, Fred and our friend Mario has been hit or miss. We didn't have a combined party this year, but we wanted to at least mark the occasion of Mario's birthday. So on Sunday we took Mario and Steve to the Original Pancake House for breakfast, and then picked up a cake for him and brought it home.


This is a milestone year for Mario- he turns 50- and so we did not want to let it get by us. Fred set up the tripod and took the picture of our small group that you can see at left, and he and I switched off and took some still pictures as well. You can use the clickable thumbnails below to have a look at them:




While we were together today, we discussed Mario and Steve's coming down to San Antonio while I house-sit for Ron and Prudence later this month. I am hoping that they will be able to come down for a few days and bring Fred with them; this will enable Fred to ride back with me when the Ruckmans return from their trip to Europe.

August 13: A Departure

Well, it is time for the Ruckmans, the Gleims and Guy to leave for Europe, and we have worked out the house-sitting gig.


Prudence's housekeeper, Alma, is going to house-sit until her school job starts up on the 22nd. I will drive down that morning and house sit for her until they return from Europe on September 3rd.

Since I will be taking Jax back and forth to doggie daycare, Prudence thought it best that I use her car, so we worked out a plan under which she, Ron and Guy would drive up here (they arrived yesterday) and after dropping them at the airport this afternoon I will take her car home with me, driving it down to San Antonio on the 22nd. I'll drive it back to Dallas on the 3rd (I hope with Fred riding with me) and we will pick them up at the airport. Then the three San Antonio folks will have her car to drive back down there.


As it turned out, I might comment, the plan worked perfectly when Steve and Mario were indeed able to come down for a visit and bring Fred with them.

August 24: At Downhill Run Acres

I have left for San Antonio to housesit for Prudence while she and Ron, Nancy and Karl and Guy are in Europe; I will be there through the end of the month. Fred, along with Steve and Mario, will come down in another week, and Fred will stay on with me until Prudence returns. Meanwhile, Fred has been taking some pictures around his property and, continuing the practice in this album of including some of them, I will do so again in this section.


At left is a pretty neat picture of one of the sunflowers that dot Fred's property. And below are clickable thumbnails for some of the other pictures that Fred took this day and the next of some of the late summer foliage, blooms and fruit in his gardens and around his house:




September 14: Cards with Nina and Wimpy

Today, Fred and I went out to Hurst to meet Nina (Fred's stepmother) at her friend Wimpy's house. Wimpy and Nina like to play a card game called "Sequence" and they like to get together every month or so to play it. We are happy to oblige. It is always a pleasant way to spend an afternoon. Today, I got out my phone and we took a couple of pictures. In both of them, Wimpy is the lady at the left:
| | |
| --- | --- |
| | |
September 19: Some New Roses

Today, Fred and I went and got some new roses to plant alongside my garage. I finally got tired of the wintercreeper and how it had gotten so woody and out of control, so I took it all out. Then I cleaned out the soil bed (discarding lots of stuff that had been buried since the townhomes were built) and worked in some mulch to prepare the bed for planting. We have already put in some pencil junipers, and now we are going to plant some roses between them. Below are three pictures. At left the new roses are sitting on my patio, waiting to be planted, and the two pictures on the right are the roses after planting.

October 7: From Downhill Run Acres

It is Fall, but there is no shortage of blooms and interesting foliage up at Fred's house. There is even some fruit. Fred brought me a selection of pictures he took over the last couple of days, and I want to include some of them here.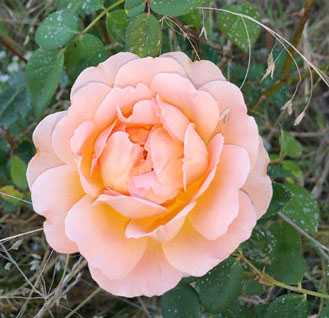 A Rose by Any Other Name


Fred has roses that bloom almost the year round and at left you can see one of them- a beautiful orange blossom.

Below are clickable thumbnails for some of the other pictures Fred brought me today:




November 23: A Private Birthday

This year, for the first time in a long while, we didn't plan any kind of birthday party for me. Thanksgiving will be coming up in a few days, and many of the friends we might usually have invited are otherwise occupied.


Barbara is mostly homebound these days, and both Ron and Jay have been ill this Fall. Denny was away this weekend, as was Lynne. So it hardly seemed worthwhile to try to have a party when only three or four people might show up.

So Fred and I just had a quiet weekend and he headed home on Monday, today, my birthday. He did give me a couple of cards and gifts, and the guys up at Merrill-Lynch sent along some fresh-baked cookies and the milk to go with them- delivered by a local company that does that sort of thing for companies. Fred thought I should take a picture of the setup they sent, and that is the picture at left.

Just before I set out the cookies for the picture, Lucky was up on the counter, and Fred got a picture of him first.


A quiet but enjoyable birthday, for a change. Fred tells me that he plans something much bigger for my 70th milestone next year.!

November 30: Fall at Downhill Run Acres

Fred has brought me some pictures from his house today, and I want to include them here.


Fred has roses in his gardens that bloom pretty much year-round, and the yellow bloom at left is from one of those bushes. I am partial to yellow flowers, myself, so I like that one a lot.

Fall color is also much in evidence around Fred's house, and if you care to click on the thumbnail images below you can see some of the pictures he has brought me:





*************************************************************


---
Working Code Below
---
Fred 16x9 Landscape W960 Ron 16x9 Landscape W960 Fred 4x3 Landscape W828 Ron 4x3 Landscape W828 Fred 9x16 Portrait W390 Ron 9x16 Portrait W390 Fred 3x4 Portrait Lumix W504 Ron 3x4 Portrait W504


FRED 16x9 LANDSCAPE STRIP

RON 16x9 LANDSCAPE STRIP

FRED 4x3 LANDSCAPE STRIP

RON 4x3 LANDSCAPE STRIP

FRED 9x16 PORTRAIT STRIP

RON 9x16 PORTRAIT STRIP

FRED 3x4 PORTRAIT STRIP

RON 3x4 PORTRAIT STRIP

RON FLASH MOVIE

FRED FLASH MOVIE

WEB MOVIE HEAD INSERT WEB MOVIE- RON

Loading the player...

WEB MOVIE- FRED

Loading the player...

Second Level Heading


PAGE INDEX



You can return to today's index or continue with the next section below.

You can return to today's index or use the links below to continue to another photo album page.

You can use the links below to continue to another photo album page.

************************************************************
| | |
| --- | --- |
| | Return to Index for 2015 |