| | |
| --- | --- |
| | March 28-29, 1992: A Visit to Fred's House |
| | Return to the Index for 1992 |
---
DATE
February 28 - March 1, 1992
A Visit with Frank and Joe in the Hill Country

Since we met in December last year, Fred Nabors and I have become good friends, and have done quite a few things together around Dallas. I have learned a good deal about him and the people he knows. One of those people, Frank Roberts, has been a close friend of Fred's since junior college; he now lives in Leakey, Texas, and works as a Ranger for the Texas State Parks System. I am about to meet him and his partner for the first time.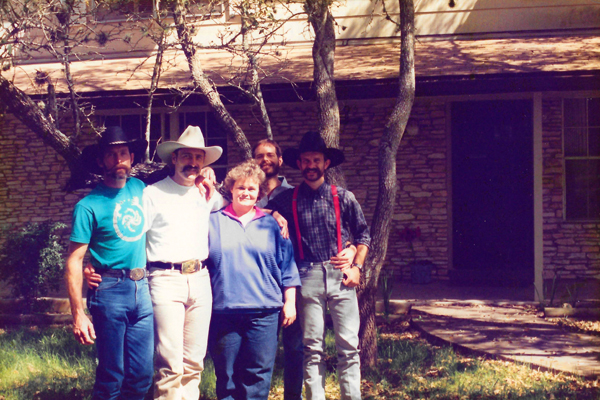 L-R: Joe Wells, Frank Roberts, Barbara, myself and Fred


Even in the couple of months I have known Fred, he has told me at length about these best friends of his, Frank Roberts and Joe Wells, and I am well aware of the backstory of the three of them. What has also become apparent to me is that Fred not only talks with them fairly frequently, but they still are a major influence in his life, and he has great respect for their opinions.

Fred asked me a couple of weeks ago if I would like to accompany him on a weekend trip to Austin, where Joe will be visiting his friend, Barbara, and then down to Leakey, where Frank and Joe live. Knowing their importance in his life, I was eager to meet them; I thought that getting to know them would be essential to getting to know Fred better, too.

On Friday evening, the 28th, Fred came down to Dallas after work and we took his truck to Love Field to catch a flight on Southwest down to Austin. At the Austin airport, I rented a car and we followed Joe's directions to Barbara's house in south Austin. I found Joe and Frank and Barbara to be very nice, and they were very nice to me since I was a friend of Fred's. Barbara fixed dinner, and I had my chance to meet Frank and Joe. I hung back a bit, as I usually do with strangers, but I tried not to seem standoffish, for I had the feeling that in some way I was there "on approval". It probably wasn't true, but I thought that Frank and Joe were so important to Fred that if they didn't like me, my relationship with Fred might be over before it really got started.

I worried that I might not "fit in"; Fred, Joe and Frank were all outdoor people, and shared interests like camping, plants and flowers, and Texas itself. I, on the other hand, was pretty much a city kind of guy, hence my worry about not fitting in. In any event, we had a nice dinner at Barbara's and she put all four of us up for the night.


On Saturday morning, we followed Frank and Joe as they drove from Austin down to their farm just north of Leakey, Texas.

The route from Austin to Leakey was a new one to me, but as it turned out, I would become quite familiar with it in the years hence. South of downtown Austin, we picked up US Highway&290 west to Johnson City, the first part of the 150-mile drive from Austin to Leakey.

We passed through Luckenbach, Texas (made famous in a country song) and came into Fredericksburg, originally a German settlement. There, we turned south on Texas Highway 16 to Kerrville and I-10.


At Kerrvile, we got onto I-10 heading west, and after about 20 miles, and one of the longer hill climbs on an Interstate that I can remember, we turned southwest on Texas Highway 41. Another 30 miles brought us to US Highway 83, which we took south into Leakey. Frank and Joe have a small farmhouse about three miles north of that very small town. Leakey is in the area of Texas called the Hill Country- a twenty-five county region of Central Texas and South Texas featuring karst topography and tall rugged hills consisting of thin layers of soil atop limestone or granite. It also includes the Llano Uplift and the second largest granite dome in the United States, Enchanted Rock. The Hill Country reaches into portions of the two major metropolitan areas, especially in San Antonio's northern suburbs and the western half of Travis County, ending southwest of Downtown Austin.


The region is the eastern portion of the Edwards Plateau and is bound by the Balcones Fault on the east and the Llano Uplift to the west and north. The terrain is punctuated by a large number of limestone or granite rocks and boulders and a thin layer of topsoil, which makes the region very dry and prone to flash flooding. The Texas Hill Country is also home to several native types of vegetation, such as various yucca, prickly pear cactus, cedar scrub, and the dry Southwestern tree known as the Texas live oak.

On the aerial view at left, I have marked the highway that comes north from Leakey. About three miles north of town, Frank and Joe's farm was off to the right. I would like to have zoomed in to show you the ranch house that Frank and Joe live in, but it is no longer there. Frank and Joe had long wanted to build their own house (the house they occupied then was actually part of Joe's family's ranch). Some years after this visit, they were able to begin that process, and they eventually moved to their new house up on the hillside above a branch of the Frio River. The small ranch house passed to another member of the family who did not share Frank and Joe's love of the ranch and desire to take care of and improve it. Eventually, it had to be torn down.


For now, though, Frank and Joe have the house, fenced fields, a barn and other outbuildings. They don't raise crops, but they do have a number of different kinds of livestock, and they both indulge their interest on horticulture with the gardens around that house.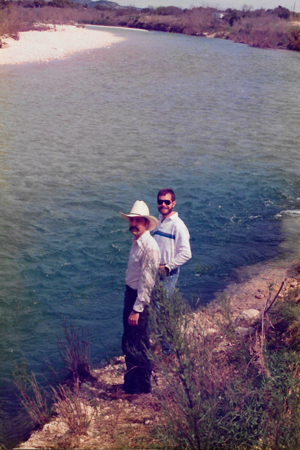 Frank and I at the Nueces River


We got to Frank and Joe's house in mid-afternoon. I found it to be reminiscent of my sister's house in North Carolina. The small house that Frank and Joe occupy is very "country"; many people might call it "old," but it has a frontier character all its own. I have not got a lot of experience living in the country, but the location where Frank and Joe live certainly qualifies as being out in the country. My sister's house is urban by comparison; she has neighbors along her road and across the street, but from Frank and Joe's farmhouse I don't think you can see another residence.

The town of Leakey has 400 people, most of whom live on surrounding ranches. Uvalde is about an hour away, but there we are only talking about a few thousand people. San Antonio, with its million people, is about one and a half hours away. The house is small, but it seems bigger. There is a guest room, bath, living room, what would correspond to a family room, main bedroom, kitchen and a porch that has been converted to a storage room and is quite large. There are the usual outbuildings, including three barns, if I remember right. There are goats, sheep, dogs and cats galore, just like at Judy's.

The interior of the house is furnished much like my sister's, with furnishings that have been chosen or made and which fit their purpose. Style is not an issue, although everything that Frank and Joe have has its own style- that of being Western and that of being functional. I found the house very cozy and welcoming, which is due in large part to the men who live there. On Sunday, Joe had chores to do, so Frank took Fred and I on a tour of the area. Fred had been here a number of times before, Frank and Joe being his oldest and best friends, but it was new to me. The Nueces River is about ten or twenty miles from their ranch, and is the nearest large River to where they live.


The Hill Country has something of a mystique in Texas, being an area so different from the flatness of East Texas, the swampy areas of South Texas and the unrelenting desolation of most of West Texas. It is an area that lures retirees and the wealthy who can make their own schedules and who don't need to have constant and quick access to population centers. It attracts naturalists and people like Frank and Joe; Joe manages his family's ranch and Frank is a Park Ranger at Garner State Park about fifteen miles south.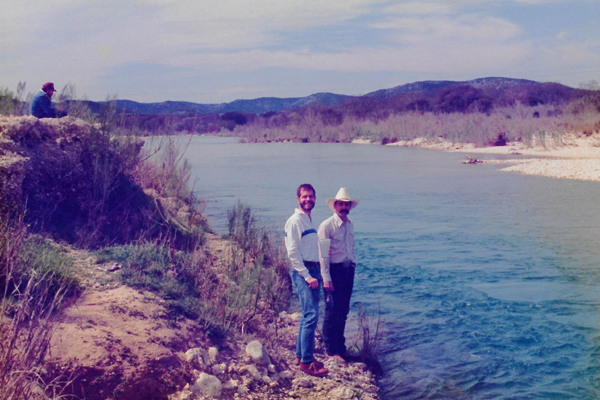 Frank and I at the Nueces River


The Nueces River runs pretty much north-south a bit west of where Frank and Joe live. To get to it, we continued north on the highway that runs by their farm for about fifteen miles. The Nueces is about 315 miles long. It drains a region in central and southern Texas southeastward into the Gulf of Mexico. It is the southernmost major river in Texas and northeast of the Rio Grande. Nueces is Spanish for nuts; early settlers named the river after the numerous pecan trees along its banks.

The Nueces rises northwest of San Antonio in the Edwards Plateau, in Real County, roughly 50 mi north of Uvalde. It flows south through the Texas Hill Country, past Barksdale and Crystal City, approaching to within 35 mi of the Rio Grande on the border with Mexico. East of Carrizo Springs, it turns to the east, flowing through the scrub plains of South Texas, across rural Dimmit, La Salle, and McMullen Counties. In La Salle County, the river hardly ever flows except when it rains. In central Live Oak County, it is joined from the northwest at Three Rivers by the Atascosa River and Frio River, then flows southeast along the coastal plain past Mathis, where it is impounded to form the Lake Corpus Christi reservoir. It enters Corpus Christi Bay on the Gulf of Mexico at Corpus Christi.

I learned a good deal about the river from Frank. Actually, he said, the West Frio, a very small river, runs right by their farm, but it is dry throughout much of the year; at these times it is just a large river bed. It joins the East Frio a few miles south just outside Leakey. It continues south/southeast and eventually joins the Nueces.

Frank and Joe's ranch seemed to me to be about thirty thirty acres or so. There are high hills all around where you can go looking for cactus, climb and hike and, I understand, explore some small caves. It is just the kind of surroundings that Frank and Joe want. Fred has known Frank since college at Texas A & M, and he met Joe soon after. Fred has lots of stories about the three of them, as well as other close friends. The stories are quite involved, and since Fred tells them in a rambling, non-linear fashion, it has been hard for me to keep track of who's who and what's what sometimes. But Fred is good at telling them, they are entertaining and revealing, and I am sure that with some repetition I will remember more of the cast of characters. (As it turned out, I didn't have to worry about the repetition part.)

Joe and Frank have been together for about eight years, I think, and Joe is a soldier in the same battle that Grant fought. Like Grant, he has good days and bad ones, but the bad ones are getting fewer for guys in his situation as new advancements are coming along all the time. Joe and Frank are really, really good guys, and were very nice to me (the "city slicker" in their midst), and so I wish the best for both of them.

Frank and I at the Nueces River


The area where Frank and Joe live, and through which the Nueces River flows, has seen a good deal of history. One of the first settlers to scout the area was Cpt. Blas María de la Garza Falcón in 1766. From before the end of the Texas Revolution, Mexico recognized that the Nueces River was historically the border of Texas from the rest of the country. However, the Republic of Texas claimed the Rio Grande as its border with Mexico, citing the Treaty of Velasco signed by Mexican President Santa Anna, who agreed to the Rio Grande border after losing the Battle of San Jacinto. This dispute continued after the annexation of Texas, and was one of the causes of the Mexican–American War. The Treaty of Guadalupe Hidalgo ended the dispute, with Mexico recognizing, under pressure, the Rio Grande as its northern border.

On August 10, 1862 pro-Union Germans from the Texas Hill Country trying to flee to Mexico were ambushed and killed by Confederates— an event known since as "The Nueces Massacre".

Frank and Fred know this area pretty well. Frank and I are at a location called the "bathtub," which is actually on the Cedar Creek branch of the River. At this time of year, the land is fairly barren, but in the later Spring and Summer it is supposed to be quite green and very beautiful, not that it doesn't have its own beauty even now, coming out of the Winter.

Today was cool, but not uncomfortable, but by the end of the month it will be getting much warmer. It is fun to ride around with Fred and Frank and listen to them tell the various stories of their days at A & M and since. I know what it is like to have very close friends, and I am glad that Frank, Joe and Fred think so much of each other. I feel like an outsider, though. I have only known Fred for two months, and sometimes feel that I have a lot to live up to. Everybody knows that I am a city person, unlike the three of them, and I have to make a conscious effort not to appear too much so. I like the country, but then I like my city comforts, too. I don't mean that Frank and Joe (or Fred for that matter) live in a primitive environment; we all have the same physical conveniences.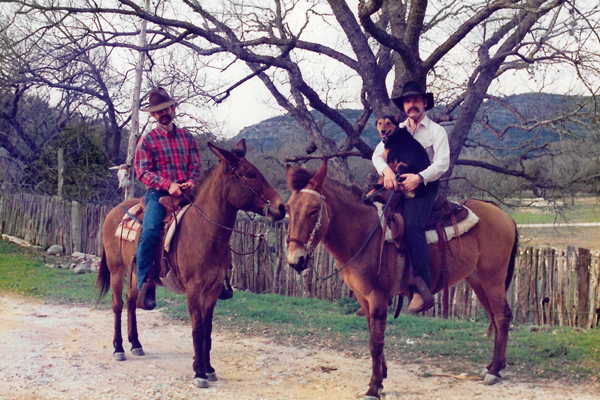 Fred, Frank and Jasey (the dog)


But their whole attitude is oriented to the outdoors- to hiking, fishing, ranching, growing and so on. I am comfortable doing those things, but I do like being in an urban area with so much to do. Fred is not that far away from Dallas himself; many people who live in Van Alstyne commute to Dallas or McKinney, but Frank and Joe I would classify as being isolated. But it is a nice life, and Frank and Joe appear to have everything they need (not the least of which is each other).

After riding around the county for a while, we returned to the ranch for some lunch, and spent more time wandering about their area. Fred and Frank look very at home in the saddle as cowboys; all three of them cultivate that image which is the most comfortable for them, and they all fit the part, right down to their beards and/or mustaches. If you got the three of them into the proper setting and clothes, you wouldn't be able to tell them from some 1880's desperadoes.

One of Franks cats, a Manx, has just had kittens, and I have spent some time playing with them; they are awfully cute, and it would be nice to have one. Perhaps I can let that idea percolate for a while. This is a good shot of the surroundings that Frank and Joe live in, here in the area on the border of the Texas hill country.


Both Fred and I had to be back at work on Monday, and we had a flight back to Dallas from Austin leaving about 9PM, so we had to be on our way in the late afternoon. We got back to the Austin airport about 7:45, turned the car in, and made our return flight on Southwest in plenty of time.

I thoroughly enjoyed my weekend in the country, but am not a little bit anxious to know how these friends of Fred's have reacted to me. As I said towards the top of this page, all weekend I have had the feeling of being "interviewed" for the position of a long-term friend for Fred, and by extension for Frank and Joe as well. I am anxious to know how I have measured up. I like Fred a lot, but I get the feeling that the three of them are so close that I need to fit in with all three of them to really fit in with Fred. But I will just have to wait and see, I guess. If Fred and I are still close friends six months from now, then perhaps the interview process went well.

You can use the links below to continue to another photo album page.
---
| | |
| --- | --- |
| | March 28-29, 1992: A Visit to Fred's House |
| | Return to the Index for 1992 |