| | |
| --- | --- |
| | May 23-25, 1992: A Visit to Muskegon with My Sister |
| | February 28 - March 1, 1992: A Visit with Frank and Joe in Leakey |
| | Return to the Index for 1992 |
---
DATE
March 28-29, 1992
A Visit to Fred's House


My friendship with Fred has continued, and I am happy about that. He has gotten comfortable enough with me that he has invited me to come up to his house for the first time this weekend.


Fred lives about fifty miles from me, up in Van Alstyne, Texas. Since he works north of McKinney, living further north still is good for him, as he has very little traffic when he commutes- it is all pretty much out in the country.

For me to get there, I just get over to Central Expressway (US 75) either by taking the Tollway up to I-635 and then around to US 75, or I just cut across town to Central Expressway; it all depends on the time of day. Then I just drive about 45 miles north out of the city, through some countryside, then through the town of McKinney, past where Fred works and then another 15 miles of country expressway to reach the exit for Van Alstyne.


Once there, I have to go east through town (Van Alstyne is very small, about 2500 people), north a bit on Texas Highway 5 and then northeast of Van Alstyne, again out into the country, to Fred's house. In the evening rush hour, it can take over an hour, but if the traffic isn't bad I can make it in 50 minutes or so.

Fred has 11 acres; in effect, a large corner lot as the road he is on forms both the west and north boundaries of his property. As you can see, most of the property is just open land- pasture. There are trees sprinkled through it, but mostly it just gets mowed continually. His property slopes down from the terrace where the house and gardens are all the way to the back of the property where Fred had a pond dug. He also built a gazebo on a little hill southwest of the house, and, some years after he built originally, he added a garage and a greenhouse that wraps around two sides of it.

Before we look at the pictures I took this weekend, I should say something about where it is that Fred works. Crump's Garden is a commercial greenhouse operation that grows seasonal bedding plants (flowers) for the wholesale trade. Crump's either brings in cuttings for plants (like the thousands of poinsettia cuttings that it brings in each year) or it takes its own cuttings from existing plants to grow more of them (like the thousands of kalanchoes that Fred produces each year. When the crops are ready, almost all of them are sold to wholesalers who in turn sell them to florists or other outlets. The rest are sold in Crump's Garden's own shop, where people who live in the area buy them directly.
| | |
| --- | --- |
| | |
Crumps' Garden is located a couple of miles north of McKinney, Texas, just off US Highway 75 and FM 543. US 75 is the highway that is Central Expressway down in Dallas itself, and it runs all the way north past Van Alstyne and well into Oklahoma. McKinney is, itself, about 30 miles north of downtown Dallas. Since I have moved to Dallas, the entire North Dallas area has grown a great deal, and US 75 has been upgraded in town and widened as it goes north. This process seems to be continual, as more and more houses are built in Plano and even further north. McKinney is about 14 miles south of Van Alstyne, and even though Fred is technically commuting each morning and afternoon, he is well north of the Dallas city traffic.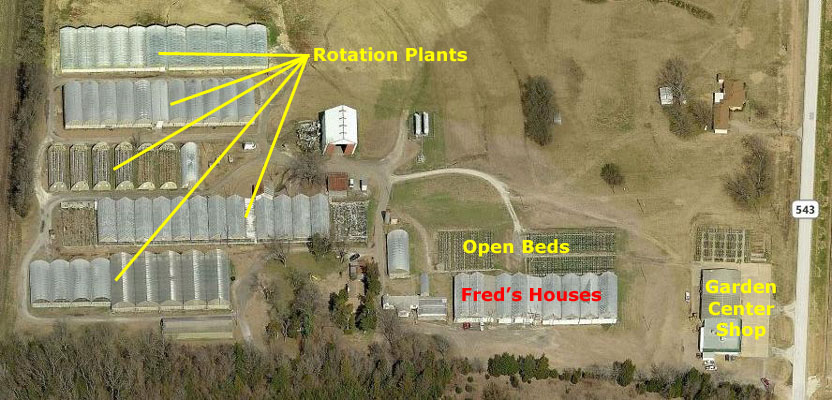 The greenhouses sit on a 40-acre parcel just a quarter mile north of US 75, so they are easy to get to. Right by the road is the shop that sells to the public. The property slopes up behind the shop to the west and towards the top of the hill are the first of the operation's greenhouses, a group of six or eight that are connected. These are among the oldest on the site, and turned out to be the ones that Fred is responsible for.
Past his greenhouses is the Crump family home, and then beyond that are a large number of individual greenhouses connected in five large groups. Here, the Crump brothers and Bill Wardend grow seasonal plants- lilies for easter, mums in spring and fall, hanging baskets of all kinds and, of course, their biggest crop by far- poinsettias for the Holidays. Every been to a Mall decorated for the holidays and seen a hundreds or thousands of potted poinsettias scattered around? Well, its places like Crump's Garden that grow them.

I have been amazed to learn from Fred that Crump's, by itself, supplies over 100,000 potted poinsettias to the market each year, beginning around Thanksgiving. To have them ready, they get their first cuttings in early in the summer, and from then to the Holidays they go through a continual process of dividing and dividing and growing and growing until the couple thousand cuttings they buy early in the year become a hundred thousand individual plants, fully grown and in six-inch pots- just like the ones you might bring home for Christmas.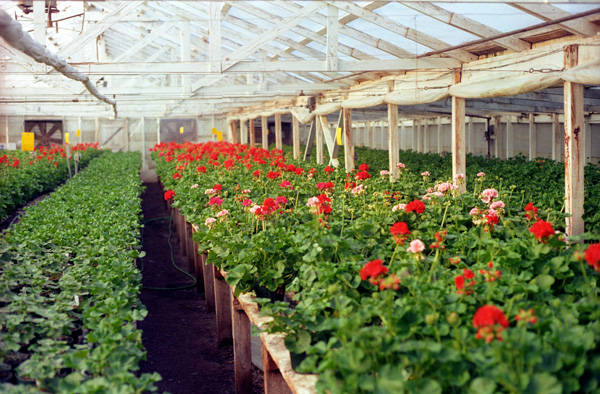 In One of Fred's Greenhouses at Crump's Garden


I was working on Friday, and so I have come up for my visit on Saturday morning. Fred has told me a lot about his work at Crump's GardenFred has a pretty consistent schedule. He rotates "weekend duty" with three Crump brothers and another employee, Bill Warden. So, every 5th weekend, it is Fred's responsibility to go to the greenhouses early in the morning, open them up and do a bunch of watering. He usually gets back home about noon. Then, late in the afternoon, he goes to the greenhouses once again to close them up. The times vary between winter and summer, but not by much. On Sunday, the routine is much the same, except that there is less watering to do in the morning.

By the time I arrived, Fred was back from his morning chores- opening the greenhouses and doing some watering. The first thing we did was to have some lunch, and then Fred took me on a tour of his house and the property. The house is very nice, with two bedrooms, a bath, a living room and dining area and the kitchen downstairs, and a master bedroom and bath upstairs. Fred doesn't have a garage yet, but he will be adding one this year, along with his own little greenhouse that will wrap around the south and east sides of it. (You can see that addition in the aerial view above, which, of course, is current for 2016, the year I am creating this page.)


Along about four-thirty, we drove down to the greenhouses so Fred could close up. At this time of year, the greenhouses are kept closed at night to keep in the warmth and then opened so the sun and fresh air can get to them during the day. During the winter, huge fans at the ends of each greenhouse keep the air moving, and so the operation can continue year-round. Fred waters a good deal of his stuff by hand, but the greenhouses are also equipped with automated drip watering systems.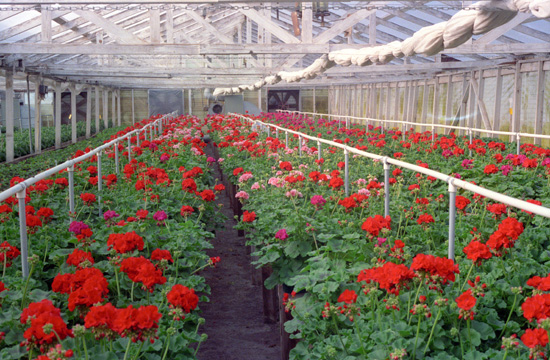 In One of Fred's Greenhouses at Crump's Garden


In the picture above, left, taken in one of Fred's houses, you can see the long "benches" of potted plants in various stages of growth. I am not sure what plants these are; I'm sure Fred told me, but I've forgotten. The apparatus on the ceiling is part of the automatic covering system that keeps the plants from getting too much sun. Depending on the time of year and the crop involved, Fred may have to throw the switches along the walls that unroll that covering to darken the greenhouse; this is done, I understand, to control the growth of the plants, ensuring that they reach maturity right on schedule.

The picture at right was taken in another one of the greenhouses that Fred handles. I believe these are carnations. Fred's greenhouses, being the oldest, have dirt floors. At certain times of the year they can be muddy, and so Fred often wears galoshes when he is working in them. Four of the five newer greenhouse groups have cement floors and more modern equipment. Bill Warden is something of the fix-it guy who keeps the mechanical systems operating, although everyone, including Fred, pitch in.

Notice that most of them flowers are red, but there are some pink ones mixed in. One of the things that Fred does with his degree in horticulture is to take some of the plants that the operation has and cultivate them into new strains. If he finds a mutation that could lead to something new and different, he will take it aside and attempt to breed the new quality. He is always taking cuttings of this and that and trying to produce new and different plants, and he enjoys this work very much.


This might be a good place to mention that in the years hence, as Fred and I have taken trips together, he fairly often brings home cuttings of new plants we have run across. He has done this most often on our trips to Florida. There will be a couple of occasions in the future where the cutting that Fred brings back and cultivates turns into a new crop for Crump's Garden- something that no other grower has. This gives Fred a feeling of satisfaction, and of course Crump's likes having a new money-making variety to sell.

Fred Working in the Greenhouses
(Picture at left)
There seem to be about ten or fifteen actual greenhouses; it seems like a large operation to me, but Fred says there are many that are much larger. There is a wide variety of plants, mostly grown for the florist trade.

(Picture at right)
Fred isn't responsible for the manual labor of moving things around; there are seasonal workers who do that sort of thing. But he is responsible for the successful cultivation of a number of the varieties that the business depends on. The biggest is the Poinsettia crop at Christmas time. Everyone works on them, and the success of that crop can make or break a year.


The Petunia Crop
I lucked out meeting Fred; he is attractive, and an established professional with his act together. Fred started out with a degree from Texas A&M, and although it was hard initially to get started, he is now at what I consider to be a professional level, with a very responsible position with the greenhouse operation. I suppose that any number of people can water plants and operate the various greenhouse systems, but Fred can and does do a lot more than that. I am impressed at his knowledge.

Caladiums Being Grown at Crump's Gardens

There are a number of different varieties here. Fred knows that I like them, and Grant and I have had them on the patio before. Fred has already begun to give me some good advice on what I might plant on the patio this Spring, and he is certainly the expert.


A Row of Greenhouses at Crump's Garden

If you look down the long aisle at the extreme right, you can see a passageway that leads from one greenhouse to the next in a long chain. They are nominally separate buildings, but most of them are connected. The variety of plants being grown is quite impressive, and very pretty.
We went back to the house in Van Alstyne after Fred closed up, and spent the evening watching some tapes that Fred had gotten. Fred doesn't have cable where he lives, and doesn't have a large antenna yet, so he only gets a couple of channels. This means that he watches a good many pre-recorded tapes that he can pick up at the Blockbuster in McKinney. Fred is an excellent cook, and makes dishes that I think are very good. Most of them are Spanish in derivation, but we both apparently like Mexican food a great deal.
I spent the night and came back down to Dallas on Sunday afternoon. It was a very nice first visit to Fred's house, and I am beginning to think it will be just the first of many.
You can use the links below to continue to another photo album page.
---
| | |
| --- | --- |
| | May 23-25, 1992: A Visit to Muskegon with My Sister |
| | February 28 - March 1, 1992: A Visit with Frank and Joe in Leakey |
| | Return to the Index for 1992 |