| | |
| --- | --- |
| | June 5-8, 1992: A Hiking Trip to New Mexico |
| | March 28-29, 1992: A Weekend at Fred's in Van Alstyne |
| | Return to the Index for 1992 |
---
DATE
May 23-25, 1992
A Trip to Muskegon, Michigan


Judy told me a month or so ago that she was going to show her horse, Patrikk, at the Buckeye Sweepstakes Arabian Horse Show in Columbus, Ohio this weekend, so since I had some free time, I thought I would fly up to Columbus to meet her and see the show, and then ride with her up to our hometown and my birthplace, Muskegon, Michigan, to visit our Aunt Marguerite, who still lives there. Neither Judy nor I had seen our Aunt in quite a while, nor had I seen Patrikk perform, so I thought it would be an excellent idea to meet her in Columbus, go to the show, and then ride with her to Muskegon. Judy was driving up from North Carolina, so we could use her car to drive to Muskegon (and she didn't have a trailer to two, since Patrikk was being transported by the people who have been training it and working with it.


Everything worked out well, and I met her on Saturday morning at the Columbus airport. The Buckeye Sweepstakes Arabian Horse Show was being held at the Ohio State Fairgrounds: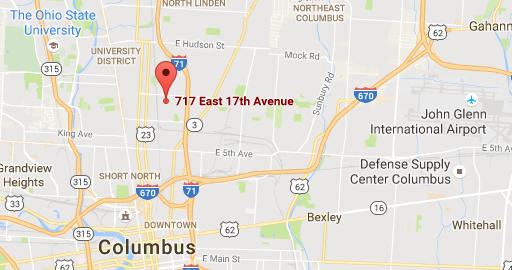 I can't recall the last time I have been to a horse show, if indeed I ever have, so this was something of a new experience for me. The slogan of the Buckeye Sweepstakes Horse Show is "Where National Champions are made"! It is considered the largest Class A Arabian horse show in the country other than the Scottsdale show. It has always been one of the most innovative shows since its inception in 1963. The home of the Buckeye has always been the Ohio Expo Center in Columbus, Ohio, and always on Memorial Day Weekend.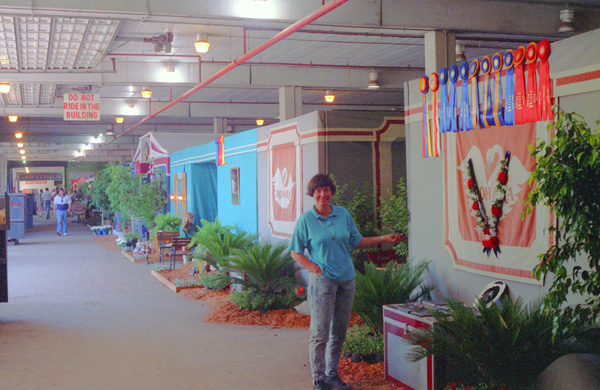 Judy at the Buckeye Arabian Horse Show


The Buckeye slogan "Where National Champions are Made!" is proven year after year. It is said that if you can win at the Buckeye, you can be a National Winner. The caliber of horses is the best, especially in the performance divisions. The Buckeye offers National Show Horse District Championship classes, a Progressive Party (kind of like a moving dinner for horsepeople and a tradition at many shows) that is one of the best in the country, different prize money programs, really cool awards, and over $50,000.00 in prize money. No wonder Judy wanted Patrikk to show here.

We rode out to the fairgrounds and went right to see Patrikk. I have never been to such a large horse show, and was impressed with the extent of the temporary stables that the various farms will set up. Of course, it is a business, and part of any business is presenting a good image to the public. Here is Judy standing in front of the entrance to the area taken over by the people who have brought Patrikk, among other horses, to the show. Patrikk has been doing quite well locally, and Judy and her advisors feel that he can do well in a national arena too. As you can see, horses sponsored by this organization have already won a number of ribbons at this show.


We spent most of the afternoon at the show, particularly during the times when Patrikk was being judged. That is Patrikk in the foreground right near the bottom of the seating section. Horse shows are not usually heavily attended, but that doesn't mean there isn't a great deal of rivalry and contention.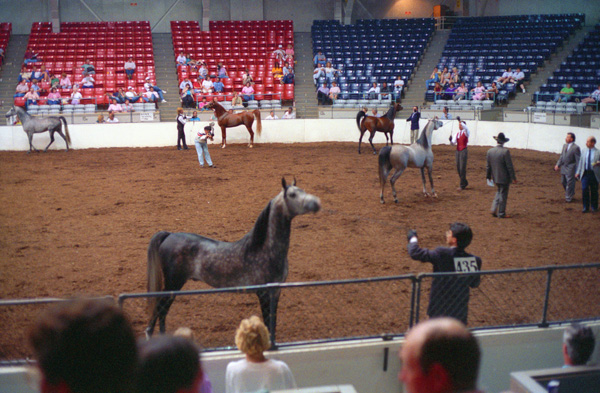 Patrikk Being Judged


I will freely admit I don't understand much about showing horses. Now a riding competition I can understand. There, I think, there is definitely a measure of skill to be judged- skill both on the part of the horse and especially on the part of the rider. I can easily see the point of jumping contests, contests where horse and rider have to use different gaits, precision riding contests like those in rodeos, and so on. In all those cases, there is definitely skill involved.

But it seems to me to be a bit silly to "show" any animal, be it dog, cat or horse, for some "experts" to judge. (I have been to a cat show since I went to this horse show, but I went just to see the different kinds of cats that there were; I had no idea what the judge was looking for when she held up one Abyssinian after another.) It seems to me that if an Arabian has a finely-shaped head, so much so that judges think it is the best head they have seen all day, then it shouldn't be the horse's owner getting the accolades, but rather the horse's sire and dam, and I don't think they even attend. After all, it's not like you could train an Arabian to have a better shaped head; he has the one he was born with.


So, what's the point? The horses are supposedly judged on how fine they look, but the only reason people make them look fine is that they are going to be judged. So horses are trained because of shows, and there are shows because horses are trained. I guess the whole thing got started when someone said something like: "Why, I declare, your horse is just about the handsomest (prettiest) one in the whole county!" and then the recipient of this accolade decided to make sure.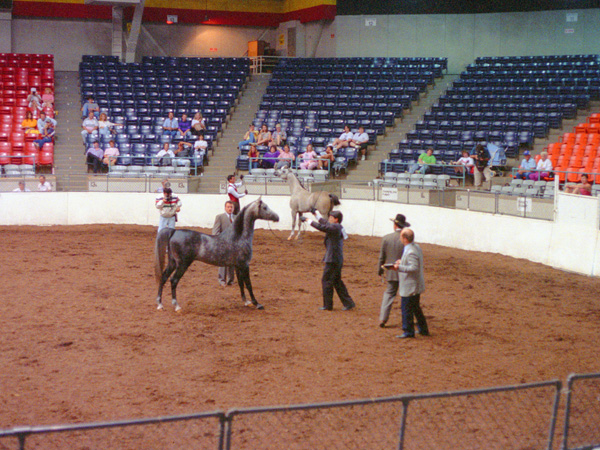 Patrikk Being Judged


All my admittedly low-information comments above notwithstanding, Patrikk did well at the show; He was shown by Nick Nickerson, a professional trainer from near Judy in North Carolina. He was Top Five Stallion in his age class. He was four at the time, and a very handsome animal. My sister still has his neck ribbon from the show; she was (and is) justifiably proud of him.

I don't know much about my sister's horse's history, but I do know that when she got him, she thought that he could well be a diamond in the rough, and she turned out to be right. She raised him well, and in recent years has had Nick work with him- after she won a number of competitions by herself.

This wouldn't be the last time I would see Patrikk, of course. After the show, Nick took him back to North Carolina to my sister's house, now called Greyfield Farms, in recognition of the fame of its most famous resident.
The show lasted most of the afternoon, so we thought it best to get an early start tomorrow, Sunday, for Muskegon. I got myself a motel room near where Judy was staying, and we had dinner together. We got an early start the next morning in Judy's Sentra for our 5-hour drive to Muskegon. We had a pleasant drive, catching up on all our news. She was very interested to hear about Fred, so I told her a lot of what we had been doing. We drove up through Lima, Ann Arbor, Kalamazoo and Grand Rapids, angling northwest from there on I-96to pick up US Highway 31 up to Muskegon.
| | |
| --- | --- |
| | |
Things were still fairly familiar to both of us, once we left the highway and took one of the major streets into town. We actually went by our childhood home where we stopped to have a look around. Inexplicably, I did not take any pictures of it, perhaps because I had quite a few of them already. We took Seaway Drive across the very familiar causeway to North Muskegon, following a route well-known from many family vacations back here, and the number of trips I made over here from Chicago.


We arrived in Muskegon in the early afternoon, and I could tell that Judy was getting more and more emotional at seeing it again- especially when we stopped in front of 445 Houston Avenue where she and I lived until we were 7 and 5, respectively. I had an idea to get out and have Judy photograph me with my tongue on the metal railing that still bordered the front steps (inside joke), but since I had no idea who lived there, and no idea whether such actions were legal or not, I didn't. But we had a good laugh over the inside joke nonetheless.

As we turned the corner on Plymouth Road to Aunt Marguerite's house, Judy actually began to cry a bit. We both have such great memories of the Summers we spent here, and Judy loves Aunt Marguerite so much that just seeing her house again, and knowing that she was actually inside made it an emotional time for her. I am not immune to such emotions, but in my case I had come to see Aunt Marguerite numerous times up to 1985 when I moved to Dallas, and I had been back to see her once after that when I was on a business trip to Detroit.

Judy and Aunt Marguerite have a special relationship, I think; they are very close, and write to each other fairly frequently. We had a joyful reunion with Aunt Marguerite, and spent at least a couple of hours just catching up. To me, having seen her last only about five years ago, she seemed not to have changed much, although she has become somewhat more frail and is unable to move around as much or as quickly as she used to.


I had thought about taking our Aunt out for dinner, but it appeared that she would be more comfortable fixing something at home, so I left Marguerite and Judy to converse and drove down to Henry's Supermarket, where my Aunt did all her shopping, and got the fixings for a good dinner. While things were cooking, Judy and I went out to walk around the once very familiar neighborhood and take some pictures of the surrounding area.

The harbor at Muskegon, Michigan

This was taken across the road from Aunt Marguerite's. Muskegon was an industrial town, but it has shrunk much since we grew up here, as industry has moved away and lake traffic has slowed. It is growing late in the day, and ever since I came back here for the first time after moving to Chicago, the late afternoon in Muskegon has always been a depressing time, because nothing seems as active as it used to be.


Judy Filming the Town of Muskegon

Judy is standing where I was when I took the previous picture, and is using her video camera to make a movie. The road behind her leads out to Muskegon State Park and the Blockhouse. Like other Great Lakes towns, Muskegon sometimes seems to be slowing gradually to a stop.
It was late in the day and dinner was cooking, so Judy and I didn't take a ride out to Lake Michigan from my aunt's house; we did that almost every day when we were here on vacations in the early 1950s, before we started going to Florida instead. Perhaps Judy and I can take a ride out there tomorrow.


In 1990 I got my first laptop. Compared to what we have today, it was a clunky thing, but at the time it was cutting edge. I used it for business, mostly, to work on Methodology projects. I really didn't have a reason to bring it with me for this long weekend, other than that I thought Judy and my aunt might like to see it.

After dinner, I mentioned it to my aunt, and she expressed an interest in seeing it. She had heard of personal computers, of course, and knew some people who had them- mostly the children of her friends. I showed her how it worked and explained a bit of the technology behind it. If I was reading my aunt right, she was fascinated.

So I got the solitaire program running, and she had a great time playing it on the computer. My Aunt has always been interested in many things, and I think that is how she has stayed so young all these years. She got the hang of using the mouse very quickly, and Judy and I were amused to watch her deal with the machine. She is and always has been an incredible woman, my Aunt, and someone with a backstory more interesting than most.


The next day, we and our aunt took a ride around the area, looking at places we'd become familiar with growing up. One stop we made was the USS Silversides (SS/AGSS-236) is a Gato-class submarine built for service in World War II. Her keel was laid down on 4 November 1940 by the Mare Island Navy Yard in Vallejo, California, and she was launched on 26 August 1941. She was officially commissioned 8 days after Pearl Harbor, with 1927 Naval Academy graduate Lieutenant Commander Creed C. Burlingame in command.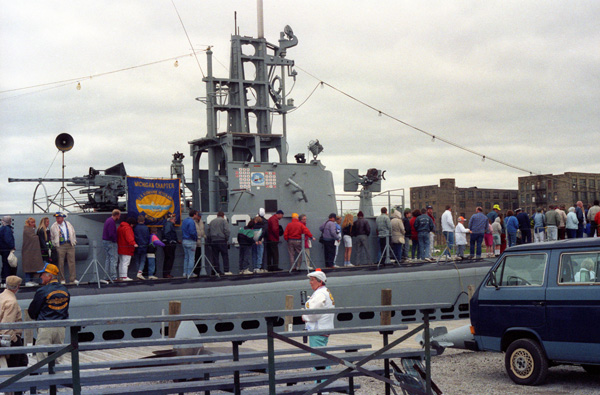 The USS Silversides


Silversides arrived at Pearl Harbor in April 1942 and immediately departed for the Japanese home islands for the first of her many successful war patrols. In May, the first and only crewman killed in the entire war was shot in a 75-minute gun battle with a Japanese boat. Silversides was also the only American submarine to make an attack while flying the Japanese flag; her periscope had become entangled in fish nets that were marked with Japanese flags held aloft on bamboo poles, and she carried these through the attack (in which two Japanese cargo ships were sunk).

On her fourth patrol, Silversides was almost sunk when bombs dropped from a Japanese ship severely damaged her bow planes, locking them on full dive. Silversides managed to level off just short of crush depth and eventually evaded the enemy ship before surfacing to recharge her batteries and effect emergency repairs. In 1943, she sank her largest target of the war, the 10,022 ton oil tanker Toei Maru. Two days later, after sinking three Japanese ships, it was discovered that an armed torpedo was stuck in a forward torpedo tube. The commanding officer decided to attempt to refire it, while in full reverse, and the maneuver was successful.


In thirteen patrols, Silversides received twelve battle stars and a Presidential Unit Citation. She is officially credited with sinking 23 ships, the third-most of any allied World War II submarine, and she has the most prolific combat record of any still-extant American submarine.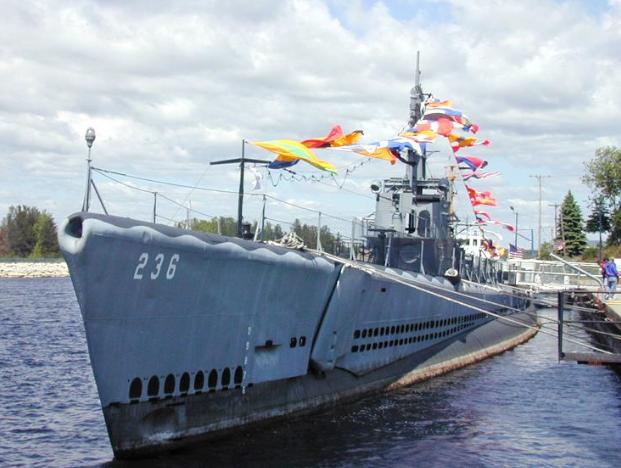 The USS Silversides Docked in Muskegon


Silversides was decommissioned in 1946 and moved to Chicago for service as a Naval Reserve training ship. In 1969 her name was struck from the Naval Vessel Register, and the South Chicago Chamber of Commerce promptly applied to the United States Department of the Navy for custody of Silversides to preserve her as a memorial.

For years, the submarine was tended by a small crew of dedicated volunteers, who, with their own labor and donated funds, spent two years restoring her and bringing electric power and heat on board. The boat was moved to Navy Pier in 1979, and that July, the first main engine was brought back to life for the first time since 1946. The No. 4 engine was restored in time for the 1984 US Submarine Veterans of World War II convention. In 1987, the submarine was moved to Muskegon, Michigan, to serve as the centerpiece of the new Great Lakes Naval Memorial & Museum.


I would have liked to go aboard, but the line was so long that there wasn't time. I would have to wait almost 20 years for my chance to go aboard a World War II submarine; it would be the USS Cobia, docked in Manitowoc, Wisconsin.



When I was doing some investigation about the USS Silversides, I discovered that in addition to being a floating museum in Muskegon, she has had a starring film role. She was used for the exterior shots in a movie from 2002 called "Below", a submarine World War II thriller. I got curious about how much of her one would see, so I found the movie and extracted the one clip that shows all of the exterior of the ship.

For filming, the boat was towed out into Lake Michigan from Muskegon, which is why the water looks a lot calmer than it would usually be in the Atlantic. Anyway, you can have a look at the one-minute clip; it is in the movie player at right.


Aunt Marguerite took us to the other side of the harbor to the cemetery where Uncle Omar is buried, as well as some of her other friends, and we looked and some of the places where Judy and I had spent a great deal of time growing up and in our Summers back here in the Fifties.


We came back to the north side of the harbor and followed the familiar route to the beach at Muskegon State Park. Judy and I walked out on the breakwater for a ways, just like we used to do, and we drove up the coast just a short ways to have a look at the Blockhouse. We would have liked to spend another day here with Aunt Marguerite, but it was Memorial Day and I had a late flight home from Columbus, so we would have to get started back.

As we left, I got this picture of Aunt Marguerite as she came out onto her porch to say good-bye. I did not know it at the time, but this would be my last photo of my aunt; she passed away later this year, before I had a chance to return again to Muskegon.

I have always enjoyed my visits with this charming, yet opinionated lady, although I have not, perhaps, been as open with her as she deserved. She knew that I had a "roommate" and that he had died; I had called her late last year to let her know, and we had talked more about Grant and the circumstances of his death during this trip. While neither Judy nor I were specific, I suspect she knew exactly what the relationship was. But I think she was the kind of woman for which that would not have mattered. It wouldn't have been her cup of tea, and perhaps she might not have fully understood it, but I never got any feeling at all of disapproval from her. She has always been a "cosmopolitan" woman, having had a great many interesting experiences throughout her life, and I think that had we sat down and been frank, she would have reacted to my situation just the way my own mother did. She would have thought that if it made me happy, it was all right with her.

We hated to say goodbye, even though we did not know what the future held; I suppose I thought that I would simply see her again in a few years.


Judy and I drove on down to Columbus, where Judy dropped me at the airport for my return flight to Dallas. She continued on to North Carolina, arriving there on Tuesday morning.

You can use the links below to continue to another photo album page.



---
| | |
| --- | --- |
| | June 5-8, 1992: A Hiking Trip to New Mexico |
| | March 28-29, 1992: A Weekend at Fred's in Van Alstyne |
| | Return to the Index for 1992 |