| | |
| --- | --- |
| | July 11-13, 1992: A Weekend in Santa Fe, New Mexico |
| | May 22-25, 1992: A Visit to Muskegon with Judy |
| | Return to the Index for 1992 |
---
June 5-8, 1992
A Hiking Trip to New Mexico


In May, we planned (or, I should say, Fred planned, since he was the expert who had done these things before) a trip to West Texas and New Mexico. We planned to go to Guadalupe Peak (the highest point in Texas) to do some hiking, Carlsbad, New Mexico, to go through some caves, Hueco Tanks, Texas, to do some more hiking and look at pictographs (rock paintings) and El Paso.

The Trip to West Texas (June 5-6)

Fred and I have continued to do things together. He has come down to Dallas many times on weekends to do things with Ron and Chris, or Lowery and Ron, or Larry, or just with me. I think he enjoys very much getting away from his place and all the work he is supposed to be doing, and come down to the city to be with lots of people for a change. His visits have become very comfortable, and I look forward to them. He is also helping me get the patio in shape for the Summer, and one of the things we often do is go look through the garden stores around here, much as Grant and I used to spend an afternoon looking through open houses.


We planned a three-day trip, leaving on Friday after work and returning Monday night. Fred likes to hike, and has a complete outfit for camping, and we intended to camp out one or two nights on the trip. I was new to camping, not having done it since my trip to Caracas years ago, and was a bit apprehensive at being away from all my "modern conveniences," but Fred seemed to know so much about what he was doing that I didn't think we would have any problem at all.

I didn't go out of town the week of June 1, 1992, so I got my things together for the trip and Fred came down right after work on Friday, June 5, (as he often did) we got cleaned up and packed the truck and started out. We headed West through Ft. Worth on I-20, stopping at the little ghost town of Thurber, Texas, for dinner. Thurber had been a company town- a mining town- but there is little left now but a couple of touristy restaurants. It is authentic, though, and we enjoyed our dinner there. Then we continued West and stayed our first night in Big Spring, Texas.


The next morning, we continued West on I-20 to Pecos, then headed Northwest on US Highway 285. At Arlo, we angled off on Texas Highway 652 to join with US Highway 180 near Guadalupe Peak. That highway runs south from Carlsbad, past Guadalupe Mountains National Park and on down to El Paso.

I knew next to nothing about this National Park; but then I have never been on a hiking trip to any National Park before. I had been to Mt. Rainier National Park as early as 1969, but just drove to the peak on my way to Korea. On a trip cross-country with my friend Tony, we'd stopped at Crater Lake, and during our stay in San Francisco took a quick trip to Yosemite, but other than that (and the Great Smoky Mountains, of course) I was a "National Park newbie". Certainly I was a newbie to hiking in them. And I had not done much hiking at all since my summer at Montreat, where we hiked up and down mountains almost daily. So this was going to be a new experience for me- as would camping.

Guadalupe Mountains National Park is in the Guadalupe Mountains of West Texas and contains Guadalupe Peak, the highest point in Texas at 8,749 feet. Located east of El Paso, it also contains El Capitan, long used as a landmark by people traveling along the old route later followed by the Butterfield Overland Mail stagecoach line. Visitors can see the ruins of an old stagecoach station near the Pine Springs Visitor Center. Camping is available at the Pine Springs Campground and Dog Canyon. The restored Frijole Ranch House is now a small museum of local ranching history and is the trailhead for Smith Spring. The park covers 135 sq mi; Carlsbad Caverns National Park, which is located about 25 miles to the north in New Mexico, is in the same mountain range.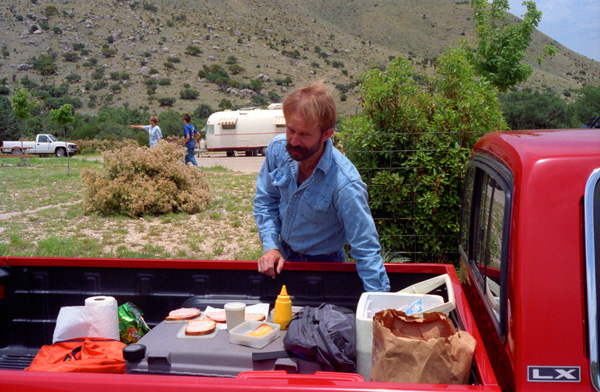 Making Lunch at Guadalupe Peak


We got to Guadalupe Mountains National Park in the early afternoon, and decided to hike to the top of Guadalupe Peak as our first trek. But before doing that, we had some lunch in the campground area, and at left you can see Fred laying out that meal from the back of his Mazda truck.

That meal, and indeed most everything we were to do today, would be a "first" for me. The first meal out of Fred's truck; our first hike; our first night in a tent in a campground; all of these things would be "firsts" for me. I am happy, however, to say that they were definitely not "lasts", although from what I learned later, they might have been.

Hiking and camping are two of Fred's passions, as are seeing the outdoors and the beauty that nature has to offer. I have done that, but as what I might call a spectator; people who hike for hours at a time, camp, and in general get away from it all are the real participants. It is one thing, I learned later, to stop at a Grand Canyon overlook to see that wonder, but something else entirely to hike down into the canyon on a six-hour trek.

Fred has a few requirements for a friend, and one of those is that they share these loves of his. I learned later that he had brought just about every close friend he has, five or six of them, to this very place to do this very hike. Consciously or unconsciously, it is his "friendship test"; how close he might or might not become is in a real way dependent on how the prospective friend deals with the outdoors. Had I turned out to be a real "city slicker", too much tied to observing rather than doing, and especially in too poor a shape to be able to do a six-hour day hike without complaint, I doubt that my relationship with Fred would have continued as long as it has. But I didn't know all that at the time, and fortunately I was as eager, ready and able to throw myself into outdoor activities as Fred later told me he could have wished. More so, in some respects, as it has turned out.

The Hike to the Top of Guadalupe Peak (June 6)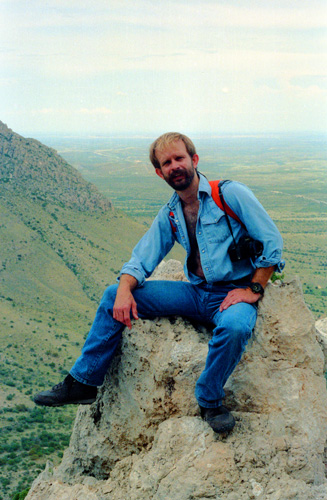 On the Trail Up Guadalupe Peak


There are numerous well-established trails here in the park for hiking; the Guadalupe Peak Trail offers perhaps the most outstanding views in the park, Fred said. Climbing over 3,000 feet to the summit of Guadalupe Peak, the trail winds through pinyon pine and Douglas-fir forests and offers spectacular views of El Capitan and the vast Chihuahuan Desert. So this would be my initiation into Fred's "mile-high club".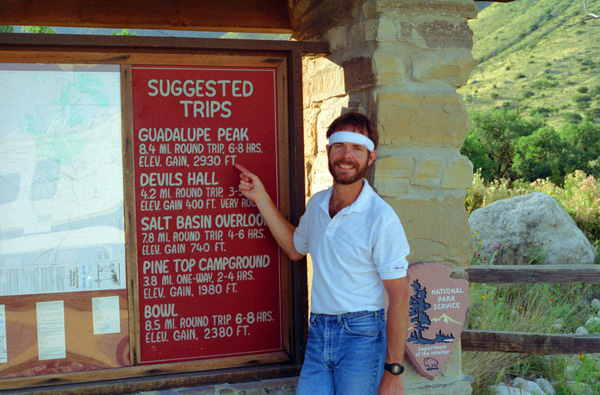 At the Trailhead for Guadalupe Peak


After putting lunch stuff away and securing the truck, we walked over to the trailhead (see picture at left) to begin the long ascent. To put it simply, I loved the hike, particularly with a knowledgeable horticulturist along who could tell me what all the flowers, cactus and ferns were. I would have missed a lot without him. We looked at everything, including the plants, rocks and animals.

The hike was not too strenuous, but it was fairly steep in places. I think I impressed Fred with not being an out-of-shape city boy (finally) as he was much more out-of-breath that I was as we hiked. There were lots of opportunities for neat photos along the way. For example, about two-thirds of the way to the summit, I asked Fred to sit down trailside so I could get the view to the southeast behind him (picture at right).


Fred is certainly not out of shape; I would give a lot to be built the way he is. But I think that all my jogging stood me in good stead during all of the hikes we took on this trip. The early afternoon saw a lot of high thin clouds, but the scenes were brighter than these pictures show. Both Fred and I had brought packs along to carry camera stuff and snacks.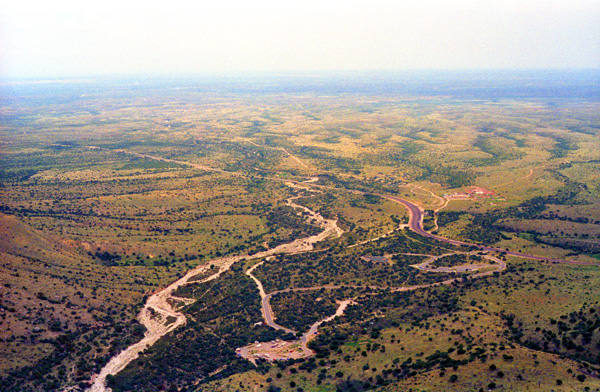 A View from the Guadalupe Peak Trail


As you would expect, the higher we got the better the views were. The one at right looks back East, across an old river bed towards Highway 180. Texas is pretty flat out here, until you get to the Guadalupe Mountains, which are actually the ancient shoreline of an inland sea. Consequently, as you hike you are likely to find small fossils embedded in the limestone. I found a couple, and brought them back to Dallas to give to Ron Mathis, who collects various kinds of rocks. The early afternoon saw a lot of high thin clouds, but the scenes were brighter than these pictures show.

These mountains, and some to the north and south, form part of a dramatic escarpment known as "The Rim". These mountain ranges were built from the ancient Capitán Reef that formed at the margins of a shallow sea during the Permian Period; that area is known now as the Delaware Basin. As the range is built up almost entirely of limestone, upland areas have little or no surface water. The only significant surface water is McKittrick Creek, in McKittrick Canyon, which emerges from the eastern side of the massif, just south of the New Mexico border. Elevations at the base of the range vary from 4,000 feet on the western side to 5,000 feet on the east. Several peaks on the southern end exceed 8,000 feet, and Guadalupe Peak is one of them.


The park also contains McKittrick Canyon, where Fred has been before; Fred talked a lot about it as we were climbing up the trail. He would like to bring me there (a good sign after just an hour or so of hiking- I may be passing the test) during the Fall, as it comes alive with a blaze of color from the turning Bigtooth Maples, in stark contrast with the surrounding Chihuahuan Desert. So I will look forward to that.

Trailside Scenery
(Picture at left)
As you can see, the hike gets fairly steep in places. Wherever the mountain shields the vegetation from direct Southern exposure, you will find a lot of greenery. Just on the other side of the ridge, though, the vegetation is apt to be much more sparse and contain a lot of cactus.

(Picture at right)
At one point, the trail, which had been built along a rock ledge, had, at some time, broken away, and this bridge was built to span the distance. One thing I have learned about Fred so far on this trip is that he has a mild fear of heights. Actually, it may not be really a fear of heights, but he dislikes getting close to the edge of any kind of drop-off. He was a bit nervous standing where I asked him to stand, but then the drop-off is only a matter of twenty feet or so. All of us have a fear of getting too close to the edge, but Fred's apprehension just kicks in a bit earlier.


A Footbridge on the Trail
Just after the we turned around the side of the mountain, about a third of the way up the trail, a vista to the top of Guadalupe Peak opened up. We still had quite a ways to go, but I was sure the views would be incredible.

A Lizard We Spotted Along the Trail

This close-up shot, besides showing the lizard that I spotted on the rock, also shows the consistency of much of the mountainside here; much of it is broken rock like this. When you get far off the trail, where the rock has not been broken by hikers, you find more sheer cliff face (although not very steep). There is some cactus at the lower right.


Barrel Cactus Along the Trail

I am just getting introduced to the amazing variety of cactus in Texas and the Southwest. I saw a lot of it at Frank and Joe's ranch, and on this trail I am seeing a good deal more. Cactus is not all the arms-upright type of cactus that we always think about, but many, many varieties, some of which grow no taller than a few inches. Cactus also has flowers in the spring, and this barrel cactus had these pretty red ones.
It took us about three hours to get to the top of Guadalupe Peak. As I had anticipated, the views were indeed tremendous. But I have to say that the hike was a great experience, too, and fun in its own right, as Fred and I had a chance to do a lot of talking on the way up. From the top, there were neat views of El Capitan a bit below us. This view looks South from the peak at the sheer rock face that drops off beyond our view to the valley below. That is the highway (US Highway 180) to El Paso below. Later, I will have a picture looking back up to the top of Guadalupe from a point along that road. It looks like you could walk from this peak right down and out onto El Capitan, but the distance is much greater than it looks and the two formations are separated by a fairly deep crevasse.


The top of Guadalupe Mountain was well worth the effort it took to get up here, and indeed, the views were pretty incredible in all directions. We took lots of pictures wandering around up here, of the views and of each other. Rather than give you a bunch of thumbnails to click on to see them, I've taken the best of the pictures we took and put them in the slideshow at left (in their proper time sequence, regardless of who took them). To get from one picture to the next, just click on the little forward and backward arrows in the bottom corners of each picture. The number in the upper left will tell you where you are in the show.

It seemed unusual to me to find a large pyramidal marker at the top of the peak, but once I read it I could understand why it was here. The marker noted that this was the highest point in the state of Texas. (American Airlines had their name on the marker as a sponsor, although I am not sure why.) I doubt that other states, particularly those in the west, have such markers at their highest points, but I can see why Texas does. The highest point in our state is easily accessible by anyone in decent shape, but that is undoubtedly not true for all the states west and northwest of here, and perhaps some in New England as well.


Up here at the top of the peak, the rock is pretty barren, although there are small grasses and cactus that grow. From here, we could see some of the other peaks in this chain, which was at one point a reef along the edge of the inland sea that once covered this part of Texas. As the afternoon progressed, it got a bit chilly (particularly after the stress of the hike wore off) at this height.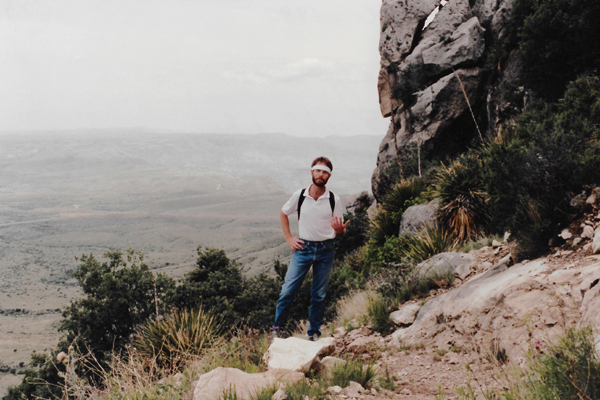 On the Trail Down from the Peak


After spending about an hour on the top of Guadalupe Peak, we started back down the trail. As we descended, I noticed something that would become very familiar to me on all kinds of hikes that we did in subsequent years. Simply going a different direction on almost any trail will open up views that you had not noticed in the other direction.

The picture at right was one of these, and it gave me the opportunity to stand near the rock ledge and get this view looking south and wast. We ran into a few light sprinkles of rain, but basically the weather was just a bit overcast. As we descended, it also got noticeably warmer, although our exertion level was not so great as coming up.


Here are more of those additional pictures we took on our way down the Guadalupe Peak Trail (a small portion of which Fred spent sliding on his butt; keeping your footing is usually harder going down than it is going up):

Vegetation Along the Guadalupe Peak Trail

Fred, always interested in new or unusual plant life, took this picture of some fern-like vegetation in flower.


Wildflowers Along the Trail

Here you can see a wide variety of high desert vegetation, including the yucca at the left and some Royal Sage in the middle (the red flowers). There are also various grasses, ferns and some juniper.
The trail down was fun, and the sign you'll see below was near the bridge you saw earlier. Behind me in tht picture below is more of the wide variety of vegetation along the trail. By the time we got down towards the bottom of the trail, Fred, who had not been hiking for a while, found that his legs were getting a bit rubbery, and he seemed to be spending as much time on his rear as on his feet!

Me Along the Guadalupe Trail

Apparently, it is possible to ride horses a good way up the Guadalupe trail, perhaps all the way to the top (though I doubt that). Here, the sign admonishes the cliff riders to dismount and lead their horses.


Fred at the Trailhead

Apparently, this was the third time that he had done this hike to the top. One thing I have learned about Fred is that he doesn't mind at all doing something he has done before, as long as he enjoyed it the first time.
Fred is interesting in that he will do the same thing multiple times; I thought I was unusual in that I like to repeat fun things as well. He can watch a movie with me that he has already seen, so long as the movie is a good one. And he has done most of the hikes we planned to take on this trip before, but enjoyed them so much he wanted to do them again. He also likes to show someone new these experiences, and from that it seems to him as if he, too, is doing it for the first time.

We ended up doing this 8.4-mile hike in just under five hours (but we spent quite a bit of time at the top). I have never before done a hike with an elevation gain anything close to 3000 feet, so this was definitely a first. And we were already a mile high at the start. We wanted to take some of the other hikes, but Fred didn't think we would have time for a long one, so we decided to just head North towards Carlsbad. Fred said there were some other short hikes we could take along the way.

Afternoon Hikes and Camping (June 6)

Perhaps we should have gotten a campsite in Guadalupe Mountains National Park as soon as we arrived (assuming there were some vacancies) but we thought that we would finish Guadalupe Peak and head north late in the afternon, so we didn't.


As we drove North, we passed several ruins that date from the late 1800s, including an old stop for the Pony Express. We took a few hikes up into the hills, but none of them were longer than an hour or so. After being on Guadalupe Peak, it seemed anticlimactic to take pictures on these short hikes, so there aren't any. We bypassed McKittrick Canyon; Fred said he'd like to do that in another trip (another good sign). He had planned on our camping in the Carlsbad campground, but when we got there we found that it was full (this being Saturday night), so we went on into Carlsbad itself.

When we got there, we found that there was not a motel room to be found in the entire town. Apparently, not only was it Saturday night during vacation season, but there was some sort of convention convention in town. I suppose we could have gone on to Roswell, but as we were going to tour a cave at Carlsbad tomorrow, that would have been a heck of a lot of backtracking.

So we drove back to White's City and found a commercial campground right near the entrance to Carlsbad Caverns National Park. It wasn't very picturesque, according to Fred, but it would do. Of course, I had little to compare it to, although in the years hence I would find out just how picturesque National Park and State Park campgrounds can be. The campsites were clean and it wasn't right by a highway or anything, so it was fine.


I learned how to help Fred put up the tent (something else I would end up doing frequently in the years ahead), and Fred got out his camp stove and fixed us some supper. Fred has all the right equipment (no pun intended), so we were secure and comfortable, which turned out to be good when at about three in the morning a horrendous thunderstorm came through. It blew and rained, but the tent was fine. It was actually very neat. I love storms.

Slaughter Cave at Carlsbad Caverns National Park (June 7)

We had a really great time in the campground, and the next morning dawned a beautiful day, with the clouds moving quickly off. We showered and cleaned up and then went off to Carlsbad Caverns National Park and our tour of Slaughter Cave.


The date on which Carlsbad Caverns, the largest of the caves in the National Park, was discovered is unknown. What is known that as a young boy, Jim White explored the cavern with his homemade wire ladder. He named many of the rooms and many of the large formations. White took friends and others on tours into the cave, and it became a well-known attraction.

President Calvin Coolidge proclaimed it Carlsbad Cave National Monument in 1923, and seven years later the Congress established Carlsbad Caverns National Park. Further discoveries were made and to date 119 caves have been found within the boundaries of the park. Only three of them permit public access; only the main cavern does not require a guide.

As you can see from the park diagram at left, to get to Slaughter Canyon Cave we had to drive south from White's City to a secondary entrance into the park. This takes you across private land and then into the park and up to the parking area for the trail to the entrance of the cave. There was also a trail into Slaughter Canyon itself, and we thought we might do that trail if there were time.


When we got to the parking area, there were maybe ten cars there, and we could see one couple had just gone a few hundred feet up the trail. The hike was an easy one, although my guess is that we must have climbed a couple of hundred feet or so by the time we got to the cave.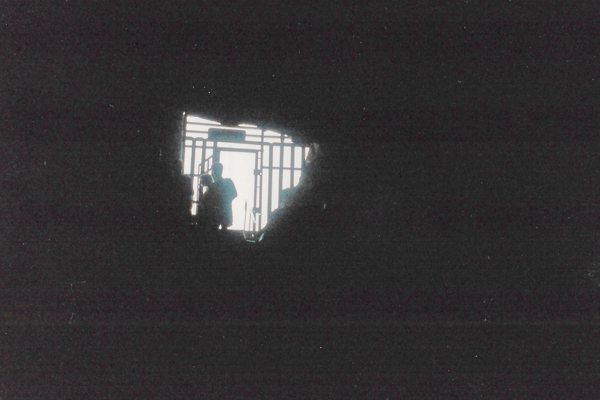 Looking Back at the Entrance to Slaughter Cave


Fred had heard about this cave years ago, and when he was planning our trip he found that only guided tours were allowed and reservations had to be made ahead of time; he made a reservation to go through it this morning. A recent article in Texas Monthly said:
| | | |
| --- | --- | --- |
| | "Slaughter Canyon Cave is a moderately-strenuous adventure tour. This tour will take you into an underground wilderness without electricity, paved walkways, or modern conveniences. The cave trails are narrow, uneven, and very slippery. In this wild cave, darkness is broken only by the flashlights and headlamps of rangers and tour members. Highlights of the tour may include the 89-foot high Monarch, one of the world's tallest columns; the Christmas Tree, a sparkling, crystal-decorated column; and the Chinese Wall, a delicate, ankle-high rimstone dam. Old bat guano mining excavations attest to the human history and impact in the cave." | |
From a parking area, you have to hike up to the entrance, itself a bit of work, and when we got there we found about ten or fifteen people already waiting for the guides who showed up presently. Fred and I had brought flashlights, and once we got the safety lecture out of the way, we went inside the locked entrance. There was one person who got cold feet at the last, so she and her partner remained at the entrance to wait for the rest of their party. I didn't have a flash for my camera, so all the shots from Slaughter Canyon Cave were taken by Fred.

A New Stalagmite Growing in Slaughter Cave

The water is falling onto this formation from such a distance that it splatters when it hits, so the formation is not a graceful one. As it gets higher, and closer to the water source, the water will have less distance to travel, and eventually the formation will become a fine needle until it actually touches the stalactite coming down from the ceiling.


The "Chinese Wall"

These formations are very interesting. The ribbon of stone that you see is only about two or three inches high, but it wanders over the flat floor in random patterns. How they grew in that formation is a mystery. It looks to me as if they might once have enclosed separate pools of water, but that doesn't answer the question as to how they were formed in the first place.
Many of the formations in this cave are "active," which means they are still in the process of forming. Other caves, and some sections of caves where active formations are found, contain mostly inactive formations, where the water flow has stopped and the growth has ceased.

The "Fried Eggs" Formation

How this formation got its name should be obvious. Although Slaughter Cave is a small one, compared to the main caverns at Carlsbad, it contains some unique formations, but then I guess all caves do.


Illuminating Water Drops from the Ceiling

I am trying to show the water drops right at the end of the stalactites growing from the ceiling. Inside the cave it was a constant 68 degrees, which was quite a change from the temperature outside and the hike up.

At left you can see one of the largest columns in Slaughter Cave. The guide took us slowly through the main part of the cave, pointing out the various formations and telling some stories about how the cave was located and how it is now administered by the Park Service. I liked the tour because it wasn't just a bunch of tourists who stopped in off the highway; everyone on the tour had to have planned ahead to be here.

We spent about two hours in the cave, and the tour was very interesting. We were back at the cave entrance just a bit after twelve; another tour would be taken in about two in the afternoon. We hiked back down the mountain to the parking area.

There we conversed a bit with two girls that had been on our tour; Fred and I got some good information about other attractions in the area, and Fred and the girls exchanged some stories of other hikes they had done. Fred was hoping to take a trip to the Grand Canyon later in the year, so he and the girls talked about where to go and what to see (although Fred had been there before).

Then we got in the truck and headed South towards Hueco Tanks and El Paso.


The Drive to Hueco Tanks (June 7)

I am not sure how he knew about them, but Fred said we should look out for a parking area between the road to Slaughter Cave and the base of Guadalupe Peak for some crevices or fissures that one could supposedly go climbing into and on. We found them, and parked to go have a look.

Me in a Gypsum Fissure
(Picture at left)
The walls of the fissures are almost pure gypsum, and you can feel the cold air coming up through them from somewhere below. They were formed by a combination of water action and land movement. You have to park by the side of the road and clamber down to the fissures, but they are worth the trouble. You can go back in them a ways, but eventually they get too narrow to go further. They must be connected to something else underground from which the cold air emerges.

(Picture at right)
If the lighting had been right (and I were in better shape), this would have been a far better picture.


Outside a Gypsum Fissure
We drove over the same road as yesterday, until we came past the road to the Guadalupe Peak Trailhead and came around south of Guadalupe Peak and El Capitan, where we stopped to take some pictures.

Below Guadalupe Peak on US Highway 62

As promised earlier, here are Guadalupe Peak and El Capitan. El Capitan is that first high point that you can see behind and to the left of us in this shot. Guadalupe peak is the more rounded mountain just behind El Capitan. From this perspective, it looks as if El Capitan is higher, but that's just because it's closer and we are looking up at it.


Fred and I with El Capitan and Guadalupe Peak

Fred wanted to compose this shot differently, but it shows the same features as the previous one. Notice that the day has become quite beautiful, in spite of the storms early that same morning. I took this from a picnic area where we stopped to have some lunch.
Here are a couple more beautiful landscapes taken from our picnic area:

The Guadalupe Mountains

This perspective shows how these mountains were once the formations along the shore of the inland sea. Actually, the exhibits suggest that these mountains might at one time have been a reef along the shores of that ancient sea.


Looking West Below Guadalupe Peak

It constantly amazes me that even with all the people in the world, that there can still be stretches like this that are totally uninhabited.
Below at left and right are a couple of pictures taken while we were having lunch at the picnic area.
| | | |
| --- | --- | --- |
| Fred at the Picnic Area | Below is a slide show with more pictures from the picnic area and on the road to Hueco Tanks. Use the forward and backward buttons to move through the pictures. | The Guadalupe Mountains |
Hueco Tanks State Park (June 7)

Hueco Tanks State Historic Site was on the way to El Paso, down US Highway 180/62. About twenty miles northeast of El Paso, we turned north on Ranch‑to‑Market Road 2775 and followed the signs around the east side of the site to find the parking area in the northeast corner of the site.

We arrived at Hueco Tanks State Park about three in the afternoon. It is about eight miles off the highway. It is an area where there are large rock formations, some shattered, some whole, and it got its name due to the fact that the tops of some of the rock formations form natural depressions where rainwater gathered.


These depressions, or "tanks" could hold large amounts of water, and were used by ancient and modern Indians as a storage medium. We parked the truck in the lot that you can see far below (the truck being that small red thing just to the left of the smaller of the boulders in the picture), and then we hiked up into the rock formations. The afternoon was quite hot, and at first the hiking was very strenuous. There is not a defined pathway, you just have to make your own way through the formations.

Hueco Tanks is an area of low mountains, and is located in a high-altitude desert basin between the Franklin Mountains to the west and the Hueco Mountains to the east. Hueco is a Spanish word meaning "hollows" and refers to the many water-holding depressions in the boulders and rock faces throughout the region.

Due to the unique concentration of historic artifacts, plants and wildlife, the site is under protection of Texas law; it is a crime to remove, alter, or destroy them, although before the park was formed, considerable changes were attempted during private ownership. At one time, the site was the Escontrias Ranch. It was a stagecoach stop for the Butterfield Stage. The names of Texas Rangers and of US Cavalrymen, as well as Native American artifacts and paintings, attest to its historic nature.


When we parked the car and headed off down one of the paths, we found that while there were some walkways that people could follow, one could also light-out cross-country and pretty much climb around anywhere. (Although it had not yet occurred at the time we visited, the southern portion of the site would eventually have to be closed to protect the many pictographs, petroglyphs, and historic graffiti found there. When the area was eventually reopened, it was restricted to guided tours.) On our visit, though, we were able to wander around anywhere, guided by our little leaflet directing us to some of the easier-to-find rock markings.


At right you can see a picture that will give you an idea of what the terrain was like here in the Hueco Tanks formations. Up in the top of the formations, there is this natural valley (actually, there were a series of them), where water collects naturally and allows more green vegetation to get started.

The floor of this small valley is crisscrossed by a number of foot paths made by previous visitors, that lead to some of the more interesting formations. You can climb around on the rocks at will (none of the climbing needs special equipment) and it was a lot of fun doing that.

The park consists of three syenite (a weak form of granite) mountains; it is 860 acres (about one-third of that is open for folks to wander around as they will) in area and is popular for recreation such as birding and bouldering. The syenite pluton was formed 34-38 million years ago, as part of a larger range, the Hueco Mountains, which range in age to over 320 million years ago, when this area was covered by an inland sea.


The pluton was eventually exposed through weathering to form the rock formations visible today, which jut from the desert floor. The site contains enough water to support live oaks and junipers, species which survive from the last ice age. Freshwater shrimp and spadefoot toads survive at the site (for this reason, visitors are cautioned against touching the pools of water at Hueco Tanks to avoid destroying the eggs of the animals of the site, for example).


At left is that same small valley, and now you can see the various pathways. One of the other things that Hueco Tanks is known for is the profusion of pictographs- rock paintings left by ancient Indians. These pathways lead along the rocky piles to points from which the drawings can be viewed. The small guide pamphlet tells you where they are, but the directions are imprecise and it takes some hunting to find them. Fred had been here before and remembered vaguely where some of them were, but it took a good deal of time to find them.

Hueco Tanks is also widely regarded as one of the best areas in the world for bouldering (rock climbing, low enough to attempt without ropes for protection), unique for its rock type, the concentration and quality of the climbing. In any given climbing season, which generally lasts from October through March, it is common for climbers from across Europe, Asia, and Australia to visit the park. In February an outdoor bouldering competition known as the Hueco Rock Rodeo is held. The event is a world class outdoor competition that attracts many professional climbers every year.

(The crowds eventually grew so large that some years after our visit the park had to be closed briefly so the Texas State Parks Department could create and implement a plan for crowd control. It was this plan that led to the closure of the southern half of the site to all except guided groups.) (As a note, by the 2010s, Hueco's future as a climbing site would become uncertain, as the site was scheduled to be transferred to the Texas Historical Commission, which has a policy of closing sites to climbing due to damage to vegetation, damage to rock formations, and issues with trash cleanup and littering. Climbers contend that these concerns are exaggerated, but if you are intending on visiting the site to climb, better check the latest news.)


We weren't rock climbers, though, just boulder-hoppers, and it was a great deal of fun jumping from large-boulder to large boulder, going into and out of nooks, crannies and crevices, and sussing out the meaning of some of the rock markings we found. (That one was obviously an antelope or perhaps a bighorn sheep.) The more recent ones were pretty obvious; the oldest ones less so.

A 140-year-old Example of Tagging

The graffiti reads "E. C. Malone. June, 1852" These are not the pictographs that I referred to earlier, but Fred thought this inscription interesting enough to take a picture of it. Most of the paintings and the graffiti are in out-of-the-way places and not easy to find or get to. Perhaps that is why you can wander around unescorted.


A Native-American Pictograph

To take this picture, I had to lie on my back under a shelf of overhanging rock. An excellent example of the many pictographs that can be found here if you take the time to look. After we searched out a number of pictographs, we started just climbing around on the rocky formations.
As we were climbing around on the rocks, we could see a late-afternoon storm brewing southwest of us, and we hoped that it would hold off for a while so we could do more searching for rock inscriptions and climbing around on the rock outcrops.


The picture at left is a good example of the rock formations here at Hueco Tanks State Park. In this rock group, there is a short tunnel through the pile of rocks. We were able to come through that opening, and then down the sides of the boulder right in the center of the picture.

Above you can see me atop one of the rock formations at Hueco Tanks State Park. As I have mentioned many times before, I like climbing around on rocks like this. I can recall doing so on the jettys at Muskegon when I was little, and the mountain climbing I did so much of when I spent a summer at Montreat, North Carolina. I am not a professional climber by any means, but I enjoy the kind of climbing where equipment is not needed. Hueco Tanks offers unlimited opportunities for doing just that.

What made it more special is that I was with someone who seemed to share my affinity for this particular activity; Fred and I spent a couple of hours walking around the area and having immense fun doing so. In this picture, you can see that the sky is getting pretty dark in the background, but right above us it was still pretty clear, so it looked as if the storm would be holding off for a while.


At right is Fred on the summit of one of the rock formations. It looked as if the storm was getting closer, so we decided it was probably time to think about heading back to the truck. To get back will require that we climb over the rocks in the background, head down into the valley that you can see, and then skirt the formations in a big circle back to the truck. Below, you can see a natural tunnel through the one of the rock formations that we found as we made our way back towards the parking area. This was a very interesting formation, and Fred took this picture of me lying in the opening; through it you can see the valley beyond.




As you hike around, you often come to a place where you can't go any further without risking your life, but if you just hunt around you can usually find another way to go in the direction you want.


On our way back to the truck, we encountered the amazing view at left of the valley beyond Hueco Tanks State Park, and the central valley in the formations themselves.

We got down to the valley floor, and walked around the end of the formation we were on to the entrance to the central valley. There was one more set of pictographs that Fred wanted to try to find, so we climbed part way back up the end of the formation to see if we could find them. I took this shot from there.

In confess that I don't know how or why that ridge of dirt was built, but I am certain it is not natural. We never did ask and I never did find out. After our unsuccessful search for the final pictographs, the storm began approaching more rapidly, and we made our way quickly back to the truck.

We thought we were going to lose the race to get back before the rains hit and in the last half mile of running through creek beds and over rocks and along pathways we thought we wouldn't make it, but we got back to the truck just as the skies opened up.


There wasn't much more we could do there, so we headed back out to the highway and turned towards El Paso. We reached El Paso in the late afternoon, after the rains had stopped.

El Paso and the Trip Home (June 7-8)


We got a room at the Motel 6 just south of I-10 near downtown. Fred stays at them a lot, although I have usually preferred the next level up, like La Quinta. But when clients are paying, it is easy to splurge.

But the motel was clean and perfectly adequate; we enjoyed the showers, having been two days without. We asked for recommendations for a place to eat, but we found an ad ourselves for a local Mexican restaurant; it was certainly OK, but not great, given that we were in El Paso. After dinner, I found a new Baskin-Robbins store to visit.


We discovered in the little guide that we got from the hotel that there was a great place to view the city; a road not far away that went up the side of a small range of mountains on the city's northwest side, so we drove over there to have a look. I did not have my camera with me, but the view was pretty neat.

(Note:
When I was creating this page, and researching where our overlook was, I found a number of pictures other people had taken from the same spot. I remember the view as being really good, and so I thought I would go ahead an include here a picture I did not take, so you can see what kind of view we had. I am not sure when this picture was taken, but my recollection is that it is pretty much what we saw. You can see that view here.)


The next morning, we drove to the South part of town to look at an old Spanish Mission, but Monday being a holiday most of it was closed. We had lunch at another Mexican place with the hottest food I have had in a long time; it was better (and more authentic) than our meal last night. From there, we went downtown to a large store that sold all kinds of Western and Indian stuff (having seen their billboards for the last day or so) and picked up some souvenirs. I still have the Mexican blanket that I got there.

We left El Paso a little after two, heading East on I-10. We stopped only once (other than for gas and for dinner) at a nursery where Fred looked through the Southwestern plants they had and got some varieties of cactus that he didn't have. I got some exotic Central American cactus to put on the patio. Then we drove, and drove and drove, covering 650 miles in a little over nine hours, reaching home just before midnight. Fred stayed over and then went right to work the next day.

This first camping trip with Fred was extremely enjoyable for me; I have not been on one like it for years. Fred was a great companion to have along; our tastes and interests seem to be quite similar. I think he was pleased that it went so well, and perhaps pleased that he had found someone to do these things with, now that Frank lives in the Hill Country. I recall hoping that we would do another trip like this sometime, not knowing that we would do another one in about a month, an even longer one this Fall, and many, many more after that. This turned out to be just the first of many enjoyable trips with Fred, and if you are going through this album chronologically, and if you liked this page, you certainly have some treats in store.

You can use the links below to continue to another photo album page.



---
| | |
| --- | --- |
| | July 11-13, 1992: A Weekend in Santa Fe, New Mexico |
| | May 22-25, 1992: A Visit to Muskegon with Judy |
| | Return to the Index for 1992 |