| | |
| --- | --- |
| | November 21, 1992: My 46th Birthday Party |
| | October 23-28: A Camping Trip to Colorado, Utah and Arizona |
| | Return to the Index for 1992 |
---

November 14-15, 1992
Frank and Joe Visit Us in Dallas


On Saturday, Frank and Joe came over to Dallas from visiting Frank's family in Fort Worth. This is the first time they have been at my house; of course, I was at their house in the Hill Country in March on really my first trip with Fred. The one activity that's planned for today is the Texas Gay Rodeo Association event in Fair Park.

At My House

Frank and Joe came over early on Saturday morning, and before we headed out to Mesquite, I wanted to take a few pictures. Fred had the idea that everyone should look as "Western" as possible, so I dug out my cowboy hat. I realize it didn't help me at all to look authentic.
| | |
| --- | --- |
| Fred, myself, Joe Wells and Frank Roberts | Fred, myself, Joe Wells and Frank Roberts |
| | |
| --- | --- |
| Fred, myself, Joe and Frank | Joe Wells and Frank Roberts |
Frank is one of Fred's oldest friends, and he (Fred) puts great store in both their opinions. That's why I felt like I was being "interviewed" when we were down there in March. Fred didn't pull away from me and now the two of them are here for a visit, so I guess the interview process went tolerably well.

At the TGRA Rodeo in Fair Park

About ten in the morning, we drove down to Fair Park to the arena where the TGRA was holding its 8th Annual Rodeo. The arena where the event was held is right next to the Cotton Bowl, and is today named the Pan American Arena. I am pretty sure the building has been renamed since 1992.


The Texas Gay Rodeo Association was founded in the summer of 1983, and the first annual Texas Gay Rodeo was held in November of the following year at an arena near Houston. This began the tradition of the TGRA Fall rodeo, which continues to the present. The TGRA is a member of the International Gay Rodeo Association (IGRA), which governs all sanctioned rodeos. Chapters sprouted up across Texas over the years, and currently there are five chapters located in Austin, Dallas, Fort Worth, Houston, and San Antonio.

In addition to the rodeos themselves, the TGRA is very much a social organization, and it conducts and sponsors a number of actiities that provide support to the community, and fun for its members. One such is "Royalty", where candidates vie for the title of Mr., Miss, Ms. and MsTer TGRA. These ambassadors host fundraisers for TGRA during their candidacy and reign. They then have the opportunity to compete in the Mr., Miss, Ms. and MsTer IGRA contest. This honor has been bestowed upon several Texas titleholders over the years.

The growth of the TGRA coincided with the fight against HIV/AIDS. The founding members recognized the need for the community to pull together to raise money to combat this epidemic in light of limited government intervention and funding. Since its founding, the individual and commercial members of the TGRA have raised and donated over two million dollars to Texas charities primarily, though not exclusively, for AIDS-specific service support. Other types of agencies are also supported by TGRA contributions: women's health projects, breast cancer, disaster relief, and children's programs to name just a few.

This was my first rodeo, so I brought my camera. Although the lighting in the arena wasn't the best, a number of the photos I took turned out OK. Below, left, is a little slideshow with the pictures I took that turned out. Go from picture to picture with the little "backward" and "forward" symbols; the number in the upper left corner will tell you where you are in the show.


The only other picture I took in the arena during the Rodeo was this gay rodeo clown. If there is one thing gays know how to do it is camp it up in drag, and this clown was doing a very good job. I couldn't capture his mannerisms in a picture, but he was quite funny.

The Gay Rodeo is just like any other amateur rodeo. Some of the most strenuous events, the ones that could get you killed if you didn't know exactly what you were doing, are eliminated, in favor of events that are colorful but less dangerous. Some of the events are downright funny.

The TGRA Rodeo was pretty well attended, as my picture of the crowd showed. Right after I took that picture, I recognized a friend of mine- Bob Merrill, the balding young man in the lower left of the picture. You may remember that Bob was the man who helped me so much when Grant died; his own partner had died the year before. I stopped to talk with him and catch up on the year.

The 7th picture in the show is one of the "non-standard" events. The idea is for the pair of cowboys to catch the lamb and get a pair of underwear on it in the shortest possible time. I don't know who is the more embarrassed- the cowboy or the lamb. Some of the lambs seemed to like it. I think they were gay lambs, or at least drag lambs.


All in all it was a fun event. Not only are their the competitions in the arena, but in the halls around the venue thee are all manner of folks selling everything from western wear to artwork, and looking over all that merchandise was interesting all on its own.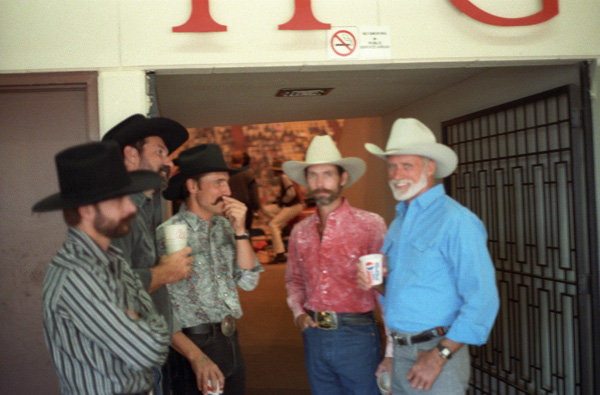 Fred, Don Davidson, Frank, Joe, and Tony Rihn


At intermission, and actually all through the events, there are bars serving beer out in the area under the stands, and the area was always crowded. It was like being at the bar in the daytime, and I saw a lot of familiar faces.

I was introduced, for the first time, to Tony and Don, who are good friends of Frank and Joe and whom Fred has met before as well. They live in Bartlett, Texas, just South of Temple. They do glass sculpture and other artistic things.

Frank and Joe had planned to meet them at the rodeo, and we were all going to have dinner together.

When I found that they had not gotten a place to stay in Dallas, I insisted that they join us at my house, and they accepted. They got the guest room and Frank and Joe got the family room.


We had dinner at Mercado Juarez, one of the Mexican restaurants that Fred and I frequent, came back to the house and rested for a while, and then all went out together. The other guys don't get a chance to go out often. Frank and Joe live hours from the nearest gay bar, and Tony and Don live 45 minutes from Austin, so I imagine that they take every chance they get to go out when they are in one of the big cities.
(Picture at left)
After breakfast at Le Peep, our four guests had to head on back south. Here are Don and Tony as they were getting ready to leave to go back to Bartlett. They were real nice guys, and Fred and I got an invitation to come visit them at their studio in Bartlett.

(Picture at right)
Joe and Frank left an hour later, and I got a picture of them and of Fred just as they were getting ready to head off on their five hour trip back to Leakey. I got an even better appreciation for the close friendship that Fred has with them during their stay this weekend. I enjoyed having them here very much, and I know Fred enjoyed it as well.
Fred stayed until in the morning, as has become our routine, when he woke early to be up at the greenhouses by 7AM. I enjoyed seeing Frank and Joe again, meeting Tony and Don, and spending another weekend with Fred.
You can use the links below to continue to another photo album page.
---
| | |
| --- | --- |
| | November 21, 1992: My 46th Birthday Party |
| | October 23-28: A Camping Trip to Colorado, Utah and Arizona |
| | Return to the Index for 1992 |