| | |
| --- | --- |
| | December 22-28, 1997: My Sister Visits for Christmas |
| | October 22-26, 1997: A Fall Trip to New Mexico |
| | Return to the Index for 1997 |
---
November 22, 1997
My 51st Birthday Party

When I first partnered with Grant and we moved to Dallas in 1985, we began something of a tradition- having parties at the house for our birthdays- Grant's on Valentine's Day and mine on the nearest Saturday to my actual birthday on November 23rd. After Grant passed away, I continued the practice, and after meeting Fred, expanded it to have a second gathering on a Saturday near to his birthday on August 6th.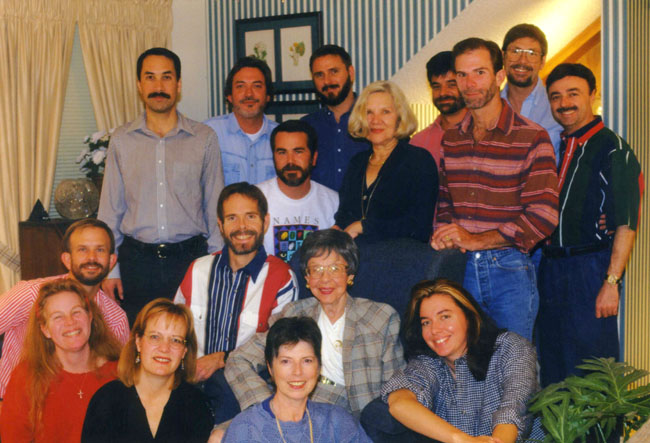 The Group at My 51st Birthday Party


So Fred and I invited all our friends over to help celebrate my birthday, and we were pleased that almost everyone was able to come. Fred has his own traditions, and one of them is to always take a group shot when we have a gathering of our friends for a birthday, for Thanksgiving or for Christmas, and he did the same this evening.

In the picture, from left to right, the attendees are:

(Seated)
Nancy Lucas, Fred, Prudence Lucas, myself, Lynne Richardson, my Mom and Jeffie

(Standing)
Tom Harris, Ron Ruckman, Justin Normand, Mike Racke, Barbara Reynolds, Ron Mathis, Chris Young, Lowery Evans and Ron Drew.


NOTE 1:

I wrote the narrative for these pictures shortly after I got them back from being developed- in early 1998. I revisited that narrative in the summer of 2005 when I began work on this online photo album. I at first thought I would start the online album at the beginning, but with the advent of digital photography we were taking a great many more pictures, and I thought that if I didn't start cataloging and writing narrative for them, I would fall way behind. So I decided to make the first album year 2004, and work forward. When I got current, then I would return to 2004 and work backward. Of course, as you may already have found out, I am creating the album pages for 1997 in 2015, but I think it appropriate to include the note that I added in 2005 to the narrative originally written in 1998. Here is that note:
"From my vantage point in 2005, I canít help but note all the changes that have occurred in this core group of our friends since this picture was taken, and these changes began pretty quickly. At the time of this picture, Fred had ended our practice of double-dating on Sunday nights with Nancy and Prudence, since Prudence had begun dating Ron Ruckman. We still saw them, of course, but Ron and Prudence eventually married in 1999 and moved to San Antonio so Prudence could do something she has always wanted to to- run a Bed and Breakfast. That B&B has been up and running since 2002, and Prudence and Ron are having a good time running it. We still saw Nancy occasionally, but she began seeing, and eventually married, Karl Gleim, and the two of them live out in Grapevine.

My Mom's health deteriorated somewhat, and we both decided that living on her own was no longer a good idea, so her condo was sold and she moved to The Bentley, a retirement home (a very nice one) up on Forest Lane in 2002. Recently, after a couple of accidents (falls) and two stays in the hospital, she has moved next door to the Bentley Manor, more of an assisted-living place. I see her as often as I can, which will now be almost daily since I will be retiring soon.

Jeffie worked in Dallas for a few years in the music industry, but in 2003 she reunited with a long-lost friend of hers and together they moved to Atlanta. Tom, who was single at the time this picture was taken, has entered into a partnership with a really nice guy, John who works for Mothers Against Drunk Driving. They live together in Oak Cliff.

Two of the attendees at this year's party have died. Mike Racke died in an automobile accident shortly after midnight on September 11, 2001. I and many of his other friends had gathered at his house north of Fred and happened to have a television on when the events of that day began to unfold. Lowery Evans died in Tampa, Florida, in 2000. His partner, Ron Drew, had moved there because Ron's job with GTE had moved there; Lowery left his job with Consolidated Freightways to stay with him in their beautiful house in the suburb of Brandon. Ron stayed in Tampa until he retired from GTE two years later, and then moved, with a friend of his, over to Fort Lauderdale, where he got an interesting job with an organization that encourages new employers to relocate there.

When my Mom vacated her condominium, we rented it to Barbara Reynolds, and she lives in it now. Ron and Chris have split up; while they had accommodated to their wildly different work schedules for some time, Chris found it necessary to move back to Sherman, Texas, to which he had been commuting four times a week for a few years. Ron and I had been out playing pool one night here in Dallas when he met a fellow named Jay; they began dating and Jay moved into Ron's house in Plano a few years ago.

Justin and Lynne's lives haven't changed much. Justin still sings in the Turtle Creek Chorale and Lynne still works for two or three Dallas arts organizations. Both still live nearby in Oak Lawn."

Another tradition associated with our birthday gatherings is the cake. Someone provides one for the honoree, and Fred provided mine this year, and took the picture at right before I cut into it. Chip, my cat, was the only attendee missing from the group picture, and you can see him on the chair beside me. And here is another picture Fred took as I blew out the candles: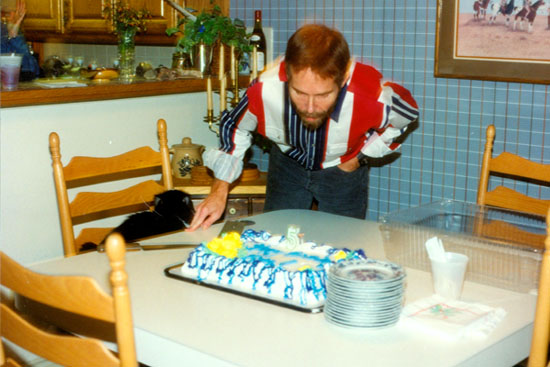 I might add here, in the spirit of the note above, that Chip is no longer with us, either. He, like his brother Dale last year, began having urinary blockages, and after one surgery was unsuccessful, we took our experiences with Dale to heart and had Chip put to sleep in 2002.
Fred took only one other picture during the evening, a kind of fuzzy one of me opening cards. All our birthday parties are enjoyable, but this one was especially so.
NOTE 2:
As I mentioned above, I am creating this page in 2015, and again, much has happened in our little group. So let me add to the notes that I wrote in 2005, bringing them up-to-date ten years later:
"I retired in the Fall of 2005, and was able to convince Fred to do the same three years later. Since then, we have been able to do much more traveling- taking longer trips. We have begun the practice of spending two weeks in Florida five times each year.

Prudence and Ron still live in San Antonio, although they had gotten their fill of running a B&B by 2013. They closed it, did some remodeling, and moved back into the house from the garage apartment they had built. In 2002, I found that my friend from Chicago, Guy Blair, was to be assigned to a church in San Antonio, so I introduced him to Prudence and Ron. They became fast friends and did much together until Guy was transferred again to Green Bay, Wisconsin. Guy retired from the active priesthood in 2014; Prudence and Ron encouraged him to move back to San Antonio and rented him their garage apartment. Fred and I see all three of them frequently. Nancy and Karl still have their house in Grapevine, but they have recently bought a house in San Antonio as well, and now go down there regularly so that she and her sister can spend time together.

My Mom's health deteriorated further as the years passed, but there was little that could be done. She passed away in 2008 at age 97. Jeffie and Michael stayed together for seven years after they were married, but then divorced. Jeffie worked at a number of different companies, but has recently begun a totally new chapter in her life- she has moved to Prague, Czechoslovakia, and works teaching Engish there.

Ron Drew still lives in Fort Lauderdale, and still has the same job, but he has a different parther- also named Jay. So now we have to refer to "Plano Ron and Jay" or to "Florida Ron and Jay" to keep them straight. We see Florida Ron and Jay frequently when we are don there. Barbara Reynolds has moved from my Mom's old condo, and it has been sold. Barbara lives now in McKinney, just around the corner from one of her daughters, and she enjoys being close to her and the grandkids.

Ron and Jay stayed friends with Chris Young, and saw him occasionally. Sadly, Chris passed away in 2009. Justin has inherited his Mom's house in Natchitoches, Louisiana, and he and his partner of some ten years travel there frequently and have turned it into a showplace. Both of them work for a display company here in Dallas. Lynne has moved and retired from her jobs with the Arts District; she now has a burgeoning business pet-sitting and house-sitting. She is our pet-sitter of choice when we are away. We have three of them now- Lucky, who arrived from DeLeon in 2009; Tyger, who arrived from the SPCA in 2011; and Zack, who came to us from Dog and Kitty City (a no-kill shelter) in 2012."
You'll see the stories behind much of what I mentioned on this page as you move forward through this photo album, so use the links below to continue to another photo album page.

---
| | |
| --- | --- |
| | December 22-28, 1997: My Sister Visits for Christmas |
| | October 22-26, 1997: A Fall Trip to New Mexico |
| | Return to the Index for 1997 |