| | |
| --- | --- |
| | August 22, 1998: Prudence's Birthday Party |
| | July 21-26, 1998: Our Summer Trip to Colorado |
| | Return to the Index for 1998 |
---
August 7-9, 1998
The Texas Folklife Festival
in San Antonio


This weekend, Fred and I have traveled down to San Antonio to see Frank Roberts and Joe Wells perform at a festival held there called "Texas Folk Life." We drove down on Friday evening and checked into a La Quinta motel near Hemisfair Park- the venue for the Festival. Frank and Joe came in from Leakey that same evening. We spent the day with them on Saturday, stayed again on Saturday night, and then drove home on Sunday.


This is perhaps the third time I have driven from Dallas to San Antonio (although I've also driven from Dallas to Austin a few times, a trip which covers most of the same route), so I am getting familiar with the route.

We left Dallas about six, hopping onto the Dallas North Tollway to get down to Stemmons Freeway through downtown and onto I-35E heading south. The expressway out of Dallas to the south is pretty good- four lanes most of the way- so you can make good time. About thirty miles south of the city, the highway goes down to the typical Interstate with two lanes in each direction.

It continues like that all the way to Waco- about a hundred miles. The roadway is pretty good, but it carries a heck of a lot of traffic, being the only major route north-south in the state. There are lots of trucks and cars, and accidents can really screw things up. There are a couple of sections where the highway goes to three lanes each way, but mostly it is just two. Through Waco it opens up to four lanes.

The worst stretch is from Waco to Temple where it is always two lanes, the highway isn't in as good a shape, and traffic is heaviest. In that section you are lucky if you can keep up to highway speed all the time. A few miles south of Temple, about twenty-five miles north of Austin, the highway widens again and you can make good time- until you get into Austin, that is.

Even though the highway is three or four lanes each way right through the city, the road carries so much traffic that you almost always have to slow to ten or twenty miles an hour- if that- for a stretch of five or six miles. South of Austin, between Austin and San Antonio, the road is once again three lanes each way and traffic moves fairly smoothly.


The network of expressways through San Antonio is pretty good, although they are working on some of them, but we had little problem (at ten o'clock at night) getting through town to our hotel near Hemisfair Park. Frank and Joe were already there, so we hooked up with them for a bit and got something to eat before turning in.

The next morning, we were all up early so Frank and Joe could get to the Festival site and get their schedule of performances. They perform under the auspices of the Texas State Park System. Frank has long performed at Garner State Park where he works, doing cowboy songs at an evening "Sunset Serenade." In recent years, Joe has joined him doing cowboy poetry. And, more recently, their friend, Linda Kirkpatrick has also joined in some of their off-park appearances; she does cowgirl poetry and stories.

I think this is only the second time that Frank and Joe have performed at the Texas Folk Life Festival; certainly it is the first time that Fred and I have seen them peform there (although not the first time we have seen them perform). The Texas Folk Life festival is held on the grounds of the Institute of Texan Cultures, a large museum that celebrates the varied heritages and customs of the state. For the festival, there are performance stages set up around the Institute, demonstration stations for various crafts and customs, and the typical conglomeration of food vendors.

Frank and Joe would be performing on at least two different performance stages, and we would try to see as much of their performances as we could, walking around the festival with them when we could.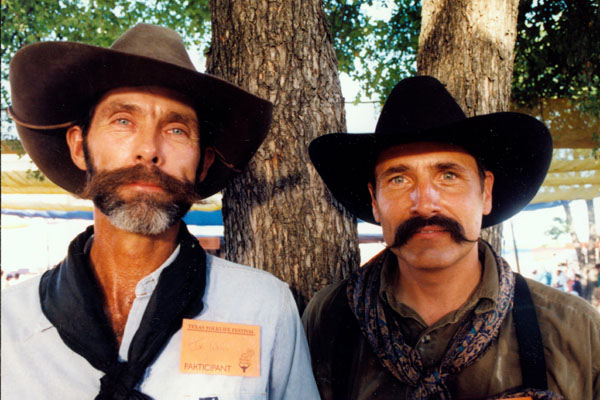 Joe Wells and Frank Roberts


When Frank performs, he does renditions of old cowboy songs, with a lot of patter in between to get the audience involved. It is very entertaining to listen to, and while festivals like this rarely have huge numbers of folks watching any given performance, Frank usually had quite enough people for his interactive sessions. Click on the thumbnail images below to see some of the pictures of Frank performing:

In those pictures, the "Humble Time" performance stage was in the area northwest of the Institute, while the colorful canopied stage was in the other section to the southeast.


At one point, when Frank, Joe and Linda were in between performances, we went inside the Institute of Texan Cultures. We didn't spend a lot of time inside (it is one of those museums that you can spend all day in), we did see and photograph a stuffed buffalo just inside the museum area).


As you can see, Frank and joe (and Linda) perform in period costumes as authentic as they can make them. Far from dressing as "urban cowboys," the dress in working cowboy/cowgirl attire. Because of this, they stand out when they are performing or just walking around the festival. A few times today, little kids would come up to them and ask questions about their costumes, or, in one case, just ask them "Are you a real cowboy?" Frank and Joe are always engaging, and the kids eat it up. Twice, with the kid's parents' permission, I took pictures of them with Frank and Joe (and in both cases were asked by the parents to get copies to them- which I did). Those are the two pictures at right.

I have mentioned Linda Kirkpatrick a couple of times, and twice today I asked the three of them to pose so I could get pictures. Click on the thumbnail images below to have a look at them:




We had a really enjoyable day here with Frank, Joe and Linda at the Texas Folklife Festival and we all stayed until Frank and Joe's last performance about six. We stayed in San Antonio that night, and had a good dinner with them and another friend of theirs, before heading home the next day.

You can use the links below to continue to another photo album page.

---
| | |
| --- | --- |
| | August 22, 1998: Prudence's Birthday Party |
| | July 21-26, 1998: Our Summer Trip to Colorado |
| | Return to the Index for 1998 |