| | |
| --- | --- |
| | September 4-7, 1998: A Trip to Santa Fe |
| | August 7-9, 1998: The Texas Folklife Festival in San Antonio |
| | Return to the Index for 1998 |
---
August 22, 1998
Prudence's Birthday Party

On Saturday night, August 22, Prudence and her friend Ron Ruckman invited Fred and I to come down to a restaurant/bar on McKinney Avenue in downtown Dallas to help Prudence, Nancy, Ron and their friends celebrate Prudence's 44th birthday. Fred has known Prudence ever since high school, but I only met her through him in 1994. I also met her sister, Nancy, subsequent to that, and the four of us have been out to movies and dinners quite a few times. Prudence is a wonderful person, and her sister Nancy equally so. We don't know Ron very well, but were happy to accept their invitation.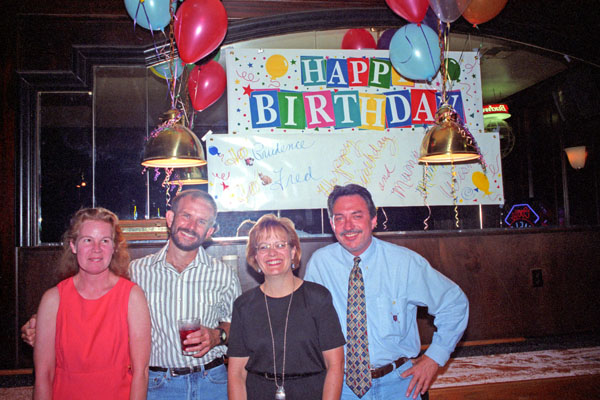 Nancy, Fred, Prudence and Ron Ruckman


We did not have dinner at the restaurant; Ron and Prudence were going out afterwards for something quiet, so we just met them and some of both Prudence's and Ron's work friends (whose names I did not learn and, even if I had, I would not remember them now). Perhaps when either Prudence or Ron visit this page, they can fill in the blanks.

Anyway, click on the thumbnail images below to see some of the pictures Fred and I took at the gathering:




We spent a couple of hours with the group before heading home to get some supper ourselves. We did take a couple more pictures that I want to include here. They are below:

You can use the links below to continue to another photo album page.

---
| | |
| --- | --- |
| | September 4-7, 1998: A Trip to Santa Fe |
| | August 7-9, 1998: The Texas Folklife Festival in San Antonio |
| | Return to the Index for 1998 |