| | |
| --- | --- |
| | November 20, 1999: My 53rd Birthday |
| | September 4, 1999: Prudence's Wedding |
| | Return to the Index for 1999 |
---
November 4-7, 1999
We Visit Lowery and Ron in Florida


Fred had some additional days this year he could take off from work, so since Lowery and Ron had left early in the year and moved to Florida, we thought we might fly down to Tampa for a long weekend to visit them. We left Dallas late Thursday night, November 4th, and we returned on Sunday night, November 7th.

To Lowery and Ron's House in Brandon

We took an early evening flight to Tampa on American, where Lowery and Ron picked us up at the Tampa International Airport.

Lowery and Ron actually live east of Tampa proper in a suburb called Brandon, and so we drove across town to their house, stopping for a late supper along the way.

I had been to their house once before, as part of one of my solo trips to Florida on business earlier this year, but Fred had not seen either Tampa or their house before. Ron and Lowery are lucky to have found a nice house on a secluded cul-de-sac on a street called Belle Timbre in Brandon. The nicest thing about it is that it backs up to what we could call a floodplain in Dallas- land that that is prone to flooding and so on which nothing is built. The area behind their own tree-shaded house is usually used as pastureland, and indeed, cows are often visible from their screened lanai.

We spent three days with Lowery and Ron, trying to see and do as much as we could. We did a number of different things during those days, and I'll put the pictures we took for each of them in sections below, sections that will be generally in the order we did things.

At Lowery and Ron's House

I didn't take many pictures at the house; I did an exhaustive photo record earlier this year, and if you want to see the inside of the house, you can look at the page for June 12th of this year. In fact, the only two photos I took here at the house were of Fred and Lowery out on the lanai by the pool. You can see them below:

In the left-hand picture, you can see the vacant area behind their house.

At Ron's GTE Office Downtown

During our stay, we took a trip with Ron and Lowery down to Ron's office in downtown Tampa. He wanted to show us the views from his building, and also see a couple of things downtown.


Ron has been here long enough now that he knows the best ways to commute back and forth to work. Usually, the best way is for him to take Brandon's surface streets a mile or two to the east end of one of the many SunPass toll roads that criss-cross the Tampa area (and, indeed, much of South Florida).

The expressway he picks up has an exit right near the building where GTE has its offices, so Ron drove us into town and we parked in the GTE garage spaces and headed up to his office.


I forgot what floor, exactly, Ron's office was on, but it must have been high up, for there was not much around higher than we were. Ron is lucky to have the office he does, for the views of the Tampa Bay area are really quite spectacular.


Just southeast of Ron's building there was a tall white office tower with a stairstepped top. As soon as we saw the building out Ron's office window, Fred noticed all the birds that were perched on the various steps and corners of the building's top, and we took quite a few pictures of them- some at distance and some close-up.

You can click on the thumbnail images below to see some of the pictures that we took:




We were intrigued by that building, and stayed in Ron's office a while talking. Then we went to the conference room that had expansive windows looking almost directly south. From the conference room, the views were really excellent, and I wondered to myself how anyone got work done for looking out the windows at the bay, but then I guess it gets to be "old hat" after a while. (I remembered when I first moved in to Eugenie Square and how I camped out in the living room for the first few days just so I could always have the views of downtown Chicago. But then after a while, while the views were always nice, I stopped just plopping down in a chair after work or at night and admiring them.)


The photo at left looks southeast; so you can put the other pictures we took in perspective, take a look at the aerial view below that I grabbed from Google Earth (not actually available in 1999):

Although the aerial view above doesn't extend to the other side of the bay, when you click on the thumbnail images below you can use the aerial view above to pick out the section of downtown that is covered:




We enjoyed visiting Ron's office, and we stopped to have some lunch before visiting the Florida Aquarium and taking a short tour of downtown.

The Florida Aquarium

Ron and Lowery wanted to take us to the Florida Aquarium, which was actually just a short drive from Ron's office. The Florida Aquarium is a not-for-profit organization whose mission is to entertain, educate and inspire stewardship about the natural environment; it began in 1977 as the Clearwater Marine Science Center (CMSC), a private non-profit educational organization located on Clearwater Beach, Florida.


In late 1985, consultants from other major acquariums were engaged to guide the fledgling organization in the creation of a world-class facility, enabling it to compete in the crowded Florida attractions market and become financially viable. Following their suggestions, The Florida Aquarium, Inc. incorporated in 1986, elected a Board of Directors, and formally committed to building a public aquarium comparable to the finest in the nation. Design and construction firms were engaged, and the Aquarium worked diligently to encourage broad-based public support for the project from the city and county and from the State of Florida.

In looking for an appropriate site, the Directors settled on the Garrison Seaport Center, a major redevelopment of downtown Tampa's waterfront. In 1992, the Tampa City Council accepted the organization's financing proposals, and site work began for the new Aquarium. During the next three years of construction, educational outreach programs were held throughout the community to create awareness for the project.

The Florida Aquarium opened its doors on March 31, 1995; in its first year of operation it hosted a million visitors- locals and tourists- and brought a positive economic impact of $60 million to the community. By the time of our visit in 1999, the aquarium was very much a going concern, with many exhibits of interest, but in the decade following our visit, a great deal of expansion and modernization took place. Many of the facilities that you see in the current aerial view were not present when we visited the facility.

Usually, when we visit places like this, I like to supply maps or diagrams so you can follow us around. But so much time elapsed between our visit and the time I created this photo album page (15 years) that the diagrams and exhibit descriptions that I found bore little relationship to what we actually saw here today. So all I can do is use the pictures we took to try to reconstruct a decent description of the facility at that time.


The entrance to the aquarium was modest in comparison to the grander entrance and circular drive present today, and the lobby, as I recall, was a good deal smaller than now- although there was a pretty good-sized gift shop and a small cafe. Outside, there was a small garden, and Fred found some interesting plants and flowers to photograph.

Inside, two of the major areas of the aquarium were the fish tanks (of course) and an avian exhibit, the latter housed in a large glass-and-tubular-truss aviary.

In the aviary and its associated exhibits were a great many birds- some usually associated with Florida and some not. There was a lot of variety, from peacocks to a particular horned owl that is found in great numbers throughout North Florida. There were, of course, lots of kids around, and they seemed to enjoy getting close to the owl, one of which was held for them to see by an aquarium staff member.

There were flamingos, of course, but also lots of ducks and other Florida birds. You can click on the thumbnail images below to see some of the pictures we took in the aviary and other bird exhibits:




Of course, being an aquarium, there were innumerable tanks with all manner of fish and other aquatic denizens. Most of the areas where the tanks were located were in dim light, and we discovered quickly that using the flash wasn't effective because of the glass. So we did not take many pictures of the fish exhibits, preferring to just enjoy them. There were a few times when the aquariums were well-lit, and by holding the camera steady against the glass, we got some acceptable pictures without the flash. You can click on the thumbnail images below to see some of the pictures we took in this fashion:

After visiting the aquarium, we drove around downtown Tampa for a bit, and Ron took us out to Ybor City- an older section of town that used to be the hub of the cigar business but which is now a trendier spot with clubs and restaurants. We had dinner there.

Busch Gardens

On Saturday, we made a trip to Busch Gardens, the amusement park that was originally known as Busch Gardens Africa. It is located northwest of downtown Tampa.


At the time we visited Busch Gardens Tampa, and up until today, it was a large (335-acre) African-themed animal theme park, and like other similar parks in the United States and around the world, it sported mega-roller coasters, restaurants, a hotel, shopping arcades and gift shops- as well as some more serious exhibits.

Busch Gardens opened on March 31, 1959 as an admission-free hospitality facility for Tampa Anheuser-Busch; in addition to various beer tastings, they had a bird garden and the "Stairway to the Stars," which was an escalator that took guests to the roof of the brewery. The entire facility occupied about twenty-five acres in what is now the southwest corner of the park.

Busch Gardens continued to grow, and in 1965, opened the 29-acre Serengeti Plains, which allowed the African wildlife to roam freely. It continued to focus on its tropical landscape, exotic animals, and amusements to draw visitors. Busch Gardens began charging admission as the entertainment became more complex, with extra fees for the thrill rides, such as the roller coasters for which Busch Gardens is now known. By the time we visited, it had shifted over to the Disney model, with one admission charge that gave access to all of the rides and attractions. Alongside its sister waterpark, the 30-acre Adventure Island to the north, it is the anchor of Tampa's amusement multiplex. Currently, Busch Gardens competes with other such parks in Florida and charges comparable fees. I don't have figures for 1999, but in 2011 the park hosted 4.3 million people, placing in the Top 20 of the most-visited theme parks in the US and in the Top 25 worldwide.


Again following the Disney model, the park is divided into areas named for and themed on African locales (e.g., Egypt, Morrocco, the Serengeti, Nairobi and so on). Each area has its own themed eateries, shops, arcades and rides, and there is a railway that takes visitors from one to another, if they don't care to walk.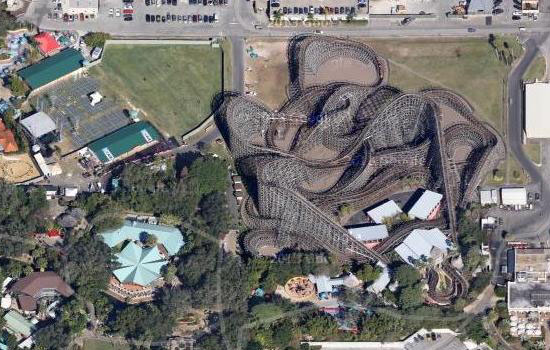 Gwazi Glides and Bird Park


For my part, I was happy we'd chosen this destination; I love roller coasters and hoped ride quite a few of them. When we first entered the park, we found ourselves in the area known as Morrocco. Just before we started off through the amusement park, Fred snapped a picture of Lowery, myself and Ron with the park's huge wooden roller coaster in the background. You can see that picture here.

It's major roller coaster was the wooden Gwazi Glides, and of course we had to ride that first. (I was impressed in that, while there seemed to be a large number of people here, the wait times were pretty short for almost all the rides.) After that, we spent some time wandering around the bird park- part of the original Busch Gardens.

This corner of the park seemed devoted to smaller kids and folks whose main purpose in coming was not to be scared out of their wits on the screaming thrill rides. In the center of this area there was an aviary with colorful parrots inside, and lots of other things that kids (and adults) could do with our feathered friends.


We spent much of our time on the rides, or snacking in the food venues, and relatively little just walking around. That meant that we didn't take a great many pictures. We did take some here in the Bird Park, though, and you can click on the thumbnail images below to have a look at them:

We walked up the center of the park to an area called Nairobi, where there was an exhibit of African monkeys (hard to see in the picture here) and also the area called "Pantopia"- a kid's area with Grand Caravan Carousel and a small roller coaster called The Sand Serpent. In the middle of Pantopia was another kid's ride- the Grand Caravan Carousel.

We walked to the west a bit to ride a couple of the larger coasters, one was in Stanleyville and the other in an area called The Congo. You can see these two coasters in the aerial views below:
| | |
| --- | --- |
| "SheiKra" in Stanleyville | "Kumba" in The Congo |
From "Kumba" we made our way back through the center of the park, heading towards Egypt and one of the newest rides in the park.


African animals were part of the original Busch Gardens, back when it was free. The menangerie was expanded when the Park began to charge admission. By the time we visited, the Serengeti area was so extensive that it was a separate attraction within the park- with its own additional admission. We decided not to do the tour, which is a ride on an open-air touring vehicle that takes visitors through the 65-acre Serengeti. It was billed as a recreation of life on the Serengeti Plain, home to hundreds of fascinating animals- some of which visitors can even feed by hand. From just walking past this area, we could see zebras, giraffes and ostriches. We stopped near the entrance to the attraction and I got a couple of pictures of Fred; you can click on the thumbnail images left, above, to have a look at them.

We continued to walk to the southeast through the park, stopping once to get our bearings until we reached the area called "Egypt." It was here that we wanted to ride the final roller coaster of the day- one of Busch Gardens' newest. It was good, as it turned out, that we left it for last.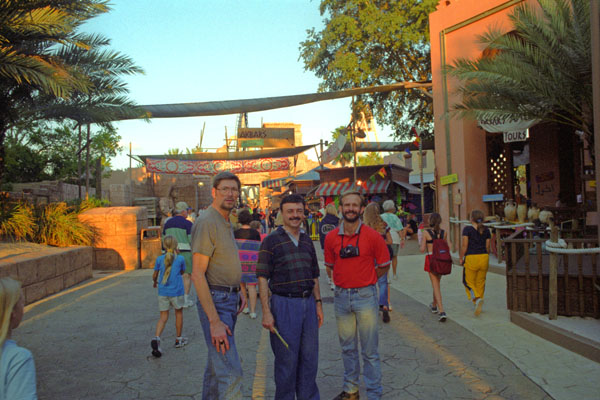 Egypt, looking towards "Montu"


As we neared the "Egypt" area, we passed through "Crown Colony"- the smallest section of the park. It features a restaurant, the Cheetah Hunt roller coaster, and the Skyride station. (I might note that this year was the park's 40th anniversary, and that ten years from now, at the 50th, the building we saw as "Crown Colony House," that today contained a large restaurant, was expanded to include a Busch Gardens Museum.) Click on the thumbnail images below to see some pictures we took here in Crown Colony:

Passing through Crown Colony, we finally entered "Egypt," where Bedouin tents and authentic handicrafts and art create an Egyptian marketplace feel. Although we did not visit it, there is an attraction that is a replica of King Tutankhamen's tomb with the excavation in progress. (Don't expect to visit this attraction yourself; it closed in winter 2013, to be replaced by an arcade area.)

It was getting late in the day, so we headed directly to the major attraction here- "Montu," an inverted steel roller coaster named after the Egyptian Falcon God of War. "Montu," which opened three years ago, is an inverted roller coaster, which means that riders are hanging generally under the tubular steel structure. Built by Bolliger & Mabillard, a Swiss firm, it is the second roller coaster they designed for the park; the first one, "Kumba," which opened six years ago, was for a time the park's most popular. Montu, at the time we rode, was the world's tallest and fastest inverted roller coaster, standing 150 feet tall and reaching speeds of 65 miles per hour. The roller coaster also has "inversions," which means that the riders are slung above the steel tube at times and thus riding upside down for a few seconds each time. "Sweet!", we thought, as we ran immediately to get in line.


This roller coaster concept was developed at Six Flags Great America, in the early 1990s, and at that park, "Batman: The Ride" opened in 1992. Designed by the Swiss firm, it was an instant hit. In 1995, planning began for Montu, and it opened on May 16, 1996, at the time the world's tallest and fastest. The ride is 4,000 feet long and features seven inversions including two vertical loops measuring 104 and 60 feet, an Immelmann loop, a zero-g roll, a batwing and a corkscrew. Riders experience up to 3.8 times the force of gravity on the 3 minute ride. Montu operates with three steel and fiberglass trains, each containing eight cars. Each car seats four riders in a single row for a total of 32 riders per train.

We were pleasantly surprised to find that the line was not hours long; we only waited about twenty minutes for our first ride. (Yes, our "first" ride.) And the wait was only that long because I insisted on waiting for the front row of the front car in a train. I figured, as is usually the case, that the front is where the experience is the best. We got seated, with our legs dangling below us, buckled in, and we were off. So what was the ride like?

The ride began with a small dip and turnaround out of the station tracking towards the 150-foot-tall chain lift hill. There was the usual "ooohing" and "aaahing" (and a bit of preliminary screaming) as we rose higher and higher and came over the crest at the top. Then the ride began in earnest, with a first twist down 120 feet and into a 100-foot-tall vertical loop; it was here that we reached our top speed. Following the vertical loop, an Immelmann loop came next. (In this type of loop, riders enter a half loop and then go through a half twist and curve out in the opposite direction in which they came. The name is taken from the "Immelmann turn," an aircraft maneuver named after the World War I German fighter pilot Max Immelmann.)


A "footchopper element" followed, as our feet appeared to come extremely close to one of the pylons. (Though this ride did not have one, there is also a "headchopper" element, in which the riders' heads appear to come dangerously close to a structural element. Both these elements are calculated carefully, so that even riders with long legs or tall riders with their hands in the air will not be injured. But the elements are one reason why there are height restrictions on many rides.) After completing the Immelmann, the train went through a zero-g roll, where we experienced a feeling of weightlessness. (Though I did not know it at the time, it would be this maneuver that was my undoing.)

Following the zero-G roll, we were then inverted twice during the "batwing" element. (A "batwing" is a heart-shaped roller coaster element that turns riders upside down twice.) This led us into the mid-course brake run followed immediately by a twisting dive to the right and then a 60-foot-tall vertical loop. A series of corners, a corkscrew and a dive through an underground tunnel led the train to the final brake run and back into the station.

It was quite a ride!

Montu has also received accolades. One reviewer commended the ride, giving kudos to the park "for designing its monster rides so that wait times put Disney to shame". (Wait times are generally much less at Busch Gardens.) The same reviewer stated "you'll generally be on the ride and screaming" before you get a chance to change your mind. Another reviewer said that "the way this ride twisted my body upside-down and sideways seriously confused my senses" (a review, sadly, that I did not have the opportunity to read before or after my first turn on the ride). Amusement Today, a trade publication, ranked Montu at #3 in 1998, and #2 this year. (Since then, it has never been lower than #14 in the world.)


If all this has intrigued you, you can ride Montu for yourself. I did not have digital film capability in 1999, but since then many people (including me) have filmed roller coaster rides digitally. I found one high-definition POV camera film on YouTube, and so I have copied it here (editing out the boring stuff where the filmmaker walks through Egypt to enter the ride). Just use the player at left to have a go.

I suppose if I'd known about the rankings, I would have been even more anxious to ride it again, but when we got back to the station the first time, I could see that the lines were even shorter than they'd been a few minutes earlier, so I urged the group to get back in line and ride it again. It has been a long time since our visit, so at this writing I can't be sure, but I think that all four of us rode for a second time. Perhaps it was the fact that the wait was by now pretty much non-existent that I said we should ride a third time, but in any case I got no takers, and so decided (unwisely as it turned out) to ride by myself one more time. That was one time too many.

It was good this was our last stop, for when I got off Montu after my third ride, I was not only a bit unsteady, but I was also feeling distinctly queasy, a feeling that did not go away on our ride back to Ron and Lowery's house. Even with a chance to sit and relax, I was still not in the mood to go out with them for dinner. That night, I stayed in and opened a can of mushroom soup. I was much better later in the evening, so there were no lasting effects. The ride was fantastic but, had I known, I might have eschewed my third solo turn.

Encounters With Dolphins

On our last day with Lowery and Ron, we drove over to Clearwater Beach to take a dolphin cruise and have an early supper before being dropped off at the airport for our flight home.

Ron drove us from their house over to the expressway he uses to get downtown. There, we had to make a jog on surface streets to get onto another expressway that led over towards the beach. We merged onto Florida 60 which took us on a long causeway over Mobbly Bay to Clearwater. The highway then crossed Clearwater Harbor to arrive on the barrier island and Clearwater Beach.

Clearwater Beach was a nice little community, centered around a circular plaza and fountain. Right by the end of the highway there was a marina, some restaurants and shops. We found the "Encounters With Dolphins" office without any trouble- parking pretty much right in front.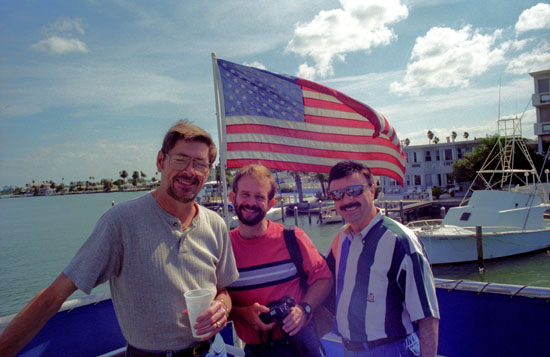 Aboard Our Boat


We stopped in to the ticket office to buy our tickets and were then ushered immediately out to a waiting boat; we would have a wait of about fifteen or twenty minutes before the boat would head out. We took the opportunity to take some pictures on the boat and from it. Click on the thumbnail images below to have a look at some of these:




The person we'd talked to when buying our tickets was right- we did not have long to wait before a number of other passengers showed up, boarded the boat, and we were off.


The trip out into the Gulf took us south through Clearwater Bay and then under a bridge that connects two of the barrier islands to each other. At one point, there were so many seagulls around the boat that I was beginning to think that someone was restaging "The Birds." But then I noticed that some passengers were throwing bread cubes up in the air for them.

We took a number of picture on the way out into the Gulf, and if you will click on the thumbnail images below you can have a look at them:




Just beyond the bridge, we passed a rock jetty and headed out into the Gulf. We didn't have to go far to come close to another boat like ours, and we began to see the dolphins jumping near our boat and theirs.


While there were dolphin jumping near our boat, it was tough to get closeup views of them; as on the other boat, the back was a bit crowded, and because I was so close, not knowing where the mammal would jump made taking a picture difficult. It was simply easier to look fifty feet away at the other boat. You can click on the thumbnail images below to see some of the many pictures we took of the dolphins jumping around that other boat:




The boat trip was pretty interesting and a lot of fun and we enjoyed the outing. When we returned to the dock, we decided to walk over to the Clearwater Pier and also walk along the beach.


As we were walking over to the beach, Fred happened to spot a pelican on a nearby roof, and so he snapped a picture of it.

We first walked over to and out on the pier, and that is where we got the two pictures at right. Fred also got a nice picture of the three of us out on the pier, and you can see that picture here.

Following that, we walked down onto the beach to just walk along it for a while in the warmish afternoon. We got an interesting selection of pictures as we walked along, and you can click on the thumbnail images below to have a look at them:




We had a nice time today at the beach- both the boat ride and the walk. Our last stop of the day, not counting the airport, was a nice restaurant a ways down the beach that specialized in seafood, and we had a really nice dinner before Ron and Lowery dropped us off at the airport for our flight home.

You can use the links below to continue to another photo album page.

---
| | |
| --- | --- |
| | November 20, 1999: My 53rd Birthday |
| | September 4, 1999: Prudence's Wedding |
| | Return to the Index for 1999 |