| | |
| --- | --- |
| | June 29 - July 4, 2000: Our Summer Trip to North Carolina |
| | March 3-12, 2000: A Trip to Fort Lauderdale |
| | Return to the Index for 2000 |
---
June 4-11, 2000
A Trip to Orlando and Tampa


On June 4th, I made a trip to Orlando, Florida, on behalf of DRT, Inc., where I am working. The occasion was a developer's conference run by Microsoft. I thought that some of the topics that would be covered in the various sessions were a good resource for some of the current consulting assignments that I and others on my team were undertaking. I decided to fly to Orlando two days early and use the extra time to run down to Fort Lauderdale. Then, after the conference, I'd drive the short distance to Tampa and spend a couple of days with Ron Drew and Lowery, who moved there two years ago.

A Weekend in Fort Lauderdale

My weekend in Fort Lauderdale was occupied mainly with doing some stuff around the condo and taking a short bike ride up the coast. I did see Ty and Scott one evening, and had lunch with Brent Whitley at Shirttail Charlie's on the New River. That's where I took the only two pictures in Fort Lauderdale:

A Visit With Lowery and Ron

The conference, which lasted three days at the Orlando Convention Center, was very interesting, and I learned a good deal, and brought back a good many resources that our teams could use. On Thursday morning, I drove over to Tampa to spend the last two weekdays and the weekend with Lowery and Ron.


If you have already looked at the pictures from 1999, then you have learned all about where Ron and Lowery are living and seen pictures of their house. Fred and I made a four-day visit there in November. So I won't repeat all of that information here.

I'll just say that they have a very nice house out in the suburb of Brandon, about fifteen miles from downtown Tampa where Ron's office at GTE is. Their house backs up to an area that will never be developed, so when they are sitting around their lanai at the back of the house, they really can't see any of their neighbors.


We spent a relaxing couple of days, and Lowery and I went into Tampa on Thursday to have lunch with Ron. Ron had Friday off, so we spent that at home, making an outing to an event all about butterflies that was held in a park near their house.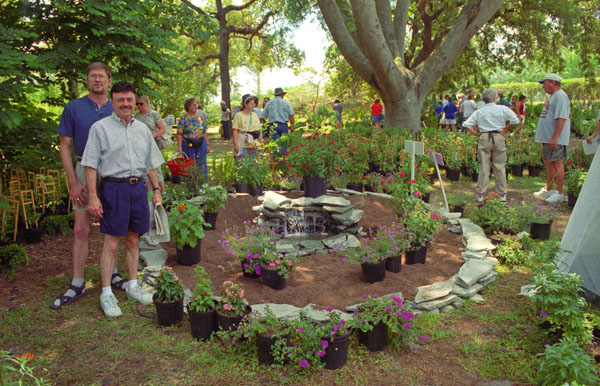 At the Butterfly Event


The event was all about attracting butterflies to one's garden. There was a portable butterfly enclosure where you could walk among thousands of them, and also exhibits of various plants and flowers that butterflies are supposed to like.

I took some pictures while we were wandering through the exhibit area, and also a bit later when we were just walking around the park. There are clickable thumbnails below for some of these pictures:




The park was also just a nice place to wander around, and they had some gardens and other areas with trees, plants and flowers. It wasn't a botanical garden by any means, but I did take pictures of some of the flowers that we came across. There is a set of clickable thumbnails below for the pictures that I took:

This was a short visit with Lowery and Ron as I had to head home on Sunday morning. Fred and Lou Acevedo picked me up back in Dallas and we went to lunch together.



---
| | |
| --- | --- |
| | June 29 - July 4, 2000: Our Summer Trip to North Carolina |
| | March 3-12, 2000: A Trip to Fort Lauderdale |
| | Return to the Index for 2000 |