| | |
| --- | --- |
| | October 19, 2002: At the State Fair of Texas |
| | August 3, 2002: The Nabors-Mathis Birthdays |
| | Return to the Index for 2002 |
---
September 19-23, 2002
Old Home Week and
My Nephew Ted's Wedding in NC



This weekend, I am taking advantage of the occasion of my nephew Ted's wedding in Charlotte and some time off from work to spend some time in North Carolina. I flew to Greensboro on Thursday, the 19th, so I could visit my sister for a bit, and then drove down to Charlotte for Ted's wedding festivities on the 20th and wedding on the 21st. I went by the Somerset Drive house where I grew up on Friday, and on Sunday I walked around downtown Charlotte for a bit (it has grown incredibly since I lived here), stopped by my old high school, Myers Park, and stopped by to visit my high school friend Jenny Widmer and her father, who still live in the Providence Road home she was in when we dated in high school. I drove back up to Elon on Sunday evening, and flew home to Dallas from Greensboro on Tuesday.

It was a really nostalgic week, what with seeing all the old places, and it was made more impactful because I was attending the wedding of my nephew, baby pictures of whom you'll either have already seen in this album, or will see when I get back that far to include them.

I won't bother with a page index for this four-day trip, but we'll just look at my activities pretty much in order.

My Visit with Judy in Elon

I flew over to Greensboro on Thursday morning, September 19th.


I don't suppose it's really important where my sister lives in relation to the Greensboro airport, but here is a map nevertheless. I rented car at the airport and drove down to I-40 and then east. I-40 becomes I-85 east of Greensboro, and I take that to the Gibsonville exit. Then I wander up through Gibsonville, across west of Elon on the new bypass, and then a few miles out into the country to Judy's farm.



Judy's farm is a few miles outside of Elon, which, in turn, is a few miles outside of Burlington. I am going to visit with her for today, and then head down to Charlotte tomorrow.

I was actually a bit surprised to find that my niece, Jeffie, was up here today; I thought she would still be down in Charlotte. She and I went out to take a look at Judy's new artificial pond; she and Scott have put in a lot of work cleaning out the stand of woods in front of her house and putting in a meandering stream and little pond. Judy came out, and she, Jeffie and a couple of Judy's dogs took a look at the garden.

I took a picture of Judy's house and then Jeffie and I went to the carport to see Judy's new horse trailer. She uses it to transport Patrikk or one of the other horses she boards.

We were going over to Scott's house in Greensboro so Judy could take some stuff over there, but Jeffie had to head on down to Charlotte to get ready for Ted's wedding on Saturday. Before she left, I got a nice picture of Jeffie, Judy and Scott in Judy's kitchen.

I spent the night at Judy's house, and then drove down to Charlotte the next day.


The House on Somerset Drive

I wanted to do some running around in Charlotte before going to Ted's future in-laws' house Friday night for a pre-wedding gathering, so I came down early Friday afternoon (staying in a motel near the house where I grew up).


I've marked up the aerial view of Charlotte at left with the locations of some of the places I went this weekend- all except for Ted's wedding venue; we'll see that later.



On Friday afternoon, I drove over to 3026 Somerset Drive, the house I lived in from the age of 5 until I left home to go into the Army in 1968. I have been back to it a few times since then; my mother lived in it until 1980, when she sold it and moved to a two-bedroom condominium further out Park Road. She lived there until her move to Dallas in 1996.

As soon as I turned north onto Somerset Drive from Princeton Avenue, I was greeted with essentially the same view I've always had. The trees had grown up more, and some folks had altered their houses a bit, but it was quite the same.

I took some pictures around the old house; click on the thumbnails below to have a look at them:


This picture of my house shows it to be pretty much the same as when I lived in it. There used to be a big, spread-out juniper right where the phone pole is; it was big enough that we could crawl under it. The driveway that we shared with the Britts next door has been paved.


This is the Britt's house next door. Mr. Britt was an AP reporter who covered auto racing; when I get back that far you will see some pictures I took at the Indy 500 that he took me to when I was living in Indianapolis in 1970. He died in 1975, and I have lost track of his wife, Mo, who was living there when my mom moved to her condo, and his children Tommy (whom I visited once when I was on a business trip to New Jersey) and his daughter Laura.


I walked up the driveway to see what the house looked like from the back. The old ramshackle detached garage is gone; it has been replaced by a large addition on the back of the house. The house is listed as having 4 bedrooms and two baths now, so the addition must have the additional two bedrooms and bath. I guess the neighborhood is more upscale now; there's a Mercedes in the driveway.


This picture looks at the house from the south. There used to be a vacant lot this side of the house for many, many years. The Whites, who lived on the corner, owned it. The house that is now on the lot was built there sometime in the 1980s, I think.

The Friday-Night Pre-Wedding Party

On the night before Ted's wedding, Jennifer's parents who, I seem to recall, lived near the Charlotte Bridge Center where my Mom and I usually played when she lived here, had a gathering for all the relatives of the bride and groom. Judy and Scott came down from Elon, but I think Jeffie was unable to come, which is why she isn't in any of the pictures.

Other than Judy and Scott and Ted, I had only met Jen once over at Ted's house. So I can't tell you who everyone is. I can tell you that Jen's parents are the two older people in the kitchen picture with Ted, and that Lauren Claire, Jennifer's daughter, is sitting at the table across from Ted in another picture.

Click on the thumbnails below to have a look at the pictures I took during the gathering:

Ted's Wedding at Latta Plantation

Like many couples these days, Ted and Jennifer were looking for as unique a place for their wedding as they could find- within reason, of course. I think the Biltmore House in Asheville was booked, so they settled on the Latta Plantation in northwest Mecklenburg County.


Latta Place was built in 1800 by James Latta, an immigrant from Northern Ireland who was a successful merchant. In 1820, Latta retired and turned his property into a 742-acre cotton plantation- worked by 34 slaves. After Latta's death in 1837, his widow sold the property, and it had two owners up until 1922. In that year, Crescent Land and Timber, a subsidiary of Duke Power, purchased the property because of its proximity to the Catawba River, and rented the home out to tenant farmers, until the house was abandoned in the 1950s.



In 1973, a non-profit entity was formed to save and restore the property when its architectural and historical significance was recognized. With a grant from the county, the home was restored and opened to the public in 1975. The non-profit then donated the house and land to Mecklenburg County and recommended that adjacent property be purchased by the county to form what is now Latta Plantation Nature Preserve. Today, Historic Latta Plantation is still operated by Latta Place, Inc. In addition to daily tours, Latta offers 35 special events each year, five themed summer day camps, home school programs, workshops, educational field trips, and daily tours year-round. The 12,000 school children that visit the site annually are able to participate in unique interactive historical programming, visit rare and endangered breeds of historic livestock, see the process of growing short-staple cotton first hand, and visit the honeybee exhibit- just a few of the many activities available.



Some or all of the grounds can be rented for private functions; Ted and Jennifer did just that for their wedding, using an area north of the main house underneath a large tree for the ceremony, and then setting up the luncheon tables for the guests in a shady area near the old barn. It was quite a picturesque location; certainly a lot different from a traditional church venue.

If I recall correctly, the ceremony was set for one in the afternoon, but I got there fairly early. Judy and Scott and Jeffie and the other guests were all there well in advance of the start of the ceremony. Lauren Claire came with some friends of hers. She is difficult to figure out; she seems quite intelligent for her age, which I recall being fourteen or so. Precocious kids can be interesting to deal with, provided they aren't too "full of themselves." "L.C." seemed to me to cross that line fairly often, as when she stuck her tongue out in one of the photos I snapped. I am afraid I came away from the weekend not liking her very much, and I can't shake the idea that the feeling was mutual. Anyway, click on the thumbnails below to see some pictures I took before the ceremony:




The ceremony itself took place under a big tree near the main Latta Plantation House.


The Wedding Ceremony


The wedding ceremony was very nice, I thought. It was, it seemed to me, to be fairly secular, although there was a minister rather than a J.P. Ted and Jennifer looked handsome and pretty, respectively, with Jennifer reminding me somewhat of Ann-Margaret when she looked a certain way. You can click on the thumbnails at left to see some pictures of the ceremony. The couple thought it would be an interesting touch to have Ted's dog be the ring bearer; L.C. brought him with her, and brought him up to the front at the right time. The ring was in his collar. That's something I'd not seen before, and another way that the couple individualized their wedding.

During luncheon and for the rest of the afternoon, I visited with the people I knew and tried to meet as many as I could of the folks I didn't. Jen's family was there, of course, as well as Ted's (Judy, Jeffie, me and Scott), and there were also a number of Ted's friends from the Charlotte Police Department there as well. I tried to take as many pictures as I could, because I didn't notice an official photographer. Perhaps one day Ted will want to visit this web page and relive the day himself. (Or perhaps not, for I am sad to say that the marriage ended in divorce in 2011.) Click on the thumbnails below to see the pictures that I took during the afternoon:

Downtown Charlotte

One of the things I wanted to do on Sunday was take a look at the "new" downtown Charlotte.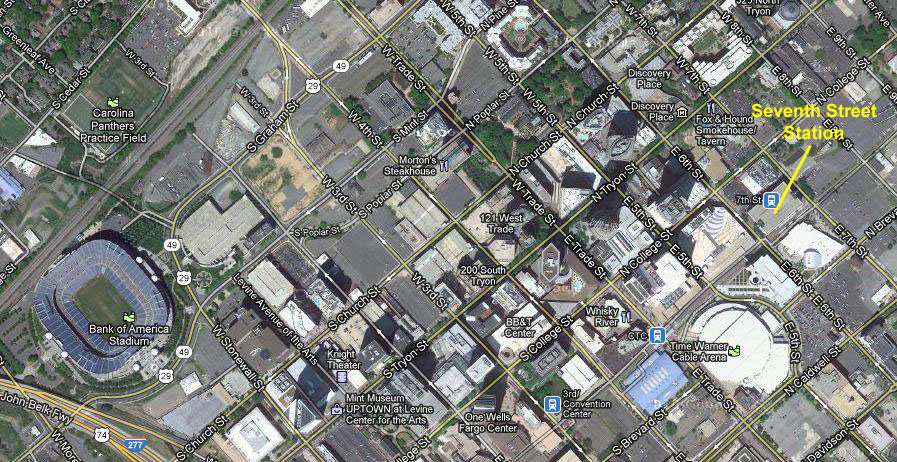 An Aerial View of Central Downtown Charlotte


I have been back to Charlotte a number of times since I moved away, something close to an average of once a year. But most of those times I have just been visiting my Mom in the burbs. So I rarely got downtown to see the changes there. When I left in 1968, the tallest building in town was the NCNB (North Carolina National Bank) Building; it was, if I recall correctly, some twenty stories tall. There were a couple of other towers only a few floors shorter. But even that was a far cry from when we moved here in 1951 and the tallest structure was about eight stories.

Charlotte has always thought of itself as a smaller version of Atlanta; both were growing Southern metropolises, taking advantage of climate and workforce to grow. Proportionately, though, Charlotte's growth has outstripped Atlanta's, fueled primarily by banking. NCNB went on to become the nation's largest bank on the strength of initial mergers and acquisitions, finally culminating when it took over Bank of America- taking that name in its final incarnation. It kept its headquarters in Charlotte, building two towers (one of them was its 60-storey headquarters, and the tallest building between Philadelphia and Atlanta). First Union National Bank and Wachovia National Bank were also headquartered in Charlotte, although neither exists any longer, First Union having merged with Wachovia and then both of them being taken over by Wells Fargo in a forced sale to avoid the failure of Wachovia.

All this left Charlotte with a surfeit of office space which took the better part of a decade to clear, but public and private construction downtown has begun again. Certainly downtown was a lot different than I remembered it, and I walked around for a while taking pictures. I did not recall what building was what, but I suppose it really doesn't matter. On the aerial view I did locate one of the buildings I took a picture of- the Seventh Street Station- which is an entertainment and transit complex. Also, at the corner of Trade and Tryon (the historic center of the downtown area) there was a plaza between some new buildings that I'd been to before, but I discovered that a new sculpture had been added. If you are interested, there are pictures of most of Charlotte's new buildings on Wikipedia. Anyway, click on the thumbnails below to see the other pictures that I took of downtown Charlotte:

A Visit to Myers Park High School

I have also been back to my old high school a few times since I left town, but I haven't been by there in over ten years now.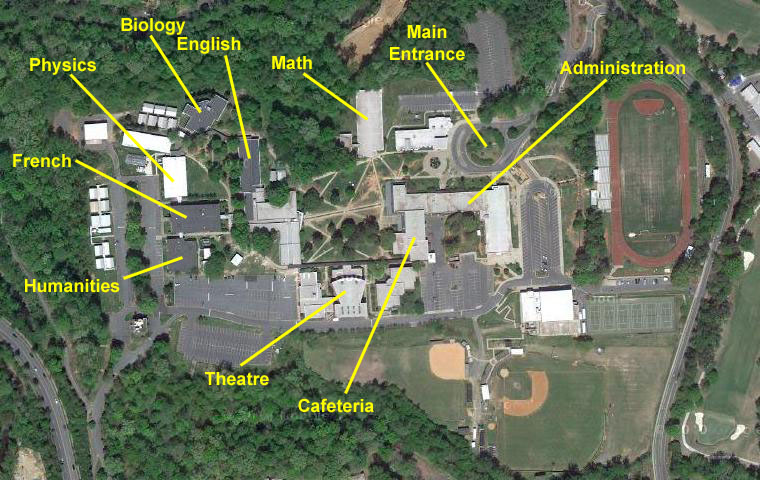 An Aerial View of Myers Park HS


Although I was by far not one of the popular kids at school, and although I got what I thought was more than my share of teasing (bullying was less of a problem then than now), by and large my high school experience was pretty good. I did well scholastically, and although I was a wimp physically I did enough extra-curricular stuff to avoid being classified as a geek loner. It was here, perhaps, that I first acquired my love of being "onstage," as I was in the cast of at least three theatre productions. Back in 1961-64, Myers Park was the top public school in town, and it gave me an excellent preparation for college and beyond.

It has been a long time since I have been able to see any of my former teachers; all the ones I remember either died or retired some time ago, but I still enjoy seeing the campus- very much an image of the 1950s (it opened in 1951, the year we moved to Charlotte). The campus is 62 acres, organized around a central quadrangle; it always had the feel of a small college. It has consistently been ranked as one of the top high schools in the country; Newsweek ranked it in the top 40 in 2007, 2008 and 2009. With over 2800 students, it is larger than most private colleges, and one of the largest high schools in the southeast.


Click on the thumbnails below to see the pictures I took today at Myers Park:


This view looks from the circle at the main entrance south to the administration building and cafeteria. This is at the east side of the quadrangle.

This view looks from the patio at the west side of the adminstration building further west towards the Language Arts Building (which we simply called "LA"). The view looks across the central quadrangle.

This view looks from the steps of the east entrance to LA back across the quadrangle to the administration building to the east. The auditorium is to the right at the end of that walkway, and the math building is to the left of the administration building out of the picture.


A Visit with Jenny Widmer

For my last stop here in Charlotte, I wanted to pay a call on my high school friend Jenny and her father, Lewis Fallis.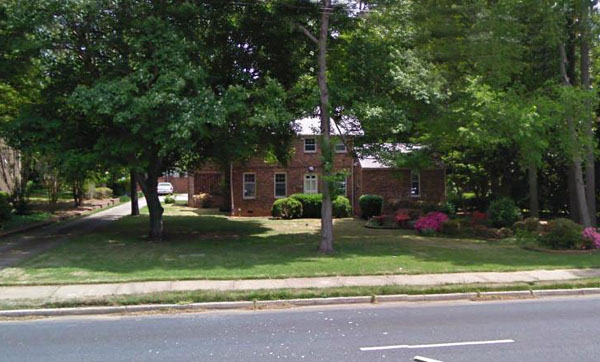 A View of the Fallis Home on Providence Road
(Courtesy of Google Maps Street View)


I wasn't much of a romantic in high school (or college or for quite a while after, for that matter); what interested everyone else didn't seem to have much impact on me. There was a lot I didn't seem to understand.

But I did understand the value of a friendship, and the closest female friend I had was Jenny. Why she put up with me I am still not, to this day, quite sure. I certainly wasn't the coolest kid on the block, or the best-looking or most athletic or really any superlative at all. I was just a geeky kid who had a lot to learn- and not the stuff that teachers could teach.

We dated a good deal in high school- movies, school functions and, most notably, the Senior Prom, where I did the unforgivable by paying less attention at the after-party to her than I did to a marble maze that our hostess had lying around. I think I know why I did that now, looking back on it, but I certainly don't want to turn this photo album into a self-analysis. Jenny was (and is) a wonderful girl- intelligent and popular. She had all the qualities that I, if I'd been a different person, would have gravitated to. And, if we'd gone further, I have no doubt that she would have done wonders for me. But, for reasons that I didn't fully understand until many years later, we didn't, and while we stayed in touch when she went to Duke and I went to Davidson, the moment had passed.

If I have gotten back that far in this album when you read this, you will have seen (or can see) the pictures I took when Jenny came to Chicago to visit me in the 1970s. I may have invited her thinking I would have things figured out, but while we had an enjoyable time seeing the sights, it was just that- an enjoyable time spent with a friend. Jenny eventually married and later divorced, had a really great career with Duke Power (in Information Technology) and later moved back into her childhood home to take care of her father after her mother passed away. In that, she and I were similar, except that I moved my own mother to Dallas to better care for her as she got older.


I stopped in this afternoon to see her and her father, and we had a very nice visit. Two family friends (whose names I have sadly forgotten) also stopped by, and one of them took the picture of the three of us. Click on the thumbnails at left to see the two pictures taken during my visit with Jenny and her father:

I Return to Dallas

I went back up to Judy's on Sunday night and stayed there with her until I flew back to Dallas on Monday afternoon. It was quite an interesting time, and with my visits around Charlotte, somewhat nostalgic and introspective. Although I wish Ted and Jen, Judy and Scott, Jeffie, and Jenny and her father well, the passing of time brought to all of them, as you would expect, a lot of change.

You can use the links below to continue to another photo album page.

---
| | |
| --- | --- |
| | October 19, 2002: At the State Fair of Texas |
| | August 3, 2002: The Nabors-Mathis Birthdays |
| | Return to the Index for 2002 |