| | |
| --- | --- |
| | August 2, 2003: The Mathis-Nabors Birthday Bash |
| | July 21-23, 2003: A Trip to Buffalo, NY |
| | Return to Index for 2003 |
---
July 24-28, 2003
My Sister Judy and
My Nephew Ted Visit Dallas




For quite a while, I have been after my sister to come out to Dallas and visit with me and our mom and with Jeffie as well and, finally, both she and Ted have decided to drive out for four days to visit. As I recall, since there were two of them in the car, they drove straight through, arriving at my house in the early evening. (Knowing Judy and Ted, they must have gotten up at 4 in the morning to make it all in one day- it's about 1,000 miles.)

Anyway, they called when they got near Dallas, and so I got Jeffie to come over on Thursday evening so we could all be here when the rest of the Barbours arrived. Jeffie and her friend David got to my house about seven, and about a half-hour later, Judy and Ted arrived. We had a good initial visit, and went right out to get something to eat.

When we got back, we made some plans for what to do during the visit. Just before we all retired (Ted to the family room and Judy to the guest bedroom), I caught a picture of Judy in my kitchen.




With Mom for Lunch at The Bentley (7/25)

Well, everyone is rested this morning, and we have had some breakfast and are heading over to The Bentley for our first visit with Mom while Judy and Ted are here.


We got to Mom's apartment well before lunchtime, so we had an opportunity to sit down and talk. Judy has not seen Mom in some time, and Ted has not seen her for an even longer time, so there was a lot of catching up to do.



I took a quick little movie of everyone conversing- Judy, Mom and Ted. You can watch the movie at left. Mom looked really good today, and I think Judy and Ted were impressed with her. When it was time for lunch, we got together and Mom used her walker to head down the hall to the elevator. I made a short movie of Mom, Judy and Ted walking down the hall, and you can watch it with the player below:

I also took a picture of everyone waiting at the elevator with one of the other residents.


When we got down to the lobby near the dining room, one of Mom's closest friends, Ken Brandenburg, came over to say hello to her. Ken is always very complimentary towards Mother; I think he is lonely as his kids hardly ever come to see him. Anyway, I took a short movie here of Ken, Mom, Ted and Judy, and you can watch it at left.



Since there were four of us, I arranged for a separate table for us, different from the table that Mom usually sits at. But I did drop by Mom's table to make a movie showing to of her seatmates- Helen and Lola. You can watch that short movie at right.


Well, we got our table near the window, and as we were sitting down for lunch, I took a number of pictures of us at the table, including one of Mom's very good friend- Betty Wayman- who usually sits with Mom but who came over today just to say hello to all of us. The rest of the pictures I took today were of us at the lunch table with Mom. I have put thumbnails for these pictures below, and you can look at the full-size images by clicking on those thumbnails:




Dinner at Ron Drew's House in Irving (7/25)


On Friday evening, after Fred arrived at my house, we went out to Ron Drew's house in Irving for dinner. As soon as I had told Ron that Judy was coming, he issued an invitation for this evening, and we were happy to accept, show Judy his house, and see he and Leroy.

Getting to Ron's house is just like going to the airport. We just go all the way to Stemmons Freeway by going south on Inwood Road, and then head west. We bear off onto Highway 183- the Airport Freeway- and take that all the way past Texas Stadium and out towards the airport.

We get off at Esters Road and head south to the neighborhood where Ron's house is located.





Once we get into Ron's neighborhood, we just turn left on Conflans Road, go around the park and then turn right on Olde Towne Drive. Ron's house is two blocks down on the left- across from the park.





Ron has a really nice house, I think. It is quite spacious- kind of a split ranch (two stories at one end, one storey at the other) with three bedrooms, a big living room, dining room and large kitchen. One of the nicest features of the house is the swimming pool and patio, shown here looking through the living room windows.

We all congregated on the patio and talked while Ron and Leroy cooked some kabobs on their grill. I took a movie of us talking and them cooking and you can watch that movie with the player below:

I took two more pictures while dinner was getting ready. In the first one, I have Judy and Fred, and in the second one I have everyone but me- (L/R) Fred, Ted, Judy, Ron and Leroy.

Dinner was really good, and we all enjoyed it.

After dinner, we went out for a walk, and noticed immediately that there were some ducks from the pond across the street who had come wandering into the neighborhood looking for a handout. Of course, Judy could not resist feeding them, so Ron brought out some bread crusts and Judy (and Fred) went to work. I made four movies of this duck-feeding process, each of them featuring something different. You can watch these movies using the players below:

Feeding the Ducks and Avoiding a Tragedy


Judy Feeding a Duck (Unsuccessfully)
and Avoiding Another Tragedy
| | |
| --- | --- |
| Judy Feeding the Ducks (Successfully) | Fred Feeding the Ducks |
Dinner at Ron's was a lot of fun, and we thanked he and Leroy very much.
Lunch at The Bentley with Mom (7/26)

Well, after our exhausting day yesterday, we've slept in a bit this morning and then met up with Jeffie at The Bentley to be with Mom for lunch again. Today was pretty much a repeat of yesterday, except that Fred was with us. We met up with Mom in her apartment to walk with her down to lunch. I am not sure what they were doing when she did so, but Judy did snap a picture of Ted and Grammie.
We went on down to lunch, and got ourselves a big table so we could all gather around, and had a fine time eating and talking. Jeffie and her friend David showed up about one (Jeffie had been riding in the morning). Lunch was over about one-thirty, and we went back to Mom's room so she could "freshen up."

After that, we went with Mom down to the second-floor library just to get out of the room and spend some time with her. We were the only ones there, so we commandeered the pool table, and Ted, David, Judy and I all took turns "playing" pool. Judy and I took some still pictures of the pool games in progress, and I have put thumbnails for these pictures below. You can look at the full-size images by clicking on the thumbnails:
During the pool playing, I took quite a few movies. Most of them were of the various people playing pool, but some of them were of the spectators. Many of them are humorous, so I am including most of them here. You can use the players below to watch the movies whose descriptions you find intriguing:
| | |
| --- | --- |
| Judy breaks the rack as Ted, Mom and Fred look on | Mom says "Hi" as Ted explains the rules of 8-ball to Judy |
| | |
| --- | --- |
| Judy scratches and Ted scratches right behind her | Judy just bangs the balls around |
| | |
| --- | --- |
| Ted takes a shot in the game that he and David played | A humorous pan of everyone prior to Ted taking a shot |

Mom has fallen asleep, so I make my own version of
"The Powers of Ten"

Some tricky camera work and a
surprise appearance by Groucho Marx

US Army Training Manual FM47-2
"Proper Use of the Walker" is demonstrated by Jeffie





At Jeffie's Riding Stable (7/27)


On Sunday morning, Fred, Ted, Judy and I drove out to see Jeffie at her riding stable in Plano.

Getting there is just like getting to Ron Mathis's house, in that we simply head up US-75 from Dallas, but instead of going west on Parker to Ron's house, we go east on Parker to Sycamore, and then north through an area that used to be pretty rural but which is now being encroached upon by housing. The houses along the west side of Sycamore are still sitting on large plots of land- maybe five or six acres, some of them.





Apparently, the stable is owned by a friend of a friend of Jeffie's; the main house is simply a private residence, and the owner has her own horse that she keeps in the stable/barn near the house. There is extra space, so she rents out stalls for people with horses. Jeffie, I think, trades some work around the stable for part of her monthly fee.

In front of the barn, there is a fenced-in area that has lots of various kinds of jumps spread about, and it was here that the movies and pictures of Jeffie and Logan jumping and exercising were taken. We also took pictures and movies after Jeffie's riding was done as we hung around the stable for a while before joining up with mom for lunch.



Before we take a look at the various pictures and movies, I thought you might want to see what the entire area of the barn, riding rink, pasture and house looked like, so I took a movie of all of it, and you can watch that movie at left.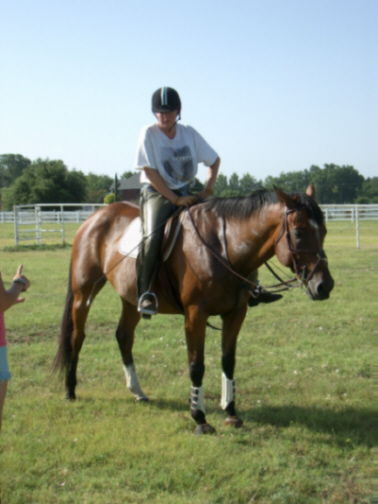 I am certainly no expert on horsemanship, so I really don't know which of all the movies we took would be the ones that best exemplify the work that Jeffie and Logan did that morning. I have simply taken a selection of the movies that Fred and I took that I think are pretty good and included them here. I have put players and short descriptions for these movies below:
| | |
| --- | --- |
| Jeffie and Logan take a jump | Jeffie walks Logan around the jumping area |
| | |
| --- | --- |
| A short movie of Jeffie and Logan taking a jump | Jeffie walks Logan around the jumping area |
| | |
| --- | --- |
| Fred's good movie of Jeffie and Logan taking a jump | Jeffie walking Logan after his workout |
Both Fred and I also took a good many pictures out in the pasture, and I have put thumbnails for the best of these below. You can look at the full-size images by clicking on the thumbnails:





When Jeffie was through riding Logan, she took him back to the stable to cool him off- which consisted primarily of hosing him. You can use the movie player at right to watch Jeffie cooling him off. Fred also got a still picture of Jeffie giving Logan a bath. Then it was time for a treat and to pose for formal horse portrait. One of Jeffie's friends was available, so I pressed her into service to take a group picture of all of us.

We enjoyed the morning, but it was time to head home and get changed to join mom for lunch.




Visiting Mom at The Bentley (7/27)




Lunch with Mom

This is Judy and Ted's last day to have lunch with Mom at The Bentley (at least for this trip), so once again we've gotten our own table and the five of us (Mom, Judy, Ted, Fred and myself) are all having lunch together. I had my camera with me, of course, and I took quite a few movies, of course, but many of them were intended to be humorous and don't really show off Mom or my sister or my nephew very well. I thought about excluding them, but when I was reviewing them a few of them made me chuckle, so I thought I would include them all here anyway. Below there is a a player for each movie and a short description of what the movie is about. Use the players to watch as many of the movies as you wish:
| | |
| --- | --- |
| Introducing everyone at our table | Casting rushes for "Night of the Living Dead" |

Fred becomes the target of a "60 Minutes"
retirement home expose

Interview with a typical Bentley resident-to-be


One of the managers, Martha, serves coffee
to the residents at lunch

Typical lunchtime announcements; residents sing
"Happy Birthday" to one of Mom's friends- Annie

The Bentley dining room; Judy was in a reflective mood
and the movie trailed off into absurdity

Both managers, Martha and Ron, serve coffee
to our table and to the other residents
Before lunch was actually served, Fred stepped back from the table to get a group picture of the rest of us, and then lunch was served. We had a very nice meal, and at the end of it, both Fred and Ted used their cameras to capture my sister, myself and our Mother, and it struck me as odd that the three of us were together 30 years after the fourth member of our family, my Dad, passed away. My Mom has certainly done well for herself in the years since that sad event, and of course my sister and I have grown and changed immensely as well.
On our way out of the dining room, Mom made it a point to stop by Annie's table and wish her a happy birthday (movie below). I added my own best wishes and took a short movie of Annie and her tablemates, one of whom, Jane Cawthon, lives across from my Mom and has the cat named Pancho. You can use the players below to watch both these movies:
Playing Pool in the Library
After lunch, and after Mom had a chance to rest up in her room for a little while, we once again went down to the second floor balcony where the pool table is, so Ted, Jeffie and I could shoot a little pool while Mom and Judy spent some time together. While Ted and Jeffie were playing, I took a couple of silly movies of Judy and Mom. In one of them, I move in for a closeup of my Mom dozing off and she suddenly awakes. In another, Mom and Judy do some of the exercises that Mom does in the mornings, and we turn the whole thing into an exercise video infomercial. You can use the players below to watch both of these movies:
| | |
| --- | --- |
| Mom Awakens | Judy & Mom: The Exercise Video |
Jeffie and I took a number of movies of some of the action at the pool table, and I have put players for these movies below. Watch as many as you wish:


And while the action was going on at the pool table, Judy and Mom were doing the "wave;" you can watch them with the payer at left.




Jane Cawthon and Pancho


You may have noticed in some of the movies of the pool players, that in the background Jane Cawthon, the lady who lives across the hall from Mom, had come down to the library in her motorized chair. She has brought her cat, Pancho, with her. Jeffie, Fred, Ted and I talked with her while Judy took some pictures and movies, and I and Fred took some as well.

First, we took some still pictures, and you can see these pictures if you click on the thumbnails below:




We took three movies as well, and I have put players and descriptions for each of them below:
| | |
| --- | --- |
| I greet Jane and Pancho and get my chance to pet the cat | At Jane's instruction, Pancho gave Jeffie a "kiss" |

Jane tells us more about Pancho and some of
the other cats that live at The Bentley
Leaving The Bentley

Well, Judy visited with Mom most of the day today, and she will see her again this evening for dinner, so we headed home to relax for a while before coming back to get Mom. On the way down the stairs, someone got the insanely stupid idea to simulate some old folks trying to get down the stairs and away from a fire. The scenario was pretty dumb, but the resulting movie was pretty funny. Have a look at it with the player at left.

Taking Mom Out to Dinner (7/27)

For Judy and Ted's last night here, we went back by The Bentley and picked up Mom to take her out for one of her favorite meals- Chinese. Ron Drew and Leroy had introduced Fred and myself to a very good Chinese buffet out in Irving- the East Buffet. So that is where we took Mom.
I only took one picture at the restaurant; it was hard to get everyone in, and I probably should have taken a movie instead, but the one picture seen at right will have to serve as our record of the evening. We had a very good time, and I think that Mom enjoyed it a great deal. We had Mom back to The Bentley around nine.
Some Final Pictures at The Bentley (7/27)
After we dropped Mom off, we would be breaking up and only Judy and Ted coming back to the house, so we took the opportunity of being together to take some final pictures with Judy, Ted, Fred, Jeffie, David and myself. These were all taken in the lobby of The Bentley, and I am sure you can figure out who is who. So just click on the thumbnails below to look at the full-size images:
---
| | |
| --- | --- |
| | August 2, 2003: The Mathis-Nabors Birthday Bash |
| | July 21-23, 2003: A Trip to Buffalo, NY |
| | Return to Index for 2003 |