| | |
| --- | --- |
| | August 26-27, 2003: Prudence's Birthday Party in San Antonio |
| | August 3, 2003: Troy and Melinda Celebrate Fred's Birthday |
| | Return to Index for 2003 |
---
August 11-16, 2003
A Trip to Temecula, California
Introduction/Getting to Temecula
This trip to California is actually a business trip for Data Junction. The class is at Plant Equipment, Inc., in Temecula- about midway between San Diego and San Bernardino along I-15. Most of the pictures I took on this trip were non-business related, and so that is why I have created a regular album page for them. If you would like to see the more business-related pictures, though, you can use the Index for 2003 to to to the Business Trips page, and then select "Plant Equipment Inc." from the page index.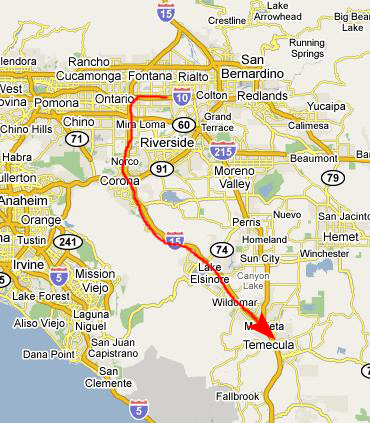 To get to Temecula, I flew into Ontario International airport, up along Interstate 10 east of Los Angeles. Then I drove along I-10 to I-15, and turned south to Temecula. I had a nice hotel in Temecula, and took advantage of the afternoons to do some sightseeing.




An Afternoon Trip to Fallbrook


One of the things I do quite frequently when on business trips (and other trips as well) is to continue to try to extend my list of Baskin-Robbins stores that I have been to. Temecula and the area around it was a new area for me, and so I not only visited the stores in Temecula (both of them) and a couple quite nearby, but one afternoon I drove down I-15 to the charming town of Fallbrook, to visit the store there.

On this particular afternoon, I drove south on I-15 towards the exit for Fallbrook. The highway was climbing continuously, and about halfway there I stopped at a turnout to get some pictures. Not only did I get a good picture of the landscape to the east, but at this turnout I also found some very pretty mountain flowers that I could not identify.

I pulled back on the highway and in another ten miles found the exit for Fallbrook. The road to Fallbrook led through gently rolling hills covered in low scrub, with the occasional small, low forest. As I neared the town, more houses appeared, as well as some large orchards and nurseries. I saw lots of signs for places that sold seed, fruits and nursery products (flowers and trees) on the Internet. I did not take any pictures in Fallbrook itself; I was concentrating on find the Baskin-Robbins and getting back to Temecula to have dinner.




Driving the Hills Above Temecula


On another afteroon after class, I drove up into the hills above Temecula, to see if I could get some good views of the city below me. I found the hills to be much like those around Fallbrook, but perhaps a little more brown and a little more sparse. But I also found quite a few very nice homes and small developments. These houses appear to be isolated, but are actually only fifteen minutes from the center of Temecula.

I did get some excellent views, including this one of the industrial park where I was working at Plant Equipment. I also got a number of other good views of the Temecula area from up in these hills, and I have put thumbnails for four of them below. You can click on the thumbnails to see the full-size images. Be sure to click on the first one, take a look at the picture, and then compare what you saw to the aerial view at left, and you'll be able to pretty much pinpoint where I was when I took the picture.




Walking on the Santa Rosa Plateau


My last outing was on Thursday afternoon, when I drove up I-15 from Temecula, towards the access to the Santa Rosa Plateau. I had asked one of the class members about hiking in the area, she pointed me in this direction, and I did some Internet research. I decided to make my goal the Vernal Pools Trail up on the plateau, near what Google Maps showed me were some hot springs (never found the hot springs, though). I got off the expressway south of Lake Elsinore and then worked my way north to get to highway 74 up onto the plateau. I drove through some pretty, but barren countryside before arriving at my destination.

Arriving at the trailhead for the Vernal Pools Trail, I stopped to read the advisories (especially the one about pumas) and pay my hiking fee ($2). Then, I took a picture of the beginning of the trail. Assuming that the sun was setting precisely in the west, I guess I was looking precisely east in that last picture (I assume you can figure that out).

The trail is mostly a cleared path through grassland, but when it descends a bit about a quarter-mile in, it turns into a boardwalk that is needed in the spring when the pool actually has water in it. Today, of course, it was quite dry, and the boardwalk seemed useless. There was supposed to be a hot spring in the center of the circle in the last picture, but I didn't see any water in it, either. There were caution signs to stay on the boardwalk in this area; I guess that even when there isn't water here, they don't want the area trampled.

Along the trail, I met a number of interesting friends. I was quite surprised when I almost stepped on the first one, but after that I was watching out for them. Below are some thumbnails for the pictures I took of them; click on the thumbnails to see the full-size pictures:


In addition to these "friends," I also ran across a great many anthills with thousands of large, black ants. At least they weren't fire ants, as seem to be all over back home. When I got back to the trailhead an hour later, I set up my camera on a fence so I could get a picture of me at the trailhead.

I also took a movie of the trailhead and the surrounding area to record my visit, and you can watch that movie with the player at left.

---
| | |
| --- | --- |
| | August 26-27, 2003: Prudence's Birthday Party in San Antonio |
| | August 3, 2003: Troy and Melinda Celebrate Fred's Birthday |
| | Return to Index for 2003 |