| | |
| --- | --- |
| | Return to Index for 2003 |
---
2003
Pets & Miscellaneous
On this album page, I have put any pictures that don't involve a trip I took, some major event that Fred or I attended, a business trip or that involve my Mom. This doesn't leave much, but putting these sections elsewhere in the album will mean that they just get lost.
So, you may have an interest in some of the things in the list at left. If so, click on one of the links or just go through the page sequentially.
Many of the pictures on this page are pretty mundane; a lot of them are pictures of the company buildings, the classrooms and the attendees. But I did take quite a few pictures of the surrounding areas sometimes, and that's the main reason for having this album page. As I have done before, I've provided you quick links at the top left of this page to take you to any particular trip, but you can always just scroll through them if you wish. There are links at the end of each trip section to take you back to the top of the page, should you wish to go back to the Index for 2003 at any time.
April 12: Some Pictures from Fred
Fred has been showing me some pictures this afternoon. A few were taken around his house, and they include the house itself, his lily pond and some other views. Then there are some taken at Crump's Greenhouses. We had some bad wind storms last week, and two of the greenhouses just about blew down, and you can see some of the damage in those pictures. I have put thumbnails for these pictures below, and you can click on those thumbnails to have a look at them:
You can return to the page index or continue on to the next section.

---
July 12: Countess and Chip at My House
I must say that I am not at all sure as I write this entry (2008) exactly why Ron Drew's cat, Countess, was at my house in the first place. I think I was keeping her while Ron was having some work done at his house, but I am not positive. In any event, Fred did take some pictures of Countess and my own cat, Chip, up in the family room together in one of Chip's favorite chairs, and I did want to include those pictures here.
Below are thumbnails for these four pictures; you can look at the full-size images by clicking on those thumbnails:

You can return to the Page Index or continue on with the next section.
---



July 13: A Visit to Ron Drew's House in Irving

On Sunday, July 13th, Ron and Leroy invited Fred and I out to their house in Irving. As I said in the section immediately above, I had, apparently, been holding Countess at my house for Ron, and one of the purposes of coming out this evening was to return her to Ron and Leroy.


So, on Sunday afternoon, Fred and I got out swimsuits out, put Countess in the cat carrier, and headed out to Ron Drew's house in Irving for dinner.

Getting to Ron's house is just like going to the airport. We just go all the way to Stemmons Freeway by going south on Inwood Road, and then head west. We bear off onto Highway 183- the Airport Freeway- and take that all the way past Texas Stadium and out towards the airport.

We get off at Esters Road and head south to the neighborhood where Ron's house is located.





Once we get into Ron's neighborhood, we just turn left on Conflans Road, go around the park and then turn right on Olde Towne Drive. Ron's house is two blocks down on the left- across from the park.





Ron has a really nice house, I think. It is quite spacious- kind of a split ranch (two stories at one end, one storey at the other) with three bedrooms, a big living room, a dining room and large kitchen. One of the nicest features of the house is the swimming pool and patio, shown a large kitchen.

As soon as we got there, I brought Countess in and reunited her with (or introduced her to, I can't remember which) the other cat that Ron and Leroy had- Pookie. Here are Countess and Pookie, getting to know each other.

We watched them for a while, and then put on our swimsuits to go out and take a dip in the pool. Just before we went outside, I got a picture of Ron, Leroy and Fred in the kitchen of Ron's house.

We swam for a while, and then Leroy and Ron fixed dinner on the grill.


You can return to the Page Index or continue on with the next section.
---
August 30: Brickwork Damage in My Front Entry
I want to use a small section here to record the collapse of some of the bricks from the archway over my front porch. The collapse happened last night sometime; when I opened the front door this morning, a section of maybe ten bricks had fallen onto the walk. Of course I wondered whether someone might have been under it when it fell but, fortunately, that hadn't happened. I locked the front door and gate so no one could get in (there were more loose bricks), resolved to call the brickmasons on Monday (the repairs were accomplished the very next week, as it turned out), and then went around the side of the house with my camera to take some pictures.
There are thumbnails for the three pictures I took below; you can see the full-size images by clicking on those thumbnails:

You can return to the Page Index or continue on with the next section.
---



August 31: At Barbara's Condo


My good friend Barbara has been renting my Mom's condo on High Hollows since my Mom moved to The Bentley some time ago. If you don't remember where the condo is, it is on High Hollows Drive, which is, generally, a half-mile north of Walnut Hill Lane and a half-mile south of Royal Lane (just north of Meadows Road), and just a block west of Central Expressway. Getting there is just a matter of heading up Inwood, going across on Walnut Hill, jogging up Hillcrest to Meadows and then going a half mile east on Meadows to High Hollows Drive.





As you can see in the aerial view at right, the development, High Hollows, is just west of the shopping center that is at the corner of Meadows and Central. The proximity of this shopping center, which included a Tom Thumb grocery, was one of the things that influenced me to buy the condo for Mom in the first place.

The condo is in building 124, which is set back from High Hollows Drive; there is parking along High Hollows for guests, and you just walk down a paved path to the back and Barbara's building. The entry serves four apartments on two floors; Barbara's is the ground-floor unit on the north end of the building. It is a two-bedroom, two-bath condo, nicely-laid out, but which had always needed some updating. Barbara didn't mind when she moved in though; everything worked and we let her do whatever decorating she wished.

Fred and I have dropped by to visit this afternoon, and I took a few pictures, now that Barbara's redecorating is pretty much done. Barbara is "into" feng shui, and was very particular about how she arranged the apartment. According to her lights, the room that Mom had used as the master bedroom was not oriented properly, and so Barbara used the second bedroom as her own. The master bedroom became her office, a room where guests could sleep, and an activity room for her and for her grandkids.

In the living room, Barbara had painted and then used a combination of her own furniture and some pieces that my Mom did not need at The Bentley to create a very eclectic, somewhat "Eastern" look. The living room served as a good backdrop for a picture of Fred and Barbara.


We had a nice visit, catching up on what's been going on. At one point, while Fred and Barbara were talking about some Zen thing or another, I went to film a movie tour of the two redecorated bedrooms, and you can watch that movie with the player at left.


You can return to the Page Index or continue on with the next section.
---
September 5: A Completed Jigsaw Puzzle at The Bentley
Today I was at The Bentley seeing my Mom for lunch. As usual, I stopped by the puzzle room and worked on the jigsaw puzzle that we in progress there. As it turned out, I finished it, and left it for the other residents to see. I did take a couple of pictures of it, and you can view those pictures here and here.

You can return to the Page Index or continue on with the next section.
---
October 5: With Friends on a Sunday
Today, John Evans was out of town doing some training for MADD, so we called up Tom Harris to see if he would like to have some breakfast with us at The Original Pancake House. He was amenable, so he dropped by my place around eleven. Before we went to eat, I snapped a picture of Tom and Fred and Chip in my study.
Later that afternoon, we happened to get a call from Barbara Reynolds who asked us if we would like to drop by and visit with her and Lynne. Barbara lives in my Mom's condo over on High Hollows, as you may know. We did drop by to spend some time with them, and Fred got a picture of Lynne, myself and Barbara.

You can return to the Page Index or continue on with the next section.
---
October 12: Melinda Nabors' Birthday Party in Fort Worth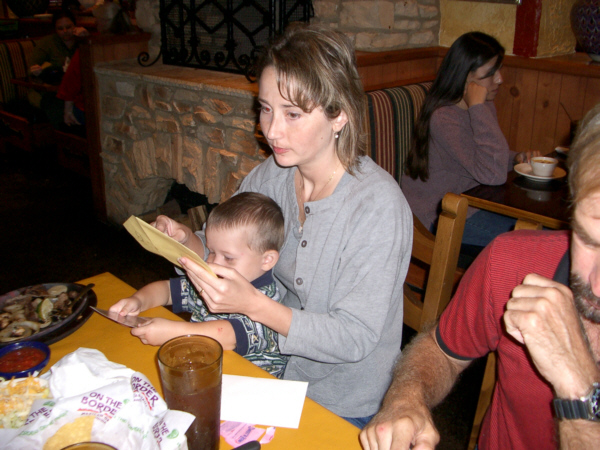 Melinda and Garett


It is Sunday evening, and Fred has asked me to go with him over to Fort Worth where his half-brother, Troy, and his two sons, Nathan and Garett, will be celebrating the birthday of Troy's wife, Melinda. We'll be having dinner at an On The Border restaurant just south of Fort Worth on I-35W.

Fred doesn't include me in much that he does with his own family, but considering our relationship and the way he and his family are, I don't fault him for that. It's not that Troy and Melinda don't know what's going on; I suspect that they do, in fact, know that I am more than just Fred's friend he goes hiking with. It's just that Fred is a very private person, and doesn't want to engender a lot of discussion about something that is personal for him. But on this occasion, I understand that Melinda asked Fred to bring me along, and I was happy to come.


I took three movies during the dinner, and you might want to watch them using the players below:
| | |
| --- | --- |
| Fred, Melinda, Garett, Troy and Nathan | Troy Cutting Melinda's Birthday Cake |

Everyone Eating Birthday Cake
I also took a few pictures, although some of them where I did not use the flash are a little dark. I am not very good at flash photography; I will have to practice. Anyway, you can take a look at these pictures by clicking on the links below:
Troy and his sons Garett (background) and Nathan
Melinda and Fred
Nathan having cake
Nathan having cake

You can return to the Page Index or continue on with the next section.
---



November 22: At Ron Drew's Dallas Apartment


Quite a bit has happened with Ron Drew in the last month or so. He and Leroy had been living in a house in Irving, but Leroy had been having a number of problems and these culminated in his leaving. Ron, not wanting to be in an unsecure house by himself, sold the house and has moved to an apartment building just off the Katy Trail, down near the studios of KERA.

You can see on this map of a small section of downtown Dallas that Ron's building fronts on Riverchon Park, which is just on the other side of the Katy Trail (a bike and jogging trail that does not show on the map)





In the aerial view at the right, I have pointed out the exact location of Ron's apartment on the seventh floor of the building. I have also been able to mark the Katy Trail for you.

It is quite an amenity to live anywhere along the Katy Trail, for it affords a three-mile walking and biking venue that is often very crowded on weekends with bicyclists, walkers and skaters.

Ron asked me over today to take some pictures of him for a new ad that he wants to place on one of the Internet sites devoted to finding roommates and such; Ron has never been comfortable living by himself. So I have come over this afternoon to oblige him. I've put thumbnails below for the three pictures I took and you can click on each thumbnail to see them:

And I figured that while I was here, I would take a tour of the apartment and make some movies of it, just to record it for posterity. It is a two-bedroom, two-bath, split-bedroom affair, with the kitchen, living room and dining room in between. Ron, as you will see, has chosen to make the dining area the TV room (since it is usually darker, which is good for the big screen TV), and put his tables and chairs in what would usually be the living room.

You can use the players below to follow me through the apartment, as I begin in the master bedroom and bath:
| | |
| --- | --- |
| Master Bedroom and Bath | Through TV Room to Living Room and Balcony |
| | |
| --- | --- |
| Living Room and Kitchen | Entry and Second Bedroom and Bath |

You can return to the Page Index or use the link below to return to the Master Index for 2003.
---
| | |
| --- | --- |
| | Return to Index for 2003 |