| | |
| --- | --- |
| | September 24, 2005: A Visit to the Dallas Arboretum |
| | September 5, 2005: The Democratic Party Labor Day Picnic |
| | Return to Index for 2005 |
---



September 8-16, 2005
A Trip to Florida


September 9, 2005: Condo Renovation

The main reason for my trip down here this week is to continue to work with Ty to move ahead on the construction phase of the condo renovation. Ty had advised me that this would be the week that the granite countertops would be installed, much of the plumbing done and the remaining large appliances installed, so there was quite a lot that would be done that I would want to see.

During my stay this week, I have taken some pictures of these activities- granite installation, plumbing fixtures and appliances. If you would like to see the pictures from this week, just click on the link below. At the end of those pictures there will be a link that will bring you right back here to this album page.

Go to the Fort Lauderdale Condo Renovation Page




September 10, 2005: A Bike Trip to Deerfield Beach

While my condo renovation was going on, Ron Drew and his roommate Leroy were kind enough to invite me to stay with them in northwest Fort Lauderdale.


You may already have seen some pictures taken at Ron's house on NW 48th in Fort Lauderdale. In the aerial view at left, his house is the second from the left at the end of a cul-de-sac. There are some commercial buildings west of him and there is an office warehouse building just north of him, so his house is very private. They have a three-bedroom ranch with a nice pool and lush back yard. Their house is about five or six miles from me through the city, so it is convenient to stay there while the condo is being finished. All in all, I've stayed with them three or four times for the weeks the condo has been out of comission. This should be the last week I am there, though, as I expect the condo to be livable when I return in October.





It's Saturday, and there's nothing going on at my condo, so I am going to take a bike ride over to the ocean and then head north. The route I usually take from my own condo you have seen before (and will again), but you may not have seen the route I take from Ron's house to the beach, so I'll show you a few maps and aerial views to illustrate.

There are lots of ways I could go, but I like to take advantage of bike lanes or less-traveled streets wherever possible. Getting up to Commercial Blvd. from Ron's house is easy, and just a few blocks on neighborhood streets. I could take Commercial all the way to the ocean, but it does not have a bike lane, is undergoing road work and is very, very busy. So I'm in the habit of going up to Atlantic Blvd. (about two miles north) instead. To get there, I head up Powerline Road. Even though Powerline does not have a continuous bike lane, it is either three lanes wide, or has short stretches of bike lane or has good sidewalks. In addition, it is much less busy than Commercial.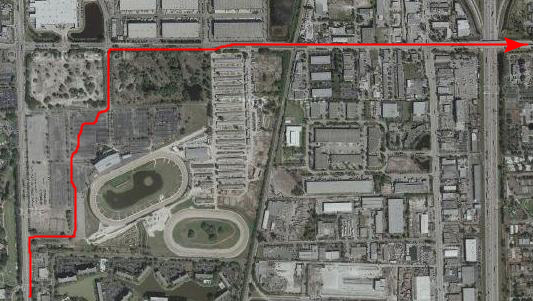 After going north on Powerline for a couple of miles, I come to one of the entrances for Pompano Park. Pompano Park has certainly seen better days; it was once a popular horse racing track, with its heyday in the 1960s and 1970s. Then it converted to dog racing, and that lasted for a while longer. Now, it is mostly used for special events and the occasional race (there are still stables and kennels there). Usually, the sign is advertising poker tournaments or things like that. In all the many times that I have cut through their huge parking lots, there have never been more than thirty or forty cars there. Maybe there is more stuff at night; I just don't know.

But cutting through the parking lots lets me out the north entrance onto Pompano Park Road, which is actually SW 3rd Street in Pompano, the next city north from Fort Lauderdale. This is a wide, mostly divided street. Although it doesn't have a bike lane, it is sparsely traveled and it does have a bridge over I-95. Heading east I am paralleling Atlantic Blvd. a couple of blocks north, but Atlantic is also a busy street and the bike lane doesn't start until you get to the east side of I-95.


After I cross I-95, the next major street is Dixie Highway. This is the same street that goes all the way down to the south side of Fort Lauderdale, ending at the New River, and goes all the way north through Palm Beach. It is not a major throughfare like US-1; it winds around too much and for much of its distance goes through industrial or residential areas, so it would take much longer to use than US-1. So I have no problem using it for a few blocks and then a couple of more neighborhood streets until I come to Atlantic Blvd. and the beginning of the bike lane all the way to the beach.

Although Atlantic is one of the major east-west streets here in Pompano and is for that reason heavily traveled, the bike lane makes it an easy, reasonably safe ride.





As you can see, the rest of the way to the beach is a straight shot along Atlantic Blvd. The only bad intersection is the major one at US-1, but usually I can see ahead and time my speed so I can sail right through without stopping. A quick crossing of the bridge over the Intracoastal Waterway and I end up at the ocean in the middle of Pompano Beach.

Here, I can turn north towards Hillsboro Inlet or south towards Fort Lauderdale and follow the familiar route that I've taken biking along the ocean so many times before. Today, I want to get in a really good ride, so I'm going to turn south first and head down to Las Olas, then turn around and come back north, passing Atlantic Blvd and continuing on up to Hillsboro or perhaps Deerfield Beach. I'll see how I feel in an hour or two.

Today, I was out for some exercise, and not a lot of picture-taking. Nor was I intending to use this bike ride today to tell you a lot about the oceanfront along my bike route. There are, however, lots of things to point out all along the route, and you may want to know more about them now. On my album page for June 1-9, 2006, I describe in great detail the longest bike ride I have ever taken- a full 100 miles round-trip from my condo in Fort Lauderdale all the way to the northern border of Palm Beach. I am not going that far today, but if you would like to digress and look at my route today in more detail, please feel free to navigate through the album first back to the Index for 2005, then to the Index for 2006, and finally to the Florida trip of June 1-9. Look for the heading "A Century Bike Ride" on that page; the part of the route that I will be covering today will be from Pompano Beach north to Deerfield Beach.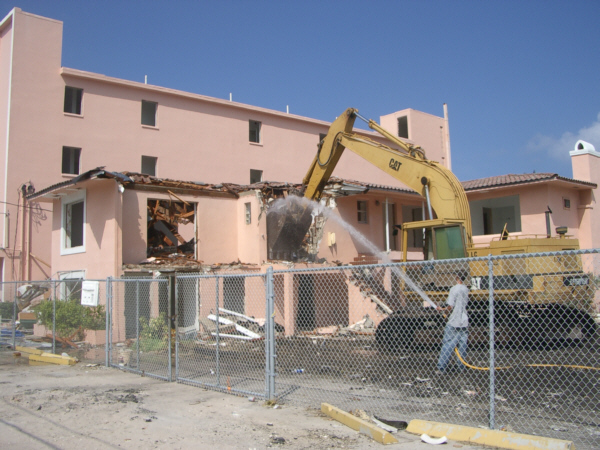 So today I am just riding along and enjoying the afternoon. I didn't find much of interest to take pictures of on my ride south to Las Olas, but as I returned north and came through the area known as Lauderdale-By-the-Sea (the general area where Commercial Blvd dead ends into the Atlantic Ocean) I found that a resort complex just north of Commercial was being demolished, and there were lots of signs indicating that new, much more luxurious and expensive ocean-front townhouse condos were going to be built. That didn't interest me much, but the demolition did.

There is some odd attraction, I think, that draws one to a big thing being demolished. We've all seen the films of buildings being imploded, and we all certainly go to enough movies where it seems the main objective is to blow things up or wreck cars or something else equally destructive. That's what caught my eye here- the almost hypnotic swinging of the wrecking ball (or, in this case, the power of the bulldozer).


Watching the machine at work (with a human being trying to keep the dust down) was intriguing and you may enjoy watching a couple of movies of the process. You can look at them using the two movie players below:


I continued north on my bike ride, eventually passing through Pompano Beach again. From there, it was a couple of miles to the Hillsboro Inlet and across the bridge there, and then about six or seven more miles through the towns of Hillsboro and Hillsboro Beach until I reached the town of Deerfield Beach about four in the afternoon. The Deerfield Beach Pier was my goal for today, so I just relaxed on the lawn near the beach for a while, and then turned around and biked home- retracing my route all the way to Ron's house.

Ron and Leroy and I had some supper at the house (ordering in Chinese, if I recall correctly), and then a little later on I went out to play pool.




September 11, 2005: A Bike Trip to Deerfield Beach

Sunday has been a very lazy day. I'd been out kind of late Saturday night, so I wasn't moving around very early. I spent some time out by Ron's pool in the morning, and in the early afternoon took another bike ride. (You may wonder why I ride the bike so much. I always feel better when I get a good deal of aerobic exercise, and since my exercise bike is in the condo which is still under construction, and since I've given up jogging as being too hard on my knees, riding my bike is my exercise of choice. Plus the fact that the weather down here is usually quite good all adds up.)

I followed the same route to the beach that you've already seen on this album page, and once again I decided to go south to Las Olas and then back north to Deerfield Beach.

I followed my familiar route all the way south to Las Olas- about seven miles- and then turned around to head north. Just about at Sebastian Beach, I captured a typical Sunday afternoon beach scene. This isn't "season," here in early September, but no matter what time of year it is, a pretty weekend day always brings out crowds of people to the beach. The ride was leisurely and enjoyable all the way back north and back through Pompano Beach.

About two miles north of Pompano Beach is the Hillsboro Inlet, which connects the Intracoastal Waterway to the Atlantic Ocean. There are an incredible number of pleasure boats all along the Intracoastal and while the majority of them never leave that body of water, quite a large number do, and if there were not inlets every so often these boats would have to travel great distances just to cross the barrier island and get out to the open ocean. So there are inlets like Hillsboro approximately every ten miles along the length of the Intracoastal. There is one in North Miami, one in Hollywood, the Everglades Inlet in Fort Lauderdale, Hillsboro Inlet, Boca Raton Inlet, one near Boynton Beach and a couple in Palm Beach.

At each of these inlets there is a drawbridge, just like the Hillsboro Inlet drawbridge seen here. When I got here, the bridge was up, a process that usually takes ten or fifteen minutes, depending on how many boats are waiting to come in or go out. While I was waiting, I rested in the new park that has been created right beside the inlet. There are benches, a shelter, picnic tables and a number of fishing docks, and there are usually quite a few people here.

Once the bridge came down, I was able to continue across into the town of Hillsboro, an extremely upscale area of large private homes on the right side of the highway and the Intracoastal on the left. The barrier island is only a couple of hundred feet wide until you get almost to Deerfield Beach. The homes are gigantic, and it seems as if there is always a newer, larger one being built.


It's about six miles from Hillsboro Inlet to Deerfield Beach, and I reached the Deerfield Beach Pier and Beachwalk about 3:45 in the afternoon. This area has been completely rebuilt in the last year or so, and is now a very popular place on any day of the week. I locked up my bike and sat around quite a while here just enjoying the afternoon and doing some people-watching. I've created a composite map of the area around the pier and included it at left. It is one of the maps I used to describe my long bike ride elsewhere in this album, so you can ignore the red route line going north from the pier area. I stopped at the location of the blue star, and that's where the picture of the beachwalk was taken.

When I turned around to head back home, I followed the new road that's been built right next to the beach; that's the red route that you can see heading south from the blue star in the inset map. This new street along the beach is lined with parking, and connects via a number of side streets over to A1A.


The street continues south along the beach for quite a ways, and almost every parking space was full on a nice day like today.


About a half mile south of the pier, the street has to go around a condo complex, since there is not room to take it on the beach side of the complex. As I came back around to the beach on the south side of the complex, I noticed that there were some interesting rocks down on the beach. You can see these piles of rocks in the aerial view at right. So I got off my bike and walked it down to the beach where I could see the rock piles better. I ended up at the point marked by the red star on the first aerial view at left.

When I got down to the beach, I was looking right at the pile of rocks that I've marked in the second aerial view at left. As you can see from the picture, the rocks are right at the edge of the water. Even though the waves were breaking on the piles and running around the sides and behind them, I couldn't resist getting up on top of the pile, so I just waited for an ebb and then walked out and up onto the pile. From there, I could see north towards the pier and south towards Hillsboro Inlet (not visible, of course, since it is about six miles away). As you can see from the pictures and from the aerial views, the rock piles stretch for quite a ways both north and south.

But what were they for? There weren't any right up by the pier, and I have stopped at the beach a mile or so south of here and there weren't any there, either. So first of all, I can't imagine why they are just in this one area. Are they for beach erosion? I wouldn't think so; you don't prevent beach erosion that way. You do it by piers, jettys and/or solid rock walls along the beach. I can't imagine that these piles of rocks could possibly affect the way the waves shape the beach. So I am at a loss.

While I was at the top of the rock pile, I took some other pictures you might want to see. To look at the full-size images, just click on the thumbnails below:





From here, I just retraced my route all the way back to Ron Drew's house. I was pretty parched when I got home, so it was a dip in their pool and a frozen drink before the three of us went to dinner at Acapulco Lindo.




September 13, 2005: A Bike Trip to Boca Raton

This morning I went down to check on progress at the condo. Ty was there with the plumber who was doing some work on the bathroom and we also met the cabinet installers to see about some of the imperfections in the work that was done. By early afternoon, we were finished there, so I went back to Ron Drew's house. Ron was at work and Leroy was doing his web cam stuff, so I, of course, went for another bike ride.

I followed the same route to the beach that you've already seen on this album page, and this time decided to head north at least to Boca Raton. If you want to know more about the short distance between Deerfield Beach and Boca Raton, you can navigate to the 2006 album page for June 1-9, and look through the "Century Bike Ride" heading to find that section.

Once over at the beach, I followed my usual route and headed north. Once I leave the beach area in Pompano, I am back on A1A for a stretch until I run out of condos at about N 15th street. That is the last evacuation route over the Intracoastal for quite a while, so the road narrows and we wind through a residential area until we reach Hillsboro Inlet. As you might have read earlier, there is a bridge over the inlet here, and also the newly-constructed Hillsboro Inlet Park. This is now a very nice place to stop and relax as it has a little of everything- boat traffic, shady rest areas, views of the inlet and so on. I have begun using it as a destination for short bike rides from the condo; it is almost exactly 12 miles from my condo to this point- one way.


My goal this afternoon is going to be the Boca Raton Inlet which is, of course, right at the town of Boca Raton. Here at Boca Raton, the Intracoastal Waterway is quite wide, forming, in effect, a lake at Boca Raton. This community is as upscale as its familiar name has always meant. The most expensive homes are, of course, the ones along the ocean, but there are also a good many very large and expensive estates in the town itself, along with the high-class resorts and hotels that dot the area.

The Boca Raton Inlet is, of course, one of the major outlets from the Intracoastal to the Atlantic, and so there is the Boca Raton drawbridge over the inlet at this point. Just on the other side of the bridge begins a long stretch of beautiful homes and condominiums on the beach, but I won't be going any further north this afternoon. You can look at some of that area if you wish by using the link above. Just on the other side of the bridge is Boca Inlet Park, which is another good stopping place on long bike rides. There are water fountains and shelters and plenty of places to sit and relax.





Turning around for the trip home (it's about a 14-mile trip back to Ron's house), I went back down through the south part of Boca Raton and then crossed into Deerfield Beach. I stopped at the Deerfield Beach beachwalk area for a while, and then headed south along the ocean to make another stop at the rocks I'd stopped at on Sunday. It was such a beautiful afternoon that I just sat down on the beach for a while and let myself be lulled by the sound of the waves breaking on the rock piles.


I also took a couple of movies of the rocks and the wave action, and you can view those movies using the two movie players below:


Ron and I went to meet a friend of his at a local Mexican restaurant for dinner, but not before I'd had a chance to dip in the pool and relax with a frozen drink for a while to cap off the afternoon.



---
| | |
| --- | --- |
| | September 24, 2005: A Visit to the Dallas Arboretum |
| | September 5, 2005: The Democratic Party Labor Day Picnic |
| | Return to Index for 2005 |