| | |
| --- | --- |
| | August 6, 2006: Ron and Fred's Birthdays |
| | July 29-30, 2006: Rudolf Lowenstein Visits Dallas |
| | Return to Index for 2006 |
---



August 2-5, 2006
A Trip to See My Sister in NC

I got a call from my sister right at the end of July that her significant other, Patrick Kinney, had been hospitalized with diverticulitis. Since Mom had the same thing years ago, and since she'd recovered without major problem, I assumed that the same would be true for Patrick. But my sister called the very next day to say that the doctors had agreed that Patrick's situation was serious enough to require surgery, so I told Judy that I would come right over to North Carolina to help and support her. It was fortunate that I did so, for Patrick's surgery resulted in the removal of most of his colon and he, and Judy, were certainly going to need some help and support. A day or two later and I arrived at my sister's house in Elon, North Carolina.




Patrick Kinney's Hospitalization


I arrived on Wednesday afternoon, just in time to drive my sister over to Forsyth Medical Center in Winston-Salem where Patrick was recovering from his surgery. The removal of the colon had occurred the previous day, so Patrick was still being kept sedated, but we were able to visit Patrick in the ICU. I took one picture and one movie in the ICU, but they were more for Patrick and Judy to have for later on when they can look back on the situation with less emotion. No one looks good lying in a hospital bed (except the beautiful/hunky people in daytime soap operas, where hospital stays seem to be much more common than one might think), and so you may not want to look at these. But if you have Patrick's permission, you can look at a picture of him in the ICU here and watch a movie that will show you the entire ICU room and all of its equipment using the player at right.

For the next few days, our routine was to drive over to Winston-Salem (about 50 miles one way) to see how Patrick was doing, and also to give Judy a chance to check on the Park Pointe condominium project that she and Patrick were involved with (see below). Each day, we got a progress report from the various ICU nurses; Patrick was apparently making a slow, but steady recovery, with his progress pretty much in-line with what was to be expected. So each day Judy felt more and more positive about his prospects. Although the surgery and recovery were obviously hardest for Patrick himself, my sister was certainly affected powerfully as well, since she has grown quite close to Patrick in the time they have known each other. By the time I left to return to Dallas on Saturday afternoon, Patrick was somewhat better, but was still being kept under sedation.

NOTE:
I have learned since my return that Patrick did indeed make steady progress, and was brought out of sedation a couple of weeks after my return. He was kept in the hospital for another couple of weeks, being monitored for infection and receiving physical therapy. Then my sister had him come and stay with her in Elon so that she could help take care of him. I understand that he is now up and around and beginning to reinsert himself into the activities of the condominium project.




The Park Ridge Pointe Condominium Project

Since my sister has retired from the Alamance County schools, she has found that gardening and putzing around the house is not a full-time job, and has been wondering what she might do to fill her time, use her talents and perhaps bring in a little coin. As it turned out, Patrick and another friend of his had been facing the same issue- how to put their own talents to work in an interesting project that had the potential to be financially rewarding. I don't know all the details of how they got started, but the result was the Park Ridge Pointe condominium development.
While we were visiting in Patrick in Forsyth Medical Center, we took the opportunity each day to go by the building site for the condominiums- a site that was not far from the hospital. The map below will show you that the project and the hospital were actually quite close- the distance as the crow flies being only a couple of miles: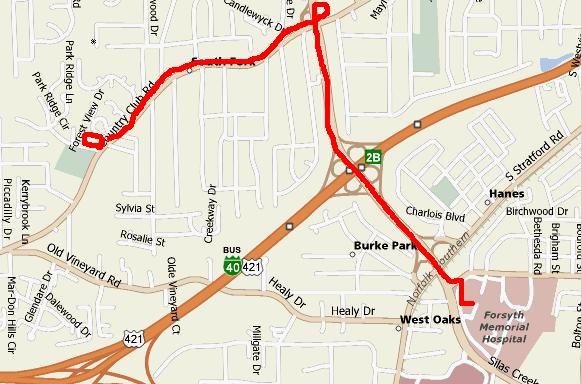 ---
NOTE
During my visit to Judy, I took a good many more pictures and movies of the Park Ridge Pointe Condominium project. These have been placed on the album page entitled "Park Ridge Pointe Condominiums." This page can be accessed from the 2006 Index page, and you can use the link below to return to the Index.
---
| | |
| --- | --- |
| | August 6, 2006: Ron and Fred's Birthdays |
| | July 29-30, 2006: Rudolf Lowenstein Visits Dallas |
| | Return to Index for 2006 |