| | |
| --- | --- |
| | February 19, 2008: The Chieftains Concert at Bass Hall |
| | January 25-28, 2008: A Visit to Ruckman Haus |
| | Return to Index for 2008 |
---
January 31 - February 12, 2008
A Trip to Fort Lauderdale




Leaving for Fort Lauderdale

Fred and I have been planning a trip to Fort Lauderdale since last September. Our stay in Fort Lauderdale will be almost two weeks, but in the middle of the time we are there we will be taking a 6-night cruise to the Western Caribbean. We'd planned to spend three days at the condo, go on the cruise, and then spend four days at the condo after it before returning to Dallas.

We were to be leaving for Fort Lauderdale on Thursday, January 31st, and we had just returned from San Antonio on Monday the 28th, so there wasn't a great deal of time to get ready. Fred went back to Van Alstyne after San Antonio to pack the stuff he would need for the trip, and I did the same at home. I came back from San Antonio with a cold, and by Tuesday afternoon I was feeling terrible. I thought it prudent to visit the doctor, and got in to see him Thursday morning. While I didn't, apparently, have anything serious, he advised me not to fly until at least Friday. But when I went to see what I could do to delay our flight down to Fort Lauderdale, I found that rebooking would be problematic and very expensive if it could be done at all. I didn't want to risk missing out on the cruise (particularly since it was already paid for and quite unrefundable), so I filled my prescriptions and we decided to go ahead with our plans.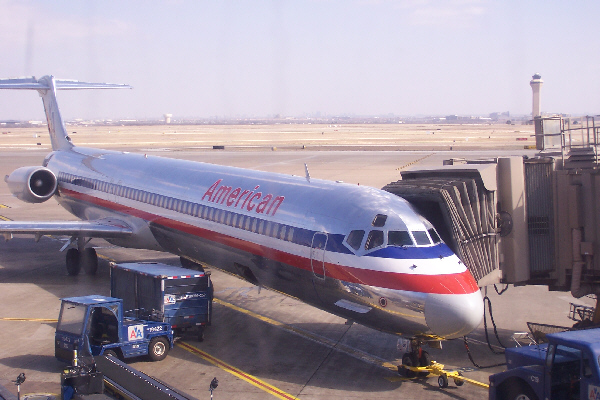 These plans included meeting Greg and his friend Grant at the airport for a 2pm flight down to Fort Lauderdale. We'd thought about getting someone to take all four of us, but we didn't know anyone with a vehicle big enough for all our luggage. So Greg had Chet drive him and Grant to the airport, while our friends Mario and Steve gave us a ride. On our way out to the airport, we treated the guys to breakfast at Le Peep.

We arrived at the gate in plenty of time, and we actually had to wait a while before our aircraft (shown at left) even arrived. While Greg, Grant and I were sitting in the gate area, Greg discussed how I should use the inhaler that I'd picked up this morning, and he gave me some Mucinex that he had to help clear my chest. Greg, like me, is a "problem solver." When something happens to one of his friends, he bends over backward to try to help, and his help is usually invaluable. Greg's used inhalers before and had experience with my kind of chest cold, and he gave me a lot of good advice.

I had planned for Greg and Grant to stay with us in the condo for the three days before the cruise, but I was feeling so bad when I talked to him on Wednesday that he very graciously went ahead and booked a room at the Riverside Hotel just two blocks from the condo. This put him to great expense, but I think that it was one of the things that helped me recuperate as rapidly as I did, so that by the time the cruise left on Sunday, I was pretty much over the worst of it.

The flight down was pleasant, and when we arrived in Fort Lauderdale I rented an SUV, we all piled into it and headed over to the hotel and condo. Greg had indicated weeks before that he would rent the car in exchange for staying in the condo, but since he'd gone over the hotel I thought it the least I could do to let him off the hook for that.

Fred and I got settled in the condo, and I showed Greg all the changes that had been made; he has not been in the condo for four or five years, and hadn't seen any of the improvements. I drove them over to the Riverside Hotel where they got checked in and settled, and then they came back by the condo and we walked down to the Floridian Restaurant for dinner.

We made an early evening of it; I thought it best that I try to get as much rest as possible to ensure that I recovered as much as possible before the cruise.

Friday, February 1: Greg and Grant see Fort Lauderdale

Walking the Riverwalk


On Friday morning, Greg and Grant came over to the condo, and we had some oatmeal and other stuff for breakfast. Greg spent some time checking his email and doing some stuff online and then we headed out for a tour of the Riverwalk. We wanted to see Greg's hotel room, so we walked along SE 4th St to get to the side entrance to the Riverside Hotel.

Greg's room was pretty nice; it was a corner room with an excellent view up the New River towards downtown. We left the Riverside Hotel by the front entrance on Las Olas, then turned west, passing the site of the new Icon Condominium (if it is ever built). Then we turn left and start walking along the river. When we reached the river and the completed portion of the Riverwalk, I snapped a picture of Grant, Greg and Fred with the 3rd Avenue bridge in the background. As we got a little closer to that bridge, Fred took a picture of myself, Grant and Greg with the new River House beyond the bridge in the background. Going under the bridge brought us to the base of that new condominium, where Fred snapped another picture of myself, Greg and Grant.


Then we reached Riverfront Center, and as we passed all the restaurants and stuff we looked at the menus to see where we might stop on the way back. Ahead of us is the railroad bridge over the New River and Shirttail Charlie's on the other side of the river. (Shirttail Charlie's has been closed for some months now, and I am afraid that, being on the wrong side of the river, it has not made a go of it.) Then we pass Riverfront Center and cross the tracks of the Florida East Coast Railway.


We walked around through Old Fort Lauderdale to come out on the esplanade in front of the Broward Performing Arts Center. This is the area known as River Bend, and this is where one of the newest condominium projects- The Symphony- is located. We walked to the end of the Riverwalk (use the movie player at the left to watch this portion of our walk) which is right beside The Symphony.

From here there are excellent views downriver, and Fred stopped to take a picture of us at River Bend. There are a number of memorials and statues along in here. One of them is a WWII memorial that has a very nice mosaic encircling a statue commemorating Sandy Ninninger, a Fort Lauderdale native and Pacific Theater hero. There is also a police memorial here, a Navy memorial and a nature walk through the gardens in front of the Arts Center.

We turned around and walked back to Riverfront Center; just after we crossed over the FEC tracks, the railroad bridge came down- something which only happens a few times a day, it seems (but more often at night). There is a warning sign on the bridge to warn boaters when it is down; I presume this is for nighttime when a boater might not notice the dark bridge against the dark water. Across from Riverfront Center is one of the many yacht refit yards that can be found along the river. Most of them are much further upriver, though. It is the existence of these boatyards that is the reason why there is usually so much river traffic going by my condo. Riverfront Center is also the place from which many of the sightseeing and dinner cruises depart.

We picked the Briny Irish Pub and Cafe for lunch; it opened only last year and seems to be doing quite well. It may be part of the reason why Shirttail Charlie's has apparently closed, as it offers the same kind of food at about the same prices and with the same view of the river. Eating here is always a trip, as there are so many nautical decorations above and around you. Click on the thumbnails below and you will see what I mean:

We had a pleasant lunch and then walked back to the condo. On the way, Fred noticed some wild parrots up in the trees. Also, on the way, Fred got a very artistic view of one of the new condominiums along the river- River House.

We spent the rest of the afternoon doing some shopping near the condo and driving around the beach area so that Grant could get an idea of what Fort Lauderdale was like.

Preparing for the Cruise

I don't have a section for Saturday the 2nd because neither Fred nor I took any pictures that day. And the reason for THAT was that we spent most of the day shopping. We needed some footwear that we could get wet for the raft tubing that we were planning for the cruise, we needed some groceries for the condo and to take with us, and I needed a camera case for my new camera. I found an excellent one at Wolf Camera that holds my camera, extra batteries and extra memory card in a very small package that attaches to my belt- just what I wanted.

We were out by the Wal-Mart Supercenter, and so we stopped in to see Ron and Jay and their house. Greg had not been there before, and they always like to show it off.

Late in the afternoon, the two fellows from New York that were also going on the cruise arrived- Virl and Joe came in. We had them come over to the condo for a while and then we all went to dinner at Shooter's on the Intracoastal Waterway. We turned in relatively early in preparation for going on our cruise tomorrow.

Sunday, February 3: Our Cruise Begins

In the middle of our two-week stay in Florida, Fred and I, Greg and Grant and Virl and Joe took a cruise on the Royal Caribbean 'Jewel of the Seas' to Key West, Mexico and Belize. This was the first cruise for Fred and only the second for me, and we picked it as being pretty representative of what cruising is like. We figured that if we liked it, then we might do one every once in a while; it was kind of a training cruise.

I have set up a separate series of photo album pages for the seven days of our cruise. As I have done for some of our other trips that spanned more than a few days and where we did and saw lots of different things, I have created an index page for the cruise that will allow you to step through it linearly, jump to a particular day or destination or jump to a particular activity on board or on shore. We took a heck of a lot of pictures, and this is the only feasible way to organize them.

You can reach the cruise index page from the Index for 2008, of course, but there is no need for you to go back to that page to get there. You can simply click on the link below and be taken to the index page for our cruise. Then, if you want to come back here and continue through the rest of this trip to Florida, there will be a link on the cruise index page allowing you to do so. You can also just skip the cruise for now and continue through this trip and the rest of the album, going to the cruise pages when it suits.




The Rest of Our Fort Lauderdale Trip

We arrived back at Port Everglades early Saturday morning, and Ron Drew came over to pick us up and take us to where we could get our rental car. Greg, Joe, Grant and Virl all went directly to the airport for their flights home. Fred and I were staying until Wednesday the 13th.

During the rest of our trip, we basically did our usual stuff- biking, frisbee throwing, beach visiting and visiting with Ron and Jay. So, the pictures I've included here are just some of the random shots we took those last few days.


On Monday, I wanted to take Fred out to Markham Park, the place where I'd gone a year or so ago to ride my bike and watch the model airplane enthusiasts fly their planes. So we hopped in the car and headed out that way. Instead of taking the really direct route, I wanted to scope out the route that I might take if I were riding my bike, and so we headed west on Las Olas to SW 4th Street (which runs by the Performing Arts Center and crosses over the New River). There, on the south side of the river, we followed a route I'd taken before through the neighborhoods on that side of the river. I had come across a unique dwelling a year or so ago, and I wanted to show it to Fred. Right at the northewest corner of the intersection of SW 5th Place and SW 7th Ave. there is a plot of land on the river with a house that looks like a castle built on the corner. I've examined the house close up, and it looks to be built out of cut blocks of limestone with lots and lots of shells sticking out all over. At first, I thought it was something old and abandoned, but then I saw the new air-conditioning system right beside it. (As a matter of fact, while we were there, someone drove up, unlocked the driveway gate and drove a relatively new Mercedes in, parked, and went inside the house.) So I suppose it is just an eccentric oddity of the neighborhood.

Right next to the house is the Anne Murray Park (actually the smallest city park in Fort Lauderdale), and you may have seen pictures of it before in this album. Fred and I stopped there for a while to look at the river views. I have put some thumbnails for a few additional pictures of the house and a couple of views of the New River from the Murray Park below; to look at the full-size pictures, just click on the thumbnails:

We drove on out I-595 to Markham Park so that Fred could see whether he might like to ride bikes out here sometime. On the way, the street parallels a long canal and bike path, and I was telling Fred that the last time I rode my bike out here I saw quite a few lizards either on the path or on the banks of the canal. As luck would have it, Fred had his camera handy as we drove past a couple of iguanas on the canal bank. You may spot one of them easily enough, but you will have to be eagle-eyed to see both of them, caught with Fred's great zoom lens. We drove around the park for a while, although, because it was a weekday, there weren't any model-plane enthusiasts out. Perhaps we'll take the bikes out there next time we return to Florida.

We came back into town via 17th Street, which goes over the Intracoastal Waterway at Lake Mabel and Everglades Inlet- the same place where our cruise ship left from. We could see some of the three-day cruises still docked, but didn't get any really good pictures. Fred did take an interesting picture of Hyatt Hotel right by the bridge. We came around by the beach along A1A, and then turned west on Las Olas to get back to the condo.

That same afternoon, we walked over along the Riverwalk to the 3rd Avenue bridge, and then crossed the river to a big condo development called Nu River Landing. (I'd show you an aerial view, but the Google picture of the area was taken before the condo was built.) We wanted to see what the interiors looked like, but there was no sales agent on the property. So we settled for some pictures out front, each of us taking a picture of the other with one of the fountains in front of the building. So here are the pictures of myself and Fred.

We spent the rest of our time here just relaxing and doing not much of anything but biking around, throwing the Frisbee and having frozen drinks at the newly-reconstructed Riverview Gardens dock. The cruise was great and it was a really wonderful two weeks. We were sorry to return on Wednesday, but it is always good to get home.



---
| | |
| --- | --- |
| | February 19, 2008: The Chieftains Concert at Bass Hall |
| | January 25-28, 2008: A Visit to Ruckman Haus |
| | Return to Index for 2008 |