| | |
| --- | --- |
| | August 24-27, 2008: A Trip to Ruckman Haus for Prudence's Birthday |
| | July 25-28, 2008: Rudolph Lowenstein Visits Us in Dallas |
| | Return to Index for 2008 |
---
August 9, 2008
The
Mathis/Nabors/Tarradell
Birthday Bash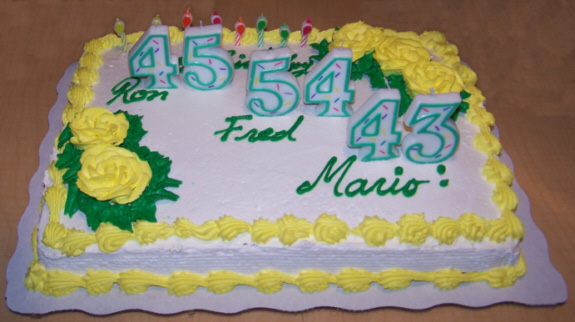 Well, another August has rolled around, and it is time to combine a few birthdays and celebrate them together. In past years, it has been just birthdays for Ron Mathis (August 1) and Fred (August 6), but this year we've added another birthday to the mix- our new friend, Mario Tarradell (August 9). Ron, as he has so often done in the past, has very, very kindly offered to host the group again at his house, and so Saturday afternoon has found our crew there for the celebration.
This year, they've invited quite a few people, so here is the guest list:

Ron and Jay
Denny and Larry
Fred and myself
Greg
Mario and Steve
Lou
Chris
Tom and John
and
Barbara

Ron and Jay live in Plano- very suburban. It is about fifteen miles from my house- up the Tollway to I-635, around to US 75, north to Parker, west to Roundrock, north to Glenhaven and finally west to their house. They've lived there for quite some time; actually, Ron and Chris moved there in the early 1990s.

Also as usual, Jay and Ron have outdone themselves in the preparations, putting on quite a spread of hor d'oeuvres and doing some ribs and hamburgers on their patio grill. This time, we've all tried to do our part as well, and most folks have brought a covered dish of some kind to add to the menu. Also, as usual, it was my responsibility to get the cake.


One of the best things about having these celebrations at Ron's house is that it is such a good house for entertaining- what with the pool and spa outside and the pool table inside and all the room to move around. I guess it is a little unfair that we always seem to congregate there; that is why Fred and I try to take them out at least every other time we are there.

Once again, the party was a great success and, even though some folks had to leave early for other commitments, it was good that all of Ron, Fred's and Mario's friends showed up (with the exception of Brad, who was away at an American Airlines training session).

Fred and I took a number of pictures during the party, and I've grouped them by topic below.





Guests in Conversation

One of the nice things about these gatherings is that we can all catch up on what's been going on with each other. Everyone in our circle knows everyone else fairly well, as they have all seen each other at multiple gatherings, gatherings which have been held at almost everyone's own house, as well as at outings to various events.

This afternoon's party was no exception. I think everyone enjoyed the "catching up," and Fred and I got quite a few candid shots of the folks as they munched on hors d'oeuvres before dinner. I've put thumbnails for the best of these pictures below, along with little captions. Feel free to click on the thumbnails to view the full-size pictures:


Denny, Ron, Larry and I out in the living room while Jay does his thing in the kitchen.



Mario brought a "flower arrangement" made entirely of fruit, and Ron, Steve, Mario, Greg and myself are sampling it.



Denny, Lou and Larry conversing at the pass-through counter between the kitchen and the living room.



Myself, Lou and Greg talking in the pool room.



Barbara, Lou and Ron Mathis.



Larry, Ron Mathis and Fred.



Mario and Steve with Lou.



Jay and Ron Mathis.



John Evans and Tom Harris.


Car Toys


While we were talking, Greg happened to mention that he'd gotten a new car, so we went out to take a look at his new Mercedes. He told us about the deal he'd gotten on it when someone took it back after owning it only a month or so. I'm not that much into cars, but it was a nice car, and it was understandable that Greg wanted to show it off. Actually, the neatest thing was the engineering that must have gone into the automatic retractable hardtop; if you have never seen one of these things in action, you might want to use the movie player below to watch my movie of the retracting hardtop. It is quite something.

Greg's Mercedes Convertible- How It Works

Greg, Lou and Brad all seem to share an interest in cars. Brad kind of collects them- older ones mostly. Lou has been a member of the Gay Car Club for a long time, and he has a couple of nice ones, too. Here is Lou and his Honda S2000.




The Feline Population Expands


You may remember from a couple of album pages ago that Ron and Jay acquired two Russian Blue kittens from the shelter after the loss of their adult cat, Coco. When we were last up here, with Rudolf, we spent quite some time playing with the two female kittens they'd gotten- Diva and Hero.

Since then, though, Ron and Jay decided to go and get one more kitten from the same litter, and this time they got a boy- Rock Star- and the last of the kittens from the litter to be adopted. Like all kittens, they are adorable. First, you might want to take a look at the movie I made of all three kittens (using the movie player at left).

Both Fred and I took quite a few pictures of the kitties, and it was hard to cull them down, since kittens are by their very nature extremely cute. But I've weeded out about half the pictures, leaving the twelve thumbnails below. Click on as many of them as you wish to view the full-size images:

Eating Dinner

Late in the afternoon, everything was ready for dinner. With the help of his guests, Jay put on a wonderful buffet. We were all too busy eating to take very many pictures, although Fred did get a few of them as we were serving ourselves and sitting down to eat. You can click on the descriptions below to view these pictures:

Mario and the "Flower Arrangement"
Steve and Lou Getting a Meal
John and Mario Serving Themselves
Lou, Steve, Barbara and Mario at Dinner

The Cake Ceremony


After we'd finished dinner and relaxed for a while, it was time for the traditional "cake ceremony," which consists of lighting the candles (which Jay and I did) and then all singing "Happy Birthday" while the birthday boys blow out the candles. Mercifully, I did not make a movie of the actual singing, since there are copyright issues (at least that's my story and I'm sticking to it).

I did take a couple of candid shots of most of us standing around while Jay cut the cake, and you can look at those pictures here and here.

You can also watch a movie of the cake cutting ceremony using the player at right.

The final picture of the afternoon was taken by Fred, and is the group shot of all the attendees. Actually, Greg had left earlier, as had Denny and Larry, each of them having had a prior commitment for the evening. But here is Fred's picture of everyone else.

It was a really great party, made a bit different this year with the addition of a third birthday. So "Happy Birthday" to Ron, Fred and Mario!



---
| | |
| --- | --- |
| | August 24-27, 2008: A Trip to Ruckman Haus for Prudence's Birthday |
| | July 25-28, 2008: Rudolph Lowenstein Visits Us in Dallas |
| | Return to Index for 2008 |