| | |
| --- | --- |
| | Return to Index for 2008 |
---
Olga Dougherty
2008

From 2007: Mom Moves to the Holden Hands Home

I thought I would start out these pictures of Mom for 2008 by recapping the major event at the end of last year- her move to a home run by Linda Richardson's Holden Hands. The move was necessitated by Mom's inability to feed herself at the Bentley Manor, but I think it has been a good move for reasons other than that. She gets much more individual attention, much more stimulation and all the help she needs in eating and other daily activities.


Mom's new home is on Gracefield Lane, just about a block east of Hillcrest and a block north of Campbell; the neighborhood is about eight miles from me up the Tollway and then a couple of miles to the east. It is a nice suburban neighborhood; very quiet.

In the aerial view, you can see Mom's house. It is a typical size for the neighborhood; about 2500 square feet, I would guess. It is easy to find the house as it is the only one on the street with a circular drive in front. The house has a living room, kitchen, dining room and inside sunporch where residents may watch TV. Then it has six bedrooms and three baths; one of the bathrooms has been enlarged to accommodate wheelchairs and a larger shower.





As I said, the neighborhood seems to be a nice one, and the house is certainly pleasant and spacious. Here, courtesy of Google Maps Street View is an outside picture of the house Mom is in now.

As I've said, I think the move has been a good one for my Mom; even though it is hard to tell these days, I think she is at least as happy and comfortable here as she was at the Bentley Manor, and the extra individual attention is certainly one of the reasons why.

---
January 6, 2008: A Visit With Mom


It's Sunday, January 6th, and Fred, Mario and Steve and I are going to visit the Heard Museum in McKinney. But since I haven't seen Mom in a couple of days, I've decided to stop by and do that while Fred is picking up Mario and Steve. We'll meet over by Micro Center and ride up there together.

Anyway, I have caught my Mother as she is finishing her lunch, and I took a couple of candid snapshots of her looking quite well. You can look at those pictures here and here.

---
January 15, 2008: A Visit With Mom


This is Tuesday, and I am paying one of my twice-weekly visits to Mom. I would come more often, but there isn't much need, now that there is someone to feed her and otherwise make sure she is getting what she needs. That was the whole point of moving her here.

So I have just come to spend an hour or so with her, even though all I can do is help her with lunch unless, like today, she is almost finished, and just sit with her in the TV room.

I didn't take many pictures today. I took two of them while she was finishing lunch, and you can look at them here and here.

Mom at Lunch
I made a short movie of my mom eating lunch at the Holden Hands home.
---
April 15, 2008: A Visit With Mom


Well, I am up here in Plano at the Holden Hands Home where Mom has been staying since last year to visit with her before and during lunch.

It is very difficult, now, to really understand anything that my Mom tells me. It is sad that one or two words will come out that do go together logically, but then most times she just stops, and I can't get her back to her train of thought. There are other times that she can actually put a few sentences together and I can pretty much figure out what she is telling me- but those times are getting more and more rare.

She gets about as much stimulation as is possible here, which is better than pretty much none at the Bentley Manor. Here, one of the caregivers is always around and she is always out in the common area with the other residents unless she is actually asleep. Although some of the residents can speak pretty well, I've noticed that they really don't talk much with each other, although they will usually say something to me when I visit.

All I am really doing when I bring my camera with me on these visits is to record how my Mom looks as time passes. One of these days Judy and I (and even more so, Ted and Jeffie) will wish we had even more pictures, so I suppose I really can't take too many.

Today, I took all the pictures and movies just before lunch was ready. I took one picture, that one of Mom at the dining table before lunch.



I took a couple of movies of my Mom today, and you can watch them using the movie players below:
---
June 3, 2008: A Visit With Mom


It's Tuesday and it's lunchtime, so I have come up to visit with Mom and help her with lunch. I know that the caregivers here help her if I am not here, but it is good for me to take over those duties once in a while.

As I did the last time I was here, I took all my movies and pictures before lunch was actually served. This freed me up to feed Mom without having to take pictures at the same time. Other than the inset picture you can see at left, I only took one other picture- a not particularly flattering flash picture of Mom before lunch.


Before lunch was served, I tried to carry on a bit of conversation with Mom, but this was not one of the days when she responded very much. In both movies, you can hear some of the other ladies talking to me while I was trying to concentrate on hearing what Mom might be trying to say, and in the second movie you can hear, at the beginning of the soundtrack, the noise made by the food grinder that is used to prepare meals for one of the residents. Anyway, Mom did not not respond much, but you can watch those movies using the movie players below:
---
July 16, 2008: A Visit With Mom
I have come up to the Holden Hands Home to visit with Mom at lunch, and I have brought my camera today to record her condition. All I wanted to do was to take a picture and a movie of her, so that's what I did. Here is a picture of my Mom eating lunch.

My Mom has gone downhill a great deal in the last year, and one of the times when this is most obvious is when she is eating. She has either forgotten how to sit up straight, or just relaxes and slides over to her right, but unless I straighten her up (which only works for a few minutes), her head is practically sideways when she eats. This makes it difficult to eat anything other than finger food, although for some time now either the caregivers or I have to actually feed her when utensils are required. The other problem, which has become more pronounced in the last few months, is that she zones out when she starts chewing a bit of food, and she will keep chewing until someone tells her to swallow and then take another bit. Now, lately, she doesn't even swallow then, but just keeps chewing, oblivious to the entreaties to stop or to the fact that, eventually, there is no more food left to chew and her teeth are just clicking together.
All this is evident in the movie I made today.
---
August 13, 2008: A Visit With Mom


It has been about a month since I last brought my camera up with me on one of my twice-weekly visits to Mom at the Holden Hands home in North Dallas, so I thought I would bring it this time to get a few pictures and a movie.

Mom's condition seems to have deteriorated quite a bit just in the last two months. The last time I was here, she was barely responsive to me, and it was difficult to feed her. Today, that responsiveness is pretty much all gone, and feeding her has become very difficult. The caregivers tell me that for the last few days they have been serving her soft foods only, or pureeing more difficult foods for her. Her tendency to chew even soft food for minutes at a time has become even more pronounced, and little that I say or do seems to have an effect. Again, the caregivers tell me that all they can do is give her a spoonful and then tend to other residents until she simply stops chewing on her own accord.



I took one movie of my Mom eating and you can watch it using the player at right. When she raised the bib to her mouth, I thought that she was going to wipe off her lip, but on watching the movie again it seems as if she was absentmindedly trying to actually eat it. When it became apparent that this is what she was doing, I stopped the movie so I could help her get another bite of her Spaghetti-Os.

Eventually, Mom had all she wanted to eat, and we just sat there for a while until the caregivers were ready to help her to the bathroom and a nap. I said goodbye to her and gave her a kiss on the forehead as I usually do; I don't really think she hears me or feels the kiss, but it makes me feel better.


I did not know it then, but this was to be the last time that I would be able to talk to my Mom and give her that kiss.



---
August 16, 2008
My Mother, Olga Dougherty, died on Saturday, August 16, 2008 at about 6pm in the evening- just after dinner. I was called by Linda Richardson, the owner of Holden Hands, and she met Fred and myself there less than an hour after my Mom's passing, where we attended to the necessary formalities. For the loved ones, no death is ever welcome, but for my Mom herself, it may have been a blessing. I wish I knew. She has been a big part of my weekly routines, and adjusting to the fact that she is gone will take some time.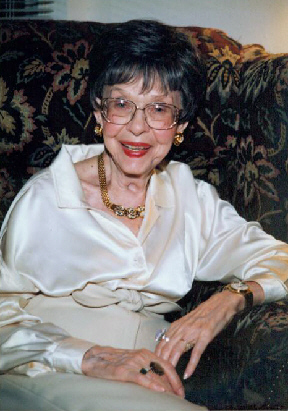 Here is the text of the Obituary that accompanied the picture at left in the Dallas Morning News and the Charlotte Observer:

Olga K. Dougherty, a 12-year Dallas resident, died on August 16. She was 96 years old. Olga Kasmir was born in New York City to Alexej Kazymiriw and Eve Torpornicka and was one of seven siblings. She married Frank T. Dougherty there, and together they lived in New York, Massachusetts and Michigan before settling in Charlotte, NC, in 1950. Between 1950 and 1996, Mrs. Dougherty worked as a homemaker for her husband, an architectural consultant, and her two children. She used her considerable talents in fashion design to make most of her own clothes- winning two statewide competitions sponsored by the Women's Club- and later worked for Belk Department Stores buying and selling high-end fashions. Being impeccably attired was her hallmark, whether she was at work, at home, or playing duplicate bridge. In 1996, she moved to Dallas to be close to her son, living first by herself and then later in a retirement community in North Dallas. Mrs. Dougherty is survived by her daughter Judy Barbour (Elon, NC), her son Ron Dougherty (Dallas, TX), her grandchildren Ted Barbour (Charlotte, NC) and Jeffie Davis (nee Barbour, Atlanta, GA), and three siblings- Natalie DiFalco (New York City), Stella Anglum (Largo, FL) and John Kasmir (Clermont, FL).

To my Mom: Farewell for now.
---