| | |
| --- | --- |
| | April 25, 2009: Visiting the Dallas Aquarium |
| | April 15-18, 2009: A Visit to Ruckman Haus |
| | Return to Index for 2009 |
---
April 18-20, 2009
A Visit with Frank and Joe
Near Leakey, TX

After our visit with Ron and Prudence in San Antonio, Fred and I are heading out to see Frank and Joe in Leakey. On this visit, I need to categorize the pictures in a sequence other than a straight time sequence. There were some activities or subjects, like the hummingbirds, that we took pictures of all three days, and I want to group all of these together. So I'll do that, but generally keep the groups in as close to time sequence as I can. For each section on this page, though, I'll go ahead and put the date(s) the section covers. (Also, if you don't mind, when I want to refer to both Frank and Joe in the narrative on this page, I'll use just the two initials "F&J.")

Saturday, April 18: Getting to Frank and Joe's House


F&J live just northwest of Leakey, Texas. To get there from Ruckman Haus, we just went back down San Pedro to I-35, and then took that south to Texas Route 90 west towards Uvalde. At Sabinal, we headed north on Ranch Road 127 which angles northwest to Concan, Texas. Just before we get to Concan, we cross the Frio River for the first time (crossing it again near Leakey). At Concan, we meet up with US83 that heads north to Leakey. Between Concan and Leakey, we pass by Garner State Park, which is where Frank works as a Park Ranger. Then, a few miles later, we enter the town of Leakey, Texas, population 387. Just north of Leakey, we angle off on Ranch Road 336 that follows a branch of the Frio River northwest.





This branch of the Frio River is often called the "Dry Frio" because it only has water in it during the short rainy season in the Hill Country or when there have been sufficient thunderstorm rains upstream. Ranch Road 336 heads north paralleling the river, and we take that for about two miles until we see Bonner Road ahead of us to the right. Bonner Road is named for Joe Wells' mother's family. They own the land from a hundred feet or so south of Bonner Road a good ways north into Real County- some 1600 acres if I remember correctly. Bonner Road goes east, and as soon as we turn onto it we can see the roof of F&J's house ahead of us up on the hillside across the "Dry Frio."

We cross this dry branch of the Frio on a low-water crossing (which is basically just a low, flat concrete dam with culverts under it. When the water is low or non-existent, it is dry pavement, but when the water is high, it just flows over the top of the concrete, which is high enough so that 99.5% of the time a vehicle can make it across. There are the occasional times when the water is so high that residents like F&J who live up on the mountainside have to wait until the water recedes.

Up the other side of the river bottom, Bonner Road splits and goes north-south on top of the cliff. It is along this road that the three or four residents up here have their homes. All of them have excellent views as they are sixty to 100 feet above the valley floor. Frank and Joe are north along Bonner Road, as you can see in the aerial view above. This is as good as the aerial views get, so the pictures we took at F&J's will have to suffice to show you their property in detail.

Saturday, April 18: Our Arrival and Dinner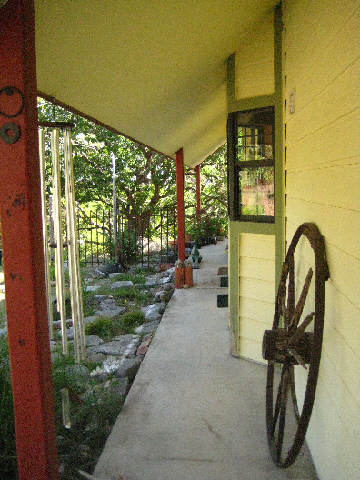 F&J's House: East Side


We arrived at F&J's house about 4PM to find that Joe was at home (he has become a real estate agent and also works his family's farm, so his hours are pretty much his own), so we had a chance to chat with him and do some catching up before Frank arrived home from his day at Garner State Park. We had some iced tea and sat out on the porch of their house. The house is oriented lengthwise from NNE to SSW, and the entry porch and long porch you see in the picture at right are on the east side of the house to better shield that sitting area from the west sun.

Below are thumbnail images for a few pictures that we took out here on the porch before and after Frank arrived home; click on them to view the pictures:




Frank, Joe and Fred all seem to share an interest in horticulture, and F&J have certainly surrounded their house with many different and varied examples of flora that can do well in the mostly dry conditions here in the Hill Country of Texas. Just off the east porch, and along that whole side of the house, F&J have constructed a beautiful garden of native plants and shrubs and flowers. I walked up onto the driveway (which is a few feet above the level of the house, to take a picture of this beautiful Hill Country garden.


Frank and Joe's Hill Country Garden


While we were all here on the porch talking this afternoon, I made a movie which begins by looking along the east side of the house to the southwest and then pans all along the east side of the house to take in the entire Hill Country Garden and end up looking northeast and bringing Frank, Joe and Fred into the picture. Note the position of the hummingbird feeder that you'll see in a later section.

This evening, F&J have a dinner to go to- an awards ceremony held by the Chamber of Commerce to honor Leakey citizens who have made significant contributions to the town or the local area during the year. It is at this dinner that special awards- to firefighters, EMS personnel, town workers, and others- are given out. It is also the dinner at which the Leakey "Citizen of the Year" is presented. Frank, Joe and Linda Kirkpatrick are each supposed to get an award for their work as singers and poets in conjunction with the Texas State Parks. Frank is has also been nominated for the "Citizen of the Year" award for his service as the "singing park ranger" out at Garner State Park. Frank (and also Joe and Linda) have gained a fair amount of notoriety for their singing and poetry recitals, and are often called on to attend shows and fairs all over the state. (You have already seen two of their appearances earlier in this album- at the Fort Worth Stock Show and the Texas Folk Life Festival in San Antonio.) Frank has jokingly downplayed his chances of winning the award, what with the firemen and emergency workers that are also nominated, and for this and other reasons says that his chances of winning are slim. I think he would really like to be recognized, though, and secretly hopes that lightning will strike.

In any event, the two of them got ready to go off to the dinner, and when they were gone, Fred and I drove into Leakey to get our own supper at a small place that we had just read about in Texas Monthly two days before while at Prudence's house- the Leakey Feed Lot. The very rustic restaurant was OK, but neither of us thought it deserved the glowing accolates that Texas Monthly gave it. After dinner, we returned to F&J's house to await their return.

Saturday, April 18: Lightning Strikes!


Well, F&J returned to the house along about eleven with some pretty amazing news. Not only were Frank, Joe and Linda awarded their appreciation plaques, but Frank was also the winner of the "Citizen of the Year" award! Joe says he knew it all along because he'd been asked in the preceding days whether he and Frank would be attending the dinner, and the folks that had done the asking had seemed inordinately interested in whether Frank, specifically, would be there. In any event, everybody came home a winner. I immediately got Frank and Joe to pose in front of their fireplace with their awards, and you can have a look at that picture here. Congratulations to F&J!

I thought that Frank and Joe were a little tired on Saturday night when they returned from their dinner to allow me to make a movie, so I have waited until Sunday morning when I could again get them to gather up their awards and allow me to film them and explain the awards. Showmen that they are, the movie turned out to be both serious and comedic, with Frank trying to "steal the show." Have a look; I think you'll be amused.

By the way, if the picture at left looks vaguely familiar, it should. To see why, click here.


Sunday, April 19: Joe and His Dogs


On Sunday morning, after we'd had breakfast, Joe and Fred walked up the hill above the house so that Joe could feed and check on his dogs. Fred took a few pictures, and there are thumbnail images for the best three at the left. Click on the images to view the pictures.


Sunday, April 19: Driving the Hill Country (to Medina Nursery)

After breakfast, we piled into Frank's truck and headed over from Leakey to Medina, Texas, to go to a nursery there and look for some Madrone trees that Fred wanted to buy and bring home. Here is our route:




On the way over to Medina, Fred took a number of pictures out the truck windows and windshield; these give a fair idea of what the countryside around here is like. Although they aren't spectacular pictures, you may want to look at some of them, and you can do so by clicking on the thumbnail images below:




Sunday, April 19: The Medina Nursery


The Medina Nursery is one that Frank and Fred have been to before. Today, Fred was looking for some Madrone tree seedlings, but basically he and Frank and Joe were just wanting to look around; all three are interested in plants and trees. We spent some time there wandering around the small nursery and looking at the native Texas plants. Fred found quite a few that he wanted to buy and take back up to Van Alstyne, and by the time we were done, he had a small cart full.


Below are thumbnail images for some of the pictures we took at the nursery. Have a look at them by clicking on the thumbnails:





I took one movie here at the Medina Nursery, one that pans around and covers most of the area. It is a small nursery, and in this movie you can see most of it.

When we were finished at the nursery, we headed back into the town of Medina and made a stop at the Love Creek Apple Store, which, as it turns out, has its own nursery and supplies mostly bigtooth maples. In back of the store there is a small open air cafe, and there we stopped for a soda and some ice cream. While we were eating, I snapped a picture of a huge orange tabby cat, presumably owned by someone at the store, that was lounging on a bench at one of the picnic tables by the cafe. You can have a look at its picture here.

Then we drove back towards Leakey, stopping along the way so Joe could take us by one of his real estate listings just east of town. We walked through the house, which was nice, but, I thought, not quite worth what the seller was asking. Outside the house, which was way up on a hillside with a nice view, Fred got a picture of Frank, Joe and I outside the house. Then we drove on into Leakey, passing over the Frio River on the way.


Sunday, April 19: Supper in Concan

It being close to suppertime, we decided to head directly south from Leakey to Concan, Texas, about ten miles down the road, past Garner State Park where Frank works. Our destination was Neal's Lodges and Restaurant, which is right on the Frio River alongside US 83, at the same intersection that Fred and I drove through on Saturday coming up from Sabinal towards Leakey. We had a really nice early supper, and afterwards went out onto their deck overlooking the Frio. It was a really good meal, and we did take a few pictures while here. If you will click on the thumbnail images below you can have a look at them:




Sunday, April 19: A Drive Home Along the Frio River

After dinner, we returned to Leakey via a different route. Frank thought it would be more scenic to drive the river road along the Frio River, north from Concan, passing east of Garner State Park and then following the river on into Leakey. Our route is shown on the inset maps below:


Along our route, we pretty much followed the river, crossing it now and again on one of the many low water crossings along the road. Most of the time during the year, the low water crossings are either dry or covered by just inches of water, but as this post indicates, the road can be covered by five feet or more of water. It is hard to imagine what the valley would look like if this were the case!

At one point, we passed the largest live oak tree in Texas, and at another point we saw, out in the middle of a field, another live oak tree which, reportedly, has the grave of a man hanged from that tree almost a century ago; you can see that tree here.


As we drove down the river, Fred took a number of pictures out the windows of the truck, and I got the occasional one as well. Many didn't turn out well, but most did, and we've put thumbnail images for the best of these below. Click on the thumbnails to view the pictures:




The Frio River

At one point in our drive, I filmed a movie of the Frio River as we went over one of the low water crossings, and you can see and listen to the Frio River as we drive along.

Monday, April 20: Frank and Joe's Garden

Although Fred and I took pictures of the Hill Country Garden that Frank and Joe have laid out right next to the front porch on all three days that we were here, I've grouped them mostly into this one section.


The garden that Frank and Joe have constructed is one that reflects the flora of the Hill Country. So it is a garden of drought-tolerant plants, cacti and various native plants and trees. Many were located in the area around their house and transplanted to the garden. Some were brought from further distances. But all form a harmonious whole. In between the stands of plants Frank and Joe have laid stepping stones to allow access everywhere in the garden.

The guys have done a really good job, and the garden provides a restful view along one whole side of the house. Below are some thumbnail images for other pictures we took of the garden and from the porch. Click on them to view the pictures:




Monday, April 20: The Hummingbirds


One of the real joys of Frank and Joe's garden, and of sitting on the front porch watching it, is the plethora of hummingbirds that have made the garden one of the stops on their annual migrations. I've been other places where folks had hummingbird feeders- notably my sister's house in North Carolina- but I've never seen more than two or three of the little birds at one time around any of them.

But here, in the Hill Country, Frank and Joe seem to have attracted dozens of them. As we sat on the porch, just five or six feet from the feeder, we could usually see ten or fifteen birds flying around in their quick but jerky way, jostling for position at the eight feeder holes arrayed around the bottom of the feeder. Sometimes, all eight holes were filled with tiny beaks, sucking up the concentrated sugar solution that Frank prepares and which he has to fill the feeders with a couple of times a day.

In this picture that Fred took of some hummingbirds at the feeder, you can see a few of them feeding and a couple hovering in mid-air nearby. Right next to the feeder is a small tree, and the hummingbirds waiting their turn, or waiting to shove some other bird away, were perched here. This was the first time that I can recall seeing the birds actually perched somewhere other than on a feeder.

It was pretty incredible watching all the birds flying around and feeding, and we did so for a couple of hours all told during the three days we were here. I did not realize that hummingbird wings made such a noise, nor did I realize that hummingbirds chirp, having never been close enough to hear either sound.

But it is the movies that we took that really convey what it is like to watch so many hummingbirds at one time. Some movies we made from our chairs on the porch, and in these movies you will see the greatest number of birds. But I also took some movies by positioning myself very close to the feeder and then standing motionless until the birds got used to my presence and came back to the feeder. At that point, I could begin filming, all the while trying to stand as still as possible so as not to scare them off.

Below are players for quite a few of these movies. It was hard to weed any of them out, but they did get repetitive, and so I have narrowed the field somewhat. The first one is a view from the chairs on the porch, but the remainder of the movies are all close-up views, and they are immensely interesting. As usual, you can watch any movie by clicking anywhere on the large thumbnail:

| | | |
| --- | --- | --- |
| (From the Porch) | | (Close-up) |
Monday, April 20: Departure and Drive Home

Well, we had a great time visiting Frank and Joe, and were grateful for their hospitality as always. We left for home in the early afternoon on Monday, so we could get home in time for Fred to go on to Van Alstyne and get the many plants he bought into his greenhouse and watered so he could plant them on Tuesday. He was going to his Mother's on Wednesday, and so needed to get all that done beforehand.




We drove back into Leakey and then continued north on US83, cutting east to I-10 at Junction. Then we went up through Mountain Home and east into Fredericksburg on US290. There, we stopped for a late lunch before heading further east through Johnson City and into Austin. In Austin, we picked up TX-1, the Mopac Expressway, which now connects on the north end with I-35 via a short toll road. From there, it was up the very familiar stretch of I-35 from Austin, through Temple and Waco and on into Dallas.

We got back in plenty of time for Fred to relax with Bobbie Lee for a while before heading home.


You can return to the top of this page or use the links below to go to another album page.
---
| | |
| --- | --- |
| | April 25, 2009: Visiting the Dallas Aquarium |
| | April 15-18, 2009: A Visit to Ruckman Haus |
| | Return to Index for 2009 |